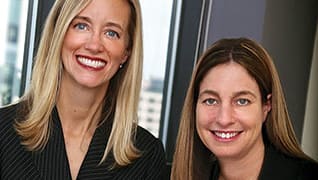 Photo by: Luigi Ciuffetelli
Bosses
Forget a sports car—Heather Hostetter and Amy Strent made the most of a "mid-life crisis" when they struck out on their own
Published in 2016 Maryland Super Lawyers magazine
By Joan Hennessy on December 7, 2015
By 6:30 a.m., Heather Hostetter's youngest child is up, so naturally she is, too. Her husband takes the first shift with the year-old girl while Hostetter goes for a run with the dog.
Not too far away, her law partner, Amy Strent, is up, too, taking her own dog for a spin and, afterward, getting her sons ready for the day. 
By 9 a.m., both name partners in the family law firm boutique Hostetter Strent arrive at the firm in Bethesda, a Washington, D.C., suburb teeming with young, upwardly mobile professionals zooming into work 10 minutes before client meetings, watching the clock so that they can make their children's violin recitals and carving out four and a half minutes for lunch.
All throughout the day, and all throughout the evening, too, Hostetter and Strent juggle the demands of family and family law. It is a tough balancing act.
According to a 2014 American Bar Association report, women earned roughly 48 percent of law school degrees that year. While in school, the report furthers, many of them excelled, holding leadership positions on half of the law reviews.
Yet, "Somewhere between law school, where women are doing really well, and the top tiers of law firms, there's a gap," Strent says.
Or perhaps it's a chasm.
According to the ABA's website, women represent 17 percent of equity partners and 20 percent of partners overall. Only 4 percent of managing partners at the 200 largest law firms are women.
The one bright spot? Family law. Overall, 29 percent of the ABA's members are women, but among the family law division, 55 percent are female.
"The population of family law lawyers has changed from overwhelmingly men to now more women," Hostetter says. "I think it's because family law firms are smaller, and smaller firms offer better work-life balance than bigger firms, and that's attractive to working mothers, and hopefully, will become more attractive to working fathers. I think if other areas of practice lent themselves to smaller firm environments, more women will join their ranks."
When it occurred to Hostetter and Strent at the age of 40 that they should start their own all-women, boutique family law firm that actually encouraged family, the challenges of making it happen became second fiddle to their joint passion to just get it done.
Hostetter is the product of a six-year law program at Boston University, where she simultaneously earned a law degree and a bachelor of arts in political science, graduating summa cum laude. Afterward, she worked for five years at the Maryland public defender's office, cutting her teeth on misdemeanor trials and felony cases.
Strent holds a degree in international relations from American University, graduated cum laude from George Washington University Law School and clerked for Judge John M. Campbell of the Superior Court of the District of Columbia.
The two met as associates at Moss, Strickler & Sachitano. They are contemporaries—both turned 44 in 2015. Each wanted career and family, but they went about it in different ways. Hostetter delayed having her first child until she had already become partner.
"It was less about the timing of partnership than it was about the success of my individual contributions to my firm," Hostetter says. "The freedom I felt, and still feel, to leave the office at 5:30 was tied up in the fact that I knew I was bringing in the majority of the cases and billing a lot of hours, so why should it matter if I wasn't the last one to turn off the lights? It didn't matter, anyway—I have only become more successful since having children."
Strent had children before she became partner, and went part time for a period. The firm where they worked supported her decision. "It took me longer to make partner, but I was happy," she says.
But in 2009, their firm dissolved. Both women had new offers on the table. They were 40, mid-career and craving change.
"Our version of a midlife crisis was, 'We're not going to have bosses anymore,'" Hostetter remembers. "We didn't want to get divorced or buy a sports car. We just wanted to own our own business."
Some of their colleagues warned them that it would be a lot of work, and speculated that it'd be easier to let a bigger institution handle the business of running their firm. "While there's truth in that, I also think people just hoped I'd be daunted and instead join their firm and bring my book of business," Hostetter says. "I also think lots of lawyers genuinely don't want the hassle of running a business. We don't learn that in law school."
Before they made the move, Hostetter sought out Deborah Reiser of Lerch Early & Brewer.
"[Running a law firm] is running a business," Reiser remembers telling Hostetter. "You need to think about how that will fit in with your career path. When you are with a firm, you share the risk. When you are on your own, you assume it all."
Hostetter was gaming it out. Reiser, for her part, wanted to be encouraging, but didn't want to give the impression that it'd be easy. "I felt strongly if anybody could do it, she could do it," Reiser says.
They went for it. Hostetter and Strent began a new adventure that included making financial decisions, finding office space and hiring personnel, plus the matter of bringing in a workload, meeting with clients, negotiating and getting ready for court.
Tough cases rolled in almost immediately. Not that they'll talk about them.
"Our clients trust us with the most personal details of their lives, as well as their future financial security and access to their children," Strent says. "They don't want to be fodder for gossip. While we represent some high-profile people, we also, and perhaps more importantly, represent friends, neighbors and colleagues. These people deserve our respect and discretion."
 In suburban Washington, not only does the duo handle clients with familiar last names, they sometimes have to navigate a world of dysfunction, too: children who need therapists, parents who need jobs, families learning to navigate a new normal. Neither Hostetter nor Strent see it as discouraging.
"By the end of my five years as public defender," Hostetter says, "I was representing the same people multiple times. I even represented a couple people's kids." That, she admits, was discouraging. 
Unlike other types of law, success in family law isn't always measured by cases won or lucrative settlements, but by more subtle metrics.
"Recently, one of our clients got a job. We were so proud of her," Strent says. "It's so rewarding to see that our clients have turned around a bad situation."
To get to that point, the lawyers figure out what is gettable and then go. When the time comes to negotiate or head to trial, there are no surprises.
They guide clients through the court system, says Linda Delaney, partner at Delaney McKinney. "If a client is really having a difficult time, is really hurting, [the client wants] all kinds of results that the system can't give them."
Revenge, chiefly. Some want a settlement or conclusion that simultaneously provides for children and punishes the ex. Hostetter and Strent help "navigate that reality when a client is going through this process," Delaney says. "It takes real work."
In that respect, they are the "whole package," she says.
They want to be the whole parental package, too, as well as have a life outside the law. Hostetter is cofounder of the Storybook Project, in which members go to the state prison in Maryland once a month to tape inmate mothers reading to their children; the books and the recordings are then mailed to the kids. Strent loves to travel and lose herself in yoga, and she chairs a book group run by the Hadassah-Brandeis Institute.
They try to inspire their associates—two full time, two part time, all women—to live the same way. There is no sneaking out. "We don't care if you are at your child's Halloween parade," Hostetter says. "We hire adults. You know what needs to be done. And we expect you to do it."
On average, target or minimum billable hours for law firms typically range between 1,700 and 2,300 per year, according to a Yale Law School analysis. To reach that goal, young lawyers would have to work 8 a.m. until 6:20 p.m. and bill more than seven hours per day. (The analysis assumes two 15-minute coffee breaks, an hour lunch and time for meetings.) 
Hostetter and Strent require full-time associates to bill 1,600 hours per year—which is about 32 billable hours per week spread over 50 weeks.
"What also makes us unique is that we really care about training and mentoring our associates. It's not just lip service," Strent says. "We emphasize giving personalized attention to our clients, and we extend this philosophy to our associates. We focus on what really counts—great client service. If that means working during carpool, fine. We do what we have to to get the work done, and done well."
Adds Hostetter, "We have a succession plan for [our associates] to get the firm when we retire, and we mean it. We are not making or training associates to be the same exact billing machines. We encourage our employees to work in their areas of strength so we get the best of everyone—some are good at financial investigation, others at client development."
While the duo might be the "whole package," there are no flawless days. At night, after the children are asleep, Hostetter juggles work tasks, answering emails. In law school, she was a perfectionist. She still is. She sometimes goes to bed thinking she should have answered five more emails.
But that's what the team is for.
"We're all in it together," Hostetter says. "We really like our associates as people—they are four amazing women—and we want them to be happy at work and at home.  And we try to model what we preach. Too often elsewhere [in the industry], it's do as I say, not as I do."
Search attorney feature articles