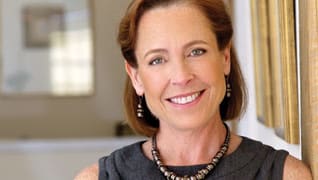 Photo by: Luigi Ciuffetelli
Dynamite
Employment lawyer Kathleen Cahill shakes things up locally and nationally
Published in 2012 Maryland Super Lawyers magazine
By Joan Hennessy on December 14, 2011
William Blake, a decorated undercover detective for the Baltimore County Police Department (BCPD), is a tough man in a tough city. But six years ago, after testifying for a fellow officer and against the department, he was ordered to take a fitness-for-duty exam. He suddenly needed a lawyer and his union pointed him toward Kathleen Cahill. 
"She's a small lady," says Blake, remembering his first meeting with Cahill, who stands 5 feet 3 inches tall. "But there's a lot of dynamite packed in there."
Colleagues and clients describe Cahill as tenacious, and that's an essential quality for anyone involved in employment law and civil rights cases, which can be resource-intensive with no guarantee of success. 
"You have to stay with it and understand the law and how it works and see a case through to its conclusion," says Sherrilyn Ifill, professor at University of Maryland School of Law and board member of the Open Society Institute—Baltimore. "You have to go all in."
"All in" describes Cahill, who has bottles of vitamin water lining her desk. In conversation, she frequently uses the expression, "lit up," as in "I was lit up by it."
The Blake case lit her up, too.
It started in 2005, when a BCPD officer wrecked a police car after having a seizure and the department attempted to have him forcibly retired. Sympathetic, Blake testified on his colleague's behalf, recounting how he himself had experienced a seizure on the job a decade earlier. Half an hour after the close of the hearing, Blake was ordered to undergo a fitness-for-duty exam. When he passed the physical exam, the doctor recommended to the chief of police that he receive an electroencephalogram (EEG), a brain scan, and he was ordered to do that, too.
"And we say, enough's enough," Cahill remembers. "You don't get to strap this guy down and study his brain. He's been beyond perfect for 10 years."
The lawsuit contended that the government violated the Americans with Disabilities Act by ordering Blake to be examined a decade after the seizure. Cahill first went to court to stop the EEG. The trial for damages followed. Cahill heard reservations from colleagues. "Everybody was like, 'Kathleen, how do you get emotional distress damages for that tough guy?'"
But after a six-day trial in April 2010, a jury awarded Blake $225,000 in damages. The 4th U.S. Circuit Court of Appeals upheld the award in July 2011.
"That investigation uncovered that the county has a broad track record of such abuses," Cahill says. "Now I represent firefighters and paramedics and police officers and civilians."
The case rippled the pond, which is fine by Cahill. She's a longtime pond rippler.
The Civil Rights Act of 1991, for example, provided damages for discrimination violations in federal cases, but under Maryland state law there was no recourse for damages. Maryland was one of the last states, Cahill says, where citizens couldn't get meaningful economic damages in state court.
For years, Cahill worked to get the clout of various legal organizations she belonged to—such as Maryland Trial Lawyers (now Maryland Association for Justice Inc.), of which she was once legislative chair, and the Maryland Employment Lawyers Association, of which she was also once chair—behind legislation that would allow Maryland residents to bring lawsuits in state court asking for damages. Each year, as the Legislature met, Cahill would lobby lawmakers in hallways and offices and at hearings. By 2007, she had made her point with a simple argument: If you go into the grocery store and slip on a banana peel, you can sue; but if you apply for a job and the manager refuses to hire you because of your race, you can't even use your state court.
She reminded lawmakers that federal courthouses in Maryland were in Baltimore and Greenbelt. "For a guy in Hagerstown who lost his job and lost his income," she says, "getting to Lombard Street was like getting to Alaska."
The revamped anti-discrimination statute was enacted in 2007 and other attorneys credit her efforts. "Getting that Civil Rights Act passed is the achievement of a lifetime, and she did it quietly and effectively," says William H. "Billy" Murphy Jr. of Murphy PA. He regards Cahill as a top employment attorney. "When you see her name on the other side of the case, look out."
There aren't enough hours in the day to do everything Cahill wants to do. At 55, she is freckle-faced, slim and energetic. She rows crew five days a week, practices Pilates and built a fully stocked gym in her office. She likes moving fast and jumping high.
The daughter of a well-known Baltimore lawyer and a figure skating judge, Cahill started skating at 2 years old. Back then, the sport focused on the technical precision of figure eights, and Cahill and her two sisters spent long hours at the rink. It taught Cahill discipline. Both of her sisters went on to become respected skating coaches but Cahill describes herself as a restless skater. As a teenager, she spent one summer in France appearing in outdoor ice shows in the Alps.
"There was glacier skiing all summer," she remembers. "It was killing me. I wasn't allowed to ski because I might hurt myself."
Cahill toyed with various career ambitions—architect, psychiatrist, large animal veterinarian—but now realizes her father, William W. Cahill Jr., was grooming her to be a lawyer. He talked about his cases to her and sometimes took her along when he went to see witnesses. "He taught me to cross-examine," she says. "If I said I'd like a stereo for my birthday, he'd say, 'I'll hear from you when you have 10 good reasons and wanting a stereo is not one of the 10.' So I had to shape an argument on the stereo."
His legal work was a palpable presence. "When he lost something," she says, "you could feel it in the house."
Because figure skating took up so much of her time, she wasn't going to high school full time, and she turned 16 wanting a more rigorous education. Accepted at Boston College, Cahill was determined to transfer to an Ivy League school. Smith College accepted her after her first year.
"I loved being in the middle of the pack where there were really lots of talented bright people all around," she says. "I was eating it up because that part of my life had not been developed yet."
Nevertheless, she decided to defer the University of Baltimore School of Law and take a job in Ireland on a horse farm. But her father, a lobbyist as well as a lawyer, dispatched a wave of friends to talk his daughter into going straight into law school. 
"He was right," she says now. "I could have fallen in love and lived over a barn in Ireland for the rest of my life."
After clerking in state court and then the U.S. District Court, she landed at the global mammoth now known as DLA Piper, then Piper & Marbury, where she handled mostly products liability defense cases. But she preferred the required pro bono work because she liked the stories within the cases.
"You have to demonstrate to a jury and judge that you believe what you're saying as opposed to being a mouthpiece," says Neil Dilloff, her mentor and a partner at the firm. "She is terrific in that regard."
At another firm, Murphy & McDaniel, a colleague was appointed to a civil rights case; Cahill took it over. "It was a First Amendment and race retaliation case for a Baltimore city employee," she remembers. "That's when I got the civil rights bug."
She won that one, making headlines and receiving offers for similar cases. Civil rights law, she says, "is a great combination of gripping human stories and very cerebral law, stuff that made me spring out of bed and stay up in the middle of the night to work."
She also decided to hang a shingle. Not everyone took her seriously.
"At the time, I was 29 and a single mom," Cahill remembers. "People would say, 'Oh, are you working out of your home?'" Cahill read the subtext as: "'Oh, are you dabbling?'"
"You have to have guts," Dilloff says of solo practitioners. "That's one thing. I think you have to be a jack of all trades. You have to generate business, do the work substantively. Very few people can do it." He thought Cahill could.
"Not taking me seriously only energizes me," Cahill says.
She tackled employment law cases that ended up in headlines—notably, a 1994 sexual harassment case targeting the Maryland State Police. Cahill unearthed the history of how female officers were treated. "If you are the first case and you do your job," she says, "you've got all the backlog of all the secrets."
That backlog formed the bedrock for many cases that followed; but one state employee feared no one would listen to her.
In 2001 and 2002, Lashawn Jones worked at the Maryland House of Corrections Annex at Jessup, a notoriously violent facility known as "The Cut," where fellow officers sexually harassed and threatened her. After reporting them, things only got worse. One day, Cahill says, just as Jones was walking the tier, an officer electronically opened the cell door of a maximum-security inmate, allowing the inmate into the tier just as Jones approached his cell. She suddenly found herself with the inmate coming at her. Luckily, a SWAT team member happened to be near and subdued the inmate. But, Cahill says, "It was a setup to have her attacked."
Jones was physically unharmed in the incident but later had a mental breakdown. She also assumed, because of her race and where she lived, that it would be tough to find a good lawyer. Then she met Cahill. "She just took control of everything," Jones remembers. "She jumped right in. She didn't judge me for where I live, my money, anything. She said, 'Let me see if I can help you with the situation.'"
In 2004, Cahill filed suit in U.S. District Court in Baltimore and the case ended in 2006 with a $250,000 settlement. Jones returned to school, is now a registered nurse, and testified in 2007 before the Maryland General Assembly as it considered the civil rights legislation Cahill championed. Together they attended the bill signing.
However, cases like Jones', as tough as they are, are even tougher today.
In the past, when prospective clients arrived distraught in Cahill's office, she would assure them, "Don't worry. You're done. You don't have to work there anymore." She'd contact the employer and within 60 days would get them out of their untenable work situation. The employees could receive counseling and maybe a headhunter. There would be enough money to bridge the gap between jobs. "And then they would land OK," she says.
She can't make such assurances anymore. Since the global financial meltdown in 2008, employers have been less likely to settle cases and employees less likely to land a new job. So Cahill's pitch to prospective clients now includes this warning:  "I have to tell you it is very uncertain how much I'll get you, when I'll get it and whether it will be enough to bridge the gap if you leave right now."
As a result, she says, workers are hunkered down in untenable and intolerable situations, afraid to sue and fearful they will never find another job.
In 2008, not content with shaking things up in the courtroom and the state Legislature, Cahill put her considerable energy into presidential politics.
Cahill first heard Barack Obama being interviewed on NPR in 2004. After reading his book, Dreams from My Father, she bought more copies and gave them as gifts. When he declared his candidacy for president, she volunteered, registered first-time voters, and wound up on his Maryland steering committee. She traveled to Ohio and Pennsylvania and rented her offices to his campaign. She estimates that between time, money, attention and energy, 75 percent of that year went to his campaign. She still works on Obama's behalf and is not among his naysayers. "I'm realistic about how difficult the times are," she says.
Divorced, Cahill has two sons: Reed, 18, and Owen, 25. When she was in her 30s and 40s, she raised money for the boys' school, coached Little League and played stage mom for Reed, who acted in area productions. Now Owen works for her.
"This is a time when he and I have started building our adult relationship," she says. "I'm enjoying Reed being in college and I look forward to buying a condo and living in the city and having my next chapter."
It will be, she adds, "the most productive, focused, professional chapter."
Search attorney feature articles