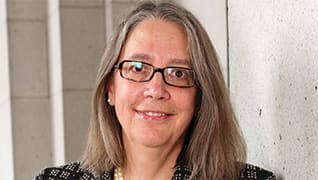 Photo by: Larry Marcus
Medium Cool
How Susan Preston went from fiery protester to cool med-mal attorney
Published in 2010 Maryland Super Lawyers magazine
By Joan Hennessy on December 21, 2009
Susan Preston knew better than to hitchhike across several states but she did it anyway. "It was pretty stupid," she admits now. But in the fall of 1969 she was a determined teenager full of the good fight. So she and a friend went from Ohio Wesleyan University in Delaware, Ohio, to Philadelphia, to Washington, D.C. They were among thousands to converge on and march through the nation's capital to protest the Vietnam War. As they passed the White House, they called out the names of young men killed in the fighting. It was personal for Preston, who had draft-age brothers.
She didn't know it at the time, but the experience launched her into law. "Law is a mechanism by which to change things from within," she says. "There was an aspect of thinking this was a way to make a difference."
Preston is now 58, a partner at Goodell, DeVries, Leech & Dann in Baltimore, and known less for fiery passion than for her cool, even temperament as she defends hospitals and doctors from malpractice claims. Colleagues say she possesses a command of knotty medical issues that leave most people seeing spots.
"Slow to anger and even slower to boil," says Kathleen Meredith, a plaintiff's attorney and partner at Iliff & Meredith in Pasadena. "She has very studied reactions. She considers what long-term ramifications are going to be. She's a very careful lawyer. If you were playing chess, she'd be three or four moves ahead of everyone else."
And yes, Meredith admits, "We've crossed swords but she fights fair. We're able to put it behind us."
Her childhood years in Baltimore were often ideal. Preston's mother's family owned a 600-acre Harford County farm. "When my mother's brothers and sisters got married, they built houses on the water. We used to spend summers up there," Preston says.
She has three brothers, but the immediate family was supplemented by an extended network of 17 cousins.
When the time came to choose a college, she gravitated to Ohio Wesleyan, a small and respected liberal arts school. But in the late 1960s, Ohio Wesleyan, like many colleges, rode a tsunami wave of unrest that accompanied the country's involvement in Vietnam.
In May 1970, a protest at Kent State University in Ohio culminated with the shootings of four unarmed students by National Guardsmen, and, 120 miles to the southwest, students like Preston marched down Delaware's Main Street in response. "The merchants were standing in the doorways with shotguns. It was pretty intense," she remembers.
Over time she realized that Ohio Wesleyan was not a perfect fit. While a good school, she says, "the atmosphere was a little too conservative for where I was at that time."
She finished her undergraduate degree at American University in Washington in 1973. The same year, voluntary enlistment replaced the draft. As the war drew to a messy end, so did the marching. Protesters went to work.
Preston was a pianist and a good one. But she realized she wasn't going to make a living in music. As an undergraduate she'd majored in political science, and she thought of drifting toward the familiar. That meant studying law at the University of Baltimore.
Her father was a lawyer active in the bar association. Preston remembers how he liked to predict that one of his children would follow him into the profession. He'd say, "'I'll make one of them a lawyer, even if it's Susan,'" she says. She adds that her father possessed certain old-school beliefs, but the idea of her becoming a lawyer was a stretch not just because of her gender. She was shy. "Public speaking was the furthest thing from what I thought I could do well. There must have been something behind that challenge of 'I'll make one of them become a lawyer.'"
Turns out her father was right. Two of his children became lawyers—even if one of them was Susan.
From the beginning, Preston's work ethic—like that of her father—impressed everyone around her. "What I really think is that people who grow up observing a strong work ethic develop a strong work ethic," recalls E. Dale Adkins III, a prominent attorney with Salsbury, Clements, Bekman, Marder & Adkins, and another second-generation lawyer. "It's almost osmosis. How do you get your children to have a strong work ethic? They mimic what they see."
During law school she was a clerk for the federal public defender's office. After law school she clerked for Lawrence Rodowsky, now senior status judge for the Court of Appeals of Maryland. "I came on the bench from civil practice," Rodowsky remembers. "On the criminal cases, she had to lead me through it."
Later, she dove into private practice at Semmes, Bowen & Semmes, tackling medical products liability cases. She was an associate working for one of the Semmes partners, Charlie Goodell. Her job included cases focusing on the Dalkon Shield, an intrauterine contraception device that spawned multiple lawsuits. In 1985, her client, the shield's manufacturer A.H. Robins, filed for bankruptcy. "We had cases all over the eastern seaboard and those cases went away," she remembers.
When a partner who'd specialized in medical malpractice left the firm, Preston, still an associate, stepped into his practice.
By the late 1980s, several attorneys at the firm decided that they wanted to do nothing but litigation, remembers Donald DeVries, one of her partners, and they made plans to head out on their own. Preston was asked to join them.
"It was not the kind of thing that happened in the legal profession in Baltimore," DeVries says. "Lawyer mobility is much different now than it was then."
A managing partner at the firm caught on about the move. As a result, Preston remembers, "We left a little bit earlier than we had intended. We hadn't put everything in place." The new office consisted of one conference room with a bank of phones, but, all the same, Preston became a founding partner of the fledgling law firm that is now Goodell, DeVries, Leech & Dann.
She continued to litigate, aware of the pitfalls. "There's a different expectation of jurors in the courtroom as to how women behave as opposed to how men behave. As a woman you have to be more careful about being aggressive," she says, then pauses. "How do I put this? A woman who is too aggressive is a bitch. One who is not aggressive enough is a wimp. There's a hard line to walk on that."
Years ago, a judge, who thought Preston's client should have settled, gave her a hard time throughout the trial. In the end, though, the jury handed her the verdict, and he let them know he'd underestimated her. "The judge leans over the bench," Preston remembers, "and says, 'Now, aren't you proud of your Miss Preston?'" The jurors—11 of whom were women—stood and applauded.
 "It was a backhanded way of acknowledging that I had tried a good case."
There is a backstory with malpractice. As Preston puts it, "Half or more of the cases I handle aren't bad medicine. It's just that judgments have been made." There are tragic outcomes that families refuse to accept. The thinking is that someone must pay. "But bad things happen and it's not anybody's fault," she points out. "Medical malpractice cases are a big manifestation of that."
In one case, she and DeVries worked together to defend the doctors of Clater Smith, the late Frederick County circuit court judge. Smith had been hospitalized in 1988 after rectal bleeding that caused fainting. He was treated for a disorder of the colon and told to return if the bleeding recurred. A year later, doctors at another hospital discovered he had stomach cancer. He died in 1991.
It was a high-visibility case. "He was a delightful man. But we didn't feel it was malpractice," DeVries remembers. The jury agreed.
Ultimately, that's the bottom line with malpractice cases. "I empathize with a lot of the [patients] who go through what they go through," Preston says. "But I'm on the defense side. I'm looking for why my client didn't do anything wrong."
Legal reforms, Preston notes, are changing the nature of malpractice cases. A University of Alabama study in 2007, funded by the Robert Wood Johnson Foundation, concluded that in states with caps on noneconomic damages, insurance premiums decreased for internal medicine, general surgery and obstetrics.
"As a consequence of tort reform, the cases you are seeing are better cases," Preston says. "They are [for] more severe injuries." Cases filed now have higher damages as well. "They [plaintiff's lawyers] are selecting the cases for the damages aspect because they are expensive to pursue."
She's had her share of wins and losses, and she's turned down clients who were unreasonable in their approach. It's part of the reason why she's effective. She understands medicine, says Jeff Peek of Cardaro & Peek. He and Preston face off from opposite sides of the courtroom. "When she goes into a case and defends a doctor or hospital, she knows the medicine as well as the doctors involved. That takes a lot of intelligence. It also takes preparedness."
But it's a tough business all around. Preston's current roster includes seven cases involving babies with brain damage. Meanwhile, though she acknowledges the plaintiff's bar wouldn't agree with her, she believes malpractice cases play a role in access to care. She's witnessed the toll court cases have taken on the health care system in general and doctors in particular. She watches as doctors move to other states with more favorable laws or leave medicine completely. "Physicians have gotten out of practice early, particularly OBs [obstetricians] stop delivering babies before they would have."
It is a discouraging aspect of the practice, she says, and it's why she hesitates when asked if she'll stay with med-mal. "You get jaded by the whole process," she admits. But in the next breath, she adds, "I might get into another aspect of law." She also may retire.
For the time being, she's at the top of her game. She's a fellow of the American College of Trial Lawyers. Clients have included the University of Maryland Medical System Corporation, Bon Secours Health System Inc. and Anne Arundel Medical Center Inc.
She gives back. She's vice president of the board of directors at Maryland Volunteer Lawyer Services. "It's a wonderful organization that facilitates providing legal services to low-income people that don't qualify for legal aid because they earn too much money but can't afford a lawyer otherwise."
She and her husband garden and travel. She plays the piano, although not as much as she'd like. And she's still a hard worker. She typically doesn't leave until 8 p.m. She works every weekend.
As Adkins put it, she's erudite but with varied interests. On the wall behind her desk, where most lawyers display awards or certificates or charcoal drawings sketched by television artists, Preston has a framed copy of the Magna Carta.
It is a reminder, she says, "of the compact that keeps evolving." Less gloriously, it spells out what our English ancestors thought of women. Preston points to one section in particular: "No-one is to be taken or imprisoned on the appeal of woman for the death of anyone save for the death of that woman's husband."
In other words, Preston says, grinning, "Nobody takes a woman's word."
That was then.
Search attorney feature articles
Helpful links
Other featured articles
Three Vegas attorneys on bringing women into gaming law
Baseball fan Josh Eichenstein found his field of dreams in Israel
Charlene Morring went from being a single mom on welfare to launching a solo firm and paying kindness forward 
View more articles featuring lawyers
Find top lawyers with confidence
The Super Lawyers patented selection process is peer influenced and research driven, selecting the top 5% of attorneys to the Super Lawyers lists each year. We know lawyers and make it easy to connect with them.
Find a lawyer near you