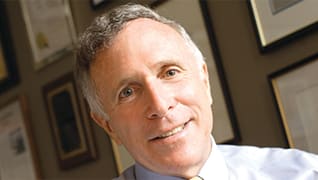 Photo by: Luigi Ciuffetelli
Nice Guy Finishes First
Ron Shapiro's long-term relationship-building approach lost him Oprah, but won him Cal Ripken Jr., the respect of his peers and a Hollywood ending
The best-remembered scene from the 1996 Tom Cruise movie Jerry Maguire features Cuba Gooding Jr. as Rod Tidwell, a football player eager for a long-term contract, who challenges his agent over the phone: "Show me the money!" When this scene is mentioned to Ronald M. Shapiro, the Baltimore attorney/agent simply shakes his head.
He is sitting behind a desk where legal briefs and journals share space with signed baseballs. More than two dozen autographed wooden bats are displayed in racks mounted along the walls. Shapiro (pronounced Sha-PIE-ro), 63, mild-mannered with salt-and-pepper hair, has made an art form out of negotiating deals for ballplayers and corporations alike. His clients have included four Hall-of-Famers (Kirby Puckett, Brooks Robinson, Jim Palmer and Eddie Murray) and another who will make it to Cooperstown later this year (Cal Ripken Jr.). Shapiro also represented Oprah Winfrey at the start of her career and now consults for such corporations as Wachovia and Bank of America (MBNA).
He leans forward, his shirt sleeves rolled up and an earnest look in his blue-gray eyes. "The scene I liked," Shapiro says, "is when Jerry Maguire says to his client, 'Help me help you!'"
Shapiro is the counter-argument to Leo Durocher's famous baseball saying "Nice guys finish last." Nice guys can, in fact, finish first, Shapiro argues, if they try to structure a business deal so everyone gets what they want. "I'd rather people who are adversaries help each other make a negotiation a 'win-win' situation and not an 'I win–you lose' situation," Shapiro says.
It's this very strategy that led Shapiro to write the 1998 business book The Power of Nice: How to Negotiate So Everyone Wins—Especially You!, which was excerpted in Fortune magazine. Shapiro and co-author Mark A. Jankowski argue that how you get results matters as much as the results themselves. The winner-take-all, scorched-earth approach risks alienating the other side, and negotiators lose out on future dealings. "You can be a 'nice guy' and still get what you're after," they write. "In fact, you often get better results, achieve more of your goals, and build longer-term relationships with even greater returns."
Longer-term is key: Of the five baseball players mentioned above, four played their entire careers with just one team.
"There are some agents out there saying, 'Show me the money,' and treating every situation the same way," says Cal Ripken Jr., who retired in 2001 after 21 seasons with the Orioles. "Ron really wanted to get into what was important. For me, it was to play in my hometown. I wasn't willing to declare free agency and risk that I wouldn't come back."
Ripken met Shapiro before his rookie year. Other agents wooed the 19-year-old star by picking him up in limos and treating him to lobster and steak dinners. Shapiro, in contrast, met Ripken and his parents in the attorney's modest Baltimore office. He ordered tuna sandwiches wrapped in paper. The meeting, Ripken recalls, "was more about the substance of what he could do for us as an agent." Shapiro asked a lot of questions about what Ripken wanted and needed. He listened.
By listening to both clients and opposing counsel, Shapiro has become what USA Today once called "one of baseball's most respected agent-attorneys." Fred Wilpon, owner of the New York Mets, whose manager, Willie Randolph, is represented by Shapiro, puts it this way: "Ron is a brilliant negotiator, very balanced and fair. He sees an issue from six sides as opposed to one side."
All of this is very Jerry Maguire. In the movie, the titular sports agent reveals his inner niceness for one brief moment, and his rivals—sensing his vulnerability—attack him. He loses his job and all but one client. By the end of the movie, though, his life is more meaningful, his position in the business stronger than ever. Of course, that's a Hollywood ending. That couldn't happen in real life. Could it?
Shapiro learned to negotiate early. Born in 1943, he grew up in suburban Philadelphia, the middle child of Mark and Lillian Shapiro. Being sandwiched between siblings turned out to be good training for diplomacy. "My older brother was in a superior position," Shapiro recalls with a laugh. "If I hit him, he was sure to hit me back harder." Shapiro's skill at diplomacy initially led him into politics: He was elected class president every year in junior and senior high school, and president of the student government in high school and college.
Shapiro's father immigrated to the United States from Russia in 1906 when he was 6 years old. He never got past third grade, but he started a successful plumbing and heating supply business, and died when Ron was only 16. "Being the son of an immigrant can have a powerful impact on a human being," notes Shapiro's son, Mark Shapiro, now general manager of the Cleveland Indians. Mark believes his grandfather's background impacted his father's values, his work ethic and the way he treats people.
Those values led Shapiro into the law. He graduated cum laude from Harvard Law School in 1967, hoping to right wrongs. His first job was clerking for U.S. District Judge Frank A. Kaufman, and he became quick and fast friends with Kaufman's other clerk, Larry Gibson, a Columbia Law graduate. At the end of the clerkship, Shapiro landed a job at Frank, Bernstein, Conaway & Goldman, and in the late '60s he and Gibson acted as co-counsels on several housing and employment discrimination cases. In one, they won a preliminary injunction and settlement under which the owners of the Marylander Apartments agreed to open up rentals to African Americans.
"I couldn't help but be impressed," recalls Gibson, now a law professor at the University of Maryland and part-time counsel to Shapiro's firm, "that he would spend time on civil rights matters at the very beginning of his legal career when the pressure on a young associate was to be focusing on income-producing work."
In 1972 Shapiro took on the role of securities commissioner for the state of Maryland. With a small office on Calvert Street, and one assistant, he faced the state's largest and most powerful corporations. "I talked softly and carried a big stick," Shapiro recalls. Finding it impossible for one man to litigate so many securities cases, Shapiro focused on negotiations—gaining as much through settlements while still protecting citizen interests—but he did get out the big stick against First Federated Commodity Trust Corp., which operated a nationwide commodity options scam. Shapiro faced a team of lawyers and won, sending some of the principals to jail and recovering funds for defrauded citizens. After that, he says, "When I went in with my initial action, I would be so well prepared that hopefully it would convince the other side it wasn't worth going to litigation," Shapiro recalls.
After two years, Shapiro focused on building his private practice at a firm now known as Shapiro Sher Guinot & Sandler. He practiced corporate and real estate law, and served on the boards of a variety of nonprofits, such as the Maryland Conference of Social Concern, the American Jewish Committee and the Johns Hopkins Children's Center. In 1981, Shapiro volunteered to be the pro bono mediator during the 17-week Baltimore Symphony Orchestra strike. A new symphony hall had just been built, and the board was strapped. The musicians wanted a raise. Shapiro was the architect of a settlement under which the board agreed to the raises in principle, but the bulk of the increase was paid through private fundraising efforts.
It was Shapiro's civic connections that eventually led him to baseball.
At this point in his career, the closest Shapiro had ever gotten to working in baseball came while he was at Harvard, when he cleaned latrines at Fenway Park. But, in 1976, he got a call from Jerold "Chuck" Hoffberger, then-owner of the Baltimore Orioles, whom Shapiro knew through the Associated Jewish Charities. Hoffberger asked if Shapiro would help a player straighten out his financial troubles. The player? Brooks Robinson, the team's All-Star third baseman.
Afterward, Robinson asked Shapiro to negotiate his final contract with the Orioles. It was 1976, the first official year of free agency, and Robinson wanted to finish his career with the only team he had ever played for. Unfortunately, the Orioles wanted to cut Robinson's then-hefty $100,000 salary by 20 percent. Shapiro researched what other players were making, studied historical precedents and learned about the man he would face: Orioles General Manager Hank Peters. When they met, Shapiro made his case. "All he did was listen," Shapiro recalls. "He said, 'Ron, I'll get back to you.' Hank had done all the listening and learning. I had to learn to develop that skill." When Peters' offer stood at $80,000, Robinson accepted.
Later, though, Peters raised Robinson's salary retroactively to $100,000 in exchange for a favor from Robinson. That taught Shapiro to never burn bridges, that there is value in long-term relationships.
Soon Shapiro earned a good reputation among baseball players and broadcasters alike. At one point he represented so many Orioles—Ripken, Eddie Murray and Jim Palmer, among others—that he was invited and went on the team's tour of Japan after they won the 1983 World Series.
Another client, Kirby Puckett, the Minnesota center fielder who led the Twins to World Series titles in 1987 and 1991, was on the verge of free agency and about to leave Minnesota when Shapiro encouraged him to bond with team owner Carl Pohlad over dinner. The Twins came back with an offer that paid Puckett more than $30 million over five years and kept him with the Twins. "You know," Shapiro recalls telling Puckett before he accepted the deal, "in the next few weeks someone is going to get $35 million or maybe $40 million." Puckett replied: "Nobody will be happier than me."
Not every client loves the nice-guy approach. In the early 1980s, Shapiro represented a young Oprah Winfrey, who was co-anchor of the Six O'Clock News on Baltimore's WJZ-TV and host of the station's talk show: People Are Talking. It was clear Oprah was star material. "I told her she could be making $1 million a year in Chicago," Shapiro recalls. Less than a year after Oprah left to host AM Chicago, the show expanded and was renamed The Oprah Winfrey Show, and she found someone else to represent her, saying, according to Shapiro's book, that she no longer wanted a "nice-guy agent." Shapiro doesn't mind the label. He even laughs at his original assessment of Winfrey's worth. "I was only off by $135 million or so a year," he says.
The entertainment and sports stars who choose Shapiro today—including Minnesota Twins All-Star catcher and American League batting champion Joe Mauer—say they want an agent who is universally respected. "I went to some of the companies that deal with agents and I asked them who they respected in the game," says Brian Schneider, the Washington Nationals' catcher. "People kept coming back with Ron's name." In January, Schneider signed a $16 million, four-year deal with the Nationals. "He is an agent the GM calls back right away," Schneider says. "If it wasn't for him, the contract probably wouldn't have gotten done."
Trot Nixon was a first-round draft pick in 1993 when he signed with Shapiro. The Red Sox right fielder is now in the final year of a three-year, $19.5 million deal. "The one thing Ron continues to tell me is, 'I care more about you and your family than anything else,'" says Nixon, 32. "We all like to make money, but I'd like stability. If I'm able to extend a contract here with the Red Sox, that would be great. I'd like to be in a certain city for two or three years."
So far, Nixon, Schneider and Mauer—like Robinson, Palmer, Ripken and Puckett before them—are all one-team players.
In 1995, Shapiro founded the Shapiro Negotiations Institute, a management consulting and training firm. He and his staff role-play with executives, using actual deals to help them refine the art of making a proposal by following Shapiro's mantra: Prepare, probe and propose. "He's taught our salespeople how to slow down and ask the right questions," says John Cochran, Bank of America's senior executive for card services. "It's pretty easy in our business to think that you know exactly what the customer wants. Ron's approach is helping us to better understand the customers' interest and how we can match this interest to help us meet our business objectives."
It's just another hat he wears. He's still counsel to his law firm. He heads the sports management firm Shapiro, Robinson & Associates. And in 2005 he published another book with Jankowski: Bullies, Tyrants and Impossible People: How to Beat Them Without Joining Them. In the book, Shapiro recounts making a presentation to the NFL's Management Council and being confronted by an angry general manager who called sports agents "the scum of the earth." Shapiro says he kept his cool and sympathized with the GM, eventually neutralizing him. In the end, the two became friends.
During his free time, Shapiro likes to work on his farm in Butler, Md., and spend time with his family; he has seven children and eight grandchildren. He also serves as chairman of Playing for Peace, an international organization that uses sports—mostly basketball—to help broker an end to conflicts in trouble spots around the world. The organization taught the game of basketball to 25,000 children in South Africa, coached 12,000 youths on integrated Catholic and Protestant teams in Northern Ireland and used the game as a way to foster mutual respect among Jewish and Arab youths in the West Bank and Israel.
Long-term relationships are important to Shapiro. Gibson, his friend of 40 years, shows off photos of a surprise birthday party he thought was being thrown for Shapiro. The party was, in fact, being thrown for Gibson. "Look at me pointing at him," Gibson says. After the page of the photo album is turned, Shapiro jumps in. "And look at me now pointing at him."
Speaking of long-term relationships, what is Cal Ripken Jr.'s favorite scene from Jerry Maguire? It's that moment when Rod Tidwell is nearly injured catching a game-winning touchdown, and afterward, when everyone realizes he's OK, he and Jerry hug. Another player then turns to his own agent, Maguire's main rival, and says, "Why don't we have that kind of relationship?"
Ripken says the Maguire-Tidwell relationship is similar to the one he has with Shapiro. "It is a long journey and you are asking your agent to be an adviser in many different ways," Ripken says. "I consider Ron my friend."
And that's our Hollywood ending.
Search attorney feature articles