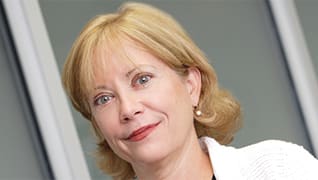 Photo by: Luigi Ciuffetelli
On the Side of the Underdog
Med-mal lawyer Kathleen Howard Meredith switched from defendant to plaintiff representation, and that has made all the difference
In a modest corner office in a corporate park in suburban Pasadena, where family photographs line the bookshelves and a framed child's painting of a sailboat hangs on the wall, Kathleen Howard Meredith sits amidst overflowing case files stacked on the floor. With her auburn hair, large blue eyes and pleasant demeanor, Meredith looks much younger than her 51 years—more like a college student cramming for mid-term exams than an aggressive litigator. Yet the piles of folders are serious business; they contain information about her latest case, in which a 6-year-old child lost her leg.
"I think [the leg amputation] didn't have to happen," Meredith says. "And I think I can make a difference for her so that she doesn't need to grow up worrying about where her next prosthetic limb comes from."
Don't be fooled by Meredith's pleasant exterior. Within her small, athletic frame burns the passion of an idealist and a dogged attorney who has dedicated more than a decade to civil litigation and plaintiffs medical malpractice, through her firm, Iliff & Meredith.
But it wasn't always this way. 
Born in Philadelphia, the oldest of nine children, Meredith can recall evenings when her father divided the large family into teams around the dining room table and gave the kids issues to debate. "My father wasn't a lawyer but always wanted to be," she says. Those first playful interactions shaped Meredith's interest in pursuing the law.
After graduating summa cum laude from the University of Baltimore School of Law in 1978, Meredith joined one of the largest firms in Maryland: Semmes, Bowen & Semmes. She honed her skills working for insurance companies, overseeing mostly professional liability claims in the medical field, and representing doctors and hospitals in defense of medical malpractice claims.
In 1982 she left the corporate world to join the civil division of the attorney general's office. "I was always interested in doing publicinterest work and I wanted to give back," Meredith remembers. The office was filled with great young minds of the legal profession, people who have since gone on to become partners in large firms and esteemed practitioners of the law, including U.S. Magistrate Judges Susan Gauvey and Paul Grimm, and Venable's chair, James Shea. "It was a very exciting time," she says. "I had the opportunity to assist in formulating policy, and I also had the opportunity to litigate cases involving alleged failures to adhere to policy. The experience gave me enormous respect for those people in state government who are little recognized but who work so very hard to keep our state government running smoothly and effectively."
As her career blossomed, so did her family. She married Timothy Meredith, currently a judge in the Court of Special Appeals. Her first child, Benjamin, was born in 1984 and shortly thereafter she returned to Semmes. In 1987 daughter Patrice arrived, as did a partnership with the firm. "When the children were small, [my husband] was primarily responsible for the doctor's visits and meeting the refrigerator repairman," Meredith says. "But we work well together and are sensitive to each other's schedules. It's an equal partnership."
Although Meredith returned to her former role of defense attorney, she began taking the occasional plaintiffs case—primarily cases against the federal government under the Tort Claims Act so that she would not alienate her traditional client base.
Her first med-mal plaintiff client was her sister, who was married to an Army officer and went into premature labor at an overseas base without neonatal care. A choice had to be made: Ride in a helicopter to an American-run hospital in Germany, or take an ambulance to a civilian hospital in Italy. Against the expectant mother's wishes, the decision was made for Italy.
At the Italian hospital, the physicians were on strike. The few available staff members told the mother the baby would die upon delivery. Against the odds, the baby lived, but the trauma was just beginning. Due to negligence, IV fluid leaked into the subcutaneous tissue of the infant's leg, destroying the growth plate, and the leg was later amputated. She also developed permanent blindness from an avoidable condition brought on by excessive oxygen in her incubator. Meredith sued the U.S. government.
"There were lots of problems from the plaintiff 's point of view because the poor quality of care wasn't delivered by U.S. personnel," says Meredith. "So [the case] was based on the transfer decision." The matter was resolved on confidential terms, and Meredith's niece, Molly, is now 21 years old and attending college.
"What that did was fuel my desire to take meritorious plaintiff cases if and when I found them," she says. In 1995, when taking such cases here and there wasn't enough of a challenge, Meredith left to start her own practice with three other attorneys. "What I did was cross the street in my medical work."
Her current partner, David Wildberger, was not surprised at Meredith's decision to switch teams. Wildberger started working with Meredith as a paralegal when he was still in law school, and she helped him get his first job at Semmes, Bowen & Semmes. "Once Kathy got involved in working on the plaintiff side, she realized that's where she belonged," he says. "Kathy is an idealist and she has something of the crusader in her, and I think that makes her more comfortable on the side of the underdog."
Iliff & Meredith is a small firm, just four lawyers and two staff members, all of whom have been with the firm since it opened 10 years ago. The organization's size makes it more nimble than firms that must wade through 50 or 60 partners to make a decision. "We only take cases we believe in," says Wildberger.
It also works hard on the cases it does take. "Some lawyers have nurses on staff or send [medical records] out for review. I typically do my own review," says Meredith, who uses textbooks, medical journals and other methods to familiarize herself with the medical issues of her cases. "I want to know enough about the medicine and the case so that when I contact my experts and consultants, I can speak to them knowledgeably."
Meredith is quick to point out that a bad outcome does not malpractice make. She examines each case to determine whether the care provided was consistent with applicable standards and whether there is a strong connection between the mistake in care and the poor outcome. One case she did take involved a woman with a history of leg and back pain who developed a herniated disk that wasn't properly treated and caused paralysis. While the woman regained the ability to walk, she lost bowel and bladder functions and lives with a host of other problems. The physician's lack of timely response to the patient's complaint resonated with Meredith.
"She's a dynamo," says Wildberger. "She's scrupulously ethical and very aggressive. She's a small person but she moves at high velocity." He explains that Meredith has taught him that a lawyer's word is everything in litigation, and to fight hard without needlessly exploiting one's opponent. "She's one of the most trustworthy persons you could litigate against, and I think defense counsel will tell you that."
Dave McManus, a partner at Baxter Baker who has often been on the opposite side of the courtroom from Meredith, describes her as tenacious but professional. "She works hard for her clients but she doesn't do so in a way that alienates other people in the process," he says. He has also noticed her courtroom tactics. In one case, when she crossexamined his witness, she had 30 little notepad pages of questions stacked up that she went through rapidly. "It was a long ordeal for the witness," he remembers. In another case, in her closing argument for a patient who died, she presented her argument in the first person, reliving the patient's dying moments. "It was theatrical," says McManus, "but, I think, effective."
"As aggressive as I am in my litigation style, you must be even more so on the plaintiff side," Meredith says. "On the defense side, sometimes an appropriate strategy is not to push, to let things simmer. When you are on the plaintiff side, you cannot afford that luxury."
When Meredith worked as a defense attorney, the insurance companies she represented had many reporting requirements; she still uses those skills. Her clients are CC'ed on all communications and she frequently checks in with her clients by phone. "I find that an informed client is generally a satisfied client, " says Meredith.
One of Meredith's former clients (who asked to remain anonymous) states that Meredith was so honest and forthcoming about her case, she was scared half to death. "But I knew she was good," the client says. "I trusted her completely." The client's husband died at age 40 of a rare heart disease, leaving behind the wife and their three children. Nine months later, his widow suspected some aspect of his treatment had not been handled properly and sought Meredith's counsel on the recommendation of her husband's estate lawyer.
"[Meredith] was extremely thorough, diligent and persistent," says the client. "There were a lot of roadblocks with my case, but she was always positive and had alternative avenues to get around obstacles."
The case took almost three years to get to court and received a favorable verdict after a two-week trial. But the widow states that it wasn't about money; it was about principle, something she feels Meredith understood and respected. "Throughout the whole process, you could tell that she had our best interest at heart," she states. "No amount of money brings your loved one back. These doctors had to know that what they did was wrong."
Because the heart disease the patient suffered from was so rare, there were few cases for Meredith to refer to, and the medicine was complex. "But at the end of the day we got a very good verdict for the client that has enabled her to care for her children in the way she would have had her husband survived," she says.
When she isn't working 10- to 12-hour days in her office, Meredith can be found volunteering in youth programming at Woods Memorial Presbyterian Church. She is also on the board of the Maryland Volunteer Lawyers Services Corporation, which provides legal services to the working poor. One day, she would like to return to her public-service roots. "Once the kids are fully educated, I want to give back in a more meaningful, direct way," says Meredith, who would consider acting as a court-appointed special advocate or working as a volunteer offering counsel to the elderly.
Regardless of what her future holds, she will never stop fighting for the underdog. "The hardest part is realizing there are some people I can't help and that almost always, those that I can help I can't help completely," says Meredith. "Because money can never replace a leg, a wife, a son."
Search attorney feature articles