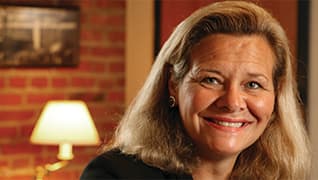 Photo by: Larry Marcus
Still the Authority
How Alison Asti survived someone else's turf war
Well, that was certainly an interesting year.
At the outset of 2007, Alison Asti held three positions with the Maryland Stadium Authority (MSA)—general counsel, director of development and executive director—and in June she was elected president of the Maryland State Bar Association. But rumors circulated that the administration of Gov. Martin O'Malley wanted a change at the helm of the MSA. In September, Asti resigned her posts. A week later the state attorney general rejected her severence deal. The next day the MSA fired her.
With the characteristics of someone who has picked up the pieces before, Asti responded like a survivor. She started Asti Strategic Advisors, a sports and economic development consulting firm, and is considering affiliations with other law firms. "I'm enthusiastic about helping other cities and states accomplish what we have in Maryland," she says. Then she jetted around the country on bar association business like some of the athletes who play in the stadiums she helped build.
Asti calls it all "a year of great change," and adds, "Isn't that what keeps us vibrant and alive?"
When we first met Asti last June, her office was still located in the 1,016-foot former Baltimore & Ohio Warehouse, an architectural landmark—just past Camden Yards' right-field stands—that Ken Griffey Jr. famously hit on the fly during the 1993 All-Star Home Run Derby.
Framed photos of the original 1910s Oriole Park—where Babe Ruth played when he played in Baltimore—hung on the wall, while on her bookshelves you'd find the following: a brick from Babe Ruth's father's saloon (recovered during an archaeological dig in what is now center field of Camden Yards); a commemorative baseball from the 1992 opening of Camden; and an autographed photo of Asti with former Baltimore Ravens quarterback Vinny Testaverde.
Asti isn't a typical sports fan. She's loyal to Baltimore teams, certainly, but prefers jet-skiing along the Magothy River or attending her daughter's equestrian competitions to baseball or football.
Yet Asti is part of the reason Baltimore sports fans have teams to root for. She was the key attorney who negotiated the contract that wooed the Cleveland Browns to Baltimore a decade after the Colts' infamous middle-of-the-night bolt to Indianapolis. Before that, Asti helped negotiate the agreement that resulted in Camden Yards, which is the model for state-of-the-art retro ballparks around the country.
"I'm not the type of sports enthusiast who goes nuts," she explains. "That's probably good because it makes me objective about the business transaction. I'm not so enamored of the sport that I lose track of the business deal."
The Maryland Stadium Authority, created by the state Legislature in 1986 to bring football back to Baltimore, became a player in the restoration of downtown Baltimore, as well as in the construction of convention, entertainment and sports venues all over the state. Asti became its executive director in 2004, managing a staff of 100, overseeing budget and projects, and testifying at state legislative hearings. "Some lawyers just dispense advice and let executives make the decisions," says Baltimore's city solicitor George Nilson. "But she's one lawyer who has shown she is also a good executive."
Since 1990, she's also been the stadium authority's lead negotiator. As general counsel, she handled all commercial transactions involved with the construction, operation and financing of not only Camden Yards and M&T Bank Stadium, but the Baltimore Convention Center expansion, the Ocean City Convention Center expansion, the Montgomery County Conference Center and the Hippodrome Performing Arts Center.
"She knows the history of these agreements better than anyone," says Dick Cass, the president of the Ravens franchise.
Asti was raised in suburban Severna Park, the daughter of two federal government workers: her father was an acoustical engineer with the Department of the Navy, her mother an administrative assistant to a U.S. Navy captain. She studied economics and political science at Duke University, then stuck around and received a master's degree in public finance. After graduation, she enrolled at the University of Maryland School of Law, where she graduated with honors in 1979, having served as editor of the law review.
Soon she joined Gordon, Feinblatt, Rothman, Hoffberger & Hollander's corporate and commercial practice division and became a partner in 1986. That same year, she married another lawyer at the firm, Ned Bienemann. They rushed the wedding because Bienemann found out he had throat cancer and wanted to say "I do" before surgery. "We had our honeymoon in the hospital," Asti recalls. Bienemann fought cancer through the birth of their two children. "When I got pregnant with Daniel, he said he was worried that he would never see him go to high school," Asti says. "The nice thing was he saw him up to his junior year. It was a very tough time. They're very independent kids as a result of everything."
Bienemann died just three years ago. "He was a fighter," Asti says, quietly.
Asti's introduction to the Stadium Authority came after the birth of Daniel in 1987. Officials with the Baltimore Orioles—then the city's last remaining professional sports team—refused to sign anything longer than a one-year lease for aging Memorial Stadium. Asti started helping one of the senior partners at her firm, Eugene Feinblatt, outside counsel to the Stadium Authority, negotiate the authority's memorandum of understanding to build a new stadium at Camden Yards. "I started to research every stadium lease in the country," Asti recalls. She had binders containing details of lease agreements. To this day, she can rattle off the details.
At the time, most modern sports facilities were multipurpose concrete rings. Camden Yards, in contrast, is a brick stadium that emulates the ballparks of yesteryear. When it opened, it was heralded by fans, sports teams and municipal officials alike, but it was a tough agreement to negotiate. Originally, the MSA's goal was to build one park for both baseball and football. The Orioles, however, wanted a baseball-only park. "You don't get the same sight lines," Asti says. "You can't combine them easily and make it work for both."
The 18-page memo of understanding took two years to negotiate. That's all the Orioles had in hand when the park opened in 1992. Asti, returning from her second maternity leave (daughter Tracey), was asked by then-Stadium Authority chairman Herb Belgrad to negotiate the Orioles' lease. Ultimately she was appointed general counsel.
"We would watch the Orioles game and then start to negotiate from 11 p.m. to 3 a.m.," recalls Belgrad. "Alison was a team player. She was a mother and a wife and had responsibilities but I never heard her excuse herself from something that was ongoing and scheduled. She has a unique way of balancing her home life, responsibility to her children and her professional life."
In the end, the Orioles leased the park for 30 years while the MSA maintained the buildings and grounds. The main sticking point, however, was how much rent the Orioles would pay. Much of Asti's time was spent hashing out a set of calculations based on revenues: admissions, concessions, advertising, everything. The formula alone is spelled out in more than five pages of the lease agreement.
Meanwhile, the state was still trying to bring football back to Baltimore. In the mid-1990s, the NFL expanded and the MSA put together a bid for one of the two teams. Although Baltimore wasn't chosen—Jacksonville and Charlotte were—their deal interested then-Cleveland Browns' owner Art Modell. In 1995 he announced the team was moving and changing its name to the Baltimore Ravens.
Asti was a key figure in the negotiations, which resulted in a very different type of agreement for what is now M&T Bank Stadium. In 1986, the federal government changed the tax law to prohibit states from charging rent to teams for stadiums financed through tax-exempt debt. (Camden Yards and other stadiums-in-the-planning were grandfathered in.) Thus, in lieu of rent, the Ravens pay an admissions tax and reimburse the authority for all operations and maintenance expenses. The team gets to keep all revenues from ticket sales, concessions, advertising in the stadium, etc.
As for the concern that public funds shouldn't be used for sports arenas when states are hard-pressed to fund education and highway repair programs? Asti is sympathetic, but says, "Sports projects are typically structured as economic development projects. Schools, although critically important, do not generate additional revenues for the state. The investment of public funds in sports projects can be a sound investment if a fair business deal is negotiated with the team, and economic projections show that the taxes flowing into the state from fan expenditures pay for the state's investment and create ancillary benefits—including jobs and new business opportunities."
Asti has often been called upon to lecture on sports stadiums. In County Durham, England, she gave a talk titled "The Role of Sport in Economic Regeneration." In Kansas City, Mo., she lectured at an International Economic Development Council conference called "If You Build It, Will They Come?"
It's that expertise, colleagues say, that will make Asti valuable in private practice. "Alison is a first-rate lawyer," says Paul Bekman, a Baltimore attorney and former state bar president. "She had 20 years of experience in this job. There are stadium authorities all over the country with similar issues of acquiring and building stadiums and expanding existing facilities. She's been there from ground zero and knows how the system works."
"She did an excellent job [with the MSA]," says Arnold Weiner, a trial attorney and civil litigator in Baltimore who first met Asti when she was in a class he taught at the University of Maryland Law School. "Unfortunately, she got caught in the midst of someone else's turf war."
Asti expected the change in her status soon after the new governor took office. "I had not expected to stay for long in that role," she says. "But I'm enjoying the respite from trying to juggle running the Stadium Authority with trying to head the state bar association."
Indeed, instead of sitting behind a desk in the old B&O Warehouse, Asti has been traveling in her role as Maryland State Bar president. Her itinerary sounds like a ballplayer in mid-season: from San Francisco (ABA meeting) to Little Rock (Southern Conference of Bar Presidents confab) to Wilmington, Del. (the Mid-Atlantic Conference of Bar Presidents gathering).
Most of her career she's been working her way up the ladder of professional organizations—serving as president of the Baltimore Women's Bar (1986-87), and the Baltimore City Bar (1994-95), before her current gig.
"One thing I care a lot about is access to justice," she says, getting animated when asked about her plans. The state bar is working on a pilot project with the Administrative Office of the Courts, encouraging private attorneys to provide services at reduced rates to low-income clients who don't qualify for traditional legal aid. "There is a huge talent base in the area of a lot of domestic and child custody issues," Asti says. "These are really important life issues where that representation is crucial."
Asti has called upon some of the talented lawyers she knows, such as Lynne Battaglia, former U.S. attorney for the District of Maryland and now a Maryland Court of Appeals judge, to help chair several bar committees. Battaglia is chairing the planning committee, which she says will look at the future of the bar, how it can improve professional satisfaction among members, and remain relevant. "Alison is a survivor," Battaglia says. "She's made great decisions before in her life and she will do the same now."
During a long-distance call from the bar conference in Little Rock, Asti says it was actually fortuitous leaving the MSA. "I had only planned to be there a couple of years. I had always planned to gain the contacts and move back into the private sector," she says. Yet a decade slipped by. Now she's got her opportunity. "I want to do it while I am still young," she says. "The timing is just right."
Search attorney feature articles
Helpful links
Other featured articles
International tax attorney Rob Misey Jr. discusses his exploits as a movie extra
Jack Swerling is less fearsome than his courtroom moniker 'Mr. Murder'
Lawsuits will increasingly be about the technology designed to prevent accidents
View more articles featuring lawyers
Find top lawyers with confidence
The Super Lawyers patented selection process is peer influenced and research driven, selecting the top 5% of attorneys to the Super Lawyers lists each year. We know lawyers and make it easy to connect with them.
Find a lawyer near you