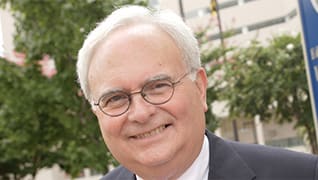 Photo by: Luigi Ciuffetelli
The Complete Trial Lawyer
How Arnold Weiner brought down a vice president, rehabilitated a congressman and won the preakness stakes
Published in 2007 Maryland Super Lawyers magazine
By Joan Hennessy on December 25, 2006
Arnold Weiner leans back in his chair and holds forth on the rare subject more enveloping to him than law: his grandchildren.
"We have them up all the time. It's wonderful," he says. "My son-in-law [attorney Barry Gogel] picks them up and the kids will run around the office. You couldn't do it in a big firm."
His round, tanned face, offset by a cap of snow-white hair, lends to a genial, grandfatherly softness. He smiles, chortles infectiously and radiates the energy of a man far younger than his 73 years.
A person could momentarily forget that this guy is considered one of the most aggressive lawyers in Maryland.
His friends, some of whom are courtroom adversaries, describe him as brilliant and creative, a lawyer's lawyer. But they also use the word "tough." Weiner lives and breathes each case. Most of all, he'll tell you, he doesn't like to lose.
"Arnold Weiner is the most complete trial lawyer I've ever seen," observes Larry Gibson, professor of law at the University of Maryland School of Law in Baltimore. "There are many very good orators, some very good writers, some excellent in discovery. Arnold is good at all of them."
In the past year, Weiner went to the mat for the Baltimore Orioles in a lawsuit—eventually settled—that Comcast brought against the team and the team's television network. In 1999, he and his partner, Robert J. Weltchek, represented the bankruptcy trustee for Merry-Go-Round's creditors and shareholders in negotiating a $185 million settlement against the Ernst & Young accounting firm. Other past clients have included a congressman and a governor. And in at least one case, Weiner cut a deal that ultimately altered history.
As a kid, Weiner lived above a grocery store near Baltimore's North Avenue before his family moved to the Forest Park neighborhood. He didn't get serious about school until college, and even at the University of Maryland School of Law, where he was an "A" student, he was, by his own admission, "scruffy."
"I never shaved," he says.
He wanted to be a law professor; but one day he was called into the dean's office, where he was told that Simon E. Sobeloff, chief judge of the 4th Circuit and a much-heralded lawyer, needed a clerk. "I'd like you to go see him," the dean told Weiner. He added, "But don't forget to shave."
A year later, Weiner was winding up his clerking tenure when Sobeloff and his neighbor—the U.S. Attorney—suggested that Weiner take a position as an assistant U.S. Attorney.
So in 1958 the newly minted lawyer became a prosecutor. "Immediately you had the FBI and the IRS as your investigators," he says, "and the final responsibility for making decisions and taking the cases into court."
He was hooked. "This is it," he remembers thinking. "This is where I want to spend my life."
The work, particularly a savings and loan scandal that culminated with a trial in 1963, put Weiner's name in newspapers and on the street. By the late 1960s, he was special assistant attorney general for Maryland. But it wasn't until his transition to private practice that he took on the kinds of cases that are still conversation fodder at Baltimore cocktail parties.
In the early 1970s, Weiner represented two men caught up in a far-ranging bribery scandal that focused on contractors. As it happened, his clients had a story to tell—a saga of bribery and politics that focused on a famous Marylander who just happened to be the 39th vice president of the United States: Spiro Agnew.
"I went to see George Beall," Weiner explains, "who was then the U.S. Attorney, and I said, 'I've got a great story for you, but I'm expecting you are going to be kind to my guys when it's all over.' And I made the disclosure to the U.S. Attorney on what these guys knew. … And it was their disclosure that gave rise to the [Agnew] case."
Ultimately, Weiner's clients were not prosecuted. Agnew, who was forced to resign the vice presidency in October 1973, pleaded no contest to a tax evasion charge and was given a $10,000 fine and three years probation. Weiner crossed paths with him again in 1976 when a foundation filed civil suit looking to reclaim money stolen from the people of Maryland.
The setting was a dingy law office in Washington, D.C., on a sweltering summer day. Agnew, once a heartbeat from the presidency, took the Fifth Amendment.
As all the lawyers and Agnew headed for the Hilton, where Weiner and his colleagues planned to suggest a settlement, Weiner remarked to another lawyer, "I feel terrible for Agnew. To have had such prominence and now to be reduced to taking the Fifth in a setting like this."
But the other lawyer, partially deaf and not aware of his own volume, responded, "I don't feel sorry at all for that crooked son of a bitch!"
Agnew heard. There goes the settlement, Weiner thought.
Never one to give up, Weiner charged ahead and caught up with Agnew.
Weiner recalls: "So I'm walking up M street with Agnew, and I figured I've got to get this thing back on track … so I say to him, 'Gee, Ted, you really look terrific: You have this great tan, you're trim.'"
"You know why I'm trim?" Agnew shot back.
No, Weiner admitted.
"Not sleeping one night for the last five years," Agnew barked. "This awful thing that I go through. I'm nothing but a freak!" As if to prove his point, a middle-aged man and woman, looking like former hippies ("from central casting," as Weiner remembers), padded down the street toward them. "The wife spots that it's Agnew. And she gives the husband an elbow. And she's pointing at Agnew."
"See?" Agnew said. "Look at her. I can't go anywhere and not face this."
Weiner tried turning the conversation toward world events. "Isn't it awful what's going on in Angola?"
"It sure is," replied Agnew. "If I was president, and I should be president, I'd bomb that f—ing country from border to border."
Sitting in his office all these years later, Weiner recalls his precise thought at that moment: "If I ever had any doubt as to whether I did the right thing bringing these two guys in to tell that story, I didn't with that."
H.Russell Smouse, general counsel for the Baltimore Orioles, has known Weiner since both men worked in the U.S. Attorney's office. "The practice of law is very much about developing the facts," Smouse says. "It's a matter of thoroughly investigating matters; talking to every possible source and just learning everything there is to learn about the case. And that's a great strength of Arnold's."
Consider the case of former U.S. Congressman Edward Garmatz. A political veteran, equipped with campaign-finance controversies and scars to show for 13 terms in Congress (from 1947 to 1973), Garmatz was nonetheless a rarity: a revered politician. A federal courthouse in Baltimore was even named for him. Then in 1977, at the age of 74, he was indicted on bribery charges.
"Different personalities cause people either never to proclaim their innocence or constantly to proclaim their innocence. And I've always found that public officials and public figures were greatly inclined to profess their innocence," Weiner explains.
So, yes, he remembers, Garmatz had vehemently proclaimed his innocence. "As a lawyer, that isn't something you can work with. You have to work with what's out there on the other side. And so I really focused my whole attention on: What does the government think it has as evidence?"
What the government had was Edward J. Heine Jr., president of United States Lines, who had been under investigation in connection with a company fund in Swiss and British banks. As Weiner remembers it, "Heine was told by his lawyer that he faced a long sentence." But if he had evidence on anybody, perhaps a deal could be made. Not long after, Heine told his lawyer that he had been bribing Garmatz, formerly chairman of the House Merchant Marine and Fisheries committee. When the lawyer said corroboration was needed, Heine produced diary entries.
But Weiner hired a document analyst who concluded that the last pages of the diary had been written first.
Heine, Weiner explains, "got his secretary to go with him to Florida where it would be quiet. He got her to rewrite all of his diaries for a three-year period, and put into the diaries notations of meetings and payments to the congressmen—things that had never happened," Weiner says. "He just made them up out of whole cloth."
Weiner was faced with a choice. "Do I humiliate the government at a trial or do I let them know in advance that their evidence is all phony?" In the end, he says, "I decided I didn't want to put this elderly guy through the strain of a trial. It's always a risk, because [the prosecutors] may not believe you and may try to go and find something else [against your client]."
As a result, the night before the trial was to start, prosecutors dropped the charges. The next day, after a brief court appearance making the dismissal official, Garmatz strode outside, surrounded by reporters. It was January. Snow clung to the medallion on the side of the courthouse that bore the congressman's name.
"[Garmatz] was a great dresser and had this long overcoat on with a great handkerchief sticking out," Weiner recalls. "And he walks over to this medallion that had his name on it, and he takes out his handkerchief and he starts wiping. And he said, 'I'm wiping the tarnish from my name.' The reporters loved it."
The tarnish wasn't wiped away so easily from another political client of Weiner's.
Marvin Mandel, then governor of Maryland, faced mail fraud and racketeering charges in 1975.
First there was a mistrial. Then the case was tried again. C. Carey Deeley Jr., now at Venable law firm, was, at the time, an eager law school student, and sat in the courtroom watching Weiner's every move. Since then, Deeley has encountered Weiner as an occasional courtroom adversary. "I have seen Arnold attach his clients' interests to existing theories of the law and creatively choose novel legal theories—thinking often where the law needs to be and not being held back by where the law is today," Deeley says.
For Mandel, Weiner fought the prosecution's interpretation of the law outright.
"There was a fundamental flaw in the whole case in that the principal charge was mail fraud, but no money was lost," Weiner remembers. "The fraud was defrauding the citizens of Maryland of the honest and faithful services of the governor by doing things for people who had done things for him."
Courts had been split on whether prosecutors could make this fraud charge. "I was convinced you couldn't," Weiner says. The jury was hung at first, but subsequently convicted Mandel. Appeals snaked through the court system until the U.S. Supreme Court declined to hear the case.
Mandel served 19 months in prison before President Reagan commuted his sentence. Eventually, in a similar case involving a public official from another state, the U.S. Supreme Court decided that what Mandel did was not a crime. The conviction was set aside in 1987—more than a decade after his indictment.
In court, Weiner has a commanding presence, says attorney Deborah H. Devan. "He commands you to listen to him by his presentation."
From Weiner's perspective, it's simply a matter of preparation.
"I think the lawyer lives up to the highest aspects of his calling if he can master the case at hand and make every effort to make the law fit the situation," Weiner says. "Law is seldom cut and dried. There's no given set of facts. The facts become different, not because right becomes wrong or day becomes night, but because of the emphasis. … You mold the facts by which parts of the facts you emphasize. You make the law work for what you're trying to accomplish, a) by understanding the law and understanding that the law has flexibility, and b) by understanding where the law is going or where you can move the law."
It wasn't the law so much as the facts that were in question during the 1980 Preakness scandal.
During the race, ABC cameras filmed the jockey for Codex, the winning horse, apparently using his whip on another horse, Genuine Risk.
The Maryland Racing Commission held the race's $250,600 purse until a ruling could be made. Hired to represent the stables that owned Codex, Weiner realized that the ABC camera angle made the horses look closer than they were. "But I didn't have any really good evidence to prove it."
Then a lawyer for the opposing side, while sharing evidence, gave Weiner still pictures taken—straight on—by a Baltimore Sun photographer. Weiner took the pictures and had them correlated with frames from the ABC video.
"So we were able to match the exact frame of what was happening at that moment in an undistorted picture, with what the video was showing," he remembers.
In the televised shot, taken at an angle, it looked as though the horses bumped. From the photograph taken straight on, "there's no bump at all," says Weiner, who still has the photos in his office. "There's a lot of daylight. Here [the jockey for Codex] is not whipping the other horse; he's whipping his own."
For the record, Codex won the Preakness.
Weiner's work ethic is famous—or maybe infamous. Diane E. Vuocolo, a Philadelphia attorney who worked with Weiner when creditors of Tower Air Inc. sued Ernst & Young, would call Weiner's office at 1 a.m. or 2 a.m. She never failed to reach him.
"He took a short vacation during our case," she says. While he was theoretically vacationing, "I would routinely get five or six emails a day. And he was working, because he was reading stuff and questioning me on it. He doesn't stop."
He's become a fixture of the Baltimore legal scene. Author Laura Lippman (who doesn't know Weiner) even mentioned him in her 1998 novel, Butchers Hill. At one point one character says, "You want that I should call the chief of the state police or Arnold Weiner even?"
His wife of 49 years, Arleen, is a television producer, son Barry is in real estate, daughter Deborah is a television news anchor and daughter Ellen Stern is a photographer. There are four grandchildren (and a fifth on the way) and Weiner unapologetically dotes upon them.
One of the few disappointments in his career was the 1989 demise of Melnicove, Kaufman, Weiner, Smouse & Garbis. The firm had been heavy into real estate work. When the market took a dive, so did the firm. The fall prompted Weiner to reassess.
"For a lot of years, I liked having a lot of things working at the same time. I could have two phones ringing," he remembers. "And I liked that action. But it wore thin. After a while, it became much more administration than it did lawyering. And I made a conscious decision that I really wanted to be more involved in my cases."
He's doing that now.
Devan observes, "Now he does contingency fee litigation. It's tough stuff. It requires a lot of judgment in selecting cases. It's strictly an eat-what-you-kill kind of practice. Unless you win, you don't get paid. It takes someone with a lot of self-confidence to do that. Arnold has that."
He's still tackling a host of white-hot cases. One involves drugs used for women in pre-term labor. Another is a high-profile case in which a young man was mistaken for a bank robbery suspect and shot by an FBI agent. His firm is also working on behalf of the estate of a well-known doctor from Johns Hopkins Bayview Medical Center and his wife, a child psychiatrist, who were both killed in a 2004 accident.
"There were points at which I had to make conscious decisions: 'Do I want to slow down?'"
He answers his own question: No.
"I still get the greatest thrill out of getting into something new," he says. "I don't think there's a better high."
Search attorney feature articles