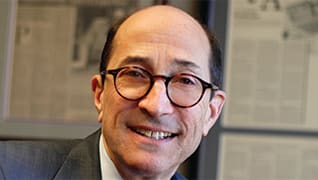 Photo by: Luigi Ciuffetelli
The Devil and Paul Mark Sandler
For the noted trial attorney, argument, in its scholarly sense, is central to his life
Published in 2011 Maryland Super Lawyers magazine
By Joan Hennessy on December 13, 2010
From an observatory on his farm near Baltimore, Paul Mark Sandler peers through a telescope at the night sky and is mesmerized by the order and infinite possibilities of space. "I can see the rings around Saturn, the moons around Jupiter," he says. "I can see galaxies. I can see planetary nebulae."
His 14-inch aperture telescope is one aspect of a serious hobby. He is taking a course in Einstein's theory of relativity and enjoys reading literature, poetry and mythology inspired by the planets. It so consumes him that he occasionally calls friends late at night to talk about the stars, only to be gently rebuffed.
"Gee, I'm just getting ready to turn out the light, Paul," they'll say. "Call me another time."
Sandler understands. In his other life, as partner at Shapiro Sher Guinot & Sandler, clients sometimes call him at all hours, too.
One such client, Harvey M. Nusbaum, frequently called Sandler at night and on the weekends. Nusbaum says Sandler never discouraged him. When Nusbaum was particularly upset, Sandler drove to his office. "He's with you," Nusbaum says. "He feels your pain. He reacts to it."
The 65-year-old Sandler frequently thinks and rethinks his cases, examining the order of things, as he does with his telescope. He's written and edited books about law and founded an educational program for young lawyers. And in the four decades since he first stepped into a courtroom, clients have run the gamut from a disgraced savings and loan executive to a Hillary Clinton campaign fundraiser charged with making false campaign finance reports. He's appeared on Larry King Live, NBC's Today show, and CNN's Crossfire.
But when colleagues, opponents and judges talk about Sandler, they describe his singular fascination with argument in the scholarly sense—to prove by reason, evidence and debate. To listen to Sandler is to understand the centrality of argument in his life.
Some students study law because it is a lucrative and respectable career. Others see it as a stepping stone into politics. Still others wish to right the wrongs of the world.
Sandler's interest blossomed while reading Stephen Vincent Benét's The Devil and Daniel Webster in a high school class. "As a young person I became enthralled with Daniel Webster being able to outtalk the devil," he remembers. "That appealed to me."
Baltimore born and raised, Sandler speaks quickly and moves with unsuppressed energy. He is balding with horn-rimmed glasses, 5 feet 4 inches tall, and on this day he wears a classic brown and white seersucker suit. It's a professorial look and it works for him.
Sandler knew he'd study law by his junior year at Hobart College in New York, so while at an American University study program in Washington, D.C., he arranged to meet then-U.S. Solicitor General Thurgood Marshall. Although Sandler was a mere college student researching a paper, "Thurgood Marshall, Advocate on the Bench," Marshall generously spent an hour and a half with him, and the conversation turned to the landmark school desegregation case.
"[Marshall] was telling me how, before he argued Brown v. Board of Education, he moot courted it. And I didn't know what moot court meant. He explained it to me. 'It's like a practice session, simulating or replicating the actual court,'" Sandler remembers.
This particular moot court session lingered into the wee hours of the morning, when a Howard University School of Law student piped up with a question that initially stumped Marshall. The next day, a Supreme Court justice asked the same question, and Marshall was ready.
"I'll give you some advice, young man," Marshall concluded, "If you ever become a lawyer, you remember how important it is to do moot court sessions before your cases."
Sandler, who subsequently graduated from Georgetown Law, never forgot.
"What you see in the courtroom is not only his gift but his preparation," says Ron Shapiro, founder and counsel to the firm, as well as a sports agent and chairman of Shapiro Negotiations Institute. Shapiro wrote a book called Dare to Prepare, and devoted a chapter to Sandler.
All lawyers, the saying goes, give three arguments: the one they prepare, the one in the courtroom, and the one they give in the taxi on the way home. Sandler isn't like that, say the lawyers and judges who know him.
"He is constantly testing his theories to further hone his argument," says Matthew A.S. Esworthy, one of Sandler's partners. "What do you think of that? What do you think of this?"
But in all the examining and re-examining along the road that stretched from Thurgood Marshall's door to an office tower in downtown Baltimore, Sandler also built a reputation as someone who has taken chances and, on occasion, raised eyebrows.
One such example: a case involving the register of wills in Baltimore City, an elected position. In 1982, Patrick Duffy, the incumbent, was defeated by challenger Mary Conaway. Duffy wanted to contest, but other lawyers he approached wouldn't take the case. Sandler did, and, acting under laws of the time, sued Conaway for fraud.
"We contended that Mary Conaway fraudulently won … because during the election she gave away smoke detectors, fried chicken and gifts that said 'Vote for Conaway,'" Sandler says. "That was allegedly violating the law. What also made the case fascinating was that an election law case in Maryland is a number-one priority case, so, like the Red Sea parting, all cases stop, and the election law case goes at a fast pace."
He won the jury trial but the case was appealed. Again, the Red Sea parted.
"From the bench comes the very well-known Judge [John C.] Eldridge, now retired. Judge Eldridge does something which I feared was coming," Sandler says.
The judge pointed out that the election law was unconstitutional.
"Why?" Sandler continues, "Because it provides for the jury to find the verdict but the legislature would determine the penalty, which is a violation of the separation of powers."
Conaway won.
Another case involved two clients who were poster children in the savings and loan scandal of the 1980s. Jeffrey Levitt, former president of Old Court Savings & Loan, and Karol Levitt, his wife, were accused of stealing or diverting millions from Old Court. Sandler initially defended them in the civil lawsuit. Article after article savaged the couple's big spending habits. In one hearing, a judge placed pretrial spending limits on the two.
Sandler argued on the Levitts' behalf, evoking The Count of Monte Cristo and The Ox-Bow Incident, classics in which defendants are falsely accused. The judge told Sandler that he wasn't William Jennings Bryan and the Levitt case wasn't the Scopes trial. Not to be outdone, Sandler countered that the case was more significant than the Scopes trial, adding that pretrial spending limits reminded him of George Orwell's 1984. A newspaper account of the dustup hangs on his office wall.
U.S. District Judge Marvin J. Garbis suggests that Sandler has a quality that transcends practice and preparation. "He's one of the few lawyers to have an instinct for the art of persuasion," Garbis explains. "It's an art form and he does all the right things. You work hard. You're diligent. But the rubber meets the road when you are in the courtroom and you are listening to what the witness says. It's instinctive."
Even that is no guarantee. Consider the Nusbaum case.
Just about the time the housing market collapsed in the late 2000s, Harvey Nusbaum's name figured prominently in a federal investigation that focused on bid rigging at Baltimore tax lien auctions. An indictment in U.S. District Court charged Nusbaum, a lawyer and real estate investor, and his business partner, Jack W. Stollof, with one count of conspiring to rig bids, a violation of the Sherman Antitrust Act. It was June 2009 and the drama proved riveting. Nusbaum, then 71 years old, faced a possible 10-year jail sentence, not to mention a $1 million fine.
"We had some very appropriate defenses," Sandler says, "one of which was that the relationship between the group was that of a partnership or joint venture. And if that is accurate, then they would not be susceptible to an antitrust claim."
The judge disagreed and prevented Sandler from entering the defense.
"As a result, we entered into a plea agreement," Sandler says. For the sentencing, Sandler hired a videographer to tape character witnesses in their milieu. An auto body shop owner described how Nusbaum helped him buy the building for his shop. A woman who lived in one of Baltimore's row houses spoke of how Nusbaum excused her from paying rent for a long time. A different view of Nusbaum took shape.
Stephen Nolan, an attorney who has worked with and against Sandler, was sitting in the courtroom that day and remembers how the tactic worked. "Paul is very effective no matter what he's working with in getting the story in front of the judge and jury."
"I was more than satisfied with [Sandler]," Nusbaum said in an interview the week before he was to report to prison camp. "I was less than satisfied with the results."
The judge gave him one year and one day (he can get time off for good behavior) and an $800,000 fine.
These days, Sandler spends much of his energy teaching the next generation of lawyers. The waning of jury trials, Sandler says, "presents problems for young lawyers. If they don't have trials, how can they get trained? If they don't get trained, how can they have the courage to go to court?"
In this regard, Sandler has created the Litigation Institute for Trial Training (LITT). Every year, 40 young lawyers from around the country meet in Chicago for a two-day boot camp trial training program.
"He is totally committed to participating in the legal profession," says Judge Lynne A. Battaglia for the Court of Appeals of Maryland. "He has been immersed in efforts to educate every member of the bar and bench."
"He has helped people develop their trial skills," says Nolan. "If you have Paul Sandler's Pleading Causes of Action in Maryland in your library, it takes the place of a law encyclopedia."
From 2003 to 2007, Sandler wrote a weekly column on trial advocacy for The Daily Record called "Raising the Bar," and he posts to his blog, The Art of Advocacy, several times a month. His first book, Appellate Practice for the Maryland Lawyer, published in 1977, is still in print in a revised edition, and he has been working on a supplement.
More recently, he published Anatomy of a Trial: A Primer for Young Lawyers, which takes readers from voir dire to verdict in one specific case: a 2005 California trial against David F. Rosen, the chief fundraiser for Hillary Clinton's 2000 Senate run, who was accused of making false filings to the Federal Election Commission about a lavish event.
That case further demonstrates Sandler's ability to raise eyebrows in the legal community.
Sandler says he took nothing for granted during the trial. "I have to tell you I am worried about every case I have. Those who live the life of a trial lawyer realize that [the outcome] is very difficult to predict, particularly in a criminal case. I truly believed [Rosen] was innocent."
To the surprise of many, he said just that during his opening statement.
"We would like to tell you what this case is really about," he said. "It's about David Rosen's fight against the injustice of his being wrongfully accused of something he never did. I will prove to you in this case he is innocent. He is a victim, an innocent victim, of other people's motives, and I will prove this. I will prove to you that David Rosen never knew, never knew the cost of the production and concert expenses for this Hollywood gala."
Garbis, who wasn't the judge on the case, later penned an analysis of Sandler's argument, pointing out that during opening arguments, "The defense can go no further than to persuade the jury to defer judgment until all of the evidence is presented. After all, the government should start the trial with a rather solid theory of the case. On the other hand, the defense typically is not certain as to what will occur at trial and must, at all costs, avoid making promises to the jury that will not be kept."
Sandler's opening looked edgy, but, says Esworthy, it really wasn't. Sandler's practice group combs through every aspect of a case. "It's collaborative. People weigh in. … Nothing is done in a careless manner."
But then Sandler took another surprising step: He promised Rosen would testify.
If there is one rule defense lawyers follow, says Garbis, it's this: Never promise the jury that the defendant will testify. Garbis, who knows Sandler, was astounded. "When I heard about it, I thought he took a bold and unnecessary chance," the judge says.
Sandler felt otherwise. "As a trial lawyer," he says, "the art is individual and in some instances rules may be and should be broken. On this particular case, I had decided on a strategy and a theme and held to it."
It worked. Rosen was acquitted. But as Garbis later said, such a gamble "would have to be done by a guy as good as Sandler, and there aren't many of those."
Search attorney feature articles