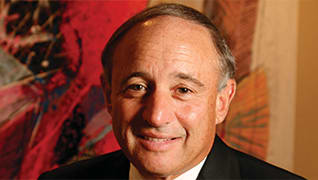 Photo by: Larry Marcus
The Gentleman
Paul Bekman puts people at ease—which works well with allies and even better on opponents
Published in 2008 Maryland Super Lawyers magazine
By Joan Hennessy on December 26, 2007
In a high school photo, Paul Bekman sits behind a formidable office desk, a pad of paper before him, a pencil in hand. He wears a suit and tie, his hair slicked back in that straight-arrow 1964 way. The photographer appears to have caught him consumed in official business but the caption explains the lofty pose: "Most Likely to Succeed."
The New York Military Academy class of 1964 got that one right.
Bekman is a regent with the American College of Trial Lawyers, an honor afforded 15 attorneys nationwide. He's also past president of the Maryland State Bar Association—to date, the only plaintiff's attorney to hold that position.
More to the point, Bekman, a name partner at the Baltimore firm Salsbury, Clements, Bekman, Marder & Adkins, has spent four decades racking up multimillion-dollar wins. His clients include the tragically recognizable faces of news stories: the survivors of a 58-foot fishing vessel that sank in Chesapeake Bay; the parents of an infant who died after receiving the wrong medication at a hospital; the man who lost both legs in a violent collision.
So, yes, Bekman has lived up to his senior-year superlative. These days he sits behind his own very formidable desk, a computer rather than a pencil at hand. At 61, his hair, no longer slicked back, is thinning and gray, while his round face is still recognizable. Yet unlike the class of 1964's other prescient pick—classmate Donald Trump, pictured with a comely brunette over the caption "Ladies' Man"—Bekman is not a larger-than-life, in-your-face kind of guy. If anything, he's the sort opponents don't see coming until it's too late.
He is indefatigable in courtrooms and on golf courses, observes J. Norris Byrnes, a retired circuit court judge who has seen him in both settings. There's a saying, the judge explains: Play one round of golf with a person and you learn everything you need to know.
"When [Bekman] is playing golf he doesn't lose his temper. He doesn't throw the clubs," Byrnes says. "He never gives up."
In court, it's the same. "When he's cross-examining people they are more at ease," Byrnes says. "There's trust when they are answering questions. They don't have the feeling that he is trying to get them. Even if he is."
The son of a State Department employee, Bekman was born in Washington, D.C., in 1946, and attended public schools there until he was 12. A seventh-grade teacher summed him up this way on his report card: "Paul works hard and plays hard."
But in the mercurial world of the State Department, life can change in an instant. One day Bekman's father came home and announced, "We're going to Korea."
Off they went. It was 1958 and his father was director of communications for the aid mission to South Korea. The war had ended just five years earlier and the mission focused on reconstruction. It was Bekman's first look at poverty and suffering. "You learned to appreciate what you had," he reflects.
He made his bar mitzvah there in a Quonset hut—the first such ceremony held in that country—among a small Jewish community of soldiers and embassy workers and their children. At 16, he headed back to the States. "I had always wanted to go to a service academy," he says. So he spent his junior and senior years of high school at New York Military Academy at Cornwall on the Hudson, then received an appointment to the U.S. Air Force Academy. Becoming a lawyer wasn't even on the radar until he took introduction to law his junior year.
"That was it," he says. "Sometimes, things just click."
He left the academy with an honorable discharge and an agreement to finish his military commitment in the reserves. In 1968, after graduating from the University of Maryland, he went immediately to Maryland's School of Law.
Three years later, he was a newly minted attorney at the firm Berenholtz, Kaplan and Heyman. Within a month, he tried two cases, both car crashes. Bekman recalls no great expectations from the firm's partners. It was more like, "Here. Take this loser and see what you can do with it."
He won both.
Then a judge appointed Bekman and another attorney, Nevett Steele Jr., to represent inmates at the Maryland House of Correction. Steele was a former assistant U.S. attorney who had made the transition to private practice. Bekman was developing a name as an up-and-comer. They dove in.
The institution, built in 1878, routinely put two inmates in cells that were eight feet by five feet. "One of the things about it—besides the fact that it was overcrowded and a mess—was that there was an area in the jail that housed inmates with mental problems," Bekman remembers. Alone in a cell with nothing but a mattress, "they would be totally naked. And they were just ill. They were mentally ill."
He toured the jail during the day and at midnight. He wanted to see everything. "The rats. The vermin—the creatures that come out at night that may not be out in the day."
The lawyers managed to get the mental-health area closed. News stories from the 1970s show brief victories—orders that the prison population be dramatically reduced—but setbacks as well. "The Supreme Court had decided a case that said it's not per se unconstitutional to put two people in a cell," he remembers. "So that modified it and gave the state more time to eliminate the double celling."
The case dragged on. Bekman was in it for more than 20 years. For all of his efforts, the Maryland House of Correction—a facility that predates Alcatraz—was not closed until 2007.
When Bekman talks about the case, the frustration is still in his voice.
"Prisoner rights is not a touchy-feely subject for a lot of people," he admits. It's not a matter of wanting to coddle serious offenders or build a Ritz-Carlton for them. "But you don't want to warehouse them either. They come out worse. Give them the opportunity to learn a trade."
In 1984, Bekman switched firms to Salsbury. Three years later on a January afternoon, a Conrail engineer, who later admitted he'd been smoking marijuana, drove three linked engines through a closed track switch and into the path of a high-speed Amtrak passenger train. The fiery crash, just outside of Baltimore, killed the Amtrak engineer and 15 passengers. At the time, it was the worst accident in Amtrak history.
Bekman represented a dozen of the injured survivors, and subsequently, the family of an elderly woman who was killed. The final case involved Susan Schweitzer, a 40-something New York City government official whose vertebrae had been crushed.
"I was going to handle the liability aspect," Bekman remembers. Another lawyer took on damages. The judge had ruled that punitive damages would go to the jury—not a happy decision for Conrail.
"We were about to give an opening statement and the case settled," he says. The amount, $5.5 million, was the second-largest individual settlement in the Conrail cases, according to news accounts.
Among colleagues, Bekman is known for driving hard bargains.
Byrnes, the retired judge, remembers that in the midst of one negotiation, an opponent glanced over at Bekman and said pointedly, "Listen, Paul, just because you have the case doesn't make it worth a million dollars."
On the other hand, Bekman's involvement does often portend that a) the case is worth at least a million dollars, b) the bottom-line settlement will be of the voluminous, can't-be-discussed variety, and c) if there's not a settlement, the verdict will have six or seven figures.
Take the wreck of the El Toro II.
On Dec. 5, 1993, the 32-year-old fishing vessel was on an expedition off Point Lookout in the Chesapeake Bay. In heavy winds and waves, hull planks came loose. The boat took on water, and passengers and crewmembers bailed with five-gallon buckets but couldn't save her. They abandoned ship, the boat sank, victims clung to a life-ring in 50-degree water. Two passengers and a crewman died.
One of Bekman's specialties is maritime law, and he was called on to represent the El Toro families. The suit, all 89 pages of it, charged that the boat hadn't been seaworthy, the operators didn't monitor the weather properly and the Coast Guard delayed rescue efforts. There was a demand for $20 million in damages.
Ultimately the case settled, but Bekman can't talk about the amount.
Bekman and his firm were also called upon to help out in Kumar v. Toyota.
On July 8, 1997, Prashant Kumar, 25 at the time, was a passenger in a Toyota Tercel riding on a New Jersey highway. With his safety belt fastened, Kumar had his seat in the reclining position when another car crossed the median and struck the Toyota. Kumar was pushed into the foot well. Both legs were amputated. The driver and passengers of the other car were killed, but the driver of Kumar's car walked away from the crash.
Bekman was among a team of lawyers who represented Kumar. All worked on contingency.
Some key points were against them. The car manual advised passengers not to ride in the car with the seat reclined—although the warning hadn't been posted in the car. There was also concern that a jury would place the total fault of the tragedy upon the driver of the other vehicle.
Says Robert Langdon of Lexington, Mo., who was a lead member of the legal team: "The insurance industry has spent billions in poisoning people against frivolous lawsuits. There are a lot of frivolous lawsuits, but this one wasn't."
Lawyers put in 18-hour days, meeting every morning and evening in the offices of Bekman's firm. Bekman brought to the table knowledge of the local players and his understanding of the law, Langdon says, "and how it is going to be applied to your case."
The Kumar-Toyota case turned into a big verdict: $59 million. The judge later reduced the amount to about $6.8 million.
Not all of Bekman's cases involve a lawsuit.
Bekman was called upon to represent the parents of Josie King, a toddler who suffered burns while playing with water in the family's bathtub. Rushed to Johns Hopkins—widely ranked the country's top hospital—the child subsequently died in February 2001 after receiving a medication that dehydrated her.
"There was no lawsuit filed," Bekman says. "We met with Hopkins early on and they did the right thing."
Bekman smoothed the settlement process by not pushing himself in front of cameras and newspapers, remembers Rick Kidwell, the lawyer representing Hopkins, and now director of patient safety and risk management for University of Pittsburgh Medical Center.
"Paul was an advocate for the family and doing what was right for the family," Kidwell remembers.
Afterward, the King family donated a large portion of their settlement to form the Josie King Foundation for patient safety. The foundation aims to prevent such tragedies by "uniting health care providers and consumers, and funding innovative safety programs." Bekman also contributed to the foundation.
"I like him," says malpractice defense attorney Don DeVries, who often meets Bekman on opposite sides of the courtroom. "He's a very able lawyer—an ethical gentleman in the way he handles his cases."
There's also an underlying streak of civic activism in Bekman. When Karen Rothenberg took over as dean of University of Maryland School of Law in 1999, she found Bekman to be an involved alum. He has given to the school—to the degree that there's a small courtroom named after him. There's also a Bekman Scholarship for one student each year. "To have one of the best trial lawyers in the state not only providing you a scholarship but also mentoring is priceless," Rothenberg says.
And as president of the Maryland Bar Association in 1997-98, Bekman was determined to help the Maryland Legal Aid Bureau. At the time, the bureau was at the center of a debate over how to pay the lawyers who worked there.
"Our Legal Aid lawyers, who are very dedicated, just don't get enough money in the way of salary," Bekman says. "So we helped get through the legislature a bill to increase the filing cost for a lawsuit, which was used to help fund increases in salaries for the Legal Aid lawyers."
Bekman was determined, remembers Wilhelm H. Joseph Jr., executive director of Maryland's Legal Aid Bureau. "Not only did he speak about it at every turn," Joseph says, "he was a founding member of a set of private lawyers who came together to raise resources for the Legal Aid Bureau."
Of course, Bekman's life isn't all work.
He and his wife, Arlene, an assistant principal at an elementary school, have two daughters. E. Dale Adkins III, a longtime friend and name partner in the firm, says for many years Bekman didn't play golf. "He had young girls. So he gave it up."
"I didn't want to be an absentee father," Bekman says.
When he returned to golf he was as good as ever. He won his club championship five years in a row—including last year, at age 60. "On the day of his daughter's wedding, he was four under par playing with her intended," Adkins says.
Both of his daughters, Jodie Buchman, 33, and Stacy Radz, 31, are now lawyers. They live in Baltimore. There are three grandchildren.
Bekman and his wife have a vacation home in Desert Mountain, Ariz.: basically a golf-nut heaven with six Jack Nicklaus golf courses. This does not mean retirement's around the corner, however. "If you were retired," he says, "what would you do?"
It's a full life, what with his caseload, continuing involvement at the law school, and a passion for golf and grandkids. Echoing the observation of a schoolteacher so many years ago, Bekman observes, "You can fit it in if you work hard and play hard."
Search attorney feature articles