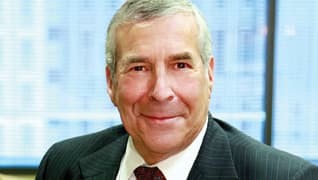 Photo by: Luigi Ciuffetelli
The Quiet Man
A family law case with Michael G. Hendler means intelligent dialogue and client resolution
Published in 2013 Maryland Super Lawyers magazine
By Joan Hennessy on December 12, 2012
The case looked like a disaster. A couple in the midst of divorce, with a multitude of unresolved issues, fought over everything, including the children and the disposition of a business.
Despite this, remembers Cheryl Lynn Hepfer, a matrimonial lawyer in Bethesda, they came to terms and the case settled. For this, Hepfer credits opposing counsel Michael Hendler, who negotiated the proceedings with her.
"He's quiet," she says. "He is not out pounding his chest or telling the world how great he is. And he is highly regarded."
His firm, Adelberg, Rudow, Dorf & Hendler, has represented political figures, sports figures and lawyers, and for these people, the less said the better. Hendler obliges.
He is old-school at first glance, a gray-haired lawyer in suit and tie. He speaks in the cautious manner of a man who understands the weight of words. He does not name-drop. He does not talk out of school. He does not discuss his cases, period. His philosophy is simple.
"In family law," he says, "the most successful cases are the ones you don't hear about."
Hendler, 70, is a lifelong Baltimorean and an embodiment of the American dream. His paternal grandparents were immigrants and butchers. His mother, Florence, worked with the local B'nai B'rith chapter, while his father, Nathan, became an auxiliary firefighter during World War II. Nathan would have pursued an education if not for the Great Depression; instead, he and his brother sold chickens at a stall at the Lafayette Market. By the time Michael was 13 years old, he worked at the family business Saturdays during the school year and every day during the summer. He gutted and cut up chickens in the back and served customers at the counter. He swept the floor. When old enough, he drove a delivery truck.
"I have always attributed that exposure to helping me become who I am," he says. "I know what hard work is."
But his parents didn't want him to spend his life selling chickens, and, after he more than held his own during a family argument, they suggested he might make a good lawyer.
Hendler attended Baltimore City College, a public high school with a storied academic tradition. Alumni include Pulitzer Prize-winning writer Russell Baker, U.S. Rep. Elijah Cummings, the late Maryland Gov. William Donald Schaefer and the late physicist John Archibald Wheeler. At University of Maryland, College Park, he majored in political science, finishing in three years because of a combined program where his first year of law school counted as his fourth year as an undergrad. He passed the bar in 1965, greatly pleasing his parents. In two generations, the family had gone from butchers to lawyers.
After graduation, he took a job with the Legal Aid Bureau Inc. The caseload gave him his first exposure to family law, and eventually, to Harry Adelberg. Many years earlier, in 1939, one of Adelberg's clients was accused of killing and dismembering a lover in a case popularly known as "the torso murder." The client was convicted but did not get the death penalty, which was considered a victory for Adelberg. The case was so well-known that when Hendler told his parents he had run into Adelberg, his father responded, "You met the torso-murder lawyer?"
Adelberg was impressed with Hendler and offered him a job as associate. Hendler was tossed into action immediately. He helped prepare documents, leases and loans, accompanied the partners to court and sat in on client meetings.
When the firm needed an attorney to tackle family law cases, Hendler filled the gap. That was more than four decades ago. Along the way, he developed a reputation as a tough but civil adversary. "There is a level of trust when you have a case with him that makes it easier," says Richard B. Jacobs, a Towson lawyer who has known Hendler for years. "You have an intelligent dialogue to get resolution for the clients."
During the decades, cultural mores shifted. Divorce, once taboo, became common. Matrimonial law changed. Hendler adapted.
Today, cases hinge upon issues such as surrogate parenting, same-sex marriage and the complicated unions of people from varying cultures. Couples in second marriages seek prenuptial agreements. One of Hendler's clients fought for possession of sperm at a fertility clinic. Others argue over their share of millions invested in business. Some squabble over visitation rights for the family pet.
Clients walk in with baggage and stress and heartache. Matrimonial law can be equal parts business valuations, tax and commercial litigation, psychology and child psychology. It is this last issue—the psychological impact of divorce on children—that Hendler still finds troublesome after all these years. He still sees situations where one party attempts to use a claim for sole custody as a bargaining tool to pay less in child support.
"For me and most of the lawyers I deal with, so many [couples] have already been through couples' counseling or individual counseling," Hendler says. "Often, by the time they get to me, it's too late."
In one case, Hendler successfully helped argue that a separated spouse shouldn't have to pay for her estranged husband's graduate school education. In another case, he won a decision establishing that couples with joint bank accounts become tenants in common after divorce, each entitled to 50 percent of the account balance.
Modern technology has complicated relationships, and by extension, Hendler's practice. The disenchanted seek affairs online. High school sweethearts and college beaus pop up on Facebook. Affairs are documented with cell phone records, Facebook postings, YouTube videos and emails. It is all fodder for divorce attorneys.
Hendler has also seen another shift: an emphasis on alternative dispute resolution in family law. He has embraced this change, too, attending a Harvard Negotiation Workshop, becoming certified in 2007 as an arbitrator by the American Academy of Matrimonial Lawyers and completing mediation training sponsored by the Maryland State Bar Association this past year.
He will still go to trial without hesitation. But he also spells out why differences should be resolved amicably.
"It allows couples to arrive at their own decisions instead of having them imposed," he says. "It is often less expensive and less stressful."
Hendler has stayed active in the Maryland State Bar Association and the American Academy of Matrimonial Lawyers, a group with more than 1,600 lawyers across the country. "He takes his professional life seriously," says fellow firm member David Rudow. "It is a public service and it contributes to the well-being of the bar as a whole."
For 13 years, Hendler served as his firm's managing member, which included everything from finding office space to hiring personnel. Last July, he decided to step down. A younger attorney, he felt, should take the job.
Rudow describes Hendler as high-energy, then adds, "If you are practicing law at 70, you have to be high-energy."
Hendler and his wife, Royce, have two grown daughters and live in a townhouse in Baltimore's Canton neighborhood. It is an old but fashionable part of the city, not far from his workplace. Hendler likes to say that his grandfather worked his fingers to the bone so that he could move out of the city and into the suburbs, while he worked his fingers to the bone so that he could move out of the suburbs and back into the city.
From his firm's sixth-floor conference room in the center of town, Hendler points to another building that once housed Adelberg, Rudow, Dorf & Hendler. The firm does not often change locations. It also doesn't often change members. Adelberg practiced law for 60 years and passed away in 1990. Rudow came to the firm seven years before Hendler and is still there. Another member, Paul Dorf, passed away in 2012. He was 86. He kept working until a few months before his death. He was in the office every day, in suit and tie, ready to go.
"Most of us like what we're doing," Hendler says. "As long as my body and mind hold up, I'll keep working."
Search attorney feature articles
Helpful links
Other featured articles
Why Catherine Mohan helps immigrant children and families
How Iris Eytan and Dru Nielsen create magic—and not-guilty verdicts
Advocating for the marginalized is Will Hoch's calling
View more articles featuring lawyers
Find top lawyers with confidence
The Super Lawyers patented selection process is peer influenced and research driven, selecting the top 5% of attorneys to the Super Lawyers lists each year. We know lawyers and make it easy to connect with them.
Find a lawyer near you