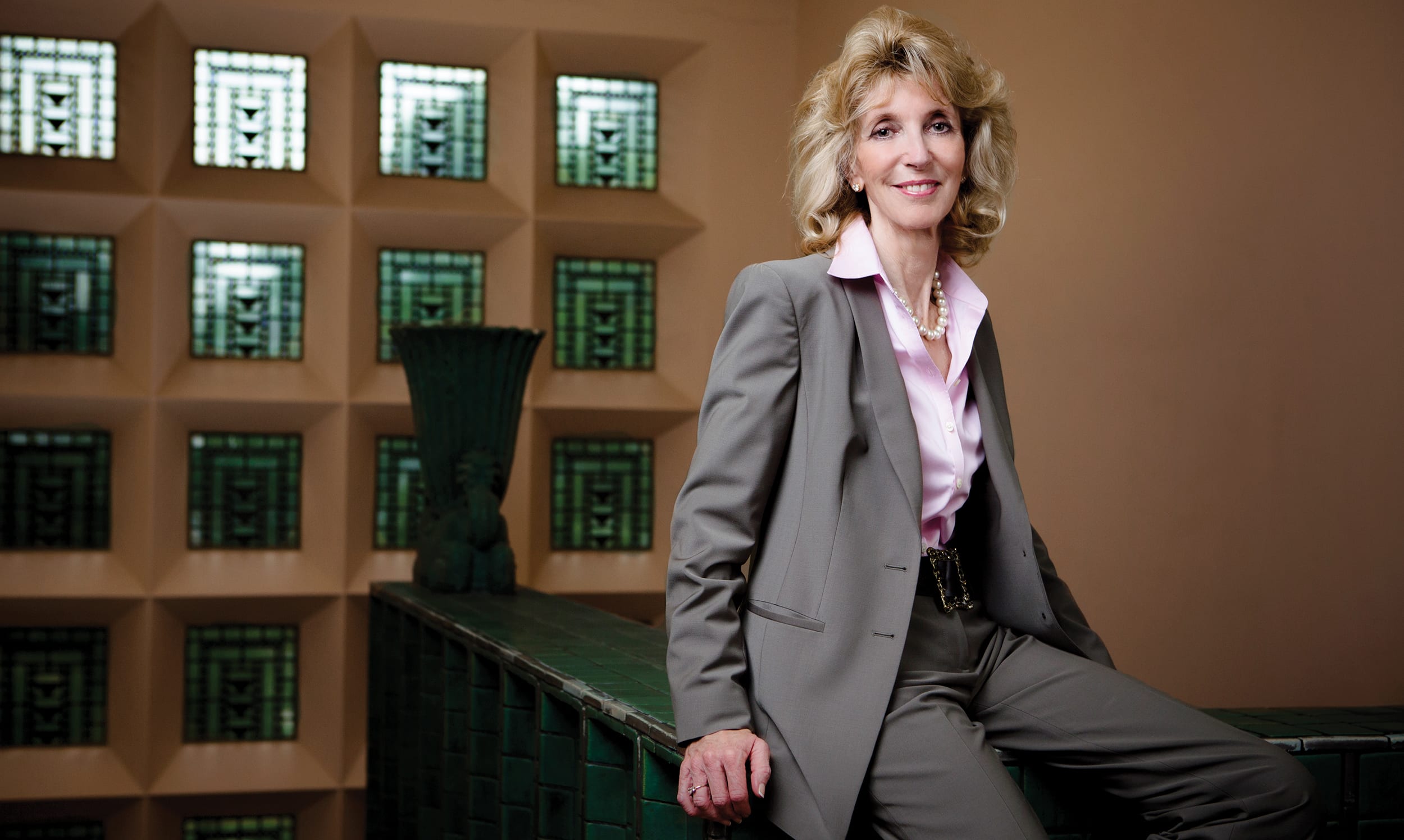 Driven
Taking a ride through Divorce Land with family law attorney Susan E. Cohen
Published in 2013 Michigan Super Lawyers magazine
By Nancy Rommelmann on September 6, 2013
It's 7 a.m. on a Friday and Susan Cohen is eating a handful of blueberries and watching Good Morning America.
"I'm a long-standing addict," says the 57-year-old divorce attorney of the show. Whether the appeal is George Stephanopoulos' dulcet tones, or the slice of time when she does not need to be on point for work, it's a meditative way for Cohen to ease into the workday: the motion-filing and mediations, court dates and client meetings that come with handling complicated matrimonial cases.
By 7:45 a.m., she is in suit and pumps, commandeering her white Mercedes sedan, tuning the radio, sliding the sunroof, drinking coffee.
"I'd love to drive a stick but I just can't, I'm too busy," Cohen jokes, as she cruises through downtown Birmingham. She grew up in this town of 20,000 and attended the nearby private school, now called Cranbrook Kingswood. By ninth grade, the tall lanky blonde was a science geek who dreamed of becoming a doctor—a dream she kept through Hillsdale College, where on a premed track she declared a biology major and graduated in 1978.
And then it was off to med school?
"No," she says, "to Colorado, with friends, to ski." It was a Western sojourn that ended in 1980. She missed Michigan's waterways and wanted to do something else.
"I thought, 'I'm going to get an MBA'—that was the hot thing back in 1980." But Cohen soon found an MBA wasn't for her. Bored in class one night, she walked across the hall to a lecture on adult developmental psychology, and she was captivated enough to switch to the counseling program, a nice complement to medicine. And it might have been, except the day after she wrote a fat tuition check, she received a call from her old prep school offering her a job. Over the next nine years, she held several jobs at Cranbrook, including tennis coach, science teacher and work in admissions.
"I was having a great time, I loved my life … and [then] my mom got sick," she says. She spent her 30th birthday with her mother at the Mayo Clinic. Her mother died soon after.
"All of a sudden, you say, 'I'm not a kid anymore. I better make a decision about what I'm doing with my life.'" By this time, Cohen had earned a master's degree in counseling. She truly enjoyed working with students and their families. "So I started thinking, maybe medicine is not the right thing. Maybe [family] law is."
The day she sat for the LSAT, she had Chinese takeout.
"I opened my fortune cookie; it said, 'You would make a good lawyer,'" she says. "Have you ever seen that in a fortune cookie, ever?"
She applied to three law schools, got into all of them, and graduated from the University of Detroit Mercy School of Law. Admitted to the Michigan Bar in 1992, she started with two cases, a 286 IBM computer, no secretary and no billing program.
"I've been very lucky," she says, swinging the car into the parking lot of her current practice in Bloomfield Hills, in a suite of 12 attorneys, including several who, like Cohen, are practitioners of family law. After checking in with Angela Soderberg, her assistant of 16 years, Cohen is at her desk. It's dotted with Post-it notes she stuck there the night before.
"I think I know what my day will hold, but I'm also prepared for it to go south if I am planning to go north," she says, wading into the first of the day's many emails. "Family law clients tend to be contact-intensive. A colleague of mine says we're sort of like air traffic controllers, looking at all our cases, making sure everybody's flying and at the correct altitude, and you just try to manage the ones that seem to be in a little distress. If all of a sudden one goes into a dive-bomb…"
Meaning someone storms into Cohen's office, sends a frightened email or calls in extremis because somebody else has not dropped off the kids, or taken the kids or hasn't paid.
"They'll go for whatever the jugular is," she says, "and the client gets freaked out, and you have to address that."
A freak-out that Cohen must navigate and bring order to people feeling, as they sometimes do in the midst of divorce, helpless and hopeless, like a pinned butterfly until there is resolution, or at least movement.
"I just finished a case like this," Cohen says. "She was a stay-at-home mom with small children. Had nothing in her checking account, no credit card, and there were fumes in the minivan, which she hated." He'd bought her the minivan. When she would go to the pediatrician her husband wouldn't just put money into the account, "He required that the pediatrician call him, find out how much the charge was, and from his office computer he would put in exactly that amount so she could use the debit card and pay."
Cohen adds. "She's had a rock star job when she got married. I'm looking at this woman, and in such a short period of time: What had happened to her? Sometimes you have to be their champion as well as their attorney. Part of my job, I felt, was to get [her] back up to some degree where she could make decisions. He would leave the big enormous house in which they lived and lock his home office and turn off the modem so she had no Internet access. When she told me that, I told her, 'Well, it's your house, too. Call a locksmith, have him come over, and tell him, "Oops! The four-year-old pushed the lock button by mistake."
The woman was scared to do this; Cohen says it took days. As the woman slowly took back her power, there were predictable setbacks—her husband cancelled the snow plow service for the driveway so she could not back out—and less predictable ones, such as when he took her laptop and, in front of her, dropped it into a sink full of water.
"This is one of the cases where my nicely planned days go to the side," says Cohen. "[But] she got divorced, got the kids. She has her own house now, got her old job back. And she got rid of the minivan!"
"I can't think of a harder working family lawyer than Sue, me included," says John Mills, who has known Cohen since before her law school days. "Her success comes from giving herself so completely to her clients. [They] seem to trust her immediately and can see how hard she works for them literally from the word 'go.' A successful lawyer must be able to relate well with clients, opposing counsel and the judiciary. Sue covers all bases extremely well."
"I get an enormous amount of personal satisfaction from what I do," says Cohen. "I just love it. I think you have to, to keep doing it every day. I get up and just keep putting one pump in front of the other, and you get charged up."
The rest of today's charge will take her into mediation, where she gets to transform emotions into tangibles. This is especially true when a spouse has had extramarital involvement, and the aggrieved party is hurting so badly that he or she wants the other person to hurt, too.
"They want their pound of flesh," says Cohen, "and the only way you can do that is with money, or a house or the estate. You can't fix this [emotionally]. I try to explain what they can expect realistically within the confines of what Michigan law is. I can't get you 95 percent just because he's a really bad guy and had an affair and brought her home in your bed."
Cohen says she must take particular care with lawyers who try to bully the system—lawyers she refers to as "fire-starters."
"There are lawyers who just want to fight," she says, back in the Mercedes. "Whether it's their temperament, their personality, their mindset, I don't know. I don't know if they saw it on TV. Clients will ask me, 'I heard so-and-so is really tough and really difficult.' Like it's a good thing, how aggressive you can be. Well, aggressive is about the last thing you want to be if you're trying to resolve hot issues."
Does she work instead to bring the temperature down, to cool everybody off?
"Sometimes I do spend my days doing this," she says. "Some people will see that as either being too soft or too wimpy. I think being able to read people and help them get to a better place, being really adept at your craft and reading your clients' needs, is much more effective. You can be aggressive if you need to be aggressive in court."
After spending the afternoon in mediation—Cohen estimates she settles 95 percent of her cases in alternative dispute resolution—she drives home, kicks off the pumps, tosses a few things into a bag and is back on the road. She has a 250-mile drive ahead of her, to Sleeping Bear Bay, where Cohen has visited since she was in third grade and where she bought the family lakeside home from her father in 1998. Her fiancé, Dan Gliniecki, an executive at Chrysler, often accompanies her. Today Cohen is solo, explaining her first rule of the legal road.
"I always say to my clients: Don't ever surprise me," she says, cruising north on I-75. "I don't judge, the things I've heard, I don't care, just tell me. Early on in my practice, I got horribly surprised in trial. It was a nightmare."
But she laughs about it now.
She was representing a woman whose husband, she says, "had done a lot of bad stuff. All she wanted was the kids, so I thought: We're in pretty good shape. We go to trial, and what my client neglected to tell me was that she had gone online—and online was new then [2000]—and posted photographs of herself, one in black leather, scantily clad, straddling a huge black Harley, and a topless shot." All this while the children were in the house napping. Cohen found out about the photo shoot while the opposing counsel was cross-examining her client.
Did they show the photos in court?
"They had all the pictures," she says. "Had she told me about it, I would have led with it, and defused it. I was toast. I have never forgotten that feeling."
The last 100 miles of the trip are on county roads, past a nearly unbroken vista of lakeshore, and a last stop at an IGA to grab provisions.
"People always know you can get cold beer in my fridge," Cohen says, entering the ranch house, stepping onto the back porch and down two steps to the dunes. "It is so beautiful," she says, looking over Sleeping Bear Bay, the sun setting halfway between South Manitou Island and Sleeping Bear Point.
Cohen can work remotely from here, though in the immediate future, that's not in her plans. There's too much to do in town, including working with the bar on the state and local level. The hours are long, the work can be difficult, but it's often rewarding in the same degree.
"I'm energized by doing what I do," she says, popping the top off a Corona. And as in-demand as she's ever been. Why does she think this is?
"I've been very, very lucky," she says. "I've tried to practice well, tried to give to other people what I've been lucky enough to have."
Might the three professional degrees, and being willing to change course, and constantly moving forward, have something to do with her success?
The sunset behind her is making the lake look like liquid fire. "I've been lucky," she says.
Search attorney feature articles