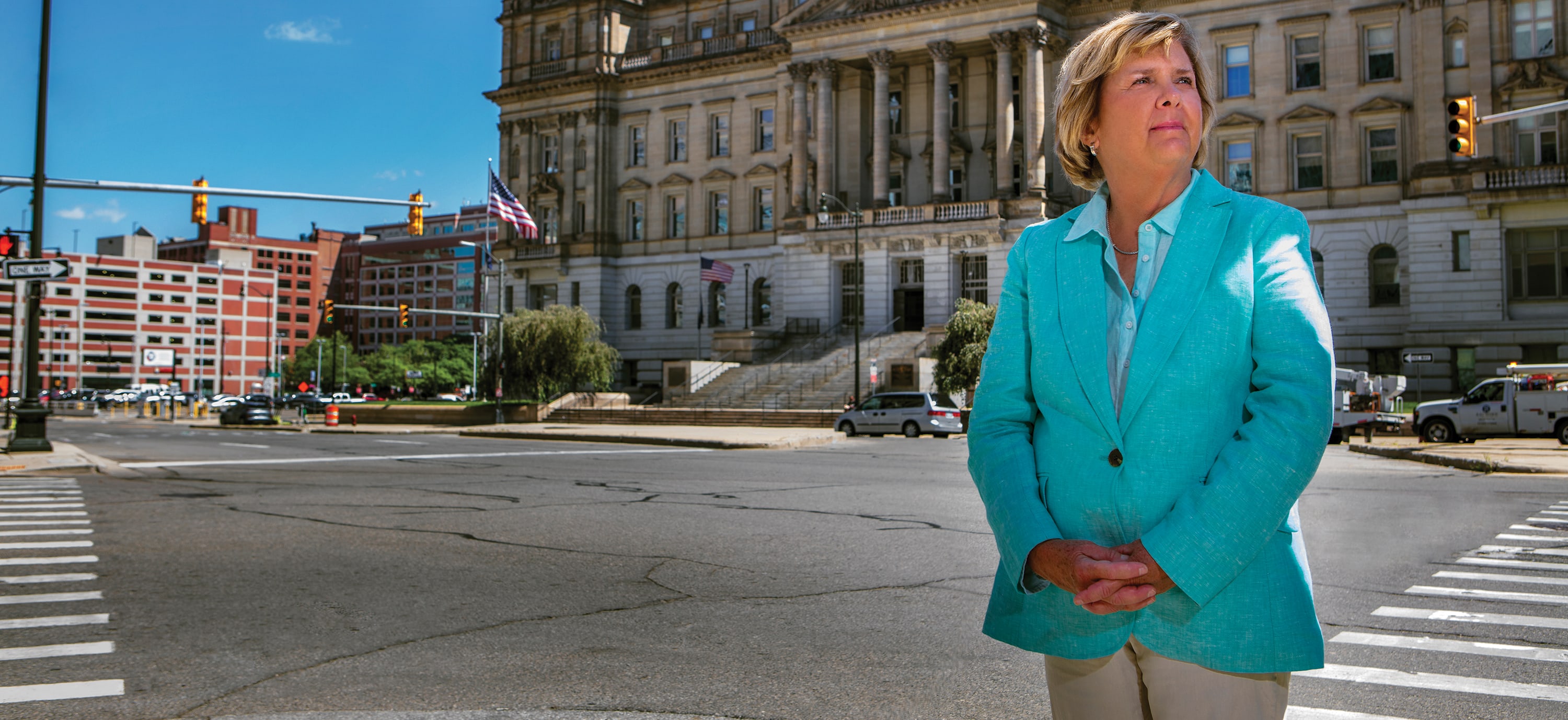 From the Ground Up
Kathleen Bogas has been part of employment discrimination cases since the foundation of the law
Published in 2022 Michigan Super Lawyers magazine
By Anne Brash on August 8, 2022
In the early 1970s, U.S. Air Force Lt. Sharron Frontiero applied for her husband to receive military benefits, just as her male counterparts were entitled to for their wives. The Air Force denied her request, citing a requirement that male spouses prove they're dependent on their wives for more than half their support, even though female spouses were automatically approved. Frontiero sued the Department of Defense, and the case eventually made its way to the U.S. Supreme Court.
Ruth Bader Ginsburg, in her first oral argument before the high court, successfully argued on behalf of Frontiero. In 1973, the Supreme Court determined that the policy violated the Fifth Amendment's guarantee of equal protection.
Kathleen Bogas, then a second-year law student at the University of Detroit Mercy's School of Law and one of only 18 women in her 180-person class, was enthralled. As executive editor of the school's law review, Bogas wrote her class note on the case. It was the beginning of a lifelong passion for civil rights and employment work that has fueled Bogas' 47-year career, which started as the U.S. legal system was building the foundation of anti-discrimination law.
"Employment law suddenly just exploded, and there were only a handful of people doing it," Bogas says. "It was exciting. You were trying to form the law to be favorable to employees, and to be fair."
Now Bogas leads a team of employment attorneys at Bogas & Koncius in Bingham Farms. Colleagues say she's gained a reputation as an advocate who can fight diligently for clients while treating the opposing side with respect, and she's become a leader in the National Employment Lawyers Association and active with the State Bar of Michigan.
And even after nearly five decades growing up alongside employment and discrimination law itself, she's looking forward to the adventures still ahead.
"Everybody has to understand employment law is still evolving," she says. "I'm not going to say it's in its infancy, but it's probably in its teenage years. It's going to continue to change. And that's what is wonderful about the law."

Bogas first became familiar with the world of employment in 4th grade, when she took a job at her parents' beer and wine store putting away returnable bottles for $1 a night.
Her father later owned a chain of dairy stores, where Bogas did everything from running the cash register to helping with bookkeeping every summer until law school. (She still can't stand the smell of chocolate after so many long afternoons near melting ice cream.) The rest of the time, she attended St. Francis de Sales Catholic school. In 8th grade, she had a history teacher, Mr. Bosrock, who was a nighttime law student.
"He certainly taught differently than the nuns," she says. "It was more expansive, more worldly, he would have a different approach to analyzing things. And he would reference what he was studying in law school."
From there on, Bogas set her sights on law school. When she started law school at the University of Detroit in 1972, the law underpinning employment practice—Title VII of the 1964 Civil Rights Act—was less than a decade old.
Initially, she took a personal injury clerk position at Marston Sachs (which later became Sachs Waldman), thinking it would be a field where she could help people. Then one of the partners at the firm approached Bogas—then the only woman in the personal injury department—and asked if she'd be willing to advocate for a woman in a sexual harassment case.
The client had been in a relationship with the president of the company where she worked. The man became physically abusive, and when she tried to break up with him, she was promptly fired. She filed a workers' compensation case, but the Equal Employment Opportunity Commission had recently issued regulations defining sexual harassment and Bogas believed the case could fit them.
"There were only a handful of people doing employment law then, nobody in our firm. So I did my research," Bogas says. She won. The news was picked up by the local newspapers, "and that's how my employment practice started."
From there, Bogas tried any case she could get her hands on. "I didn't know enough not to try them," she says.
She represented a man who was fired from a company he had worked at for years because the owner became a member of The Way International and fired employees who refused to join. The Way is an evangelical group that, in 1981, The Washington Post estimated to be the nation's second-largest cult. The owner mentioned his plan on tape at a conference—a key piece of evidence that Bogas found and used to win the case before a jury in Wayne County Circuit Court, all while seven months pregnant.
In another early case, Bogas won a retaliation suit for a former commander in the Detroit Police Department who had been demoted to lieutenant when he wouldn't sell tickets to a fundraising event for Mayor Coleman Young. The officer inspired other commanders to defend him.
She tried a number of other cases against the Detroit Police Department, including some of the first sexual harassment suits involving female officers being abused by male colleagues. Bogas recalls their bravery in stepping forward. "Any police officer who takes on their department is really putting their life on the line," she says.
It became a period of thrilling intellectual pursuits: Judges were willing to explore the new boundaries of the law, and attorneys had an opportunity to improve protections for workers. "Just like kids change every day when they're growing up, the law was changing all the time," even week to week, Bogas says. "It was an exciting time."

As her career progressed, Bogas developed a reputation among other attorneys and judges as an honest broker.
"We can fight as hard as possible and there's never a time afterwards where there's any blip in our relationship," says Terrence Miglio, a Butzel Long employment defense attorney who has argued cases against Bogas for 40 years.
"She treats everybody with respect, and I know she gets that respect from judges as well."
That open-mindedness has led Bogas to pick up a handful of defense cases. Most notably, she and Sue Ellen Eisenberg—with whom she started a firm in 2000, after nearly 30 years at Sachs Waldman—defended Pistons Hall of Famer Isiah Thomas who, as coach of the New York Knicks, was accused of sexually harassing a former executive and firing her for complaining about the advances.
Bogas says it "was a fascinating experience" to deal with such heightened media attention. In the courtroom, she says it wasn't much different than her usual work: "I've never tried a case where I haven't believed in my clients."
But regardless of the circumstances, she adds, "I'm not so focused on something where my mind's not open to know the other side."
In 2008, Bogas started her practice in Bingham Farms and took on her nephew, Brian Koncius, as a partner. Representing employees who are wrongfully fired or harmed at work remain the bulk of their cases, but they represent company plaintiffs too.
Former colleagues say she is a straight shooter with clients, someone who could prepare them for the realities of legal battle while shepherding them through some of the most challenging moments of their lives.
"Anybody who comes to us is in crisis—often experiencing job loss and trauma—so you have to be cognizant of that," says Charlotte Croson, who worked with Bogas for 13 years. She met Bogas when she was a clerk for Detroit-area judges, and says Bogas modeled how to help traumatized clients through the legal process by listening to their stories with compassion.
"There's this whole generation of women lawyers, and Kathy is a part of that, that participated in Title VII cases really changing the landscape for women and people of color at work," says Croson, adding that Bogas' name often pops up on opinions she reviews in the course of work. "Just knowing that, to this day, we rely on cases that Kathy brought is pretty amazing."
Bogas has used that experience to help others in the field, serving as the president of the National Employment Lawyers Association and president of the Michigan Association for Justice. For years, she led the Michigan State Bar Judicial Qualification Committee, which vets judicial candidates for appointment by the governor.
"Somebody once asked me if I had a pension in the State Bar Committee," she jokes. "But it's important work. Having good judges—what is more important to our legal system?"
And she works as a mediator, including serving as a hearing officer for the University of Michigan's Title IX cases.
Outside of work, Bogas is a golfer, enjoys spending time with her husband and two adult children, and has traveled to every continent. That includes Antarctica, where she traced parts of the voyage of Sir Ernest Shackleton, who attempted to make the first land crossing of the continent.
"She's the person I call when I'm in Arizona and my pipe broke in the winter and my house is flooding to go over and wade through feet of water to turn the water to the house off," says retired Wayne County Chief Judge Pro Tem Pamela Harwood. "In her work clothes."

Women are more willing to come forward about sexual harassment at work than ever before. The serial abuse by former film producer Harvey Weinstein, publicized in 2017, set off a cascade of conversations inside and outside the courtroom about systems that protect abusers.
She says it's an encouraging development: Women speaking out are now more often joined by others who also experienced harassment and they are able to move on to live fruitful lives largely untainted by publicity. "While they're still afraid, they have decided that they need to make the workplace and the world a better place for everyone," says Bogas.
The U.S. Supreme Court, now marked by a 6-3 majority of conservative-leaning justices, has become more restrictive in how it interprets the law, she says. "But there will be another time when the balance will be different, and the laws will be changed again. That's what's fascinating about the law: It's not stagnant. It's always ebbing and flowing."
Search attorney feature articles