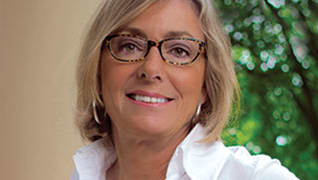 Photo by: Scott Stewart
Last Gladiator Standing
Civil rights and employment attorney Deborah L. Gordon gets in the pit
Published in 2015 Michigan Super Lawyers magazine
By Nancy Henderson on September 1, 2015
Deborah L. Gordon doesn't remember every detail of her first discrimination hearing 40 years ago. At the time, she was a fresh-out-of-law-school assistant in the civil rights and civil liberties division of the Michigan attorney general's office. But she distinctly recalls the administrative law judge's point-blank declaration about her goal to become a litigator: "Women will never be able to get into the pit to fight things out."
Her reply? "You are so wrong." Then Gordon won the case.
Over the past four decades, she has fought things out in the pit on behalf of whistleblowers, the wrongfully accused, and those treated unfairly at work. Some of her cases, including her ongoing representation of Chris Armstrong, an openly gay student body president harassed by a then-Michigan assistant attorney general, have sparked national debates about bullying and intolerance.
Sue Ellen Eisenberg, an employment attorney and the principal at Sue Ellen Eisenberg & Associates in Bloomfield Hills, has collaborated with Gordon on several employment cases. "Deborah is the quintessential justice warrior," Eisenberg says. "Part of fighting successfully for justice includes being willing and able to be the last gladiator standing in the arena. … She is armed with a profound set of legal skills as well as a relentless passion for vindicating her clients' rights."
The daughter of Lou Gordon, the legendary Detroit radio and TV commentator known for his in-your-face "gotcha" interviews, Gordon, 65, grew up discussing politics, government and current events at the dinner table. Her father exerted a larger-than-life influence at home, partly because her mother, who suffered from mental illness, left when Gordon was 6. "It was very unusual in the '50s for a guy to raise three girls by himself," Gordon says. "I grew up with one voice in my ear, and that was a Lou Gordon voice. And that was a very strong voice."
The civil rights movement, she says, "struck an incredible chord." She remembers coming upon segregated bathrooms on a trip with her dad to Washington, D.C. "But what really got me was when I got a little older, in about 1961 or 1962, when every single night the national news was covering what was happening in the South: desegregating the schools and George Wallace standing in the schoolhouse door; Martin Luther King, the fire hoses, the dogs, the kids peacefully sitting at the soda fountain. I mean, this was happening live," she says. "So I just decided right then and there, 'This is what I'm gonna do.' I was 12."
She didn't see herself following in her dad's journalistic footsteps—at the time, women at newspapers were relegated to writing the social columns, she says—so she earned an English degree at the University of Michigan and began teaching. A year into it, a friend announced she was going to law school. The gutsy move resonated with Gordon, who began her studies at the University of Detroit School of Law the following year. Speaking out for others would be the perfect fit for her self-described "opinionated," straightforward personality.
After earning her J.D. in 1976, she handled discrimination hearings in the Michigan attorney general's office. "Women's rights were nowhere," Gordon says. "Pregnancy discrimination was not illegal." Two years later, she was working at the Detroit office of the federal Equal Employment Opportunity Commission, finally realizing her dream of litigating cases in court, when she got a call from attorney Sheldon Stark, asking her to join his small civil rights firm in Detroit. In 1980, she became part of Stark & Gordon in Royal Oak.
In 1986, she litigated Sitz v. Dept. of State Police for the state ACLU. A number of states were allowing law enforcement officials to set up random roadblocks with the goal of catching drunk drivers. "If you're a civil rights lawyer, the idea of the police being able to stop you without probable cause is extremely offensive," says Gordon, who, as lead trial lawyer, showed that the practice in Michigan not only violated the Constitution, but was less effective than regular patrolling. She won, though the case was later lost on appeal at the U.S. Supreme Court. An appellate lawyer promptly took the case to the state Supreme Court, which agreed with her argument. "Up until today's date, you can go to another state and be driving down a highway, and you can be stopped in the road and be questioned by a police officer who's gonna smell your breath and ask you questions before you're allowed to go on your way," she says. "That will not happen to you in Michigan."
In 1999, her partner left the firm and she hung a new shingle: Law Offices of Deborah L. Gordon. She has continued to battle for clients' civil rights, and over the years her respect for jurors has grown. "Nobody's there because of their ego. Nobody's trying to get anything out of the process. They're just there as citizens trying to get something right," she says. "I think that in our entire country—every single branch of government there is—the system that I've seen work time and time again, beautifully, and with as much integrity as you can hope for, is the jury system."
Jules Olsman, a personal injury litigator and president at Olsman, MacKenzie & Wallace in Berkley, has known Gordon for decades. "Deborah Gordon is probably one of the premier trial attorneys in the Midwest, if not in the country," he says. "You can't win as many cases as she has won without having the intangible quality of what I call 'connecting' with jurors. When Deborah Gordon stands up in a courtroom, and it's a jury trial, people believe her."
Olsman, who watched her interrogate judgeship applicants when they were fellow members of Michigan's Federal Judicial Selection Committee, says: "Let me tell you, you haven't been interviewed until you've been interviewed by Debbie Gordon. It's a very intense process because she doesn't pull any punches. And she's an expert at getting to the essence of the issues."
Such was true in the cyberbullying case of Chris Armstrong, the University of Michigan student body president who was lambasted for being gay in a blog created by then-state Assistant Attorney General Andrew Shirvell. Gordon sued Shirvell for defamation, false light invasion of privacy, intentional infliction of emotional distress, and stalking; in 2012, the jury awarded Armstrong $4.5 million, which was reduced to $3.5 million on appeal.
"What I didn't fully realize when I took it on was that Andrew Shirvell was just kind of oblivious," Gordon says. "I couldn't imagine that a lawyer would not understand more about how he couldn't win. But he didn't understand that, and he still doesn't understand that."
Again, she credits the jury: "They completely got it. They understood immediately. They were not gonna put up with this," she says. "I think everybody was horrified that this college kid was being attacked in this way and lied about in this way."
Shirvell counter-sued Gordon for allegedly getting him fired, but was unsuccessful. He has now appealed to the U.S. Supreme Court.
"Chris had done nothing more than get elected as the first openly gay president of the Michigan student body," Gordon says. "It was horrible. It was a nightmare. I was really proud to take it on and represent Chris and his family."
In another high-profile case, Gordon filed suit in 2008 against several entities, including three Oakland County prosecutors, for falsely accusing Julian and Thal Wendrow of West Bloomfield of sexually abusing their teenage daughter, who is autistic and non-verbal. The family's ordeal began when a teacher's aide helped the girl type a statement that her father had raped her while her mother looked the other way. Gordon proved that the "facilitated communication" was a hoax—the girl couldn't type or answer simple questions in court, and a physical examination showed the assault couldn't have happened.
"It was a very difficult case because whenever you sue the government, you have to get over the hurdle of governmental immunity," says Gordon, who in 2014 wrangled for her clients the last of $5.8 million in settlements from the West Bloomfield Police Department, the state of Michigan, the Walled Lake School system and the prosecutor's office.
Gordon is currently in litigation against the Livonia Police Department and the local Walmart after a 20-something woman with the mental capacity of an 8-year-old was arrested, handcuffed and muscled to the floor for allegedly stealing a package of hair ties while shopping with her grandmother. "Her parents have taught her her entire life, because of her mental disability, to always go and look for a policeman for help," Gordon says. "And these guys came in here like a SWAT team and they were completely, 100 percent wrong. And I don't know if she will ever get over what happened to her in that store."
The cases are varied, but Gordon brings the same attitude into all of them. "I take cases I believe in," she says. "I take cases where I think people have been wronged. It's on me to develop the case, and it's only on me."
Search attorney feature articles