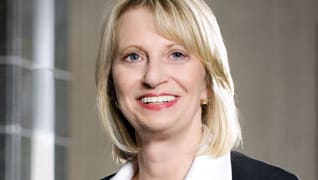 Photo by: Scott Stewart
Love of the Deal
Aleksandra "Aleks" Miziolek, the director of Dykema's automotive industry group, follows the golden rule of transactional law: get the deal done
Published in 2012 Michigan Super Lawyers magazine
By Ross Pfund on September 6, 2012
Q: How did you come to a practice in transactional law?
A: I clerked two years for federal Judge James P. Churchill. I saw firsthand how little control you have over what you do [in a litigation practice]. There's little predictability in that, not to say that a transactional practice is more predictable.
The other thing that was very instrumental was that I found that transactional law is really a win-win. You're sort of the quarterback for the client. You're there when they have all sorts of issues, not just litigation. You helped them form the company, you deal with their employee issues, you work on their growth transactions … You're the general counsel, so to speak. That's one of the beauties of being in my position.
Q: Is automotive work a natural interest for you, or is it just the obvious fit for a transactional attorney in Detroit?
A: It's actually both—I fondly remember my Ford Mustang V-8. It's also a very fascinating industry. Everything that happens pretty much has some genesis in the automotive world. For example, recently, I moderated a panel on privacy issues in the automotive space. We had a fascinating discussion on what is going to happen in the future regarding people's privacy rights as they are in their cars [because of the data available on drivers due to increasing automotive connectivity].
Q: Are you with your clients from the beginning of their business or do you come in later?
A: It's a variety. I had a couple that were soup to nuts—from birth to bankruptcy. The cyclicality of the industry is difficult. Some clients are private equity firms or other large public companies that have been in existence for a long time.
Q: Tell us about your role in the restructuring between Ford and Visteon Corporation.
A: We were brought in at the beginning to assist Ford with a lot of the due diligence reviews of the facilities it was acquiring. As the deal continued, I pretty much functioned as co-counsel on some of the main documents. We had a pretty significant team that I led to review all the documents and prepare schedules and provide advice and commentary on the main agreements, and, of course, the closing took place at our offices in '05. Luckily for us—and for Ford, I think—instead of outsourcing the entire deal to a New York firm, they recognized that we have great talent in Michigan, and we were able to provide significant and good advice in a number of areas at a very cost-effective price.
Q: The assets involved were worth $7 billion. Is there any added pressure when the dollar amount is so huge?
A: It's very well-known in our ranks, so to speak, that the dollar amount per se is not indicative of how complicated the deal could be. However, having said that, the pressure was that it was Ford. Really, the pressure is to do the best job you can for the client and show them that we can play with the big boys.
Q: When you close a big deal, what's the feeling like? Relief? Excitement?
A: It depends on the length of the deal and how it all turns out, but as a practical matter, it's usually a joyous day—especially if you didn't have to spend the night. But even then, it's OK. I've pulled a lot of all-nighters in my life. I try to be very organized and make sure there aren't any last-minute surprises so that the day of closing is pretty straightforward.
It used to be that clients had a lot of closing dinners, celebrations after deals. Now they don't seem to be as frequent because of cost-cutting, but we definitely have a sense of accomplishment and happiness for the client.
Q: What does it take to be a successful transactional attorney?
A: It takes a love of the deal. It takes being very excited about the concept of learning about the business on both sides. That's exciting. You have to have a desire to understand the business. You have to have a practical approach. You have to be really focused on what's important, and generally speaking, the most important thing is to get the deal done on the best terms possible. You have to be very client- and business-oriented, and use your judgment to understand what's important and what's less important. You have to be confident and decisive—not cocky, decisive.
I got one client after I heard them complain about their lawyers in California, who were over-lawyering, and there was yelling and screaming and they couldn't get the deal done. I said, "Give it to me. I can do it." And they did. There's just no reason to have dramatics. You've got your job, you do it.
Q: You listened to what the client wanted.
A: Yes. You have to put yourself in the client's shoes. If this was your business, what would you want done? Also, timing is critical. You have to be able to work like a dog and give it your all. Whenever they need you, you're there. Especially in this environment, deals die when they drag out. You can't let that happen. So sometimes you have to be the motivator and push the other side. If you follow the golden rule, which is to close the deal, then everything else falls into place.
Q: Sounds like you have to be on call quite a bit.
A: 24/7. I did a deal in South Africa 17 years ago for Federal-Mogul. The whole month of July was sort of a blur. I went down there twice for 10 days each. In the between time, we were negotiating the agreement, and with the time change, you're literally awake all the time.
Q: What would you tell young lawyers just beginning their careers?
A: Learn as much as you can about the different areas of law before you choose one. Think ahead about what is going to be important in the next 10 or 20 years in the industries you're interested in. It's easier to survive and prosper if you have a specialty that's in demand. But it's important to have grounding in [many areas of the law]. Make a decision to specialize, but don't make it too quickly.
Search attorney feature articles
Helpful links
Other featured articles
Laura Wasser on the last 20 years of family law and what might happen if Obergefell is overturned
Paul Sinclair's life and practice are guided by his LDS church principles
That's how it feels to work side-by-side with trailblazer Sherrie Savett
View more articles featuring lawyers
Find top lawyers with confidence
The Super Lawyers patented selection process is peer influenced and research driven, selecting the top 5% of attorneys to the Super Lawyers lists each year. We know lawyers and make it easy to connect with them.
Find a lawyer near you