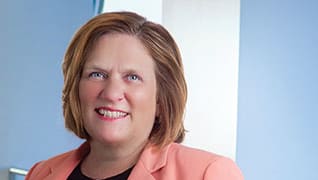 Photo by: Scott Stewart
The Conversationalist
Disciplined for talking too much in school, Kathleen Lang now uses those skills to relate to others in the courtroom
Published in 2016 Michigan Super Lawyers magazine
By Nancy Henderson on September 1, 2016
When an Enbridge Inc. pipeline spilled nearly a million gallons of oil into the Kalamazoo River in July 2010—resulting in one of the costliest onshore releases in U.S. history, and prompting a major federal class action lawsuit and hundreds of individual state cases—company executives called Kathleen Lang and her colleagues at Dickinson Wright in Detroit. Chris Kaitson, Enbridge's vice president of U.S. law and deputy general counsel, was immediately impressed with her organizational skills and unassuming manner.
"She is down-to-earth and talks 'normal,' as opposed to trying to talk like some overzealous, egotistical lawyer," he says. "She's a normal person that communicates in a normal manner, but does the legal work in an exceptional manner."
Lang is a veteran business litigator and first-chair trial attorney who has served as lead counsel on behalf of Dow Chemical Co., MGM Grand Detroit and other corporate clients. She tapped into her trademark analytical skills and started untangling the complex maze of claims for property damage, personal injury, remediation and loss of business in multiple counties and courts in Michigan. Carefully researching both the plaintiffs and their lawyers, she unearthed details that worked in her client's favor. 
"It is often the case that the opposing party may be making claims for injuries and damages in the lawsuit, but then contradicting him- or herself in their non-litigation life," Lang, 58, points out. "Knowledge is power, and the more information you can appropriately obtain, the better equipped you are to deal with the opposing party and attorney."
Six years later, the Enbridge matter has been largely resolved, with the Canada-based energy company ordered to pay about $6.25 million to settle the class action suit, while resolving favorably in most of the other cases without going to trial. Three individual lawsuits are still on appeal. 
"We were extremely pleased," Kaitson says. "We were actually a little surprised at the outcome. It was more successful than we originally anticipated."
Described as tough but fair, intense but affable, quick-thinking but prepared (sometimes compulsively so, she admits), Lang has also made the most of her ability to laugh at her own foibles, translate technical principles into "everyday English" and connect with clients, jurors and other attorneys. 
"I like to think of myself as unpretentious," she says. "When I was younger, jurors used to say that I reminded them of their daughter. Now they say I remind them of their mother. But I take that as a compliment, because I think it means they relate to me. I would never consider myself a great orator or very eloquent, but I think I can talk to people and have a conversation."
She grew up with a sibling with Down syndrome. When she was in elementary school, her father, a minister, moved the family to Port Huron from Illinois to enroll her brother in a progressive special education program. Lang and her younger sister handled much of the caregiving. "It was a joy in many ways," Lang recalls. "At the time, I probably thought it was a burden, but it certainly shaped the way I think I view the world, and the need to give back and help people who don't have the same things I do." 
There was time for fun, too. Determined his children would eventually see all of the lower 48 states, Lang's dad loaded them into the station wagon every summer to explore a different part of America. In high school, Lang participated in synchronized and competitive swimming. She was anything but shy. "My nickname all through school was Chatty Kathy," she says with a laugh. "So I spent a lot of time sitting in the hallways for being too talkative in class."
Lang knew very little about lawyers other than what she saw on TV, but she liked the idea of working in a profession with so much direct impact on the world. As a fallback, she earned an undergraduate degree in business, figuring "there'd always be room for another accountant." She never had to test that theory. 
Hired straight out of law school by the two-man (and now dissolved) firm of Goss and Jordan in Southfield in 1982, Lang assumed she'd focus on corporate transactional law until one of the partners decided the best way to immerse his new associate in the practice was to give her a bunch of criminal cases. Defending young shoplifters and helping them expunge first-time felonies from their records, Lang quickly discovered a passion for the courtroom.
Fittingly, the first company she represented in court was her own firm, after one of the partners refused to pay for a word processor he believed was defective. The trial lasted two hours. "We lost," she recalls. "I thought I was going to get fired. I'm just kidding, but I have a vivid memory of having to examine my boss on the stand."
When Lang joined Dickinson Wright in 1985, she assisted now-chairman Ed Pappas on some of his cases. "But it was not long," Pappas says, "before she began sharing lead co-counsel responsibilities with me—including some of the largest cases in Michigan." Those included highly publicized, nationwide litigation against the pharmaceutical manufacturers of DES, a synthetic hormone once prescribed to reduce miscarriages and later linked to reproductive-system cancers in the patients' daughters. The first time Pappas observed Lang in action, he says, "I immediately saw that she was a terrific trial lawyer with good judgment. She had the instincts and I could rely on her literally to do anything."
Early on, Lang went to bat for Ford Motor Company in a variety of commercial and products liability matters, including her first full trial as lead counsel. In that case, she successfully defended Ford against a plaintiff's claims that he fell off the lowered pickup hatch lid on which he had been riding because the tailgate was defective. "It was a common-sense case," Lang says. "There wasn't a seatbelt on the lowered hatch, and it wasn't intended to be a seat. And I think the jury saw that very quickly.
"I have a special place in my heart for Ford Motor Company," she adds. "I started working for them as a very young lawyer. The people at Ford that I worked with were very supportive of me."
"Clients love Kathy," says Pappas, who has worked with her on dozens of cases, including Enbridge. "She'll go the extra mile for them. They don't have to ask her. She is very easy to talk to. She can give the good news, the bad news, the ugly news, and she does it in such a way that she gets a lot of respect from the business community."
Lang arbitrates some cases, but spends most of her time in litigation, including trademark and copyright infringement matters for clients such as Lorillard Tobacco Co. and Microsoft. "It's hard work, unpredictable, but I love it," says Lang. 
"I like the idea of being able to convince people of my position, of trying to articulate the client's position and explain it. And, of course, like most people, I like to win."
The Enbridge case, she says, was particularly challenging because of its political undertones and media scrutiny. "Enbridge is a company that took responsibility early on and was willing to compensate people for the damage it had caused," she says. "At the same time, it wasn't the lotto, and they weren't willing to just give money away to people who did not have a meritorious claim. The ones that we litigated, we really litigated over trying to get fairness and equity for everybody in the community, so that people that didn't file lawsuits weren't treated worse than those that had filed claims and settled with the company." 
An advocate for diversity in the profession, a mentor to junior attorneys and a frequent lecturer, Lang has done pro bono work at women's shelters and sits on the board for the Detroit Metropolitan Bar Foundation, which raises money for foster children and legal services for people in need. Her husband of 33 years, Stephen, is an attorney, as is her youngest son, Christopher. 
"We always laugh because my oldest son, [Alexander], who is a journalist at a daily paper and covers the crime beat, likes to say that he spends more time in court than the rest of us."
To Lang, integrity matters more than winning. "The one thing I would hope that people think about me is that I strive for excellence, that I'm good at what I do, but that I have a very practical and compassionate approach to the law," she says. "I am a huge believer in following the rules and practicing with civility. I know this sort of comes from my dad being a minister—treating people as you want them to treat you. To the day I stop practicing, I am going to try to carry forth those ideals, regardless of what other people do in the profession." 
Search attorney feature articles
Helpful links
Other featured articles
Three Black women attorneys on race, diversity and justice in Western New York
How Ryan O'Connor and a team of attorneys changed Oregon law
How Seth Rosenberg tackled racism in Seattle schools
View more articles featuring lawyers
Find top lawyers with confidence
The Super Lawyers patented selection process is peer influenced and research driven, selecting the top 5% of attorneys to the Super Lawyers lists each year. We know lawyers and make it easy to connect with them.
Find a lawyer near you