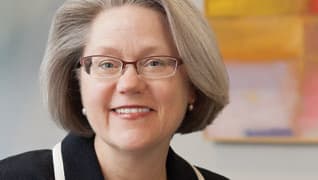 Photo by: Rich Fleischman
From Scrubs to the Courthouse
Law may be Mary Shearen's second career—she started out as a nurse—but it's her true calling
Published in 2012 Minnesota Super Lawyers magazine
By Andy Steiner on July 9, 2012
Years ago, before she became an attorney, Mary Shearen was a nurse. She worked at the University of Minnesota hospital, first in the transplant unit and then in Labor and Delivery. When she left the hospital in 1980, Shearen was head nurse, experienced and knowledgeable in medicine; later, when she went to law school, everyone just assumed what area she'd specialize in.
"Usually they put former nurses in litigation, malpractice and family law," Shearen says with a quiet chuckle. Then her tone turns more serious:  "To be successful in litigation you've got to keep people really mad, to keep them from feeling better about things. But I'm a healer. I want people to get better. I think bad things happen to people, but I want them to get past those bad things. Dwelling on the pain of an injury is against my personal philosophy, so I'm not well suited to that type of legal practice—or to that way of thinking."
It's not like Shearen doesn't have the backbone—or the brains—required to be a successful medical malpractice litigator. She even gave it a try early in her career, when she was clerking for the late Chief Judge of the 8th U.S. Circuit Court of Appeals Donald P. Lay. But after one case—a "horrifically sad" suit related to a suicide on a locked psych unit at the Mayo Clinic—Shearen realized that there were four other reasons why a litigation practice was not for her.
"I've got three kids," she explains, "and at that time they were very young. Plus, my husband is a surgeon. When he is in an operation, he can't just say to his nurse, 'Close this patient. I'm going to pick up my kids at daycare.' This case was in trial for two weeks. I came to understand that while I could be good at trial law, it wouldn't work for me or for my family."
By the fall of 1989, when Shearen landed her first job—at Minneapolis' Best & Flanagan—she asked to join firm's Private Wealth group, focusing on wills, estates and trusts.
At first glance, the choice seemed an abrupt turn from the professional experiences Shearen had built as a nurse, but it soon became clear that the work was a perfect fit for the sharp-witted, hardworking young attorney.
"It's intellectually challenging," Shearen says. "It's the perfect amalgam of," here she ticks the points off on her fingers: "'Do you like people? Do you like numbers? Do you like words?' These are all areas that I'm good at. And it's really fun. One of the things I like the best about my job is that I get to counsel families for years and years and years. I become their trusted adviser. And that's the most rewarding thing there can be."
There are other rewarding things. Like meeting your spouse at an early age and just knowing.
"I met my husband in 10th grade," she says with a smile. The object of Shearen's affection, St. Paul thoracic surgeon John Shearen, has been named a "Top Doc" by Mpls.St. Paul Magazine. "After all these years, I'm still nuts about him."
The pair met when they were 15-year-old students at White Bear Lake High School. They graduated in 1971, a turning point year, Shearen recalls, when the world switched from the old ways of the 1960s to the freer attitudes of the 1970s. Shearen felt caught on the divide.
"It was like there was a bright line that went down the middle of the corridor," she recalls. "Everybody in the class of '71 looked like the class ahead of them and everybody from the class of '72 looked like everyone that came behind them. We wore nylons and skirts to school. The younger kids were much freer."
Those lingering, old-school attitudes meant that when Shearen enrolled at the then-College of St. Catherine, she chose the safer route for a young woman, studying to be a nurse like her mother instead of a lawyer like her father. And though she went on to a successful nursing career, Shearen, who married and began her family while John was in medical school, always dreamed of one day becoming an attorney.
After her second child was born, Shearen quit her nursing job to stay home with the kids. The family scraped by on John's meager resident's salary of $15,000 a year.
"I made my own bread, made my own yogurt; I did my own diapers," she says. "We were poor." But they were also busy.
"Surgery residents in those days worked horrific hours," Shearen says. "John was getting four to five hours of sleep almost every night and no days off. Some days I'd whine, 'I want to go to law school.' One year, John wrapped up an LSAT study book and gave it to me for Christmas. He said, 'Put up or shut up.'"
And that's just what Shearen did. After their youngest child was born, she decided to apply for law school. Busy with three children under the age of 5, Shearen barely had time to study. Still, she did well. She was accepted at William Mitchell College of Law and awarded the Warren E. Burger Entrance Scholarship, which paid her tuition for the first year. Her husband moonlighted to help pay for the rest.
Shearen loved law school.
"I'm an intense competitor," she says with a laugh, "and even with my time restraints, I put everything I had into it. I loved it. One time, I scored really well in class and some guys said, 'Well, you study all day. You just stay home with your kids.' I only wish they knew what it was like to have toddlers. I didn't study at all during the day."
Eventually, Shearen found a friend who agreed to watch her kids one day a week for $15. That was all the help she needed. She graduated first in her class.
Over the years, Shearen's client list has grown to include some of the state's wealthiest and most respected families. Her clients, says Shearen's assistant Kay Walker, turn to her for carefully considered support and guidance.
"They rely on her good advice, her clear head and her compassion," Walker says. "She brings a nurturing soul to this work, combined with the highest intellect and skill." 
And Shearen does take her role seriously, working hard to educate her clients about the intricacies of estate law. She wants to make the process of writing a will or planning an estate as transparent and painless as possible.
"Trust and estate law is a very personal kind of practice," Shearen says. "Not everybody feels the same way, but I think it's my job to really listen to people to find out what they really care about and what their concerns are. It's my job to help them articulate that, then it's my job to give them an array of options, to educate them about their options and then help them pick what they want to do."
While it's important that the fruits of these discussions are strong and can stand up to any legal challenges, Shearen also takes a special kind of pride in how they look.
"Our section's documents are really beautiful," she says. "They are as lay-friendly as they can be. They are nice to look at and they are really easy to read compared with other legal documents. We use really nice paper. We try to use fonts that are really crisp and clear and easy to read. We have headings. When the client sees how much care and attention went into the documents, it demonstrates how much we care about the substance."
That care and attention to detail is evident in everything Shearen does, says Pat Perell, philanthropy coach and founder of the Minneapolis-based the Perell Group. "Mary has a great reputation. She's bright and thorough. She complements that with a great deal of empathy. It's a rare-but-perfect combination."
Rare but perfect. Shearen readily admits that those are the very words she might use to describe her career—and her life.
"I'm where I always wanted to be," she says contentedly. "It took hard work to get here, but I'm happy and satisfied. I feel good in my skin. It's been a remarkable life."
Search attorney feature articles