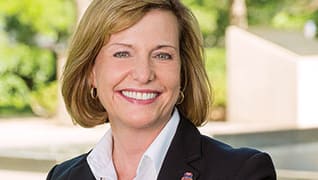 Photo by: Richard Fleischman
Matters of Life and Death
Susan Link has a deep devotion to estate planning. Her pro bono work with Wills For Heroes is a big reason why
Published in 2016 Minnesota Super Lawyers magazine
By Adam Wahlberg on July 5, 2016
Susan Link is a master at guiding clients through the process of drafting a will, designating a power of attorney, establishing a health-care directive. As the head of the estate planning group at Maslon, it's her life's work, and she's good at it. Really good. But nothing could have prepared her to update her own will while giving birth to her premature son and dealing with complications. 
"I really thought I might die," says Link of the 2001 birth. "I had a will but I hadn't named a guardian in the event that something happened to my husband and I. I realized that if I didn't write this down there would be a fight over who would raise my kid. So I asked my paralegal to bring my will to me when I was very sick so that I could make sure this would not be an issue. I remember her telling me, 'This is morbid, Susan.'"
She made it through both the delivery and the will-amendment process. She's continued working on estate documents at a healthy pace ever since.
Link grew up on the South Side of Chicago, in the shadow of steel mills. She had a quick mind and a verbal dexterity that served her well in class. "I talked a lot," she says. "People would say to me, 'You ought to get paid for that.' I thought they were right." 
Her Uncle Emil set an early legal example. "Emil Caliendo was his name," Link says from her office in downtown Minneapolis. "He was a lawyer. He'd be at our house at family parties and I would hear him tell stories about helping people. I thought that was cool. He was a talker like me."
At Loyola, she took a medley of classes—political science, philosophy, theology. Then it was on to Notre Dame for degrees in law … and guilt? 
"When you're at Notre Dame, they tell you that you have to do pro bono; you just must. I'm Catholic, so I'm already guilty anyway, but they really hit you hard with it. So I knew I had to figure that out for myself. It took me 21 years," she says. 
For a few years, Link practiced real estate law in Chicago. Then two big things happened. 
"I had written a couple wills at my firm in Chicago, but I thought it was dead people stuff. Then right when my husband got his new job in Minnesota"—a legal position at Cargill—"my mother passed away. When my mom died, our family met with the lawyers, and there were many issues that could have easily broke us apart. If we had fought over the estate, they figured we'd lawyer up. But we didn't. It made me think that I could do this type of work; I'd be good at it. You could help families not break apart," she says.
So Link ended up relocating her practice area as well as her residence. Before she moved, she did some reconnaissance work on Minnesota firms with estate-planning practices. It helped that her husband's father was David T. Link, then dean at Notre Dame Law School, who would later become the dean at St. Thomas. Reluctant to ask him directly, Link called up her mother-in-law instead.
"She said there was a visiting professor at Notre Dame who worked at a little bank in Minneapolis—the little bank was Norwest—who I should meet. We went to lunch and I told her I was interested in estate planning law, and she gave me a list of the 12 firms to contact. That's how I ended up at Popham Haik in 1994," she says.
After Popham Haik folded in 1996, she moved to Maslon, where she has been since. 
Estate planning lights Link up like a jukebox. 
"It does give me a lot of satisfaction. It's a bit like being a psychiatrist, a bit like being a family counselor. It's cool. It really is," she says.
"She's a whirlwind of positive energy," says retired Hennepin County Judge Thor Anderson. "She's very good at dealing with people who are doubtful and puzzled and scared. She reassures them. People need that."
The only time she isn't smiley about the work is when she's explaining its importance.
"Our goal is to make sure the family stays together," she says. "We're asked to meet with people during the darkest point in their lives, and that's a great responsibility. We want to help them get through and not turn on each other. If you can do that, it's a good feeling."
Pro bono estate planning work at a large firm can be tricky, Link says. Some in the legal community can perceive it as taking business away from small firms or solo practitioners, and no one in polite Minnesota wants to do that. 
To hear Link tell it, she didn't do much of it in the first two decades of her career; but she felt moved when, in 2006, she read about the work of the organization Wills For Heroes, which was created to help 9/11 first responders put estate documents in place. 
"I read that 90 percent of them had no wills, and it turns out that most emergency responders haven't drafted a will, either. I thought, I can write a will in my sleep. This is an area where I can help. We should do this here," she says.
Link and a group of others with the Minnesota State Bar Association offered to set it up. The Bar supported her, establishing the group through its probate and trust section and named Link the program's director. The first event was held on June 25, 2007. 
Events work like this: Volunteer lawyers show up and meet with first responders in one-hour sessions and walk them through basic estate documents, including wills, power-of-attorney declarations and health care directives. At first it was difficult to get a dialogue going. These are not typically touchy-feely sorts who like pondering life after death. They have trouble believing this service is free.
"Sometimes you'll be sitting down with a police officer and he'll be glaring at you with his arms crossed," Link says. "It's like he's thinking, 'What does this lawyer want from me? What do you really want?' Then you start talking and they open up. By the end we get hugs."
By now, she and her roster of about 150 core volunteer lawyers have been embraced by about 11,000 people. And the financial contribution? A typical estate plan costs $1,500 to prepare. So just in wills, that's $16.5 million in donated professional fees.
Link donates about 500 hours a year to the work, often attending Wills For Heroes events around the state on Monday evenings, and during all-day Saturday sessions. She even designed the protocol that everyone follows.
"You have to be sensitive, as this is an area with a lot of very personal information, and you have to be fast as you only have an hour," says Tim Groshens, executive director of the MSBA. "Susan's figured out the formula and shown everyone else how to do it." 
It's the type of work she envisioned for herself back on the South Side of Chicago, when she was a fast-talking, straight-A-getting, church-going young person looking for a purpose. 
"There's still so much work to do in this area," she says. "If we can get more people to fill out health directives, that would be so beneficial to society. And it doesn't have to be an unpleasant process. It really doesn't."
---
Links to Literature
One of Link's favorite books is The Ultimate Gift, a novel by Jim Stovall. It's a story of a dying man named Red Stevens, who delivers requests for life lessons to be taught to his bratty and immature nephew Jason Stevens before he inherits his uncle's great wealth. Stevens leaves it to his long-time friend and lawyer, Theodore Hamilton, the narrator of the story, to administer 12 steps for the nephew to take in learning about life's true meaning before the estate can be settled. Spoiler alert: Serving others is key. Link keeps copies of the book in her office and hands them out freely.
Search attorney feature articles