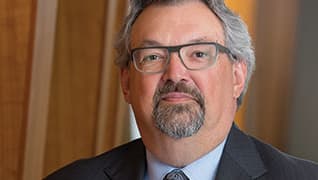 Photo by: Richard Fleischman
Order & Law
How Eric Magnuson's devotion to deductive thinking took him to the state Supreme Court and back
Published in 2017 Minnesota Super Lawyers magazine
By Adam Wahlberg on July 5, 2017
If you want to work for a judge, you go where the judges are. That was Eric Magnuson's thinking in the mid-'70s when he showed up at the Hennepin County Government Center. He was in his third year of law school at Mitchell Hamline and wanted to land a clerkship. But he didn't have any interviews lined up. Just a stack of résumés.
"I started at the clerk of the district court's desk and asked, 'Where are the judges?'" Magnuson says from his office at Robins Kaplan in downtown Minneapolis. "I was not a sophisticated young man. But they had pity on me. They pointed me to the 13th floor and said to start there."
He found the office of then-Hennepin County district judge Doug Amdahl, who was eating lunch at his desk. Amdahl invited him in, they started talking and a clerkship materialized. 
He asked for a job; he got a job. That's the type of straightforward logic and confidence that would take him to the highest position in the state judiciary. And it's what guided him when he knew he had to go.
Magnuson didn't grow up around lawyers. His dad was a salesman, his mother a nurse. He attended public schools in Brooklyn Center, where his grades earned him a partial scholarship to the University of Michigan. He did well, but when he came home for the summer, he and his parents did the math. 
"Even with the scholarship and student loans and me working 30 hours a week, we just couldn't afford it," Magnuson says. "It was just really expensive for out-of-state tuition. My folks didn't have the ability to help me, so my dad made a deal with me. He said that I could go to college anywhere in the country and he'd let me live in the basement and not charge me rent." He laughs. "So I went to the University of Minnesota."
He drove truck and made pizzas to pay his way through, and ended up with a history degree. He was trying to figure out his next move when a cousin suggested the LSAT. Magnuson hadn't much considered law school, but he liked the idea. And he aced it. "I got a score that would have got me into any law school I wanted," he says. Money matters kept him in-state again.
He knew early on that law school was the right decision. "It was the first week when it occurred to me: I like this. I like rules. I like systems. I like to understand why things happen. There was a rationality in the law that captivated me," he says. "The only thing I can imagine enjoying as much would be astronomy. A lot of astronomy is based on deductions. You see how four things interact with each other so you figure out there must be a fifth thing out there, another planet that's influencing them. That fascinates me."
He excelled in school, particularly in the tax courses. He liked that tax law was code-based. There were regulations and statutes. You could always find an answer if you were willing to dig deep enough.
After serving clerkships with Amdahl and Minnesota Supreme Court Justice Robert Sheran, he took a job with the now-defunct Rider Bennett. Early in his career, he handled two dozen jury trials. Car crashes. Property damage. Personal injury. He was busy and successful, but he wasn't loving it, and it took a comment from a colleague to realize it. 
"I had just finished trying a case and it had been stressful and the senior partner, a guy named Bill Egan, caught me and said, 'You're really not very happy, are you?' I'm a young guy and I thought he was going to fire me. I told him I enjoy the work. And he said, 'No you don't, you hate trial law. You're the unhappiest person I've ever seen when you're in trial. You have to figure something else to do.' He was right; I didn't like it. Trial lawyers are gunslingers. They're ready for anything. They're calm and cool. They don't mind chaos. That's not me. I like order." 
That's what pulled him toward appellate law. 
"Mainly you write," he says. "You deal with procedure. There are lots of forms you have to create—notices of guilt, statements of case, jurisdictional statements. Then you write the brief and go argue the case, but the argument is highly structured. At the trial court level, arguments are often unstructured."
Magnuson knew the Court of Appeals from his time with Sheran and he was always being asked by colleagues to help with Supreme Court appeals. So he told Egan he wanted to handle appeals for the firm. That's when his career really took off.
One of his colleagues at the firm was Tim Pawlenty, a labor and employment lawyer with politics in his sights. Pawlenty recognized Magnuson's command and passion for the law. "When I arrived, Eric had already completed his migration from trial to appellate attorney," Pawlenty remembers. "I had the utmost regard for his abilities. He is smart, studied, an excellent writer and pays meticulous attention to detail."
In the years to follow, Magnuson would become one of the top appellate lawyers in the country and Pawlenty would become the 39th governor of the state of Minnesota. And in 2008, Pawlenty appointed Magnuson chief justice of the Minnesota Supreme Court.
It didn't take long for him to accept. "It would be a big change, but that kind of opportunity doesn't come along often. I enjoy every aspect of the appellate process and here I got a chance to serve on the highest court," he says. "I was delighted."
It was unusual for a governor to appoint someone from the private sector as chief justice; that hadn't happened in the state in six decades. But it quickly became clear to his new colleagues that Pawlenty had made a good call. 
"We knew Eric from his appearances before the court and knew what kind of mind he had," says Alan Page, who served on the bench with Magnuson. "He was a very clear thinker. And we discovered that he was a very good listener. And what I love about Eric is how down to earth he was. He was not enamored with the highfalutin aspects of law."
Paul H. Anderson, another colleague on the bench, had similar impressions: "I think he was destined to be viewed as one of the greatest chief justices in the history of the state. He was that impressive. He had the requisite confidence in his thinking but also humility and self-doubt, which are equally as necessary. That combination is rare and why he was excellent as a justice."
He turned out to be an excellent administrator, too. Once he joined the court, he saw how underfunded the system was. And it was getting worse. In order to balance the state's budget, Pawlenty proposed significant slashes to the judicial budget. Magnuson headed a system with 289 district judges and two million cases a year. He knew the judiciary couldn't absorb those cuts. So he went public. "It was my job to insist on adequate funding," he says. "We weren't asking for raises but just what we needed to provide access to justice in the state."
He made his case at the Legislature and throughout the state, stating plainly that if the cuts went through, there would be certain cases the state would no longer handle. "I would tell people that we would still do the high-profile important cases, like first-degree murders, but the others we wouldn't get around to. What part of justice don't you want me to do?" he says.
Minnesota responded. The governor backed off.
Pawlenty and Magnuson crossed paths again in 2009 when the governor attempted to rescind funding for legislative appropriations through a power called unallotment. Lawsuits challenged the constitutionality of the procedure and it went to the state Supreme Court. As the court weighed the issue over many months, it became a parlor game in the local media to speculate on how Magnuson's friendship with Pawlenty would affect the court's ruling. 
"I just thought that was irrelevant," says Magnuson. "We have a proud tradition in Minnesota of justices not letting stuff like that get in the way. I didn't let that influence my thinking at all. What I had to do was step back and think about what principles of government apply here. I asked every lawyer that came up the same question: Do you believe that the governor's power to unallot is an inherent power of the executive branch or does it exist only by virtue of statute? Pretty much everyone in that case decided it was statutory. Well if it's statutory, you have to apply the statute. The statute doesn't say that if the governor and the legislature can't figure out a budget, a governor gets to make up a budget. But that's what the governor's position was."
The court ruled 4-3 against the governor with Magnuson writing the majority opinion.
Says Pawlenty, who is now the CEO of the Financial Services Roundtable in Washington, D.C.: "Of course I believe the dissenting opinion was correct and based on much firmer reasoning and precedent. Eric was under pressure to show his independence. Ironically, in trying to demonstrate that he was not being political, he may have overcompensated and become political in a more subtle or counterintuitive way."
To pundits, the decision was classic Magnuson. "He was dedicated to protecting the integrity of the court system," says David Schultz, a professor at the University of Minnesota Law School. "He wasn't ideological. He had a real workmanlike attitude to the law. He wrote competent opinions that followed his pragmatic approach."
Magnuson had emerged as a formidable figure, dedicated to preserving the strength of the judiciary and adjudicating with a restrained touch. He was 59, in charge and poised for a long public career. 
Then he had to leave.
In March 2010, Magnuson announced he was resigning, citing family reasons. Speculation was that he needed to make more money to cover medical expenses. Today, same as then, he declines to discuss it, other than to say he loved the job and intended to stay there the rest of his career but was needed elsewhere.
His colleagues were shocked. "I was one unhappy camper," says Page. "He was excellent in the role and good for the bench. I didn't want him to go."
Anderson agrees: "He left the court for good reasons, but I was very saddened. He was one of the best justices I worked with. But life sometimes is that way." 
After leaving the court, he re-entered private practice at Briggs and Morgan and began the process of reestablishing himself. "When you join the court, you give away all your clients," he says. "It takes a while to rebuild your practice."
He did so, joining Robins Kaplan and its deep portfolio of clients in 2013. He still occasionally makes headlines with high-profile work, such as the investigation he led into the Minnesota Vikings after the dramatic ouster of punter Chris Kluwe. 
Now 66 and remarried with two grandkids, Magnuson is thinking about his next stage in life. He plans to work for a few more years before winding down his career. Maybe he'll still do some appellate consulting in between the fishing, reading and cooking. In which order? That's up to him. 
Search attorney feature articles