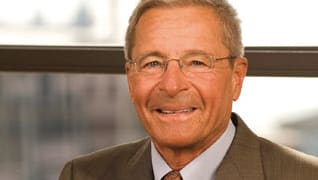 Photo by: Rolf Hagberg
Seeing How The Evidence Comes In
After 45 years as one of Duluth's busiest—and most successful—trial lawyers, Tom Thibodeau still considers himself a student
Published in 2012 Minnesota Super Lawyers magazine
By Ross Pfund on July 9, 2012
Over the course of his nearly half-century career, Tom Thibodeau has defended Fortune 500 companies, represented plaintiffs in civil suits, litigated a Lake Superior shipwreck, and been involved in the legal fallout of one of Minnesota's notorious murders.
It sounds like he's seen it all. But, even after working more than 100 civil jury trials, Thibodeau still considers himself a student.
"Whether it's medicine, engineering, product manufacturing, aviation crash cases … it's been a great education."
A St. Paul native, Thibodeau studied at Cretin High School and the University of St. Thomas before earning his legal degree from the University of Minnesota. "I wanted to use my brain, and I wanted to help people," he says.
He ended up in Duluth almost by chance. Prior to graduating in 1967, Thibodeau interviewed with several Twin Cities firms that were recruiting at the law school. "At one point, I was having a really nice chat with a couple of good lawyers, and they say, 'How would you like to come to Duluth?'" he says. "I said, 'What, do you have a branch office up there?' and they said that actually, they were from there. I had signed up for the interview by accident!"
Accident or not, Thibdeau was offered the job with Reavill, Niemeyer, Johnson, Fredin & Killen, which did everything from estate planning to trial law. What sort of work did Thibodeau do as the firm's lone associate? "Everything," he says. "About the only things the firm did none of were criminal and domestic work. I wanted to get into litigation. Mr. Reavill and Mr. Killen brought me to court with them as a second-chair attorney. The main thing [I learned from] is to be totally prepared and not to promise something to the jury that you can't prove. Don't try to put something over on the jury. Be honest with them."
Thibodeau soon got the chance to put those lessons to use. "They gave me a file one Monday morning and said that the federal court had the trial scheduled for 1:00 that afternoon," he says. "It was an auto accident case. It was a five-jury trial and I was victorious. Fortunately, I got through it."
On Jan. 1, 2000, Thibodeau co-founded Thibodeau, Johnson & Feriancek, which has offices on Superior Street in downtown Duluth. His current practice is split between plaintiff and defense work.
"When I'm on the plaintiff side, I get to see what's important from the defense perspective, and vice versa," he says. "So it's really a good way to learn both sides of a case, and what you have to prove as a plaintiff. I've been in court more often than most attorneys in the state, because I'm working both sides of the street."
His courtroom style is to level with the jury. "Don't talk down to jurors," he says. "But, particularly in difficult or complex commercial or product liability litigation, you have to try to describe what the issues are and what the important facts are in a manner that's easy to understand."
A recent case, Driscoll v. Standard Hardware, exemplifies his approach. In 2007, a United Taconite employee was killed after being thrown from the cab of the drill he was operating when one of the machine's leveling jacks failed. Thibodeau represented Standard Hardware, the company that supplied the bolts for the drill, in a 2011 lawsuit brought by the victim's widow, which also targeted Atlas Copco Drilling Solutions, the drill's manufacturer.
"We were dealing with very abstruse principles of metallurgy," Thibodeau says. "Our expert was probably one of the top three metallurgists in the Western Hemisphere. The problem, of course, was that what he was talking about was hard to [follow], because you're dealing with microscopic particles of metal.
"We spent at least two or three nights working with our expert before we put him on the stand, simply because it was so hard to understand," he says. "I couldn't figure out what he was talking about, and I had had probably six months of initiation into the field. So I knew that if I couldn't understand it, it would be difficult for people who hadn't had that education to understand it."
Thibodeau and his team, which included his son, Matt, a fellow partner at the firm, eventually distilled the information into simpler terms, and, with the help of some visuals blown up to a massive size, their expert was able to get through to the jury.
What Thibodeau did with the other side's expert witness was even more dramatic. Matt describes the scene: "There was a mechanical engineering expert, an old-school guy," he says. "He was heavily credentialed; he'd been working as a consulting engineer for decades. It should have been a slam-dunk witness for the other side. But Tom was able to see how this guy might fall on his own sword if given the chance to do it. The expert runs a consulting company out in California called Exponent, which had gotten some bad press in the last few years. The [Los Angeles] Times had said Exponent skews results for large corporate clients. So here he is again, testifying for a large corporate client."
The Thibodeaus figured that the judge wouldn't let the negative press into evidence because of its inflammatory nature. But when the opposing counsel asked the expert about his resume, it went into evidence. "As Tom's sitting at the counsel table,' he's scanning it, and lo and behold, the resume listed several publications including the LA Times," Matt says.
Thibodeau stood up and said to the witness, "I see you're at a famous firm and a famous engineer, and you've been written up in the LA Times?"
"Oh you bet I have," the man replied. "Many times, yes!"
"Then, bang," Matt says. "Tom read from the article: Exponent skews results for large corporate clients.
"Here's the guy who's supposed to seal their case, gild the lily for them, and suddenly, he's almost our witness now, he's so bad."
Matt sees that flexibility as one of Thibodeau's chief strengths. "One of Tom's favorite quotes is, 'No matter how bleak it looks before you start a trial, let's just see how the evidence comes in,'" he says. "You've got to stay on your toes. That's one of the things Tom is best at. Trial lawyers are kind of like chess players—they need to be able to see five, 10 moves ahead. Average lawyers can have one line of [strategy in which] they can see 10 moves ahead. Tom can have four or five simultaneous roads that he could go down, and that's why he's had an amazing amount of success."
In June 2011, an Iron Range jury determined that Atlas Copco's defective drill design was at fault for the man's death, but vindicated Standard Hardware, Thibodeau's client.
Some of Thibodeaus' cases have slightly less abstruse concepts—such as wrongful death. Specifically, the ones at Glensheen Mansion. On June 27, 1977, elderly millionaire Elisabeth Congdon and her nurse Velma Pietila, were found dead. It was one of the most infamous killings in state history—one that Roger Caldwell, Congdon's daughter Marjorie's husband, confessed to as part of a plea deal.
Thibodeau represented the trustees of Congdon's estate after Pietila's family brought a wrongful death suit against them. Thibodeau secured a defense verdict. "The jury found the trustees couldn't have anticipated that the daughter and her husband would concoct this idea that they would kill her mother," he says.
In another memorable case, which representing Silver Bay's Reserve Mining Co., he had to find out how, as he puts it, "an iron ore boat ran into an island."
"The captain of the SS FRONTENAC was trying to come into Reserve Mining's facility on a Thanksgiving night," Thibodeau explains. "He failed to take into consideration that there was a strong northeast wind coming down the lake. He claimed the Pellet Island light was out—which it was—but the ship was crabbing, as they call it in nautical terms. It was being pushed sideways. And it just slammed the ship into Pellet Island and punched a hole in the hull. Fortunately, nobody drowned, but the boat was a total loss."
Whether he's learning about seafaring or materials science, Thibodeau is having too much fun to think about retirement. "The Driscoll case last summer took 16 trial days so I was working long hours and I never got tired. So obviously I'm in good enough health to do it, I've still got the energy level, and I still enjoy doing it, so I'll continue to do it. My partners have said that I cannot retire before I'm 85," he says with a laugh.
Until then, he'll keep trying cases with what his son calls "aggressive optimism. He's always taken the view that the glass is half full," Matt says. "every day is a great day that you wake up, as Tom says on the right side of the sod."
Search attorney feature articles
Helpful links
Other featured articles
Stuart Singer fought a 17-year battle to guarantee health care for Florida's poorest children
The Tallahassee attorney for the families of Michael Brown and Trayvon Martin has one goal: proving that black lives matter
How Boston attorneys prosecuted the criminal trial—and helped victims in need
View more articles featuring lawyers
Find top lawyers with confidence
The Super Lawyers patented selection process is peer influenced and research driven, selecting the top 5% of attorneys to the Super Lawyers lists each year. We know lawyers and make it easy to connect with them.
Find a lawyer near you