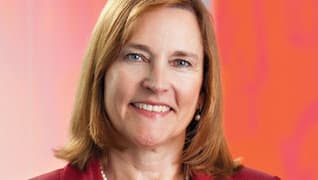 Photo by: Rich Fleischman
The Daley Show
Annamarie Daley grew up on a farm, went into complex commercial litigation and is considered by clients to be capable of anything
Published in 2013 Minnesota Super Lawyers magazine
By Adam Wahlberg on July 8, 2013
The case seemed intractable. Arctic Cat was dug in on one side in a matter regarding claims of patent violation for the two-stroke engine technology in its snowmobiles. Injection Research Specialists Inc. and Pacer Industries Inc. were on the other side, claiming infringement. It was January 2003 and the dispute had been simmering since March 2001. Then Arctic Cat brought in Annamarie Daley.
Daley, a complex commercial litigator then with Robins, Kaplan, Miller & Ceresi (she's now with Barnes & Thornburg), quickly took charge of the case, becoming knowledgeable on electronic fuel injection and traveling twice to Japan for depositions since some of the claims involved Japanese suppliers. About a month after Daley came on board, she caught her break.
"I was taking a deposition and one of the topics was destruction of documents, and the lawyers on the other side took a break and came back with a typed-up list of 108 boxes that had been shredded," she says. "We were able to get information that might have ordinarily been protected under lawyer-client privilege."
Ballgame. After three years of relentless work. Summary judgment on the questions of infringement, validity and enforceability; a rare trifecta in the world of patent infringement litigation.
"Annamarie's a Swiss Army knife of legal talents—if you need a corkscrew she can do that; if you need a knife she can do that," says Michael Okerlund, director of the legal department at Arctic Cat. "She's very comfortable in the courtroom doing litigation matters and regulatory matters. That's rare to find. We worked more with Annamarie on litigation matters than any other attorney."
Daley learned the importance of having a broad skillset while growing up in Lewiston in southeast Minnesota.
"My father was a dairy farmer," she says. "He would hire the boys in my class to help him in the fields. I figured if he could pay the boys to drive the tractors and drive the trucks, I could do it, too. I did a lot of disking and plowing. The first all-nighters I did were with my dad in the field."
She enjoyed it. Life was simple back then. Hard, but simple. "When it's time to plant, it's time to plant. When it's time to harvest, it's time to harvest," Daley says.
And yes, she spent some time snowmobiling.
"We never owned a snowmobile because my mother always complained that they broke down, back in those days, in the 1970s, but my friends all had Arctic Cats, my uncles had Arctic Cats," she says. "We also had an ATC, that's what they were called back in the day before they were four-wheelers. The ATCs were three-wheelers and were Hondas. We had a blast growing up on that thing—racing around, tearing up the yard."
Her mother was the state director of a rural economic development agency, and both her parents were active in the farm movement. They did plenty of sit-ins with the late Sen. Paul Wellstone, whom Daley remembers fondly. "He understood what people needed and how to motivate them," she says.
After high school, she took the money she earned from her father and as a bookkeeper for a grain elevator and headed to the University of Minnesota, where she earned two degrees, one in political science and one in agricultural business administration. She went on to earn a postgraduate diploma in agricultural economics from the University of Reading in England before returning home for law school.
Law had been on her mind since 10th grade.
"If you look at why this country works and why other countries around the world have troubles, it is because here we respect the law as a society. To be a part of that, to help people, to help companies understand the law to deal with their issues, seemed like a way to marry my beliefs with a career," she says.
She set out to do policy work on farming issues, serving an internship with the Department of Agriculture in Washington, D.C., but returned with her then-boyfriend, now-husband to start a family in Minnesota. She wasn't seeing opportunities in agriculture, so she accepted an offer from Robins Kaplan. 
"I never thought I'd end up practicing at a private law firm. I just didn't expect that it would be fun," Daley says.
But in that first year she represented a consortium of banks that had loaned money to a sunflower seed processing plant; a group of turkey growers; and Polaris. The eclectic mix charmed her. Plus, with just two months of experience, she got a chance to third-chair a trial in front of Judge Miles Lord. Daley changed her mind about law firm life.
"When you get to do those kinds of things, it's like, 'Oh my gosh, this is so much fun,'" she says.
Her 4-H background helped.
"In 4-H you would have demonstration programs. You had to get up on stage and explain to your audience how to do something. You had to demonstrate it. You have to have your visuals. It's a lot like trial," Daley says.
She rose quickly at Robins Kaplan, taking on leadership inside the firm and in the community. It was a huge amount of work, but she never minded. She remembered the farm.
"All the long hours are nothing compared to sitting on a tractor without heat, and it's cold and you're sitting on your feet because they're freezing," Daley says.
And she still found the time to raise two children. How? To Daley, the secret was not work-life balance, but work-life integration.
"The whole work-life perspective came from the Leave It To Beaver days when you went to your job in the morning, got there at 8:30-9, came home at 5 and the job stayed there. It was separate. My work and life have always been intertwined," she says. "My kids came with me to the office when they were little. I had a drawer of toys in my office. They saw that I love what I do."
And while she's made her name mixing it up in downtown Minneapolis, she and her husband—a lawyer himself—live in Medina, which is plenty Lewiston to her. "Oh it's my little piece of heaven. We have seven acres. I am blessed because I get to have the best of both: my career in the city, and my big garden," Daley says.
Travel is important. She and her family have visited all seven continents, and went to New Zealand last Christmas. (She loved Hobbiton.) Still, she makes sure she's never out of contact with clients. "I've taken conference calls while sitting on a boat in the Nile," she says. "There's a tremendous amount of freedom that we have with the technology. But you have to view it as freedom and not a burden."
Daley's on Sheryl Sandberg's side in the leaning in debate concerning female business leaders. "I think she's right on—if you sit back and just wait for somebody to touch your shoulder and say, 'You are ready,' it may never happen," she says.
Still, she counsels women to be aware of gender stereotypes. Not to accept them—to know how to not let them stop you.
"There are studies that show that the acceptable range for female behavior is much more narrow than it is for men. For instance it's more acceptable for a man to yell than a woman," she says. "You just have to take that into consideration. You have to be assertive, but figure out [you have to] deal with that reality, and figure out what works for your personality."
Daley, who is proficient in health care litigation, federal and state regulatory matters and consumer protection standards is onto another big patent case for Arctic Cat right now, this one a dispute with Bombardier Recreational Products. It again concerns snowmobile technology. It's another dense, technical, Excedrin bottle of a case. But at this point, this is what we know: Both sides have their arguments and their lawyers. But Arctic Cat also has a Swiss Army knife.
Search attorney feature articles