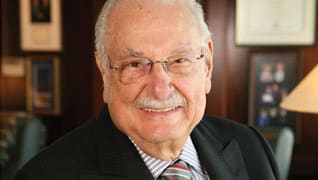 Photo by: Larry Marcus
The Dwight Stuff
Dwight Opperman went West as a young man, and the rest is history
Published in 2009 Minnesota Super Lawyers magazine
By David Rubenstein on July 17, 2009
We are saddened to hear the news of Dwight Opperman's passing. Dwight's great vision and dedication to our legal business was matched by his unwavering passion for the rule of law and service to the bench and bar. The employees of Thomson Reuters extend our thoughts and condolences to the Opperman family at this time.
Let's just get this out of the way. Yes, Dwight Opperman is the father of our boss. So yes, to us, that makes him the most interesting person who's ever lived.
But here's the thing: he sort of is.
Consider: the man grew up penniless in Iowa; helped build West Publishing; had the vision back in the mid-'70s to see how technology was going to change information services; is on a first-name basis with the Supreme Court; once offered President Bill Clinton a place to catnap; is breakfast pals with Larry King; and plenty more. He's an Opper-Man In Full and it's hard to think of someone on the local legal and public affairs scene with deeper footprints.
Here then is Dwight's story and a Q&A in which he discusses the leaders and thinkers he's met in his fascinating career.
                            —The Editors
Dwight Opperman was born in Perry, Iowa, about 40 miles from Des Moines and Drake University, where he got his J.D. in 1951. In the half century that followed, Opperman brought a venerable Minnesota legal publishing company into the digital age, became a Forbes-list billionaire and distinguished himself as the largest single benefactor in the history of Drake Law School.
As the era of hedge funds, Ponzi schemes and deregulation grinds to a halt and the extent of the pillage comes to light, certain elements of Opperman's business career stand out, not unlike that of today's most renowned capitalist folk hero, Warren Buffett. It was Buffett who said he only buys what he understands. Opperman was a seller, not a buyer, in the late 20th-century corporate bazaar, but what he sold he understood in the old-fashioned way, from the bottom up. Immediately after law school at Drake, he started at West Publishing Company as an editor, a position he held for nearly 10 years.
Given West's business, that was the equivalent of what in other industries might be a highly specialized line worker. Dozens of editors sat poring over cases and then composing synopses and listing the key findings, called headnotes, for each case. That, along with the company's elaborate headnote classification system—an evolving Dewey decimal-like system that fills an entire book—became the shank of West's intellectual property and the underpinning of its success against formidable competitors.
Opperman grew up in Perry during the Depression of the 1930s. His father pieced together a living as best he could. Occasionally, Opperman recalls, he'd work a day shoveling coal for the railroad and get paid in coal, which the family used to heat the house. Among his father's quirks was a refusal to accept relief and a lingering antipathy toward the local VFW post—fallout from a stint, at low pay, chipping mortar off used brick for its new building. "It was rough," Opperman says, "but I didn't know it. Everybody was poor."
Opperman was drafted into the Army out of Drake, where he had started as an undergraduate. From there he was sent to Edmonton, Alberta. After the war he went to work at Walter Reed Hospital, administering the amputee rehabilitation unit. One thing he accomplished there, he says, was developing a curriculum that would get the patients a high school diploma and a better shot at getting a job.
From there he went to Dakota Wesleyan for a year, then back to Drake for law school. When he graduated in 1951, he had a wife, his firstborn son Vance and no money. His job prospects, he says, came down to insurance adjustor or the editing at West Publishing. Pondering the pluses and minuses, he opted for West.
"My reasoning was all wrong," he says. "The job was a lot different from what I imagined. I really thought we'd sit around in a scholarly atmosphere and discuss the cases, and it wasn't at all like that. Anyway, it turned out all right."
In 1960, he became assistant editorial counsel, and by 1964 he was managing the department. In 1968 he became company president, and later CEO and chairman. The company remained privately owned, with Opperman the major stockholder and the rest of the stock apportioned to key employees.
As president, Opperman pushed the company into electronic media. There was strong opposition, and in the early stages it did not flourish. "The guy I put in charge of Westlaw came in, after he'd been there maybe a year, and said they'd studied it and their recommendation was to go back to our core business," he says.
The decision to sell the company in 1996, he says, came after his son Vance, then president of the company and chief litigator, had talked to the CFO, and they concluded there were some serious looming competitive problems. The board decided to retain experts, who determined they had three choices: go public, borrow roughly $1.5 billion or sell the company.
They sold, to Toronto-based Thomson Corporation, for $3.4 billion. The Goldman Sachs investment banker on the case for West (who later wrote about the deal in The Accidental Investment Banker) was both bemused and impressed by how Opperman ran the company. At one point, he says, when he asked to look at some financials, they brought him a handwritten ledger out of a safe, like something out of Charles Dickens.
"Dwight urged West to invest in technology and develop Westlaw, which was launched in 1975, years before anyone could have envisioned the explosive growth of online information," says Peter Warwick, president and CEO of what is now North American Legal, part of the Professional Division of Thomson Reuters. "As president, he led the development of Westlaw into the incredibly content-rich service our customers depend on today."
At Drake, Opperman has bankrolled the law library, which bears his name, established several scholarships and built a landscaping and architecture project, which honors and is named for his wife of 50 years, Jeanice, who died in 1993, and her family. He also endowed the Dwight D. Opperman Lecture in Constitutional Law, which has brought eight current or former Supreme Court justices to the campus. In 2003, he helped bring the American Judicature Society to Drake from its former venue in Chicago.
Among the other beneficiaries of Opperman's philanthropy are the College of William & Mary, Dakota Wesleyan University, Hamline University, William Mitchell College of Law, the Dwight D. Opperman Institute of Judicial Administration at NYU School of Law, Breck School and two high schools in California.
Jim Schatz, formerly of Oppenheimer Wolff & Donnelly and now retired, served as chief outside counsel for West for many years. "Dwight could be a tough-nosed businessman when he wanted to, but he was a real gentleman to everyone," says Schatz. "But the thing I most heard about, and saw it too, was how he took care of his wife, Jeanice, when she was dying of lung cancer. He could easily have afforded to have someone else take care of her. He had help, of course, but you'd see Dwight out at Cub Foods with Jeanice, at Dayton's with Jeanice, at the airport with Jeanice. He was very patient."
Opperman still holds the title of chairman emeritus at West, although he's no longer involved in the company's day-to-day business. "They were very nice to give that to me," he says. He notes in passing that shortly after the sale, they removed the painted "Welcome to Westlaw" sign on top of one of the Eagan buildings, where it had been visible out the left-side window of planes flying into the Twin Cites. But, he adds, he is a great admirer of the company and he's happy that, by his reckoning, on the basis of stock price, they recouped their purchase price within six months of the acquisition.
In 2007, Opperman bought Phoenix Books Inc., a Beverly Hills-based publisher of books, audiobooks and, more recently, film production. During the recent filming of Overnight, a romantic comedy, he spent some time watching the dailies (the raw footage of a day's shoot), and occasionally offered comment. "If I did say some things, like the music's too loud or I can't understand what the hell they are talking about, they humored me," he says.
Opperman remains chairman of Key Investment Inc., among whose holdings are this magazine. Another major interest is nine grandchildren and more than a dozen great-grandchildren. In 2008, he married popular writer Julie Chrystyn.
Opperman attends most board meetings at Drake, where he is an active participant and continues to help shape policy, according to David Maxwell, who became president of Drake University in 1999. "He's a very astute businessman, but he's never lost his sense of joy," Maxwell says. "He works very hard to make sure that whatever he is committing himself to, he is having fun doing it. It's a rare quality."
Why They Love Him in Iowa
Dwight Opperman's enduring affection for Drake Law School
Weeks after Claire Gagnon walked across the commencement stage at Drake Law School, she put a down payment on a house in South Minneapolis. She thanks Dwight Opperman for it.
"[His scholarship] was such a gift to me," says Gagnon, now a second-year associate at Leonard, Street and Deinard who received a full ride from Opperman. "So much pressure was taken off, not having to worry about financing my education. I graduated No. 1 in my class. I didn't want to let [Mr. Opperman] down."
He has given generously to many students at his alma mater through the years. Since 1998, he has awarded $4.3 million to 59 students, enough to cover tuition and a stipend for each of them.
Another grateful recipient was Chris James, who graduated a year before Gagnon in May 2006 and is exempt from paying $600 in monthly student loan obligations. James paid tribute to Opperman via his Web site, iowalawyers.blogspot.com. "It is amazing how much impact a complete stranger can have upon your life," James wrote. "I have come to know him and through him what it means to be generous. … Given how much he has done for us, I thought he deserved a shout-out."
Twice a year, scholars past and present attend an event with Opperman. The most recent was an April 25 gathering at the Des Moines Embassy Club. "He has such a presence," Gagnon says of Opperman. "His passion for law and for life is apparent when you first meet him. He has inspired me to give back, not only to Drake but to other organizations that support the legal community."
—Aimée Groth
Search attorney feature articles
Helpful links
Other featured articles
Mike McMullen on life behind the lens
Michelle Suskauer relies on persistence—and niceness—to bring people around
Richard Jaffe keeps people from being executed by the state
View more articles featuring lawyers
Find top lawyers with confidence
The Super Lawyers patented selection process is peer influenced and research driven, selecting the top 5% of attorneys to the Super Lawyers lists each year. We know lawyers and make it easy to connect with them.
Find a lawyer near you