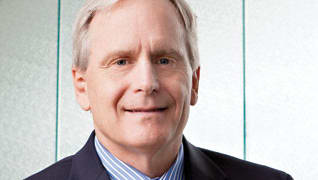 Photo by: Rich Fleischman
The Patent Protector
Steve Lundberg conceived of a firm over a game of Ms. Pac-Man. He helps others protect their inspiring ideas
Published in 2012 Minnesota Super Lawyers magazine
By Kelly O'Hara on July 9, 2012
Early on during a visit with 57-year-old patent attorney Steve Lundberg, he shows the first flash of the dry wit that will pepper the rest of his conversation.
"I don't know," he says, shaking his head back and forth. "Most of the things that I work on are interesting to only a very small number of people. If you can make what I do interesting to say, real estate lawyers, this will be a major achievement."
Lundberg is one of the founding partners of the Minneapolis-based, 90-attorney firm Schwegman, Lundberg & Woessner, whose client roster is filled with the titans of various industries.
At his firm, attorneys, most of whom also possess degrees in subjects such as computer science or biotechnology, amble past each other dressed in blue jeans. One person familiar with the firm confides that, in the summer, the sound of flip-flops clopping down the carpeted halls is a regular backbeat to the day.
While Lundberg playfully pokes fun at the field of patent law, his relaxed manner—and the decidedly low-key office vibe—can't obscure his passion for pushing the boundaries in this arena of hard-science-meets-law.
Lundberg and his firm personally have some 40 to 50 patents of their own pending, many for information technology designed to manage intellectual property. He has already been granted patents for about 10 of the inventions and innovations he has helped develop over the past decade.
Unlike many intellectual property firms, Schwegman, Lundberg & Woessner practices almost exclusively patent law, working with companies such as Apple, the University of Minnesota, Boston Scientific, Intel, Adobe, eBay and other industry giants. And much like its clientele, the firm's watchword seems to be "innovation."
Lundberg notes that his firm was one of the first in the nation to go paperless back in the 1990s, using early technology to step away from the maelstrom of documents patent law generates. The firm was also one of the first to transfer some of its routine, repetitive work to outsourced legal talent in India a decade ago, a trend that it is now bucking by drawing most of its outsourced work back to the United States: much of it to Rapid City, S.D.
"If you have to do anything [in India] other than just pipelining, where you have a continuous flow and they're doing the exact same things on the documents day in and day out … it's just a disaster," Lundberg says. "If you have to do anything that's project-oriented where you send them custom instructions … you just can't communicate fast enough to course-correct on a project."
Schwegman, Lundberg & Woessner has turned into something of a business incubator as it continually prods the leading edge of patent law practice. Lundberg and the firm have developed several technology tools that they use in-house themselves and that they are now considering licensing to others in the patent law community.
Company lore has it that Schwegman, Lundberg & Woessner owes its start to a game of Ms. Pac-Man. Lundberg says he and Warren Woessner were sitting in a bar and playing the game in late 1993 while they discussed their idea to practice patent law in a new way. They shared a vision of leveraging technology to speed up the historically paper-intensive and repetitive actions needed to prosecute patents. Over the course of the game, the two agreed to do just that.
Lundberg, who has a bachelor's degree in electrical engineering from the University of Minnesota and a law degree from William Mitchell College of Law, has always felt the tug to find new ways to do old things. When dealing with patents, that urge has become a necessity.
Consider this: According to the U.S. Patent and Trademark Office, almost 5 million utility patents or "patents for invention" have been granted since 1963. In that year, roughly 46,000 were granted. In 2011 alone, that number had risen to about 225,000.
Because patents are cumulative information growing at a geometric rate, patent counsel has traditionally had the grueling job of reading and researching thousands and thousands of pages of data. And as the data has scaled, researching it has remained static, requiring mind-numbing hours of reading dense print.
That challenge led Lundberg and his firm to develop a radically different way to sift through that information, a technology tool called ClaimBot.
At its simplest, ClaimBot is software that can scour the U.S. PTO and retrieve any patent that might conceivably apply in a particular case. That information is then transferred into an enormous spreadsheet that reflects the particular claims covered in each patent. Attorneys reviewing this matrix can quickly and comprehensively rule out huge blocks of patents that don't apply, based upon what's included in the claim language.
"I'm sort of fascinated by this, actually," says Lundberg. "The patent office does a fantastic job with the tools they have and the people they have to decide which patents should be granted. But the patent office really does virtually nothing to help others understand what the claims at the end of those patents mean…the guts of the patent. What we wanted to do is basically make an index of what the patent protects so that you can look at two or three simple statements and have an instantaneous idea of what this patent covers. We thought that we should be able to map concepts to claims and then use those concepts to let people sort through the patents very quickly to figure out which ones apply and which ones don't."
With ClaimBot, Lundberg says his team has found a way to both simplify "freedom to operate" searches and to drop the cost for them dramatically.
Lundberg says. "We've reduced the cost of FTO down to about $25,000 from what used to be over $100,000, $150,000. We figured out a methodology to greatly simplify what you need to look at to discount a patent as non-applicable. It's all about getting rid of the ones that don't apply."
While at the moment ClaimBot seems to be the pet project du jour, Lundberg's firm has ties to plenty of other innovations in a similar vein. One is an analytics tool called Patent Buddy.
"If you're looking at trends in the industry, other than the fact that people are suing each other a lot, the other big one is on the analytic side," Lundberg says. "Patent analytics have become very, very important. What analytics are in short is looking at statistics related to patents. 'How many patents does an Apple have? How many patents does Boston Scientific have compared to a Medtronic?' And then you go, OK, in their sub-classes of activity, 'How many pacemaker patents do they have relative to these guys?' You're looking at the world through the statistics.
"Because [large companies have] so many patents, when they sit down to cross-license each other, they're pretty much only looking at a handful of patents that are their gems. They each say, 'OK, we've got these 50 patents sitting on the shelf that we know pretty much everybody infringes.' After they pretty much agree that they've both got atom bombs to hurl at each other, they start counting how many patents they have. They say, 'Well, we've got 25,000 of this and you've got only 5,000 of those.' They're just using all sorts of statistics to basically figure out how much money they should pay each other."
In a different universe, he thinks he might have pursued a slightly different but related career.
"I think if I wasn't a patent attorney, I'd probably be running some software company or something like that."
He pauses for a moment and seems to think about what he's just said.
"I'm kind of doing that now, actually," he says with a smile. "I've been blessed my entire career with having smart partners who are really great at law. It works out really well."
Search attorney feature articles