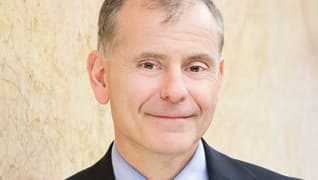 Photo by: Rich Fleischman
The System Does Not Always Work
David Schultz never loses sight of this in his professional and pro-bono work
Published in 2012 Minnesota Super Lawyers magazine
By John Rosengren on July 9, 2012
The large color photo above David Schultz's desk serves as a constant reminder that the system does not always work. The shot, taken recently at a baseball diamond in Fort Myers, Fla., depicts the moment following a play at the plate. The runner's still on the ground, Schultz is the catcher.  "He's clearly out. You can't even see the plate But the ump called him safe," Schultz says.
That sort of injustice doesn't sit well with the trial lawyer from Maslon Edelman Borman & Brand. As a partner in the Minneapolis firm's litigation department, Schultz spends most of his time defending medical device product liability claims and medical malpractice cases. He spent 11 years working in the Attorney General's Office under Hubert H. Humphrey III and he ran for Ramsey County Attorney in 2010, but he's distinguished himself with his pro bono, death row cases. Schultz has served on the board of the Innocence Project since 2004, and is currently leading the defense of an inmate on death row for a crime Schultz believes he did not commit. 
Schultz, 53, is casual and slight of build—a catcher by default because he's the only one of his Carleton College buddies whose knees let him crouch—but an intensity smolders beneath his mild-mannered façade.  On a foggy spring morning, seated in his office on the 34th floor of the Wells Fargo Center, he traces the path that led him to befriend a black man in a Texas jail cell.
The death penalty was a hotly debated topic in the early 80s when Schultz was a student at Stanford Law School. He found the arguments against capital punishment convincing—it did not give closure to victim's families, it did not work as a deterrent—and Roman Catholic faith argued against taking human life. Even if it served as "moral proportionality"—seemingly the only just response to an exceptionally heinous crime—the possibility of error persuaded him against its implementation. 
"We've now shown through the Innocence Project (which uses DNA and other means to determine guilt or innocence of inmates) that there are cases where the horrific nature of a crime can overwhelm the lack of evidence," Schultz says, "and you can argue that you are more likely to get a wrong verdict."
Statistics gathered over the past three decades also show that the death penalty is not universally implemented in American courts. The overriding determining factors of who gets sentenced to death are race (of the victim and the perpetrator) and location, where the crime is committed. That means if a black man murders a white woman in Texas, he is more likely to be sentenced to death than a white woman who murders a black man in Colorado, even if she does so in a more heinous way. That uneven implementation weakens the moral proportionality argument.
Schultz did not know all of this his first year out of law school when he took on a death penalty case for Leonard Street and Deinard; he just knew he wanted to help a man he did not think had gotten a fair trial in Louisiana. The man was guilty of sexually abusing and murdering a three-year-old girl, but his court-appointed public defender had basically given up on him, which led to the death sentence. That injustice drew Schultz to the case. "It's a common problem in death penalty cases that defendants get inadequate representation," he says. "Even if you're in favor of the death penalty, it seems to me that if we're going to put someone to death, we damn well better give him a good defense."
Schultz's work on the case as a consultant, even after he'd left the firm to join the Attorney General's Office, led to the sentence being commuted to life imprisonment. But his accomplishment troubled him because it exposed a grave flaw in the system. "It's a scary thought that some first-year lawyer in Minnesota can do a better job than a 25-year veteran lawyer who actually practices in the subject matter," he says.
But the case had also been unpopular on several levels so he swore he would never take on another death penalty case.  From 1987 to 1997, he worked in the Attorney General's Office as a white collar crime prosecutor in the Law Enforcement Section and as a civil trial attorney in the Solicitor General's Section.  He developed a reputation as a tenacious investigator and skilled trial lawyer who could speak equally convincingly to juries and judges.  He became the attorney others in the office sought out for a second opinion or guidance on a matter even when it was outside of his area.  "Not only is he bright and very capable, he's willing to help," says David Orbuch, executive vice president and chief compliance officer at United Health Care, who worked with Schultz in the AGO.
After leaving the AGO and spending four years at Maslon, Schultz, who lives in St. Paul with his wife, Trudi Trysla, an attorney with Fairview Health Services and their three children, decided to run for Ramsey County Attorney. He had never aspired to political office but saw this as an opportunity to do public service—the position was open for the first time in 16 years. Though he lost the election to the DFL-endorsed John Choi, he gained the endorsements of state legislator and former AGO colleague Matt Entenza, who called Schultz a "strategic and tactical thinker" and former U.S. Senator David Durenberger: "I have come to know David as a hardworking and talented lawyer who is sincerely committed to justice in our community."
Then an article Schultz read in Minnesota Law & Politics about another attorney's work with the Innocence Project renewed his earlier passion against the injustice of capital punishment. He volunteered to work with the Innocence Project of Minnesota and eventually became chair of its board in 2007. One of the board's duties was to decide which cases merited the organization's intervention.
During that time, the American Bar Association's Death Penalty Representation Project asked him to represent Douglas Tyrone Armstrong, a man on death row in Texas who goes by his middle name. Even though he had not touched a death penalty case since his first experience 20 years earlier, he decided to take this one. His work with the Innocence Project had heightened his concern about the unjust implementation of the death penalty, and this seemed a case where he could right a wrong.
He has been involved with other murder cases. When Father John Kaiser, a Minnesota missionary in Kenya was killed by a shotgun blast to the back of the head in 2000 and the government ruled it a suicide, Schultz helped the family gather information to contest that ruling. In Minnesota's version of the O. J. Simpson trial, where jurors had believed Aaron Foster guilty of murdering his girlfriend but lacked the certitude of evidence to convict him, Schultz helped the girlfriend's family win a $6 million civil suit verdict against Foster.
The death penalty case held the same possibility for bringing justice where injustice had previously prevailed. Tyrone Armstrong, an African American, was accused of, convicted and sentenced to die for murdering a Hispanic man in 2006 in Donna, Texas.  Upon reviewing the evidence and testimony, Schultz saw Armstrong as the victim of all that was wrong with the system. The police, eager to arrest a suspect, likely planted evidence that condemned Armstrong. His court-appointed public defenders did little to defend him. Then, most likely because Armstrong was a black man in Texas, he was sentenced to death.
Schultz has led the habeas effort, which he figures has consumed 1,000 pro bono hours for both him and staff attorneys, and it will require more hours to prepare for the evidentiary hearing that will decide whether Armstrong deserves a new trial. The firm has been supportive, and Schultz has remained passionate about his quest for justice. Armstrong is still alive after half a dozen years.
Throughout, the attorney's family has been a source of strength. Alongside the photo of him in his catcher's gear, there are photos of Colin, 7 years old, and his brother Sam, 9 years old, on the baseball field. Three-year-old Nina has not yet learned to play.  He points to the white board on the wall next to their photos, where his children have scrawled messages and laughs at what Colin's written: "I will never forget you, Dad."
He would like to be playing more baseball himself, but instead he's coaching this summer. "My hobbies are my kids," he says. "Now is their time."
That sustains him along with his passion for donating his time to the cause of justice. "As hackneyed as it may sound, I care about justice and our legal system," Schultz says. "It feeds my soul."
Search attorney feature articles
Helpful links
Other featured articles
Hee Jin Chang is South Korea's youngest-ever Olympic swimmer
The pro bono SCOTUS work driving Seepan Parseghian
Five New Jersey solo acts on why they stepped out on their own
View more articles featuring lawyers
Find top lawyers with confidence
The Super Lawyers patented selection process is peer influenced and research driven, selecting the top 5% of attorneys to the Super Lawyers lists each year. We know lawyers and make it easy to connect with them.
Find a lawyer near you