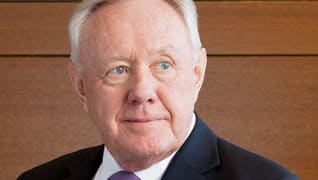 Photo by: Rich Fleischman
There and Back Again
Sam Hanson's journey from the bar to the bench
Published in 2013 Minnesota Super Lawyers magazine
By John Rosengren on July 8, 2013
By the time he hit 60, Sam Hanson, who had wanted to become a judge since law school, figured that dream was over. He was still in private practice. Most governors usually appoint younger judges who will be able to carry on their legacy. That had certainly been true of Arne Carlson, governor during Hanson's prime potential appointment years. But "usual" wasn't a word in Gov. Jesse Ventura's vocabulary.
In 2000, when Hanson returned from a trip to China with Global Volunteers—an organization he co-founded in 1984 to provide professionals with "volunteer service vacations" that promote understanding and cross-cultural cooperation—he received a phone call from Sandy Keith, recently retired from the Minnesota Supreme Court, who had also been on the China trip. Keith told Hanson a spot on the Minnesota Court of Appeals had opened up and that Hanson should put his name in for it.
Saying that he chose judges based on merit, not politics, Ventura named Hanson to the position. Two years later, Ventura selected Hanson to fill a spot on the Minnesota Supreme Court. "It was a marvelous thing," Hanson recalls with a chuckle.
Making decisions through a collaborative process was a big change for Hanson—he was used to doing things his own way for most of his 34 years in private practice and is a self-professed introvert. "I like to sit down and work through a problem by myself," Hanson says. "I'm Norwegian."
But the process of coming together with the six other justices to discuss cases made a lasting impression on him. "I learned to appreciate how much deeper that process pushes you in your thinking and understanding," Hanson says. "I found those to be profound occasions. I always came out feeling I'd gone through a real education."
Hanson, 73, sits in shirt and tie in a windowless conference room on the 22nd floor of the IDS Center, home to his firm, Briggs and Morgan. Given his age, you'd never guess he still plays pickup basketball twice a week at the gym, but there are many things you might not guess about him.
For one, growing up in Mankato, Hanson didn't dream of becoming a judge or even a lawyer. The aspiration took root when he took the LSAT during his last semester at St. Olaf College and scored well enough to be accepted at William Mitchell College of Law. Working days as the first-ever law clerk for Judge Douglas Amdahl in district court introduced Hanson to the inner workings of the courtroom and first sparked his ambition to become a judge. That desire was refined by a year spent clerking for Judge Robert Sheran, then an associate justice of the Minnesota Supreme Court, after Hanson graduated in 1965.
Hanson knew the route to the bench meant proving himself as an attorney, and he was concerned that his quiet and relaxed personality might not suit a trial lawyer. Studying the attorneys during his days clerking, he discovered that the best ones stayed true to their strengths and didn't adopt a false persona. He realized that one could be effective with a cordial and civil demeanor. "If you're better prepared, juries prefer that style to the abusive one over a long trial," Hanson says. "Once I figured out you could define your own style, I thought, 'This could work for me.'"
Hanson joined Briggs and Morgan in 1966 and began trying cases almost immediately. Over the years, he built a practice in commercial litigation and utility regulation cases, served as the firm's president and on its board of directors and developed a reputation for being cordial and effective. "He has a unique ability to handle difficult subjects in the courtroom," says Scott Davies, a partner at Briggs and Morgan who has worked with Hanson since 1975. "I recall one case where he cross-examined an expert witness for the better part of two hours, barely referring to his notes. At the end, the expert's opinion had been thoroughly discredited."
"He is without a doubt the finest lawyer I've known and worked with," says Davies.
In several of Hanson's most notable cases, he has prevailed on behalf of power companies and individuals. He won a decision to overturn the Nobles County Board of Commissioners' attempt to prevent Interstate Power Co.'s upgrade to existing transmission lines by amending the county's zoning ordinance to change set-back requirements. He also successfully argued that the Department of Natural Resources lacked statutory authority to deny certification of the variance for the construction of Robert Hubbard's home on the St. Croix River. And on behalf of Northern States Power Co., Hanson successfully defeated a $50 million claim by Manitoba Hydro for additional fees under an electric power agreement.
Facing mandatory retirement from the court at age 70, Hanson returned to Briggs and Morgan a year and a half prior to his birthday, so that he could resume working on one of his signature utility regulation cases and other commercial ligitation. In those cases, he has sought out the perspectives of others to brainstorm ideas and do more mock arguments. The time on the bench "converted me," he says. "I am a big proponent of collaboration—it's a very rich process."
Already skilled at distilling a case to its critical elements, he improved that ability as a judge. "As a trial lawyer, you're a storyteller and a translator," Hanson says. "You've got to know all the underlying facts but be able to step above that and decide the specific focus. You can refine that process as a judge because you have to be able to step back from the facts and decide what's the critical issue here."
His vantage point on the bench also taught him what turns off judges. Attorneys arguing on emotion instead of fact, for instance. Or infighting.
Hanson impressed his judicial colleagues. "If we had logos on our robes—thank God we don't—I think Sam's would be a Nike swoosh, only his would mean 'Just did it' because he got his work done so fast, being so focused," says Kathleen Blatz, chief justice of the state Supreme Court during Hanson's tenure.
His style, that of the gentleman attorney and judge, has also made an impression. "Sam is the model of civility," Blatz says. "Nobody could be a trial lawyer of his stature without the ability to talk to others and hold onto his opinions. His strength plays to both parts of the profession."
For Hanson, being a judge was a perfect fit. "If you're enough of an introvert that you enjoy reading, writing and thinking, then talking to the group, there couldn't be a better job in Minnesota," he says.
There were challenges in moving back to private practice. Like having to appear before his former colleagues. In the first case he brought to the state Supreme Court after stepping down, he felt awkward. "When you create a picture of yourself as a neutral then go back into an advocate role, people can look at you sideways," he says.
The court made it clear they weren't going to give him any breaks. "Their questions were fast and furious," he says with a smile. "Rightly so. They wanted to make it clear they weren't giving me any advantages."
He wouldn't want them anyway. In the half-dozen cases he has argued before the Minnesota Supreme Court since leaving it, he has won three and lost two with one decision still pending.
Over the years, Hanson and his wife, Mirja, have raised six children, including two they adopted, and now have seven grandchildren. He took up golf about 15 years ago and, if he were the boasting type, he could boast of a 12.5 handicap. He was a benchwarmer on the St. Olaf basketball team, but played for the Briggs and Morgan team in a law firm league until it folded two years ago. He still plays in his alma mater's periodic alumni games and is able to get up and down the court with men from 30 to 40 years younger in pickup games. "I have good Norwegian knees and ankles," Hanson says, though he admits, "My outside shot is my biggest asset, so I don't have to get physical under the basket."
Search attorney feature articles
Helpful links
Other featured articles
Kostan Lathouris' promise to represent tribal interests and sovereignty 
Why Jessica Heltsley moved out of courtrooms and into divorce coaching
Kentucky attorney Rob Bilott is a warrior in the battle against PFAS
View more articles featuring lawyers
Find top lawyers with confidence
The Super Lawyers patented selection process is peer influenced and research driven, selecting the top 5% of attorneys to the Super Lawyers lists each year. We know lawyers and make it easy to connect with them.
Find a lawyer near you