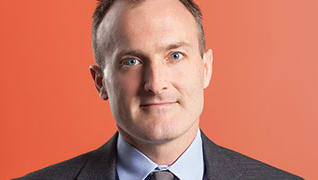 Photo by: Richard Fleischman
Under Center
Eric Hageman uses his legal know-how on behalf of his NFL-bound son, former Gophers star Ra'Shede
Published in 2014 Minnesota Super Lawyers magazine
By John Rosengren on July 7, 2014
Long before he began fielding calls from sports agents wanting to represent his son, Eric Hageman was hawking sausage and cheese.
Working at a Hickory Farms mall kiosk over the holiday season after graduating from college, Hageman had an epiphany: "I could be doing something better with my Ivy League degree." The Dartmouth College grad decided the law would play to his intellectual and competitive strengths better than sausage salesmanship did.
That theory was put to the test during his second year at the University of Minnesota Law School, when he worked for Robert Bennett, the renowned Twin Cities police brutality, personal injury and wrongful death litigator. In his first assignment, Hageman assisted in the case of Craig Mische, college hockey player who was beaten while handcuffed by Mike Sauro, a Minneapolis cop. The trial dominated the local news in 1994, and Bennett eventually won a verdict that set the standard for use of excessive force by police officers. Hageman was hooked.
Bennett hired him full time after he graduated in 1995, and over the next 13 years they worked together on a number of high-profile cases. In Ngo v. Storlie, they secured the largest settlement in an excessive force case against the city of Minneapolis ($4.5 million). In Taylor v. Minneapolis Golf Club, they represented the parents of Abigail Taylor, the 6-year-old who was injured by a dangerous swimming pool drain in 2007, and died of organ transplant-related cancer after doctors replaced her damaged organs in 2008. The case settled, resulting in more than $8 million for Taylor's family.
Hageman learned the trade from Bennett. Eventually, though, it was time to move on. "A profile of Bennett in the Star Tribune referred to me as Bob's 'Dartmouth-educated sidekick," Hageman says, laughing.
The 46-year-old sits behind the desk in his corner office on the 29th floor of the Plaza Seven Office Tower at Pritzker Olsen, which he joined in 2008. Hageman primarily handles wrongful death and personal injury cases for plaintiffs on his own and with his second mentor, Fred Pritzker, firm founder and president.
Law school didn't just shape Hageman's career—it also set the course of his personal life. In his first year, he met classmate Jill Coyle, and the two later married. At one point, Coyle clerked for the North American Council on Adoptable Children, which helped place older children, and it inspired the couple to start their own family via adoption. On Nov. 20, 1998, two brothers, Ra'Shede and Xavier, ages 7 and 6, became part of their family. In a frame inscribed, "Families are for memories," which occupies the prime real estate at the top of his desk, Hageman keeps a photograph commemorating that day: he and Coyle, smiling with their sons and Judge Pamela Alexander.
The older boy, Ra'Shede, had some learning difficulties and anger issues, but also size and enormous athletic ability. As a standout at Washburn High School, he was courted by the nation's top-flight football programs. Hageman and Coyle helped their son sift through the exaggerated promises and steered him toward a scholarship at the University of Minnesota, where he could remain close to home and their support.
When Ra'Shede—a 6-foot-6-inch, 311-pounder who benches 485 pounds—became one of the Gophers' starting defensive linemen during his junior year, he began receiving calls, texts, Facebook messages, tweets and emails from those who saw the havoc he caused in opposing backfields. He was suddenly an NFL prospect. Ra'Shede referred everyone to his dad, and Hageman heard from agents, financial advisors, disability insurance salespeople, nutritionists, trainers, former football players, alumni, all of whom wanted to help—and to cash in on the millions of dollars expected to come Ra'Shede's way once he was drafted.
Hageman had played two seasons as a defensive back at Dartmouth—"I wasn't blessed with the physical skills Ra'Shede has," he says, "but … I saw that it was not always about who was the strongest or the fastest, but about who put forth the most effort"—and he got busy educating himself. "I used these calls as an opportunity to learn about the process."
It would be a steep learning curve for any parent, digesting the nuances of the salary structure under the NFL's collective bargaining agreement, navigating the best route to the draft and weighing diverse suggestions for success en route; but years handling complex cases had primed Hageman for the job. He investigated agents and others the same way he set about preparing for a deposition. "I might find a reportable event in their background, or that they had filed for bankruptcy or that they weren't even certified," Hageman says.
Bennett, Hageman's first mentor, vouches for his thoroughness. "He's certainly a well-rounded person who's got an understanding of the ways of the world," Bennett says. "He'd be a hard person to put something over on."
Hageman wanted to be able to inform his son as best he could. "Knowledge is power," he says. "We gave him enough information to help him make good decisions. You can't make a good decision without the facts. We gave him all the facts. That's what all parents try to do for their kids."
Hageman feels for the NFL prospects who don't have someone running interference for them. He says they're ill equipped at their age to make decisions most people don't have to make until their mature years. "We did keep the sharks at bay," Hageman says. "For kids who don't have the support system, it's easy for others to take advantage of their naiveté. A lot of agents are used to dealing with kids who just accept what they say."
The work intensified last fall during Ra'Shede's senior season, when his stock rose, making him a possible first-round draft selection. Hageman started fielding up to 15 contacts a day. More than 60 agents contacted him, each wanting to meet in person. Since NCAA rules prohibit college players from signing with an agent until they have finished their final season, Hageman could not dismiss the relentless agents by telling them Ra'Shede had already selected one. "My job was just to be a buffer so he could focus on football," Hageman says. "He still had a college season to play. But it was frustrating. They kept calling and texting."
Hageman winnowed the pool down to five agents, and he, Coyle and Ra'Shede met with most of them in the living room of their Minnehaha Creek Parkway home in South Minneapolis. They watched PowerPoint presentations and listened to spiels. "Some projected NFL career earnings, but how could you ever know that?" Hageman says, especially when a player's draft slot essentially determines how much his first four-year contract will pay. "How could you ever know what kind of career Ra'Shede is going to have?"
The wiser agents talked about how they could best prepare Ra'Shede for the draft, since the higher a player is drafted, the more he stands to make for the first four years. That was the approach of Athletes First—based in Orange County and the second-largest player representation firm in the country—with clients such as Aaron Rodgers, Matt Hasselbeck and Everson Griffen. After Ra'Shede's final college game, the Gophers' loss at the Texas Bowl, he and his parents went out to dinner at a Houston steakhouse and signed with the Athletes First rep.
But Hageman wasn't finished. Next, he turned his sights to counseling his son on selecting a financial adviser, someone Ra'Shede can trust to wisely invest the money that could come his way. The prime earning years for NFL players are the first five to six years right out of college, Hageman says. "Most people have time as they mature and their income increases to learn about investing their money, whereas for kids going into the NFL, that's being thrust upon them. They have to learn to do it before they're ready."
Ra'Shede appreciates it all. During his teen years, he struggled to make sense of his place in the world, a young black man adopted by white parents, and he did not want to hear what they had to say to him. No more. "He took a lot of the weight off my shoulders," Ra'Shede says. "I was stress-free. He was just a dad and a lawyer, taking care of business. I appreciate that."
And after being drafted as the fifth pick in the second round by the Atlanta Falcons on May 9, the future is bright. "We couldn't be more pleased with the decisions he's making," Hageman says.
Search attorney feature articles