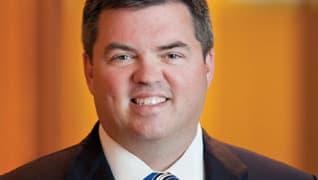 Photo by: Rich Fleischman
Wall of Protection
How trademark lawyer Tim Kenny safeguards local and national brands
Published in 2013 Minnesota Super Lawyers magazine
By Lauren Peck on July 8, 2013
In early 2012, a text lit up Tim Kenny's phone. Attached was a photo of advertisements for "The Big Jameson Ginger."
The text came from Kieran Folliard, founder of 2 Gingers Whiskey, former owner of four local Irish pubs and trademark holder of the "The Big Ginger." Kenny had helped Folliard trademark the name for his combination of Irish whiskey, ginger ale, lemon and lime in 2009. Within a few days of getting the text, he hit Jameson Irish Whiskey with an infringement lawsuit and a motion for a temporary restraining order.
The story raced across local news, business journals and even hit the front page of the Irish Independent in Dublin.
"Tim was very professional," says Carrie Nicklow, president of 2 Gingers Whiskey. "He had good instincts on how to proceed."
With St. Patrick's Day barely a month away, Kenny and his team at Fulbright & Jaworski (now Norton Rose Fulbright) worked around the clock for nearly two weeks to reach an undisclosed amicable settlement with Jameson.
"The day that we were actually negotiating the settlement over that weekend, my daughters' Irish dance school, Rince na Chroi, had its recital at St. Kate's … and [Kieran] was the emcee that night for the show," Kenny says. "He would go backstage, and he and I would text back and forth about what was going on.
"At the end of the recital, I went to the front of the stage; he and I talked for about 15 minutes … and then I drove back here and I redlined the proposal at like two in the morning, sent it back to New York. It was that kind of crazy."
When Kenny first met Folliard in 1994, he had just graduated law school, and Folliard had just launched his first pub, Kieran's. They met at an event to form what eventually became the Minnesota-Ireland Chamber of Commerce. "It turned out I was the only person probably under 40 in the room," Kenny says.
The two became friends, and in 2005, Folliard came to Kenny with the idea of marketing The Big Ginger, originally made with Jameson, at his pubs. "The global consumption of whiskey [by women] is around 4 percent," Kenny says. "What they found with this drink is 50 or 60 percent of the consumption within the pub was by women, so he essentially doubled his market. This stuff was flying off the shelves."
The drink was so popular that The Local was named the top-selling Jameson pub in the world five years in a row, and Jameson offered to buy the trademark, which Folliard declined. In 2011, with Jameson's prices increasing, Kenny helped trademark Folliard's own whiskey brand, 2 Gingers, to sell at his pubs, and eventually in the marketplace, with The Big Ginger at its helm.
"[Folliard is] just a tremendous fellow, very gregarious, has a lot of big ideas and has been very successful in implementing those ideas," says Kenny.
And when his big ideas need protecting, he turns to Kenny. "Kieran likes to say, 'They told me all I could say was it was an amicable settlement,'" Kenny says, "but they didn't say I couldn't smile as I said it.'"
Kenny's 21st floor office in the IDS Center is filled with mementos of brands he's protected over the years: General Mills' Total cereal, a bottle of Pillsbury Hungry Jack syrup, 3M ScotchBlue painter's tape, a 2 Gingers bottle. "They're nice displays and reminders of what we've done," he says. "Because a lot of times, we're so deep in the paper or whatever that we don't see it for years, but these are the results of our efforts."
Kenny now lives in St. Paul with his wife and three daughters, but he grew up in then-rural Bloomington. "There were gravel roads, literally a barn with 100 cattle a block away," he says. "We'd get let out the door at seven in the morning, and then the bell would ring at six for dinner, and then we'd go back out and be running all over."
Growing up, Kenny loved reading and history and thought he'd go into law or diplomatic service. After spending a year abroad in Ireland and graduating from Notre Dame in 1990, he took the foreign service exam, but got waitlisted. In the interim, he decided to get his law degree. "I didn't think that I would ever work at a big law firm," Kenny says. "I thought I was going to law school to get good skills and maybe go into the foreign service and have this legal background."
After two LSAT attempts, his scores weren't high enough to get into the University of Minnesota law school, but he was undeterred and enrolled at Hamline.
"I'm really glad I didn't get into the University of Minnesota," he says. "I got to do things at Hamline that I probably wouldn't have gotten to if I'd been at the U," including being editor-in-chief of the law review and competing at the international moot court world championships.
Even though he never took an intellectual property class in law school, Kenny turned a summer job at Oppenheimer Wolff & Donnelly into an associate position working on patent litigation and eventually trademark law. "I've told law students this: You go into law school thinking that you know what you want to do, and then an opportunity comes up," Kenny says. "I never thought that I would do IP law. Falling in with a group of people who liked me and I liked them ended up taking me down this path."
When famed Texas trademark attorney Lou Pirkey began searching for someone to liaison with Arnold White & Durkee's major Minnesota clients, Linda Sorrano, then in-house counsel at Pillsbury and a former senior associate at Oppenheimer Wolff, suggested Kenny. 
"I got a call out of the blue from Linda saying, 'Would you ever have any interest in going to work at this national IP boutique?'"  Kenny says. "I said, 'Yeah, why would they want some little young'un like me?' I was only a third-year associate, and she said, 'That's all I need to know.' Click."
Within minutes, a call came from Pirkey to set up a meeting. In 1997, Kenny became one of three attorneys working in Minneapolis for Arnold White, whose Minnesota and Austin, Texas offices merged with Fulbright & Jaworski in 2000. "He seemed very eager to learn and to do whatever you asked of him," Pirkey says. "Tim is a very articulate person, and he's very reliable. He really suited our needs perfectly for the Minnesota office."
Today, Kenny's practice involves transactional trademark law—registering, strategizing, licensing—as well as litigation around the U.S. and the world. "We're not dealing with what's buried in a machine or computer or whatever, but what you as a consumer see, what affects you when you're buying things, what affects companies' goodwill. That's more fun," he says.
He picks up two plastic Starbucks coffee lids off a shelf. "I litigated for four or five years over this," he says. With its patent about to expire, Solo Cup Company filed a trademark application for what they alleged as the "distinct" appearance of its lid to try to prevent other companies, like Kenny's longtime client Georgia-Pacific (maker of the Dixie cup), from bidding on Starbucks' lid work.
"I deposed the head of marketing at Solo,'" he says. "As the result of our efforts against them, they changed their lid." The redesign included having "Solo" in much larger print. In the end, the case was resolved, and Georgia-Pacific was free to bid on Starbucks work.
Kenny has also helped protect many nontraditional trademarks, such as the distinctive blue color of 3M painter's tape. "They decided to make it a distinctive color, so people would recognize it as a unique product from 3M. And of course, everyone followed on their heels and came out with products. The problem was a lot of the products didn't work very well and caused a lot of problems," he says. "[A trademark] tells you, 'This is the level of quality; this is the type of experience you're going to have.' The other important piece that it conveys is the source of the product, who makes the product."
Kenny uses a trip to Paris during his college year abroad to illustrate this point. "There's a beautiful little patisserie, probably great quality, great food, great everything. Right next to it: McDonald's," he says. "We saw that and beelined because that's what we wanted: that particular experience, that particular level of quality, that taste and tactile experience. … [Trademark law] protects the investment of the companies that are investing in it, but it protects the consumers from being confused and not getting the experience they're expecting. " 
Currently, he has a case against Fage Total Greek Yogurt for infringing on General Mills' Total Cereal mark, and he's representing Fair Isaac Corporation as it opposes a fellow credit bureau's attempt to trademark the phrase "know your score" for credit scores.
"My job is to build, brick by brick, a wall of protection around a brand," he says. "It doesn't matter what it takes. It doesn't matter what type of brick it has to be—whether it's registering the trademark, licensing it, litigating it—that's my job with the goal of creating a strong mark that can be protected for years to come."
In the wake of his firm's combination with Norton Rose in June, the man who never saw himself at a large firm is now a member of one of the biggest law firms in the world. "I'm now the head of the brands practice for the U.S., which is about 30 lawyers … in seven cities," he says. "And then we'll have counterparts in Canada and Australia and South Africa and Europe … so it's kind of exciting."
When he's not at work, he's shuttling his three daughters around, spending summers boating on Lake Minnetonka and celebrating his Irish heritage by sending out St. Patrick's Day cards every March. The cards line an office shelf and feature his daughters' artwork, complete with copyright mark—much to his colleagues' approval—after one of his daughters insisted on protecting her work.
His pro bono work includes working as an arbitrator/conciliator for the Archdiocese of St. Paul and Minneapolis and helping Ronald McDonald House of Houston trademark the name of its resident dog, Mogie, so it can fundraise with Mogie books and toys.
Despite the sale of 2 Gingers and its trademarks to Jim Beam in December 2012, Kenny and his firm still maintain a relationship with Kieran Folliard. "I was super excited for Kieran and his team, but it was a little bittersweet," Kenny says. "We continue to work with Kieran, which is great fun. He's got all sorts of new ideas."
Search attorney feature articles