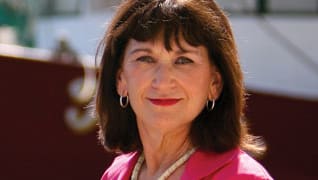 Photo by: Jason Norman
Handling the Disaster After the Disaster
Judy Guice fights for victims of Katrina and the oil spill
Published in 2011 Mid-South Super Lawyers magazine
By Karin Benne on November 7, 2011
Many lawyers say they know what their clients are going through, but personal injury attorney Judy Guice, whose clients include victims of disaster on the Mississippi Gulf Coast, means it.
"I lost my house in Hurricane Katrina," she says. "It doesn't get any more personal than that. My home was completely destroyed down to the slab, so I knew exactly the anguish my clients were going through."
That includes what she calls "the disaster after the disaster": the response of homeowners insurance companies, which fought to deny coverage for Hurricane Katrina damage on the premise that water, not wind, caused the damage.
"Most people did not have flood insurance because their agents did not recommend it," Guice says. "I ended up having to sue my insurance carrier and litigate for two years. It really taught me a lot about what it feels like to be party to a lawsuit." The suit was later settled for an undisclosed sum.
Guice inherited her toughness from her parents, Mississippi civil defense employees who were called to action in times of catastrophe. "Survival has always been part of my background," she says.
A talented mezzo-soprano, Guice graduated from college as a music major. "It doesn't really give you much in the way of demonstrable job skills, you know?" she says. "I worked for a governmental agency a couple of years after getting my degree, and I was talking about what I wanted to do next, whether I should pursue another degree, and my boss at the time said, 'Well, you really should go into some field that's primarily male because of your personality.'"
It was the late 1970s, Guice explains, laughing, and some people had less tact back then. "I tend to be a bit tenacious and opinionated, and I guess those were not considered common female traits," she says. "But he was 100 percent correct. I had never thought about [law school] before that very moment, but that's what I did, and it really ended up being a great match for me."
Her first job was with a small firm on the plaintiff's side of the bar, a perspective that has held her interest for 30 years—the last 17 as head of her eponymous firm in Biloxi. "It's always really rewarding when you get to use the law, particularly products liability law, in a way that protects the public," she says.
"For example, I teamed up with a friend of mine in another law firm, Clyde 'Buddy' Gunn, on a number of cases against the WD-40 company," she says. She and Gunn represented people who had sustained serious burns from cans of the product, which used propane as a propellant. The propane posed a significant risk considering where WD-40 is commonly used: near car engines and exposed electrical wires. "So for many years, we were after the company to change their formula," Guice says, "and I'm happy to say that they did finally do that: They eliminated the propane and started using nonflammable carbon dioxide instead."
But the victory nearest to her heart was won against an insurance company in a Hurricane Katrina-related case. Even as Guice-the-homeowner was wrestling her own insurance company in court, Guice-the-attorney took the floor as part of the plaintiff's team in Corban v. USAA, fighting to clarify who bore the burden of proof in determining whether damage was covered or excluded. In a hurricane as powerful as Katrina, it can be impossible to tell which entity (wind or water) caused what damage and in what order, and the anti-concurrent cause language found in most homeowners insurance policies was ambiguous enough to slow the legal system to a crawl years after the storm.
Guice argued that the insurance company had written its policy with very deliberate language—covering all risk except where excluded, and the exclusions didn't apply in this case—and now it should be forced to live by the words it had chosen. "There was nothing left of these houses but a concrete slab," Guice says. "Let's face it, nobody was down there with a video camera, filming whether a tornado came in and knocked the house down, or a tidal wave came in and knocked the house down. The dispute had to do with who had the burden of proof [to determine whether damage was caused by] wind, which is covered under the homeowners policy, or water, which is excluded. And we were able to have the Mississippi Supreme Court clarify that law and say it was the insurance company's burden of proof. It's one of the things I'm really proudest of, because I think it has the potential to help more people for decades."
For her efforts, Guice was named the 2010 Outstanding Woman Lawyer of the Year by the Mississippi Women Lawyers Association. She says she received an even greater compliment later that year, when her daughter, Sarah Reese, a recent law school graduate, decided to join her firm.
"When my daughter decided to go to law school, obviously I was extremely pleased," Guice says, "but I didn't think we would end up practicing together because she's fiercely independent, just like I am. But it ended up being the best thing for both of us. She makes me remember my early days in the practice, when everything was so new and exciting. That has really pumped new blood into the practice for me."
Reese says of her mother, "I wanted to make sure I made my own path and didn't rely on hers. But after deliberation, I realized it would be absurd not to take the opportunity to practice with such an incredible lawyer."
These days, Guice and Reese are working as a team, focused primarily on the aftermath of the 2010 Deepwater Horizon oil spill, which continues to take a heavy toll on the Gulf of Mexico's tourism and fishing industries. "Hurricane Katrina litigation was the bulk of our practice for four or five years, and then, I'll be darned, here comes the BP oil spill," Guice says. "It's like that ancient Chinese curse: 'May you live in interesting times.'"
But she relishes the chance to speak for the little guy by going up against a multinational corporation and its fleet of top legal minds. "I guess my old boss was right," she says. "A good fight is exhilarating. And I would always rather have someone good on the other side. Really! Because that's when our judicial system works the best."
Search attorney feature articles
Helpful links
Other featured articles
How Iris Eytan and Dru Nielsen create magic—and not-guilty verdicts
M&A attorney Brian J. McCarthy leads on mergers involving Disney, Pixar and Lucasfilm
Carl Poplar is still tougher than anyone else
View more articles featuring lawyers
Find top lawyers with confidence
The Super Lawyers patented selection process is peer influenced and research driven, selecting the top 5% of attorneys to the Super Lawyers lists each year. We know lawyers and make it easy to connect with them.
Find a lawyer near you