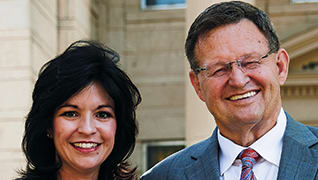 Photo by: Phillip Parker
The A-Plus Team
James Waide is a liberal Vietnam vet, Rachel Waide is a Reagan-loving conservative; together, they are Mississippi's most dynamic legal couple
Published in 2019 Mid-South Super Lawyers magazine
By Nancy Henderson on November 7, 2019
As the air conditioning struggles to keep up with a 93-degree summer afternoon in Tupelo, 72-year-old Jim Waide and his wife and legal partner, Rachel Pierce Waide, 43, head into the conference room of their unimposing law firm. Jim wears khakis and a casual shirt, which goes with his laidback demeanor and a drawl so deeply Southern even folks from Dixie struggle to understand. Rachel is dressed in a crisp business suit, black hair perfectly styled and a beauty-queen-worthy smile lighting up the room.
When a knock interrupts the meeting, Jim reaches for the door. It's a young man, desperate for help. The Waides don't know if someone referred him or if he chose the office because it's a block from the Lee County Justice Center. What they do know is he's desperate for someone to listen; and after their meeting, that's what they do. Waide & Associates is a firm that fights for the underdog, even if he doesn't have an appointment.
According to The Mississippi Jury Verdict Reporter, the Waides are the state's most prolific trial attorneys, with Jim handling 55 cases and Rachel 34 from 2011 through 2018. Although Rachel sometimes takes a personal injury suit, they focus primarily on employment discrimination and civil rights. The Mississippi Association for Justice recently named Jim its Trial Lawyer of the Year. 
Raised on a farm in nearby Clay County, Jim traces his empathy for civil rights plaintiffs to his days working alongside black laborers who earned $3 a day. After his graduation from Millsaps College in 1968, Vietnam loomed. "You could get deferments for about three things: being a doctor, being a preacher, or being a schoolteacher," he says. So when a former high school buddy offered him an assistant football coaching job, Jim went to the draft board to ask for a teacher's deferment. Once there, he realized, "I didn't know a damn thing about football. Second, I had no interest in it. And third, I was thinking about going into politics and there was a war going on. I said, 'I think I'll go be a war hero.'"
But which branch of the service? "I took the Air Force test to be a pilot, and they said, 'Man, you're terrible,'" Jim says. "I went to the Navy and they said, 'We mostly want science majors.' I made 14 on my biology test in high school, so I got disqualified. I went to the Army and the Army recruiter said, 'You very well might not even go to Vietnam … and if you go, you can probably get a job at the rear.' I said, 'Man, this doesn't sound very patriotic.' So I went to see the Marine recruiter and he said, 'If you join the Marines, you might get killed but you don't have to worry about us leaving you out on the battlefield.'"
In 1969—a "slack time" in the war, he says—he became a forward observer in Vietnam. That experience, he says, "was really a continuation of what I'd seen on the farm. So I continued to resent authority. The people doing the fighting was a disproportionate number of blacks, Hispanics and poor people."
Interjecting, Rachel adds, "He will never tell you, but he got a Bronze Star in Vietnam. He says it was a very slack time and nothing was going on, and that's always his story, but that's not really the actual story."
In 1971, Jim was released from active duty to attend Tulane Law School in New Orleans. After graduation, he returned to his home state to practice law "under the delusion that I could be a politician" and competed for the district attorney post. "I got trashed," he says. "I was very politically unpopular because of the cases I'd done, or maybe because of the kind of person I am." He never ran for public office again.
Jim also clerked for 5th Circuit Court of Appeals judge and former governor J.P. Coleman, where his naïve assumptions about legal principles were quickly eclipsed by the stark realities of how much a judge's political bent influenced his court rulings. "He reached the same opinion I did for a civil case, though he didn't like it, but he took out everything I said to justify it because he didn't believe in it," Jim says. 
In 1975, Jim launched a solo general practice, first in Weir, then West Point. "I was a terrible divorce lawyer. I had no sympathy with either side," he says. "Land titles—I was horrible at them. 
I was horrible at the whole general practice, and the only thing I liked was defending the criminals—and they didn't have any money."
In his first case, he helped acquit Weir's sole police officer, who had fatally shot a suspect who pulled a gun on him. "That was a great victory," Jim says. "I won three in a row and then I lost four in a row, criminal cases to trial, one right after another. It's very difficult to win a criminal case. Both the judge and the jury are opposed to you in general, but we take as many [cases] as we can for people we believe to be innocent."
Rachel Pierce grew up in Aberdeen and often spent time on her grandparents' farm in Wren. She, too, was smitten with politics, although in a different way. She was a big fan of President Reagan. "I was in kindergarten," she says, "and I would write him letters the whole time that he was in office. Letters from 'Hey, I got a new kitten, how are things in DC?' to, as I got older, letters about policy. … When I was little, I thought that he would be my boyfriend for this deep reason: 'Ronald Reagan and Rachel Reagan.' Four R's would've been a beautiful monogram," she says, laughing.
She always got "stamped" letters in response; but once he left office, Reagan's staff invited her and her father to meet him. Other visits followed, and the little girl and the former world leader struck up a friendship that continued until she went to college and he was diagnosed with Alzheimer's. "He was the best at making people feel important," she says. "Every time I went, he would throw his arms out and say, 'Rachel I'm so happy you're here today!' I'm certain 30 seconds before, someone said, 'Hey, Rachel Pierce is about to come through that door,' but he was great at it. He'd say, 'How's your mom? How's your dog?' Everything good I'd heard about him was magnified by a thousand."
After earning a B.A. in English from Mississippi University for Women in 1997, Rachel completed an off-camera internship at a Columbus television station. It was a semester of substitute teaching, and a desire to earn a more solid living, that propelled her into law. She graduated from the University of Mississippi School of Law just four months before 9/11. 
As a civil defense attorney for Mitchell, McNutt & Sams in Tupelo, then for Phelps Dunbar, she took the polar opposite route from Jim. In her first trial, a slip-and-fall in county court, Rachel proceeded to go through the painstakingly polite verbal steps she'd learned in law school, whereupon the judge said loud enough for the jury to hear, "Ms. Pierce, if you just looked at that lawyer at the other table and said something like, 'Hey, do you all have any objection to any of these documents?' I bet they'd say, 'No.'
"Looking back, that put them in a terrible spot," she says. "They had to say no."
Any latent political aspirations were quashed just after she and Jim began practicing together. She attended a Republican Club meeting and an acquaintance asked, "Can you believe somebody sued the Alcorn School District this week?" It was her client. "I realized that my world had sort of spun on its axis," she says, "and I was now the trial lawyer some of my friends didn't like."
Early in his career, Jim accepted civil rights cases, exclusively discrimination claims for African American clients. For years, juries refused to rule in their favor. "I knew I was going to lose anyway," he says. "So I would tell them, 'You may not be the ones, but someday I'm going to stand up here for a black plaintiff with a white jury, and they're going to rule for him.'"
That day came in the mid-1990s, a decade after he moved his practice to Tupelo. In Wicks v. Mississippi State Employment Services, Jim filed suit for an accomplished black employee who had been passed up for a promotion in favor of a white worker. The plaintiff was compensated with back pay by an all-white jury. "That was really a highlight," he says. 
But the real gem of his practice, he adds, was McArn v. Allied Bruce-Terminix Co., Inc., a case that created a public exception to the right to fire employees at will after Jim's client was wrongfully discharged for refusing to dilute the company's chemicals. A close second is Edmonds v. State of Mississippi, which involved a former prisoner who, to help his half-sister, falsely confessed to the murder of her husband. It set a precedent for the right to a jury trial under the Mississippi wrongful conviction statute.
Jim has never lost before the U.S. Supreme Court—three of his six accepted cases have resulted in written opinions, including one by Justice Sandra Day O'Connor in an age discrimination case that limited the authority of federal judges to overturn jury verdicts—but McArn and Edmonds, he asserts, "are probably more significant than any of the U.S. Supreme Court cases I had."
Rachel had already heard of Jim Waide when she started seeing him around town shortly after moving to Tupelo in 2001. He was the town's go-to plaintiffs' attorney. One day he called her at home to tell her about a judicial district event in another county. "I thought he was going to say, 'Do you want to go with me?' because that would seem to be the polite thing," Rachel says. "But he said, 'Maybe I'll see you there.'"
Grinning, Jim says, "I didn't think she'd really want a date with me because I was old, and she was beautiful and young." 
After a few more indirect invites, the two started dating. Despite the attraction, Jim wanted to know, "What's with this Republican thing?"
"I'm more liberal than he is on some issues," Rachel insists. "But we routinely give to different candidates and very frequently our votes will cancel each other out."
Rachel joined Jim's practice in the spring of 2010, and they married in 2012, the same year they won two of their most personally fulfilling jury verdicts. In George Dulin v. Board of Commissioners of the Greenwood Leflore Hospital, they sued on behalf of the medical facility's attorney, who said he was fired because he was white, securing $82,000 in actual and compensatory damages. In Harshberger v. Hill-Rom Company, the Waides won $700,000 for their client, who lost her job selling hospital beds after reporting coworkers for forging customer signatures. 
"I can remember, in both of those cases, talking to the jury and thinking, 'We're 100% on the right side of this,'" Rachel says. 
These days, the Waides almost always work cases together. Rachel generally handles direct questioning, voir dire, and opening and closing statements, while Jim tackles jury instructions and his favorite part, cross-examination. "It's weird," he says. "I can't remember the facts, actually. I think that's what helps me. I can pick out the things that are significant while they're testifying."
"The rest of us are so caught up in this notion of being ready and knowing what we're going to ask, and having an outline and a plan," Rachel says. "And Jim will stand up to cross-examine a witness with a legal pad with maybe three things written on it that don't even relate to the case. It's just because he wants to hold a legal pad."
For Jim, who is constantly reading about cases and opinions at home, she says, law is "his pastime and his hobby and his joy. The other side may beat us, but they will not outwork him." What's more, she says, "Judges really trust him because they know that he knows the law. They also know he will never mislead them."
Judge Michael Mills, who presides over the Northern District of Mississippi for the U.S. District Court, has known Jim for 40 years, and Rachel since she was a child. Both have appeared before him at the federal courthouse in Oxford. "Jim is determined and persistent. He is a real battler in the courtroom, and the most knowledgeable attorney in employment law and constitutional law in the state," Mills says. "Rachel is very, very bright, likable and a good 'book' lawyer. But she also possesses acute judicial awareness. [She is] very good in the courtroom, always understands how all the facts, all the laws, all the rules, all the personalities affect her client. She is a very good partner with Jim."
"Everybody loves her," Jim says. "We can't go out to eat without people coming up to see her. She's like the local goddess. I keep telling her to run for judge. There would be a stampede of people getting out of the race if she ran for judge. Nobody'd run against her."
Jim has two grown daughters from a previous marriage, and the Waides have a 5-year-old girl, Ava, who has apparently absorbed her parents' legal skills. Recently, when they were discussing their work at home, Ava interrupted, "I think you need to get a new expert in that case." 
Together and separately, the Waides are working on several cases involving shaken baby syndrome for parents they believe to be innocent. They also recently represented Jackie Sherrill, the former football coach at Mississippi State, who alleged the NCAA tarnished his reputation. The case settled after three days of trial.
Jim is also focused on his first immigration case for a Greenville business owner. "ICE showed up within two or three months after President Trump was elected and said, 'You've got to be out of the country by Monday with your American-born children,'" Jim says. "The most outrageous thing going on in our legal system is the treatment of immigrants."
Rachel nods toward her husband. "He is decent," she says. "He is always going to do the right thing. Where other lawyers cut corners, he's never going to do that. Not ever."
---
ANIMAL INSTINCT
Despite his lifelong affinity for underdogs, Jim Waide didn't think much about animals, much less rescuing them, before he met Rachel. In fact, one of the couple's first fights centered around Sophie, Rachel's black lab:
Jim:  I think you love Sophie more than me.
Rachel:  No, I do not. I love you both the same.
Jim:  I cannot believe you just said that out loud.
Rachel:  I can't believe I said it, either. Because I really love her.
But he soon joined his wife in fostering rescue animals. First came Sadie, a mixed breed they acquired when Rachel witnessed a man punching the dog in front of the Lee County Courthouse. "Jim really loved her right away," says Rachel, a past president of the Tupelo-Lee Humane Society. "We were going to find her a home, but we kept her."
Other dogs they gave homes to include: Matlock, a Rottweiler a client dropped off at their office; Yellow Dog Democrat, whom they found standing in front of a campaign sign; a sickly pooch named Elvis; and Trebloc, so named for the tiny community where Jim spotted him, abandoned.
"Now that we have just Virginia," Rachel says of their current dog, "maybe we can rotate back into the foster game."
Search attorney feature articles