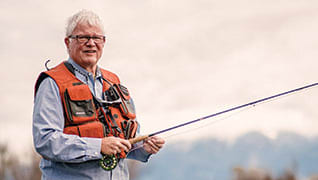 Law of the Land
Why Big Sky Country is Jim Goetz's biggest cause
Published in 2016 Mountain States Super Lawyers magazine
By Emily H. Freeman on June 13, 2016
The snow-capped peaks of the Bridger Mountains create a movie-perfect backdrop for downtown Bozeman. This once-sleepy cowboy town now attracts tourists year-round and, with the help of Montana State University, is one of the state's most culturally and technologically sophisticated locales. 
The office of Goetz, Baldwin & Geddes is located in a meticulously restored and re-imagined blacksmith shop on a leafy side street just off the main drag. Jim Goetz has practiced law here for nearly half a century and can't imagine going anywhere else. The "why" is simple: "I love Montana." 
The feeling is mutual.
"I am proud to call Jim Goetz not only my attorney, I am extremely proud to call him my friend," says Fritz Daily, an activist and former Butte legislator who worked with Goetz on water issues. "Without question, his greatest accomplishment is securing stream access for the sportsmen and women of Montana. I am sure he received as much satisfaction from this success as he did from the monetary compensation he received in the process. The residents of Montana owe Jim a great deal of kudos for what he's accomplished."
In 1968, Goetz returned home from law school at Yale, landed a teaching job at MSU and planned to open a practice. But first, there was the bar exam. 
The first time out, he didn't pass. Not that it was going to stop him. In fact, it was serendipitous that he didn't. He found out that students at the University of Montana were automatically admitted to the Bar upon graduation from Alexander Blewett III School of Law, in accordance with the state's so-called "diploma privilege." 
"I saw a real injustice; I was angry; and I thought it was horribly unfair, so I just decided to rectify it," Goetz says. In addition, Goetz describes the administering and grading of the exam as having been a rather quick and subjective affair. "One of the questions was: What is the difference between a civil right and a civil liberty? I still don't know what the hell the right answer to that is."
Not content to simply try again, Goetz took his grievance all the way to the Montana State Supreme Court. At 26, Goetz represented himself in his first case: Goetz v. Harrison. It challenged the constitutionality of diploma privilege and, though he lost, the case ultimately led to its abolition—much to the chagrin of UM students, some of whom blamed him and made defamatory T-shirts saying as much. "The Supreme Court actually changed the rule," he says. "But I'd be happy to take credit for the whole thing."
Goetz passed the exam the following year. "That was a fairly notorious suit," says Goetz, "so the heat was on me the second time I took the bar. I would've been really embarrassed if I'd failed the second time." 
By the early '70s, the anti-war movement and a radical student culture swept through Bozeman, and Goetz got involved at the ground level. "I was sort of a cause guy," he says, adding that he helped start Montana's ACLU at this time. "I was active in civil liberties issues, and I felt the same about the environment." 
One of Goetz's first environmental cases involved the nearby region that's now home to the Big Sky Resort. In 1972, this was a wild, undeveloped region that had caught the eye of a team of developers led by NBC newsman and Montana native Chet Huntley. Goetz took on the case, pro bono, to halt the proposed land exchange between Huntley's team and the Forest Service, which held the land in checkerboard ownership from the old Northern Pacific Railway land grants.
"It was a real baptism by fire, because there were seven attorneys on the other side, and lonely me on my side. We had quite a fiery hearing." 
Goetz ultimately lost, and the resort went up. "Big Sky and Yellowstone Club and Spanish Peaks development have been very good to my law firm," an irony which isn't lost on him all these years later. 
In the early '70s, Goetz was hired by a group of Blackfoot Valley ranchers, including Land Lindbergh, son of Charles, to draft what would become the Montana Conservation Easement Law. "It was a national movement, though fairly innovative at the time," he says. "It allows the state to preserve a lot of open space."
He's also been instrumental in ensuring that people have access to streams. "All people," he says. "Not just wealthy people who can buy riverbank property."
Goetz describes many Montanans, himself included, as having an almost mystical connection to the land, but there was a time when water access was obstructed by landowners who, as Goetz puts it, "claimed to own the land under the stream." Some went to great lengths to prevent its use.
But in 1985, as a result of Goetz's legal efforts, the Montana Supreme Court passed the Stream Access Law, which protects public recreational use of Montana's rivers and streams. "I wasn't popular at the time with a lot of ranchers," says Goetz. "But I think almost everybody has come to realize that this has been a good thing for Montana." 
Many of Goetz's water rights cases have been performed on behalf of the Salish and Kootenai tribes of the Flathead Nation, whom he's represented since the '80s, working closely with the tribes' legal staff. 
"[Jim] used the constitution and also the public trust doctrine [to show] that natural resources are for the use and enjoyment of the people of the state," says Tony Schoonen, a fisherman, hunter and activist who has worked with Goetz on stream access and public lands issues. "Without him, we wouldn't have stream access, I'll tell you that."
Goetz's personal connection to his state's waterways is rooted in a rural 1940s childhood in which summer days would often find him and his brother poling his angler father down the river in an old army surplus raft. "My father was regarded by many as the greatest fisherman in the Madison Valley," says Goetz. "He was a real trout slayer." 
Goetz also feels the influence of his father in his work to equalize school funding—in particular, Helena Elementary School District No. 1 v. State of Montana (1989). "There was a great revenue disparity between the mineral-rich counties and the other counties," he explains. The case was one of which his father, a former school superintendent, was quite proud. "My father was a very fiery Democrat in Madison County, a very Republican county. He was pretty aggressive and stood up for what he believed, particularly on school matters—funding and consolidation. I suppose I got that gene."
Many of Goetz's peers retired long ago, succumbing to stress and often with damaged relationships or ill health to show for it. In his youth, Goetz admits he wasn't immune to overworking, and acknowledges the damage it did to his first marriage. But much of what he's learned about the law has come from studying the successes and failures of lawyers around him—those who burned out, let their personal politics interfere or got on the wrong side of a judge. 
"I've always been courteous and careful around judges; I may be an iconoclast otherwise, but whether you like a judge or not, or think the judge is smart, you just have to respect their work," he says. 
Goetz points to an autographed photo on his office wall of former U.S. Supreme Court Justice William O. Douglas. Hanging nearby is a casual portrait of the 1977 Supreme Court, the year Goetz tried his first case in D.C. 
"They were both pretty significant constitutional cases," he says—the first of which was Baldwin v. Fish & Game Commission of Montana, involving discrimination against out-of-state elk hunters. "We raised an interstate privileges and immunities clause, which was pretty novel. We lost that case because the court held that recreational hunting isn't a fundamental right." 
The second came in 1994, Department of Revenue of Montana v. Kurth Ranch, in which a family of ranchers established a marijuana grow operation, and once they were discovered and prosecuted, the state tried to tax the family's revenue from the sales. "We won that on a very close vote, on double-jeopardy grounds. You can't criminally prosecute and then tax the same activity. It made sense to only five of the nine judges—that's how conservative that court was."
Goetz and his wife, oil painter Jill Davenport, spend their summers paddling on Flathead Lake. They collect vintage cars and, it could be said, dogs—specifically Newfoundlands. Goetz and Davenport haul their three dogs around the state in style, in the back of a customized Mercedes wagon they dubbed the "Newfmobile." 
"Jim is a mixed bag," Davenport says. "He's tenacious, he's intense and yet he's outwardly quiet. He's a cauldron, he's volcanic. Inside of that quiet man, he never stops thinking how he can best do that job. He loves, loves law. I've always said: I have to be with somebody who likes what they do. If you don't like what you do, then you can't be with me."
When and if Goetz one day retires, it seems unlikely that he and his wife, a Pennsylvania transplant, will decamp to warmer climes. "Jill loves Montana as much as anybody I know," laughs Goetz. "I can't even get her to take a vacation out of state."
Goetz's caseload over the course of his career is as diverse as it gets, and that variety has kept his interest renewed for nearly 50 years. He's currently working municipal water rights cases, one on religious schools' access to public funding and a major commercial insurance case, and he's filing a reconsideration to the state supreme court regarding its recent ruling to restrict medicinal marijuana. "I do a lot of appeal work," Goetz adds. "And my appeal work tends to be on the corporate side these days." 
Last summer, he represented Comerica Bank on a major lending liability case. "There was a $52 million verdict from a jury in Butte and I was hired to undo that, and we prevailed on a very close vote. We got it reversed. It was a pretty stunning victory." 
Goetz enjoys the intellectual challenge of appellate work, but still dedicates time for pro bono. In the '90s, he helped establish a public school district for the Northern Cheyenne Nation in Lame Deer and, in 2012 on behalf of the ACLU, he represented six same-sex couples in their lawsuit against the state for failure to provide the legal protections promised in its constitution. "I love the law and I love learning new things, so I like to move around. I've never been attracted to a kind of single-purpose practice," he says.
The willingness to fight for "the little people" is Goetz's best quality, says Sister Mary Jo McDonald. 
"He spends as much time preparing cases for pro bono people as he does for the bigger clients. He is an individual amongst all others who stand tall, and is not afraid to battle," says McDonald, a nun and activist who fought alongside Goetz on a class action regarding Butte's water system as well as Silver Bow Creek. "Jim has a big heart, and makes sure that justice is done for everybody. I believe that's his calling. For him, when he takes on these cases for folks who really have nothing to pay, he does it as ministry. I would say it's ministry to Jim Goetz; it's not just work."
---
Diversity in Practice 
A glimpse at Goetz's varied caseload over the years
Doty v. Montana State Democratic Central Committee (1971) – Goetz successfully represented a voter seeking action to require the Democratic Party to abide by the one-person, one-vote principle in the presidential nomination process.
W.J. Hannon v. Pantzer and Murphy (1974) – The 9th Circuit ruled for Goetz's client, the UM controller who blew the whistle on the athletic department's misuse of federal funds to subsidize athletes. 
U.S. v. Reiser (1975) – Goetz represented a man who was drafted to war, and argued that the U.S. Selective Service System was sexually discriminatory. The U.S. District Court ruled in his favor, but was overturned on appeal.
Guthrie v. Department of Health and Environmental Sciences (1977) – Goetz represented author A.B. (Bud) Guthrie (The Big Sky) to contest a proposed subdivision in Teton County. The developers withdrew.
Libby Rod and Gun Club v. Poteat (1979) – The 9th Circuit affirmed the ruling of an injunction against construction of a $250 million "re-regulation dam." It would have inundated another 7 miles of the Kootenai River, says Goetz.
Country Classic Dairies Inc. v. State of Montana Department of Commerce Milk Control Bureau (1988) – Goetz argued that the bureau was in violation of the Commerce Clause and Equal Protection Clause by regulating the wholesale price of milk. The 9th Circuit ruled in favor of the bureau.
State v. Moore (1991) – Goetz handled the pre-trial suppression motion in the case against Larry Moore for the murder of sheriff's deputy Brad Brisbin—one of the state's first DNA cases.
In re Estate of Kuralt (1999) – Goetz successfully handled a series of cases involving a holographic will allegedly made by CBS journalist Charles Kuralt that left property to Pat Shannon, Goetz's client and Kuralt's "longtime friend." The implications of the case were parodied on SNL.
Phillips v. General Motors Corp. (2002) – Goetz argued for a newspaper that sought access to information from a products liability case that settled.
Polasek v. Omura (2006) – Goetz handled the appeal before the state supreme court that invalidated the Montana Grandparent Visitation Law as unconstitutional.
Search attorney feature articles