Ann of All Trades
Over the course of her 27-year career, from construction to employment to insurance to lobbying law, Ann Maloney Conway of Keleher & McLeod in Albuquerque has loved anything that gets her into the courtroom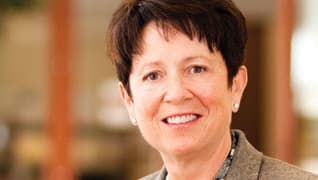 Published in 2012 Southwest Super Lawyers — New Mexico magazine
By Ross Pfund on April 13, 2012
Q: You've studied all over the country: Notre Dame, the University of Puget Sound, and Eastern New Mexico University. Is there a story there?
A: I'm a native New Mexican. My father was in the second world war, and when he came back, he had just started practicing law when he became ill with multiple sclerosis. There was a hospital in Washington where my grandmother took him for care. So when I was looking at schools, we had just happened to be going to Tacoma to visit a couple of the nuns who had taken care of him 25 years before. I looked at that school and fell in love with the Pacific Northwest.
Q: Was it the family connection that first got you interested in law?
A: My father was one of Albuquerque's very first municipal judges. He did that for about nine years or so. Then he was state attorney general in the late '60s. That's where I picked up my love of public service and politics that got me involved in the Legislature once I became a lawyer. He went on the state court trial bench—the district court in New Mexico. He was on that for 17 years, until he retired. That's what not only inspired me to become a lawyer, but to get in the courtroom and try cases.
He used to take me to the courthouse, to his chambers, and I just loved his friends and colleagues, the judges and the lawyers. Albuquerque was still a pretty small town, and I had a lot of exposure to the really good lawyers in New Mexico.
Q: Do you ever think about following in his footsteps and becoming a judge?
A: With the twists and turns in my career, the opportunity hasn't ever presented itself, but certainly I hold people who do become judges in high esteem. It's interesting, but it's not something I've actively pursued. I still love what I do.
Q: Your practice seems really varied.
A: It's my favorite part of my practice. I grew up around the courtroom, so I always wanted to be in it. As a young attorney, I volunteered to do any legal work that would be in the courtroom. As a result, I took whatever kind of case [would get me into the courtroom]. I found that one of the things I love is that when you're involved in trial work, you work with clients and experts in all kinds of areas. And so, in a personal injury case you'll work with doctors; in another kind of case you'll work with architects and engineers; in another kind of case, technology experts. I love that kind of diversity.
Q: You have to learn new things all the time.
A: Right. The constant is hard work, preparation and courtroom skills.
Q: Tell me about your interest in public service and politics.
A: With my dad, I kind of grew up on the campaign trail. I was around people who were involved in public service, and that's how I see politics: as public service. Early in my career I volunteered with the lawyers in my firm who did lobbying work, and I still love that process. You get to use other skills—negotiation, compromise, working with words—drafting bills and amendments.
New Mexico has a citizen's Legislature. They aren't paid and they come from all walks of life. So that gives me the opportunity to work with people from all over the state. I may be working with ranchers, farmers, scientists from Los Alamos …
Q: How important is it to have people skills?
A: You have to be a good listener to understand where the heart of their concern lies. Then you take that and try to figure out something that everybody feels comfortable with, or at least that everybody can live with. It's a lot of compromise.
Q: What is it about the courtroom experience that you enjoy?
A: I love juries. I still, after 27 years, get a little nervous before I go into a trial. But as soon as I get into jury selection and opening statements, I feel at home. I don't think it's a perfect system, but I believe that the jury system is the best system we've been able to come up with for resolving disputes. So I like preparing and presenting the best case I possibly can. Likewise, having quality opponents on the other side [ensures that things] work the way they're supposed to. There are always surprises, of course. That's part of the fun, too.
Q: It sounds like you enjoy the thrill of having to perform in the spotlight.
A: Only if I'm prepared! I can't have one without the other.
Q: How often are you in the courtroom?
A: Not as much anymore. The courts are just that much more crowded now … because of financial constraints. In private practice, the cost of going to trial has become so significant that it is in most clients' best interests to look into alternative dispute mechanisms like mediation and settlement facilitation. I've become more involved in doing mediations and arbitrations, and I enjoy it. As lawyers, we have to be more creative in finding ways for people to resolve their problems, because trying cases is so expensive, and without the number of judges that we need, it takes a very long time.
Q: Is there any challenge in going from the competitive arena of the courtroom to the more collaborative nature of mediation?
A: Yes. But it's very rewarding, and I think my experience makes me a very good mediator because if you've been in the courtroom, when you sit down at a mediation, you can give people a more realistic assessment of what the process will be if they don't resolve it.
Q: How has the legal world changed over the course of your career?
A: I think that it has become a little less fun and a little more stressful, in part because there are real significant financial pressures on our judicial system, so it's more difficult for cases to get through the system. I don't mean that as any type of blame. But it takes a long time and the cost is escalated. In the old days, if you had a case, you would take a couple of depositions, consult with an expert if you needed to, and then you'd go try the case. Now that process is much more expensive; it's longer and it's drawn out.
Q: What would you tell young lawyers just beginning their careers?
A: Find a good mentor. I believe that our profession is one of mentorship. You can learn the information in law school, but to become a lawyer, to be of real service to your clients—I think that comes from the guidance of your mentor. I advise young attorneys to be curious and take the time to find out how other lawyers practice. Look at other lawyers that have the quality that you want, the integrity, the skill, the leadership in your area of law. See who those people are, seek them out and get the benefit of their guidance.
Search attorney feature articles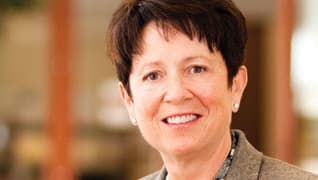 Featured lawyers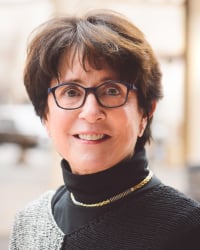 Top rated Legislative & Governmental Affairs lawyer
Jennings Haug Keleher McLeod
Albuquerque, NM
Helpful links
Other featured articles
Jo Ellen Whitney has been entering dishes in the Iowa State Fair for 20 years—and she has no intention of stopping
The passion and decorum of J. Bernard Alexander III
View more articles featuring lawyers
Find top lawyers with confidence
The Super Lawyers patented selection process is peer influenced and research driven, selecting the top 5% of attorneys to the Super Lawyers lists each year. We know lawyers and make it easy to connect with them.
Find a lawyer near you