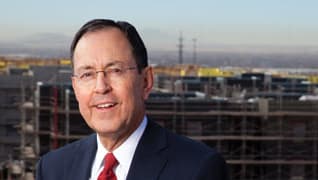 Collaboration, Community Building and John Salazar
What the Rodey, Dickason, Sloan, Akin & Robb attorney gets out of his real estate practice
Published in 2011 Southwest Super Lawyers magazine
By Ross Pfund on April 14, 2011
Q: When did you first get interested in the law?
A: When I was very young. My uncle was a lawyer. Tibo J. Chavez. I admired him very much. He was also a state senator when I was young. I saw how he was able to help people as both a lawyer and as a senator and I realized the fact that he had a legal background made him more effective as a state senator. So I saw the law as being a path to having a position where I could make a difference.
Q: Would you consider him your legal mentor?
A: Yes. He practiced in [my hometown] Belen, [N.M.], which was a small town of 8,000 to 10,000 and his law office was not very far from my home. So I was at his law office a fair amount growing up. I actually clerked for him after my first year of law school. I was always around him and saw him dealing with the law.
Q: So you followed in his footsteps.
A: Yes, I did.
Q: Have you ever considered running for office, too?
A: No, and in a way that's ironic because it's his public service that impressed me. Public service does interest me, but I've always had a busy practice so it's been difficult to take the plunge into politics because it takes time. But I've never felt it's held me back because I enjoy being a lawyer and taking care of my clients. I've gotten involved in community organizations instead of elected office because that ended up being more compatible with my practice. So I doubt I'll ever run for office, but you never close the door on anything.
Q: What is it about real estate work that you enjoy?
A: First, I just enjoy the folks I encounter, both the clients and other professionals. When you're dealing with real estate, you're dealing with title companies, appraisers, engineers, architects, [and] obviously other attorneys and developers. But in terms of dealing with real estate, what I like about it is that it ends up adding a net gain at the end of the transaction. When you close a deal and somebody's bought a piece of property or a building, all of it leads to economic development and contributes to the economic engine. It creates jobs. I feel that it's helping promote the economic well being of the community.
Q: How do you approach making these sorts of deals?
A: I do have a philosophy. I want my client, at the end of the day, to feel he's received value for my services. And at the beginning of a transaction, or a land use deal, if I don't really feel that I can enhance my client's situation, I actually won't take the matter. I've turned down some matters where they were willing to take a shot, but I didn't believe that I could [accomplish] what they wanted to do. I felt like they wouldn't be getting a return on the money they spent for my services.
Q: I bet they appreciate the honesty.
A: Yes. I've had one or two people miffed that I wouldn't pursue it anyway, but at the end of the day, they appreciate the fact that I won't take their money unless I feel that I can give them value. If I don't feel like they'll have a net gain at the end of the day, I don't feel I've done a good service for my client.
Q: Any examples of deals that were tough to make, but you were ultimately successful?
A: One of the most challenging things I ever did was a land-use matter, getting some property in the northwest part of [Albuquerque] rezoned for a regional shopping center. It was near a bedroom community that was very much against it. It was unbelievable opposition. The hearings were so large that the City Council had to move them to the Convention Center because they were busing in busloads of opposition. It ultimately got approved and the developer tried to address the concerns of the community, but some people just didn't want it.
That was many years ago. Today, that area is unbelievable. It's much bigger than we had originally envisioned. Looking back, it seemed like it shouldn't have been such an issue. Some people just don't want change, regardless of whether it's good or bad. But a lot of times, people can be won over by showing them the benefits. It's always a process, though.
Q: It has to be rewarding to go back years later and see the end result of a deal you played a part in.
A: Absolutely. That's one of the things I like about a real estate practice: You actually see the fruits of your effort. Something positive comes of it. I go through a lot of parts of town now and see stuff developed that I was involved in, and it's always gratifying.
Q: You're involved with a lot of community organizations. What are some of your proudest accomplishments?
A: A lot of the organizations I've joined focus on economic development. They promote jobs and the positive side of our community. It's just so important to keep people engaged in a positive fashion.
Now I'm chairman of the board of the Inter-American Foundation. It's an independent agency of the United States government, and the members of the board are appointed by the president, confirmed by the Senate and the Congress funds it to the tune of about $25 million a year. The charge of the foundation is to help with grassroots development in all of Latin America. So it's providing grants and sometimes loans to grassroots development groups—citizens and neighbors that come together and have an idea about how to enhance their own economic situation. These are the poorest of the poor we're talking about. But they have an idea and if they can get some funding, they can make their lives better.
What the Inter-American Foundation does is evaluates the proposals, and if they're considered to be viable, we'll fund them for one to three years. One idea might be as simple as to give people seed to plant and the tools to do it. Or maybe the well in the community is broken, and we give them money to fix the well.
The idea isn't to give people money to get through the year; it's to help make them self-sustaining. It works pretty well now, and it's gratifying to see how people, if given the chance, will work very hard to improve their economic condition.
Search attorney feature articles