Fast Track
Richard W. Hughes of Rothstein, Donatelli, Hughes, Dahlstrom, Schoenburg & Bienvenu in Santa Fe shares his thoughts on Indian law, the Peter MacDonald case, and getting a legal services job before he had his law degree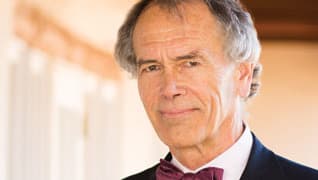 Published in 2013 Southwest Super Lawyers magazine
By Ross Pfund on April 12, 2013
Q: What got you interested in the law?
A: I was one of those totally naïve sorts who went to law school thinking, "Oh, I don't want to really be a lawyer, I'd just like to have the background of the law degree and go into government or something." I got to my third year and I was actually looking for a legal job; I was also in the midst of a little tussle with my draft board at the time for my suitability for military service. So I ended up sort of by accident taking a job on the Navajo Reservation with Legal Services. And that really got me into the field of Indian Law, which just became an abiding, very consuming interest.
Q: So you took that job on the reservation before you really knew that you were interested in pursuing Indian law?
A: I didn't even know that there was such a thing as Indian law. In fact, at that time, there really wasn't much of anything called Indian law. The field was very much in its infancy at that time. I sort of grew up with it.
Q: What did you learn there? Sounds like it was a completely new experience for you.
A: It started off as a typical kind of legal services experience. I got to Shiprock, which was a three-lawyer office of DNA, but all three lawyers had resigned within the previous two to six months, so there was nobody there. There was a law clerk. So I just walked in to this place with a couple hundred active files and more clients coming in every day.
The other peculiar aspect of it was that I didn't actually have my law degree yet. I finished my third year in 1970. It was the year of the Kent State shootings. That led to some disruption of the regular routine at the school. To make a long story short, I finally got my degree in February of '71, just hours before taking the Colorado bar exam, to the consternation of the Colorado bar examiners, I can assure you. So anyway, there I was—not exactly legitimate in any respect, and had no idea what I was doing in this Legal Services office.
The point of that was, though, that I frequently called other lawyers in the program whom I knew in Window Rock and other offices. I can remember one of the first calls I made, which was probably the first day I was in the office. It had to do with a client who was being sued in state court over a debt. So I called a guy in Window Rock and said, "Are there any special defenses to raise here? How do we handle this?"
And he said, "Oh, state court doesn't have jurisdiction over that case."
I said, "They don't? Why?"
He said, "Well, here." So he gave me these Supreme Court decisions to look at, and I went ahead and filed a motion to dismiss, and actually ended up arguing an appeal in the state Supreme Court just a month after I finally got admitted the next year, which I lost 3-2, but I thought getting two votes was a moral victory. Later in life, I came to the realization that I really should have lost the case anyway.
Q: But arguing at the state Supreme Court in less than a year is pretty fast-track.
A: It was very fast-track. It was a little alarming, frankly.
Fortunately, about a month after I got to Shiprock, another lawyer was hired who'd actually spent a year with the Colorado Rural Legal Services, and he sort of knew what he was doing.
Q: What sorts of issues did you deal with on a day-to-day basis?
A: We dealt with everything. We ended up doing a lot of jurisdictional litigation involving Indian law issues. I did a lot of environmental work. This was just when the coal development in the Four Corners area was getting underway, and there were big coal mines planned and projected, and uranium mines, and coal gasification facilities and power plants. We had clients who were being directly affected by all of it.
We had civil rights cases. We had a case against the hospital in Farmington where the board had made a policy decision rather than treat Navajos, just to send them back to the Shiprock Hospital. We sued over that and won on appeal.
We had a lot of consumer cases, which is pretty typical. And we did a certain amount of criminal defense work, which was ludicrous, since that was really something I knew nothing about and had no business being involved in. And also, we weren't supposed to be doing that as legal services lawyers, but there just wasn't any other representation available for Navajos.
Q: It had to be challenging.
A: It was more challenging than I was aware of at the time, to be quite honest. I loved it. I was thinking I was going to stick around in legal services for a year. I ended up spending eight years on the reservation.
I don't recommend that anyone start out their legal career the way I did. But it was exhilarating, and frankly, a lot of the environmental work that I did back then has stood me in good stead. I'm back doing a lot of that now with my tribal clients.
Q: You joined the Rothstein firm in 1988. What brought you there?
A: I left the reservation in 1978 and went to Albuquerque and started up a firm with a friend who had been working for an Indian organization. We built what became a very successful and well-regarded practice, and that went on for about 10 years. And then in 1988, that firm sort of unraveled. I had become involved with a woman in Santa Fe, and then found that the Rothstein firm just had a partner depart, and they were looking for someone to take his place. Nobody in the Rothstein firm knew the first thing about Indian law.
So I joined the firm in the fall of '88. Eight months later, we landed the contract with the Navajo Nation to become special prosecutors to take on this huge, complicated series of cases involving Peter MacDonald, who was then the chairman of the Navajo Tribal Council.
Q: What are your memories of that case?
A: It's a long, complicated story. When I joined DNA in the fall of 1970, the program was actually in serious straits because it was being attacked bitterly by Raymond Nakai, who was then the chairman of the tribe.
When the program got set up, although everybody thought that we'd be suing car dealers and loan sharks in the border towns, there were often occasions when the tribe itself was the bad guy. So the program found itself representing people against the tribe, and that just really didn't sit well with Chairman Nakai.
Anyway, MacDonald came along and decided to run against Nakai. He was seen as a backer of the program, so Legal Services, in September, announced that they would give us three months of funding, obviously wanting to see who won the election. And fortunately, MacDonald won the election, and the corporation renewed our funding for a year.
But then, as MacDonald became more prominent and got involved in a lot more of what turned out to be really highly questionable dealings, even in his early terms, we began to take on cases that challenged decisions he was making, programs he was supporting—a major coal transaction that he and his lawyers negotiated that would have been devastating to a whole community on the reservation that we represented. We fought that bitterly.
In the spring of '89, it hit the papers that MacDonald had actually been one of three individuals who did this flip transaction with the tribe by which they had purchased this huge ranch that was not even close to the Navajo Reservation. It's out adjacent to the Hualapai Reservation on the south side of the Grand Canyon. It's called the Big Boquillas Ranch. They had purchased it for [around] $26 million and then sold it to the tribe for $33 million.
Hearings were held in Congress on this, and then it turned out that there were all kinds of other shenanigans going on in connection with MacDonald. So the tribal council was in an uproar; they put him on administrative leave. Then MacDonald and his supporters occupied the tribal offices and wouldn't give them up, and so the tribal council, at least the 50 or so members who were determined to get rid of this guy, started meeting in a different place. They passed a law to create a special prosecutor, and then quickly the Justice Department solicited proposals. There were several people I knew in that department who contacted me and said, "Would you guys be interested?" Because they knew we had great criminal defense lawyers. We had the criminal law background and we had the Indian law background.
We got that contract. And it became one of the most bizarre and exhausting experiences of my life. It was huge. We had to take on a lot of additional staff, we had to do it very quickly. We had to do a lot of investigation obviously first, but we finally got complaints filed against MacDonald.
We filed three cases. The Big Boquillas thing was an enormous transaction, and we got a case filed on that. We also filed what we called the bribes and kickbacks complaint, which alleged a variety of schemes in which people would come to MacDonald seeking some kind of favor. And he would say, "Well, you need to go see my son, Rocky." And Rocky had graduated from ASU Law School but wasn't really practicing law. But he would then have these people hire him on retainers of up to $5,000 a month.
We documented, I don't know, five or 10 of those transactions, and it ultimately involved hundreds of thousands of dollars. And then there was an election complaint that alleged violation of the Navajo election laws.
The first case we tried was the bribes and kickbacks trial. That went on for two weeks. There were 26 charges; we got 25 guilty verdicts.
Every time we'd go out there for a hearing on a motion or something, there'd be crowds of people in and around the Navajo judicial building, and people hissing and spitting at us as we walked in and out.
Q: When you're working on a case that lasts multiple years like that, how do you keep the energy level up?
A: On the special prosecutor thing, there was so much going on that you didn't have a choice. It's just on and on and on. Every time I go back and reopen those files, I wish I'd written a book. So much stuff went on that nobody would believe today.
Q: Any examples?
A: The funny thing is, we ended up getting to be on very good terms with MacDonald himself. I mean, we saw him every day in court. MacDonald didn't get elected three or four times as chairman of the Navajo Nation by being a total jerk. He's a smart and very charming fellow, and he's got quite a personality. It's a cozy courtroom, and he was sitting five feet away. We ended up always exchanging jokes and pleasantries with him. That was kind of amusing.
Search attorney feature articles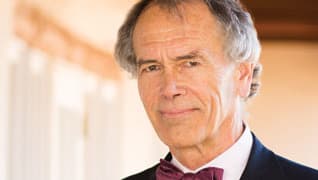 Featured lawyers
Helpful links
Other featured articles
Jeff Anderson on law school, legal tactics and his ultimate goal—deposing Pope Benedict XVI
Four attorneys on why they love their rural practices
When democracy came under attack, Doug Poland heard the call
View more articles featuring lawyers
Find top lawyers with confidence
The Super Lawyers patented selection process is peer influenced and research driven, selecting the top 5% of attorneys to the Super Lawyers lists each year. We know lawyers and make it easy to connect with them.
Find a lawyer near you