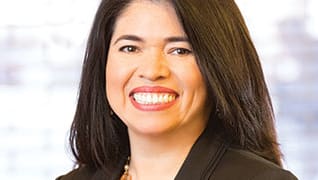 Photo by: Kip Malone
Hanging on the Telephone
Lorena Olmos, of Modrall Sperling in Albuquerque, on taking cold calls from employment law clients, tailoring her courtroom strategy and getting in on the crazy
Published in 2015 Southwest Super Lawyers magazine
By Ross Pfund on April 21, 2015
Q: When did you become interested in the law?
A: In December of 1999. And I attribute it to divine inspiration. I was at the end of my first semester in my master's program and I had been praying for what I was going to do as a profession with a master's in Latin American studies. And then the answer came to me. I thought, "I have to apply to law school." And so I did, and very promptly got into law school and did a dual-degree program.
Q: And you knew you had made the right decision.
A: My favorite part of the work is helping my clients avoid litigation. Not that I don't love preparing for trial, but trials are so rare and they're expensive. A lot of the businesses we represent are fairly small, at least in New Mexico, and a trial would be financially devastating for them.
What I love [is handling] those day-to-day phone calls where they're on the precipice—it could go badly unless they get some guidance, or maybe just a sounding board.
Q: What common issues do they call you about?
A: Misunderstandings about what is and is not required in terms of a termination. Employers need guidance in regard to handling employee termination and disciplinary matters. They have employees who are very clearly toxic, and they have a very hard time terminating them. They let it go for a very long time, and it takes a long time to unravel why. They don't like to say why they let it get that far. I think they feel a commitment, not just to the individual who is on the payroll, but to sustaining the entire family that has come to be reliant on that paycheck. That level of responsibility weighs pretty heavily on our HR management people. So they have a hard time pulling the trigger.
Q: Do they call you in time to help, or is it after the fact?
A: Well, they usually call me to be the one that they blame. They want somebody to be able to say, "I didn't want to, but legal says I have to."
Q: Do you let them do that?
A: If I know them enough, I'll be the one who takes the bullet—I understand the position they're in. There's a nonprofit that I work with—they have a long relationship with many of their employees. So when they need to do layoffs, for example, I know they have such a hard time doing it, I do that for them. That helps to take them out of that equation, when they don't want to be the ones delivering the bad news. They need assistance softening the blow.
Q: What's the strangest call you've had to field?
A: Calls about the types of materials being transmitted via text message or social media; the inappropriate things that are shared between employees; the lack of judgment on social media. You might think it would only be younger generations that suffer from it. I've been surprised by people who are older who get wrapped up very quickly in sending pictures over company equipment.
Q: Why do people still do this?
A: I think a moment's lapse of judgment is captured forever. It used to be, even when I was in college, that you didn't have cameras on you. Now they are on everything. I could go on spring break and there wasn't everything to be recorded. Now there are cameras everywhere and everything is instantly recorded forever and forwarded along. An indiscretion is suddenly going to land on the board of directors' desk come Monday morning.
So we have those embarrassing conversations and then slow down and put things in perspective. Is a project manager's flirtatious indiscretion with somebody at a party on a weekend really cause for termination? It may not be. Predatory behavior over a span of months with several people on your company equipment and after a few warnings is different.
Q: Do you ever find yourself sympathizing with employees in these situations?
A: Absolutely. No company wants to invest money in training people, only to turn around and fire them. They just don't. That's where, when I'm defending cases that are in litigation, you have to keep things in perspective. I advise and counsel from the perspective of all sides.
But training employers so they can avoid losing their employee is going to help protect their investment. And then you have an employee who is probably grateful they get to keep their job and so they will speak highly of the company they work for as opposed to speaking badly of them.
Q: When you do go to trial, what's your approach?
A: Our state is pretty varied in terms of its demographics and even the types of courtrooms we have. We have, obviously, state and federal courts, and then we have some parts of our state that are largely Native American populations. Some parts of our state, you'll draw a mostly Hispanic jury pool and some will be split. Then the attorney and client mixes will be pretty different depending on where you are in the state. I think the most successful attorneys are pretty good at being adaptable to whatever is thrown at them.
In terms of style, I don't know that I am able to perceive what kind of style I have, because it also depends on witnesses. I know that my last jury trial was a First Amendment case. We represented the Gallup Independent, which is a newspaper in Gallup, New Mexico. One of the witnesses I cross-examined was an 82-year-old woman. We had a jury, and she was testifying about something that she purported to have witnessed 62 years ago. Then she got it wrong, the critical date she was swearing to. So I was cross-examining her very, very gently.
Sometimes you get permission to cross-examine—for example, a doctor—in a very aggressive way. So I have to be attuned to "What is the judge alerting me to? What is the jury alerting me to?"
Q: It's interesting how the differences in demographics in the state affect your strategy.
A: Sometimes you hire a jury consultant and sometimes you can't. Usually, I can ask one of my partners who has just had a jury in a particular jurisdiction, "What were the questionnaires like? What kind of jury were you getting? What surprised you about the jury pool you just had?" You can also go to observe a couple of months before to familiarize yourself with the process so you can get a view firsthand. With Native American populations, certain concepts are different. Potentially, Pueblo people will have a different concept than Navajo people based on a religious precept. Diversity on your legal team gives you an understanding of the various people in your jury pool and will help your present your case more successfully. You literally might not even be speaking the same language in regard to some concepts.
My children are from the Jemez Pueblo, so having Native American children makes it slightly different from someone who doesn't have a connection to a Native American population, personally, in terms of perspectives. Native Americans are a significant population, and any firm doing business in New Mexico needs local counsel with experience in that area.
Q: How much time do you spend on employment law cases versus general litigation?
A: I would say about 65 percent of my practice is in labor and employment. [The rest is] a mix of litigation. I do a lot of health care work, but any juicy cases that are going to trial, I want to participate in them, even if they're not necessarily health care or employment-related. If there's a little bit of crazy, I want to play.
Q: What was it that drew you to the employment defense side?
A: It's funny. I went to a very liberal college, so I thought I was going to work for an NGO and be one of those people who protests outside of buildings and makes change that way. It turned out I was fairly conservative. And I thought, "They don't listen to outsiders. Who are they listening to? They listen to people who are inside." If you really want to effect any change, you have to be somebody whom they are listening to. People listen to their mothers and their lawyers and people who they are paying for advice from, and people pay me for advice.
Q: So what's the best advice you've ever received?
A: To be grateful.
Q: Who told you that?
A: My mom.
This interview has been edited and condensed.
Search attorney feature articles
Helpful links
Other featured articles
How the $1.1 billion Surfside condo collapse case settled so fast
Jim Schwebel is in the business of rebuilding lives
Jim Gilbert's crusade for victims of unsafe vehicles
View more articles featuring lawyers
Find top lawyers with confidence
The Super Lawyers patented selection process is peer influenced and research driven, selecting the top 5% of attorneys to the Super Lawyers lists each year. We know lawyers and make it easy to connect with them.
Find a lawyer near you