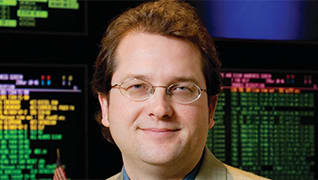 Photo by: Thom Sivo Photography
A Geek Squad of One
Ron Raether knows his bits from his bytes
Published in 2006 Ohio Rising Stars magazine
By David Searls on June 16, 2006
The future is most definitely now. We're still waiting for those flying cars, but in the meantime, we've got spyware, cyber-stalking and identity theft.
In this brave new wi-fi world, security and privacy come at a premium, and many computer users are suspicious of any digital interaction, even on their own home PCs. They're right to be concerned, says Dayton lawyer Ronald Raether Jr., but they shouldn't give in to the Luddites.
"When was the last time you stood in a bank line?" the young litigator asks as he sits behind the neat desk of his sleek downtown office at Faruki Ireland & Cox, a 40-plus attorney firm in Dayton.
Raether points out that tech-savvy bad guys have figured out how to steal your card-imbedded information at the ATM, and then visually capture your password keypunches. Now that you know that, will you wait in teller lines again?
Raether doesn't think so either. For most of us, the convenience is worth the risk.
At the age of 37, he's created a niche for himself as a trial lawyer who fearlessly embraces 21st century technology, even as it knocks up against issues of privacy, antitrust abuse and other conundrums of progress.
"I would say it's a convergence of personal interests with the caseload," says Raether of the way his passions and instincts mesh with the day job. "In high school I was writing BASIC and COBOL code. I had a Commodore 64 and an Apple IIc." He says this with all the pride and enthusiasm of a gearhead cataloging classic cars.
"Many law firms don't think about technology until it's time to buy computers, and even then they hire a consultant," says firm partner Charlie Faruki. "Ron loves these cases, and he has a nice way of making complex concepts simple."
Layers of Privacy
When Raether thinks about technology, he mixes geeky enthusiasm with reasonable caution. He shudders, for instance, at the way corporate clients write, send and store electronic mail.
What happens in Vegas might stay in Vegas, but that's not necessarily true of your company e-mail system.
"Think about those conversation threads," he says of the common habit of resubmitting the entire prior give-and-take with every new "thread" of electronic communication. At some point, Raether points out, the ever-lengthening message might be forwarded to a third party — or a fourth or a fifth, or hundreds more readers with a single keystroke — and each new recipient has access to what might have started out as a confidential conversation between two parties.
It could be worse.
"What if you're subpoenaed for divorce and must turn over relevant e-mail messages that contain privileged conversation on the same online thread?" he asks.
Raether spends hundreds of hours with clients just trying to respond to electronic discovery. A former associate editor of the Law Review at the University of Dayton School of Law, he has further honed his writing skills by authoring articles on electronic document management as well as on legal issues related to the Y2K scare.
Well aware of the risks of privacy invasion and identity theft, Raether takes the whole issue in stride, pointing out that there are "layers of privacy," and that not all of those layers should be equally sacrosanct. When you sign up for a smart card at your friendly neighborhood grocer, for example, you allow those sophisticated marketers to "capture" your shopping habits in exchange for the member-only discounts. Yes, someone's software will know your favorite brands of pickles, dry cereal and toilet paper (and perhaps prophylactics, prescription drugs and hygiene products), but is that too much privacy to surrender for savings?
You've got to decide that for yourself, Raether suggests.
"The many benefits [of technology] aren't as sexy as the reports of security breaches," he says.
It's not just an academic argument for Raether. In Russell v. ChoicePoint Services, Inc., he successfully fought an attempt to keep Reed Elsevier from buying personal data from state motor vehicle departments. The company wanted to sell the information to insurance fraud investigators, lawyers and other legal or law enforcement types for such purposes as witness background checks, debt collection and tracking tollbooth deadbeats.
Congress had already passed the Drivers Privacy Protection Act to keep the information safe from the prying eyes of marketers — so what vital privacy was being protected by withholding the information from Raether's client? The height and weight statistics of drivers?
"We lie about that anyway," Raether says.
Besides, he says, even commercial access to personal information that seems intrusive can be beneficial to consumers. "A bank might use this data to see that someone posing as me is actually me."
Road Scholar
Raether chides an office visitor for a penchant for nonsecure wireless online banking transactions and Web surfing, and comments on the ease with which the otherwise savvy can be tricked through social engineering into divulging sensitive personal information. 
"We protect ourselves with anti-virus software and firewalls, but then we let trouble right in the front door by opening attachments," he says.
Even when chastising, Raether does it gently, and with a half-hidden smile.
"When it's time for him to roll up his sleeves, he can be a fighter," says Kelly Henrici, general counsel at The Relizon Company.
Henrici has been a client of Raether's for virtually his entire legal career. She says that in all that time, she's never seen the trial lawyer in a courtroom because "his mediation and arbitration skills are so strong we've never needed to go to trial."
He's up to the task when called upon, according to Faruki, who hired Raether right out of law school in 1996, in part because he'd gained valuable courtroom experience clerking for two trial judges. And Faruki has had occasion to see Raether in full litigation mode.
"Ron's good on his feet and he doesn't exaggerate," he says. "Judges appreciate that." Furthermore, "he has not only a strong work ethic, but an innate ability to help clients keep an eye on the big picture."
In other words, he's a corporate attorney who thinks like a businessman, a relatively rare combination of strengths.
His energy, confidence and early accomplishments have earned Raether such accolades as inclusion in the 2003 version of the Dayton Business Journal's "40 Under 40" honor roll of top young local business leaders. He's served on the leadership team for a non-profit organization charged with assisting technology-focused entrepreneurs, and is an adjunct professor of law at his alma mater.
"Ron's a very, very thorough guy," says Ken Thompson, general counsel for LexisNexis Group. "He submerges himself in your problem, but without getting attached." That's important, says Thompson, for the sake of objectivity. "He has a great depth of knowledge on a subject but doesn't get emotionally entrapped. He sometimes keeps me objective."
That depth of knowledge runs to such diverse fields as the point-of-sale demands of computer applications written for a French department store chain and the transactional practices used at truck stops nationwide.
It was that case where, representing electronic transaction giant NCR, Raether became what you might call a road scholar. The company had an antitrust claim against a competitor for selling electronic cash registers that would only accept its own transaction cards from truckers.
"We had to get off at truck stops every time we got on the highway so I could get a better understanding of the functionality of trucking systems," he says. "It drove my wife crazy."
Raether's curiosity isn't totally relegated to the digital world. While representing a shopping mall suing a geotechnical engineering firm for excessive settling of footings in the mall, he had to help show that the firm had not correctly tested the soil beforehand. That meant learning the intricacies of "soil compaction tests," "void rate" and "proctor value." Years later, he still enjoys bandying the terms around and explaining the proper way to drop pylons through air pockets.
Country Boy
Raether was born in Whittier, Calif., but spent his early years in South America. His father was a chemical engineer and his mother taught high school Spanish.
"I first learned Brazilian Portuguese," he says of his expatriate early upbringing.
But the family returned stateside when Ron was 6. They settled in West Virginia, where he remained until entering The Ohio State University where he took cum laude honors. At law school, he graduated magna cum laude in 1996.
It was at OSU, where he earned his bachelor's degree in history, political science and economics, and met his future wife, Marlene, a Tennessee native. The couple has three daughters, ages 11, 8 and 6.
"She'll say I work too hard," says Raether with a grin when told that Marlene's comments would be solicited. Then he can't stop himself from adding that he billed 2,700 hours the previous year.
He's right about his wife.
"It can be a little hard at times," Marlene says of those long hours. "His PDA is practically attached to his hand. But I couldn't be married to a better person. And he does make time for the kids."
That might mean bringing the girls to work with him on a weekend or conducting a brief phone interview with excited squeals in the background during a family vacation in Florida.
What spare time Raether can round up is spent with family. "He likes to be outside, hiking or playing basketball with the girls," says Marlene. "He's just a country boy at heart."
Ron Raether is the rare country boy who knows more about phishing than fishing.
Search attorney feature articles