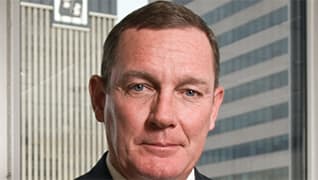 Photo by: Gary Kessler
A Straight Shooter
Business litigator James Burke calmly calls the shots—even when a presidential election is at stake
Published in 2011 Ohio Super Lawyers magazine
By Stan Sinberg on December 13, 2010
At 10 o'clock on election eve 2004, James Burke got a call from the U.S. Supreme Court. He had just a few hours to file a brief in a case that might sway the outcome of the presidential election.
At issue was whether Republican poll watchers would be allowed to monitor voting sites in Ohio. Democrats had won a lawsuit to ban the watchers, claiming their real mission was to intimidate minorities and suppress voter turnout. Burke, representing a group of African-American Republicans, had appealed the case—along with the Ohio attorney general's office—and the 6th U.S. Circuit Court of Appeals had given poll watchers the go-ahead. The Dems appealed, and that's when Burke received his late-night phone call.
The stakes were high, since it was a foregone conclusion that Ohio was the swing state in the race between President George W. Bush and Sen. John Kerry. Burke filed his brief in the middle of the night; by 7 a.m. on Election Day, Supreme Court Justice John Paul Stevens decided to let the circuit court ruling stand. Poll watchers arrived just before the polls opened.
Four years later, Burke made a second foray into presidential politics. It was not the most natural alliance when the business litigator, a lifelong Republican, found himself aligned with the American Civil Liberties Union in a case against Ohio's secretary of state, Jennifer Brunner. She had thrown out absentee ballot applications prepared by the Sen. John McCain campaign on which recipients failed to check the "qualified voter" box—a decision that disproportionately affected Republican and elderly voters.
Representing the disenfranchised voters, Burke argued persuasively to the Supreme Court of Ohio that, since the only reason anyone would complete the form was to vote, disqualifying the ballots on this technicality was a violation of state law. The court unanimously agreed with Burke.
Right at home
If one were inclined to wax poetic, one might observe that Burke's 17th-floor office at Keating Muething & Klekamp is a metaphor for his 57 years. The building is situated smack in the middle of downtown Cincinnati—the city where Burke has lived nearly all his life. His office walls are adorned with photos of his four grown children and his wife, Judy, whom he began dating while at St. Xavier High School. Out the window is a panoramic view of some of the corporations he's represented, including Fifth Third Bank; American Financial Group and affiliated companies Chiquita Brands Inc., Great American Insurance Co., and Great American Ball Park, home of the Cincinnati Reds. Directly across the way, on the other side of the Ohio River, he can see Kentucky, one of the many locales outside his home state where Burke conducts much of his business.
"I have a national practice and a 10-minute commute," he says. Burke became enamored of the law as a Yale undergraduate doing insurance defense work for Lindhorst & Dreidame as a summer job. Investigating auto accidents and taking witness statements, he found the work so diverse that "each case brought with it a little murder mystery novel."
But long before he decided to practice law, Burke knew the style he'd bring to his future career.
When he was in eighth grade, his parents separated and his mother brought him back to Cincinnati from New York, where the family had lived for five years. To handle the divorce, she retained John "Jack" Benjamin, a family friend. "He treated her with unbelievable respect and kindness," Burke recalls. "I realized that, no matter what profession I chose, that's the kind of dignity and kindness I want to pursue it with." In 2008, when Benjamin received a Lifetime Achievement Award in Law from the Cincinnati Bar Foundation, Burke spoke at the ceremony.
Burke put himself through high school and college, working, among other places, at a Bethlehem Wire Rope depot, transferring large steel cables onto smaller reels. He played football in college but jokes that by his junior year, "I realized I'd never be appearing on Monday Night Football." He applied to the University of Cincinnati College of Law, received a scholarship, and in 1978, graduated magna cum laude.
The first law firm Burke joined was a 100-lawyer firm at which he had previously clerked. He stayed about three years before moving to his current firm, where, because of its smaller size at the time, he was able to get a lot of trial experience at a relatively young age. (KMK subsequently grew to its current size of 106 lawyers). Burke joined the firm six years after firm co-founder Charles Keating—the Charles Keating—left the firm, and it would be more than 15 years before Keating was questioned over his role in the savings and loan scandal of the late '80s.
One of Burke's earliest significant victories came in a class action suit against affiliated companies in Cincinnati, New Zealand and Australia for manipulating the price of the Cincinnati company on the New York Stock Exchange. After a two-week trial, Burke prevailed on liability, and settled for $10 million in damages. After that, he started attracting more, larger and repeat clients, such as American Financial Group, founded by Carl Lindner Jr., and its companies, including a number of banks.
Burke's association with Lindner led him directly to the Cincinnati Reds when former Reds owner Marge Schott sold the club in 1999 to Lindner and other limited partners. Burke began representing the Reds, including defending the club against a suit by Schott, who was displeased with the location of the seats she was given as part of the sale.
That's Burke's career, zigzagging from baseball to politics. In a four-year case that was resolved in 2007, Burke represented the Cincinnati-based software company Cincom Systems in a suit claiming copyright infringement and unauthorized transfer of an intellectual property license. Cincom had licensed its software to a company that went through a corporate restructuring and became known as Novelis. Novelis continued using Cincom's software, maintaining that state law allowed such a transfer. But the 6th U.S. Circuit Court, citing a federal law that preempted state law, unanimously backed Cincom and Burke.
These days, Burke doesn't find himself in front of a jury nearly as much as he would like. As a member of the prestigious American College of Trial Lawyers since 1997, he is somewhat chagrined about the increasing rarity of the civil jury trial. While trials always constituted only "a fraction" of the cases filed, Burke says it is shocking how few civil cases reach trial these days. The causes? Expense, overcrowded dockets, pretrial mediation (which Burke applauds), and mandatory arbitration provisions in an increasing number of contracts.
As a result, it's harder for younger attorneys to develop trial-advocacy skills. But the more harmful impact, in Burke's opinion, is that jury trials are still the best mechanism for resolving disputes.
"Something comes over jurors when they are impaneled," he says. "It is as if they realize that they have become a part of our constitutional process and that the fate of the parties is in their hands."
That doesn't mean, though, that jurors are well-versed in the issues involved in commercial litigation."I need to be able to distill the case completely, so that I can stand up before a jury and explain it in two sentences, no matter how complex the matter is," he says.
Burke says he's noticed a disturbing trend in recent years of trial attorneys demonizing their opponents and exaggerating what the evidence supports.
It's a tactic that backfires, he says: "Once [jurors] conclude that a trial lawyer is exaggerating what the evidence really is, that person's credibility is gone. … I came up in the old school, where we took candor to the court and not overstating one's case very seriously."
Still, he says, collegiality among members of the Cincinnati Bar Association remains high, and "the best trial attorneys are usually the best to deal with."
The feeling is mutual. Rick Wayne, a business attorney with Strauss & Troy, is himself a longtime Super Lawyers listee. Wayne estimates he's opposed Burke 15 to 20 times."Burke's a straight-shooter," he says. "If he says he's going to do something, or not do something, you can trust him."
The characterization of Burke as a trustworthy opponent is echoed by Glenn Whitaker, of Vorys, Sater, Seymour and Pease, also no stranger to the Super Lawyers list. He also sometimes finds himself on the same side of the bench as Burke. In both situations, he describes Burke as "a gentleman."
Personal animosity and political partisanship are also infecting the election and selection of judges, according to Burke. "Judges ought to be selected on merit, fairness and intellectual ability, not a political litmus test."
As for his own politics, Burke says he is becoming "more centrist and independent" as he gets older. He says that, while he's not particularly active in causes, "when a client asks you to donate to a particular candidate, you do." This, of course, is when it's in the firm's best interest; and he acknowledges, laughing, that with his clients, these candidates "are almost always Republican."
In Burke's opinion, an insidious threat to the workings of the justice system is the often onerous burden placed on it by the electronic discovery process, which Burke likens to "an 800-pound gorilla." E-discovery, and demands to produce anything that might be remotely relevant to a case, have made lawsuits "unbelievably complicated, exponentially increased the expense, and increased the risk both to the litigator and the client." Particularly, he notes, when the search extends to archived material and backup recordings.
"There might be millions and millions of documents, ranging from a potentially relevant one to the recipe for a fudge brownie or directions to the company Christmas party. … I've seen cases get settled just so people won't have to do electronic discovery."
Burke believes some of these issues are being addressed by lawmakers and will eventually be corrected, adding that a consensus seems to be forming around adding a "reasonableness factor" and sense of proportion to the process.
To maintain his own sense of proportion, Burke likes to read—primarily history books, such as Team of Rivals, a tome about Abraham Lincoln and his cabinet. He also plays golf—"not well, but with enthusiasm"—spends time with his family, and practices yoga for relaxation and flexibility.
He also keeps in mind some good advice he received early in his career from "legendarily tough" federal Judge Carl Rubin. 
 "When I was living and dying with every case and decision, Judge Rubin told me, 'Never forget that you are just the trial lawyer. You did not write the contracts or documents, or create your facts or your witnesses. You take what you've been given and try to do the best you can with that. Sometimes it is good enough to win and sometimes it is not, but that is not your fault.'
"From then on, the question I asked myself after every trial was, 'Could I have worked any harder or done anything more?' If the answer is 'no,' then I have done my job."
Search attorney feature articles