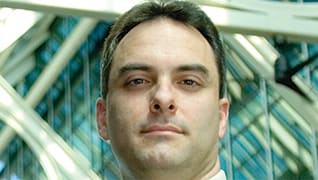 Photo by: Thom Sivo Photography
Brokering Billions
Christopher Hewitt helped bring Federated and May together
Published in 2006 Ohio Rising Stars magazine
By John B. Kachuba on June 16, 2006
If Thomas Wolfe had met Christopher J. Hewitt, he would have changed his mind and written You Can Go Home Again. After a three-year stint with a big corporate law firm in New York, the 37-year-old attorney is making a name for himself back home in Cleveland as a partner with Jones Day.
Hewitt attracted national attention in 2005 as the point man in Federated Department Stores' $17 billion merger with the May Department Store Company, an accomplishment that prompted The National Law Journal to name him that same year to its prestigious "40 Under 40" list. The Federated-May merger might seem more commonplace on the streets of Manhattan, but Hewitt closed the deal from a prestigious law firm in the heart of the Midwest.
"One thing we labor against in the Midwest," says Hewitt, "is this perception of New York law firms. There's the East Coast and the West Coast and everything else is just flyover country. That perception is common in the legal profession. There are companies locally who have used New York law firms and they sometimes feel they have to go to those firms when they do these big deals. Federated and a lot of other local firms see that that's not the case.
"We're like a sports team that's not given the respect it deserves," Hewitt says of his firm. "There's no firm better than Jones Day; we just need to get the perception to match the reality. That's what I hope I can get done from Cleveland."
Hewitt has a history of getting it done, from his full scholarship to the University of Toledo, where he graduated summa cum laude after only three years, to his joint J.D./MBA degree from Georgetown University in 1994, with magna cum laude and Order of the Coif accolades.
Lyle Ganske, Jones Day's co-chair of mergers and acquisitions worldwide, says Hewitt has "a nice blend of tenacity and really good judgment."
That blend in his personality was shaped early. Hewitt is a triplet in a family of eight children and had to learn from a young age how to adapt to others and still get what he needed. "When you sat down for the family meal, you definitely had to learn how to get your food quick," Hewitt says. "I'm sure I had a lot of negotiations growing up with my siblings over who did what and when and who got what."
The triplets, Hewitt and two sisters, were the babies in the family and there is an 11-year gap between them and their oldest sibling. Hewitt's older siblings contributed both to his drive and to his academic success.
"I remember doing math flashcards and that kind of stuff before I was in kindergarten," Hewitt says. "Those kinds of things trickle down, whether intentionally or unintentionally, when you have older family members who had already gone through them."
Perhaps it was the flashcards that caused Hewitt to pursue an accounting degree at the University of Toledo, which broadened into an interest in all aspects of business and, ultimately, business law.
"You bring a lot to the table in mergers and acquisitions with that kind of education," he says. "It's in the fabric of who you are. You don't really appreciate how you're leaning on that business degree when you're practicing business law."
Hewitt's academic achievements won him a position with Skadden, Arps, Slate, Meagher & Flom upon his graduation from Georgetown in 1994 — the guy from the Midwest found himself in New York City. It was an exciting time for him, and the experience he gained was invaluable. "It was the perfect time to come out of law school and then be in New York City at one of the preeminent law firms in the country," he says.
His timing couldn't have been better. Graduating just after a recession, Hewitt found that many law firms had lost a number of their mid-level associates because of the sluggish economy. There was something of a vacuum at some firms, and newly hired attorneys often found themselves working at a level typical of senior attorneys.
"I got to work directly with partners almost from the beginning on transactions," he says. "As a function of that I was given deals and responsibilities early. I was running deals from beginning to end as a second-year associate. When I left New York and came to Jones Day I had already been doing billion-dollar deals, or I had been the lead person on them."
In 1997 Hewitt left New York, "lateralling over to an equally pre-eminent law firm," Jones Day in Cleveland.
"We've done a lot of deals together," Gaske says of Hewitt. "I can't even tell you how many deals we've done, including a lot of so-called headline deals."
One of those headline deals was the Federated-May merger that Hewitt engineered. The two companies had been eyeing each other for decades, Hewitt says, and the right time finally came in August 2005 — to the tune of $17 billion.
Despite the impressive price tag of the merger, Hewitt says the closing was anticlimactic. "All this work that goes into it and then you close and it happens by fax and by phone and no one has to go anywhere, and you say, 'That was it?'
"In fact, I think that's the hallmark of a good deal," he says. "You know you've done your job if there's that let-down at the end because that means nothing came up that was a problem, or caused anxiety or anything else. You made everything work smoothly and if you get to the point where the client says, 'Wow! This is over? It's done?' without any fuss, then you've done your job well."
Dennis Broderick, Federated's general counsel, worked closely with Hewitt on the merger. "Chris was very insightful and responsive," Broderick says. "He was there all the time and had an even-keeled approach to the work, despite all the pressure."
Hewitt continues to work with many blue-chip companies and has managed several large deals, one of them even larger than the Federated-May merger. In January 2006 he helped in the sale of food and drug retail giant Albertsons to a consortium of buyers for $17.4 billion.
As impressive as these big deals are, Hewitt points out that he treats his small clients as carefully as he would his larger ones. "At the same time I was doing the Federated deal, I was also helping a client smaller than Federated that was doing a deal that was a key transaction for them," he says, speaking of his client Axsys Technologies' purchase of Diversified Optical for $60 million.
"An issue came up that was scaring away the other buyer and we were able to come in, understand the issue and get our client comfortable and find a solution to that issue that enabled us to basically take that deal away from the winning bidder," he says. "At the end of the deal, the CEO of that company said, 'But for your help on getting us over this issue, we would not have gotten this deal done. Even more than the bankers did, or anyone else did, you got us around this issue.' When you see that you aren't just a cog in the wheel, that your help was vital in getting the deal done, that's when you're appreciated, that's where the job is fun."
Hewitt says that 90 percent of the work he does on mergers and acquisitions is routine, so he says it is especially rewarding to be challenged by new issues that "cause you to stretch and to learn that new law." One such deal involved one party selling its products on consignment. "I had never done anything on consignment before so I had to sit down and learn a new area of law to be able to help the client with that issue. That's what makes the job interesting, to have these new issues crop up and to learn how to address them and, at the end of the day, having learned a new law."
Another challenge Hewitt sometimes faces is opposing attorneys who "the law has passed by a little bit in terms of how they go about doing deals or how they practice law."
"They're throwing up roadblocks," Hewitt says, "and sometimes you have to educate your opposing counsel. That's probably the most challenging thing on these deals. But about 80 percent of the time, they're people that know what they're doing and it's a very simple process. Every once in a while, though, you hit that person that makes you question why you are doing this for a living."
Hewitt admits the workload can be demanding and takes up much of his time. He and his wife Robyn are building a new house in Avon for their growing family — a little boy and girl, with a third child due this spring — so it's sometimes a challenge to balance his clients' needs with that of his family's.
"Some people could find that to be problematic, when you're getting calls all the time, late at night and 6 o'clock on Friday, but that's what makes this job interesting to me," Hewitt says. "Obviously, you don't want to be called every Friday at 6 o'clock, but being there for your client and having them recognize it at the end of the day, that's what I try to do."
Search attorney feature articles