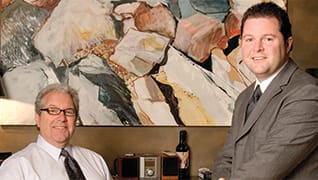 Photo by: Gary Kessler
Family Valued
Jeffrey Grossman and Mary Ann Rabin make their law practices a family affair
Published in 2007 Ohio Super Lawyers magazine
By Kathryn DeLong on December 22, 2006
At Grossman Law Offices in Columbus, family law takes on a whole new meaning. Head lawyer Jeffrey A. Grossman was joined in the practice by son Andrew S. Grossman more than a decade ago. And Anita Grossman—wife to Jeff, mother to Andrew—works there, too, running the business side of the office. "So we've forever been sitting around and talking about family law," Jeff says.
With a total of six lawyers, the firm, located in a beautifully renovated former stable near German Village, is more than a father-son team. Still, the Grossmans clearly appreciate the benefits of a family working in a family law practice.
"From my perspective, it's fantastic," Jeff says. "It's the best thing that ever happened because Andrew coming into the office already knew about the dynamics of family law. This is something that's been a part of our family since he was a youngster."
And they all get along, says Andrew, who joined the firm a year and a half before graduating from law school in 1996. "I think that a whole lot of bad things can happen when family is in business together. Knock on wood, we have never had any of it. Not even a serious disagreement."
But the family business hasn't given him a free ride, either. When a coveted parking spot became available, Andrew didn't get it. "It wasn't even offered to him," Jeff says. "There are people here who have earned their way."
Adds Andrew: "People think, you go work for your dad and you get the easy way out. It's exactly the opposite. The expectations are, I think, twice as high as just going to work for a stranger, but the opportunities are twice as great.
"I had virtually round-the-clock access to the head lawyer, and that's all the leg up anyone would ever need. He obviously knew everything about me when I came in here and really gave me the opportunity to start practicing out of the gate."
Did he ever. On Andrew's first full day as an attorney, Jeff was going to trial in a case familiar to his son. "I had been helping him to prepare some witnesses," Andrew recalls. "We're walking down the halls at the courthouse that day and he said, 'Now, can you remind me why this witness and this witness are here? Like, why we called them and what they're going to talk about?' And I thought, 'So the old guy's lost it.'"
Andrew gave his dad a detailed summary. "We walked into the courtroom, he sat down at the counsel table, the judge walked in and said, 'Mr. Grossman, call your first witness,' and [my father] sat back and crossed his arms and just looked at me. And I about had a heart attack."
Jeff had obtained his client's consent beforehand, but the point is, "Nobody else is going to do that for you," Andrew says. "Those are the kinds of opportunities that I got with him that I wouldn't get with somebody who didn't have a real vested interest in my development as a lawyer."
Trial by fire is the way Jeff learned the profession when he started in private practice in 1972. "Back in the '70s, young lawyers in smaller firms would get thrown into the courtroom. Because Andrew had been here as a clerk, he knew the subject matter. I knew what he was capable of doing."
Today, father and son talk business every chance they get, Andrew says. "Family gatherings inevitably find us in a corner someplace until one of our wives comes over and says, 'Enough! Flip the steaks.'"
Although the firm handles nothing but divorce cases, the Grossmans' commitment to marriage is obvious. Jeff and Anita Grossman have been married 38 years. "She's my friend," Jeff says. "She's the girl I fell in love with."
Andrew was a divorce lawyer for five years before he got married. "And if that's not faith in the institution of marriage, I don't know what is," he says.
"We have a very strong sense of family," Andrew continues. "And I think that brings a comfort level to our clients and empathy for what they're going through because we are so close and we do value family so much. That sounds either a little strange or a little corny or a little contrived, knowing that we're divorce lawyers. But it's really true."
Grossman gatherings involve the entire family, and that includes Jeff's parents, who have been married 60-plus years. Jeff's other son, a businessman, is married with three children. Andrew and his wife have 3-year-old twins, with another child on the way. "We all live in the same suburb, Bexley," Jeff says. "And both of my sons and their families happen to live on the same street just a few blocks apart."
Their belief in family has actually benefited their divorce practice, Jeff believes. Over the years, he's run into would-be clients who had considered divorce but stayed together. "Those people have been some of the best sources of referrals because they knew that our hearts were in it. It wasn't just, 'Hey, quick, grab a retainer fee and get going.'"
His advice to couples? "I firmly believe people shouldn't lose their sense of humor and they should lose their sense of self-importance." And listen to one another, Andrew adds. "It's a real simple thing to listen to somebody. But a lot of us don't do it."
Want more advice from the Grossmans? Read their column "Wholly Matrimony" on the first and third Sundays of every month in The Columbus Dispatch. "It's one of the fun things we do together," Jeff says. "It's professional development. It's also public service."
One of his favorite photos hangs in his home office. It's a black-and-white shot of a '50s-era Frank Sinatra standing in front of an attorney's office. Over the arched doorway are the words "Divorce Your Loved One with Dignity."
It reminds Jeff of why he became enamored with family law in the first place. "You can help people through a miserable time," he says.
Like the Grossmans, Mary Ann and Julie Rabin of the Cleveland firm Rabin & Rabin are exceedingly comfortable in their working relationship. Specialists in bankruptcy law, mother and daughter have been together professionally since 1990.
"I don't think we've really ever had a cross word," says Mary Ann, better known as Mickey. "We've always gotten along well. And if you can't get along, don't try practicing law together."
Teasing her mom like an old friend, Julie adds, "We never had a cross word, but I may have said some things under my breath."
That was especially true when Julie first joined her mother's practice and knew little about bankruptcy. Her parents would travel and leave her in charge of the office. Of course, "The farther they would go, the bigger the problem," she says. "So I wasn't very happy. But as I grew acclimated to the practice, it's been easier."
Another problem involved nomenclature. "When I first came," Julie remembers, "somebody called me up and I said, 'Oh, I don't know if we can take that settlement. I'll have to talk to my mother about that.' That sounded terrible. So now I call her Mickey."
Julie was only three years behind her mother in law school. Mickey is quick to explain her mid-life career change. "Try moving to Topeka, Kan., the summer that you're 40 years old. As the saying goes, committing suicide in Topeka is redundant." She went to law school out of desperation.
Before arriving in Kansas, Mickey moved around the country with her husband, Dr. Erwin Rabin, a pathologist, and their three children. The family had recently relocated from St. Louis to Topeka, where she "tried very hard to fit in with the doctors' and lawyers' wives," Mickey recalls. "I still remember I was sitting at a bridge table on a Wednesday afternoon and I said, 'This is really not going to do it for me.'"
Topeka's Washburn University had a law school, so she inquired about admission. In 1975, she bought a book, studied for the LSAT at her kitchen table and "lo and behold, I got into law school."
After her first year, the Rabins moved to Cleveland, where she finished her last two years at Case Western Reserve University. She was 44 when she graduated and was soon hired by Ronald Rubenstein, a bankruptcy attorney. There were few women doing bankruptcy at the time. "And he thought it would be neat if there was a woman, and God bless him, he thought an older woman was the best of all worlds because I didn't have to tell anybody I was a new lawyer. I was too old to be a new lawyer! So you walk in and you try to act like you know what you're doing, and they don't know you just graduated two weeks ago."
She spent five years with that firm, then opened her own office in 1983. "By then, of course, I knew the judges and I was able to get on the bankruptcy trustee list, which comes out of the Department of Justice in Washington."
Julie took a different career path. She received a journalism degree from Northwestern University and went on to law school at New York University. After graduating, she moved to Cleveland and worked for a firm whose biggest client was a savings and loan. She continued to work through the S&L scandal of the late '80s. She and Mickey had talked of becoming a team, "but the timing wasn't exactly right," she says. "Then all of a sudden, when I had a baby, the timing was better because who else would put up with this but Grandma? I couldn't work those same hours that I was working before."
Another Rabin daughter, Kathy, who lives in Boston, also works for the firm. "She does research and writing for us," Mickey says. "And she is a wonderful asset for our firm."
The "Rabinettes," as they were dubbed by one of Mickey's friends, deal with complicated consumer bankruptcy cases. "It's a very interesting practice," Julie says. "And you certainly have an impact on your clients. You definitely see the results of what you're doing when you have clients call you and say, 'Yes, I really did get a new start.'"
"We're problem solvers," adds Mickey, who was inducted into the American College of Bankruptcy in 2003. "People come in and they have a problem and you're part lawyer, part psychologist. Nobody wants to file a bankruptcy, but when you get into a tough spot, sometimes you have to do that."
She and Erwin have been married for 52 years. He retired at the beginning of 2005, but she has no plans to follow suit anytime soon. "I figure when it comes time, I will know it," she says. "We worked very hard to build up this practice. What am I going to do? Shop?"
Search attorney feature articles