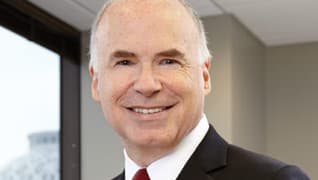 Photo by: Quadrant Photography
Find Something I Say That Isn't True
Louisville litigator David Tachau dares his adversaries to find a hole in his story
Published in 2014 Ohio Super Lawyers magazine
By RJ Smith on December 4, 2013
The lawyer stands at a microphone and delivers his closing remarks to the "jury," which in this case is the Louisville Metro Council. The proceeding, conducted in the summer of 2013, is an ethics hearing to determine if a councilwoman is guilty of misconduct or neglect. Accusations include improper use of funds for personal gain.
The lawyer at the stand is David Tachau. He is known for his liberal tendencies. He's Caucasian. The accused is a woman, a Democrat, African-American.
Lawyers like a court to judge his or her version of events to be most factual, of course, but this lawyer is going further than that. Tachau circles around to something he said at the beginning of the proceeding. He challenges his opponent, the attorney representing the city councilwoman, to prove any of his facts wrong.
Actually, challenges isn't the right word or the one Tachau uses as he winds down his case. "I taunted him," he candidly reminds the jurors. "I threw down the gauntlet. 'Find something that I say that isn't true—just one thing—and you're going to make a liar out of me.'" An observer might think he was going on to this extent not just to press his point, but to make a second point to the other side, one about his confidence. "And I want to tell you, that's a moment up on the high wire, to do that as a trial lawyer," Tachau says. "And I knew that it would ring true because I did know what the evidence was."
Here was a case straight out of a Tom Wolfe novel, the kind that could tear the fabric of a city. A bipartisan panel of council members had asked Tachau to take it on. "Even though the engagement threatened to become a racial donnybrook, and even though I was going to be paid a very substantial reduction from my customary billing rates, I was urged to take the engagement by several people I respected because they considered this to be important for the community and self-government," he says. The panel urged him to say yes because Tachau was perceived as fair, with deep roots in the city of Louisville. Being a liberal tasked with accusing a black Democrat didn't hurt, either.
In a bench conference, the councilwoman's attorney suggested that Tachau's religious beliefs meant that an affidavit from him would be meaningless. "The opposing lawyer said I didn't believe in God … and he said I didn't believe in heaven or hell," Tachau says. "And he said, 'What guides him morally? What compels him to tell the truth?' And the county attorney then said that those comments were slanderous and preposterous." Tachau is always conscious of his Jewish heritage, but believes it has no place in the courtroom.
In the end, everyone kept their cool. "This was a job that needed doing," he says. "And whether it was because I was willing to do it, dumb enough to do it, or had some professional characteristics that made it good for me to be the one who did it, I'm not sure."
As co-founder of Tachau Meek, a boutique litigation firm in Lousiville, it's the kind of case he takes when he can: one that can prove to a skeptical public that the political process can work. He argued a class action suit for workers from the Rawlings Sporting Goods Company Inc. factory who felt they weren't being paid their full salary. And he successfully represented plaintiffs against the state when Ohio illegally funded a Baptist college.
It's also the sort of case that Tachau can only do by taking on plenty of others to pay the bills. The bread and butter of Tachau Meek, formed in 2007, is litigation involving commercial, business and financial institutions; handling trust and estate disputes; and insurance and constitutional cases.
In one memorable case, Tachau was hired by PNC Bank in 1998 to steward over a $40 million estate in eastern Kentucky. The proceedings continued for almost a decade. In 2000, he was selected by a large insurance company to pursue contract and breach of fiduciary duty claims against Nationwide Mutual Insurance Co., resulting in a $28.5 million federal jury verdict during a 2003 trial.
"This is a commercial enterprise, and I am responsible, along with the other partners, for keeping the lights on and building up some money for our kids' college tuitions and paying fair salaries and wages," he says. "It's important not simply to be spending my time on issues of personal values or pet projects."
But as a lawyer who first pondered a career as a journalist, Tachau is personally curious about a wide range of subjects, and takes pleasure in cases that drop him into worlds he doesn't necessarily know that well. "I enjoy solving regular commercial issues that are interesting to me: issues that are novel, that lead me to understand different businesses or different legal relationships or the drama of a particular workplace," he says.
But he could never litigate divorces, he declares. "It would have ripped out my heart within six months; I never would have been able to detach emotionally." He has taught himself the trick of maintaining engagement with his work but not to a degree that wrings him out. A productive flow of business cases, he says, lets him thrive without being emotionally bound up in the drama of a trial.
The ethics trial of the city councilwoman, however, definitely seemed to break down this detachment. The amount of time and effort he invested to prepare for the case was not lost on those around him.
Jerry T. Miller is a Republican councilman who watched the proceedings closely. "I didn't know him at all before this," says Miller. "I grew to respect him a great deal in terms of his intensity and focus. He gave it his all."
Miller recalls with a laugh that, to lighten the mood once, he brought Tachau a soft drink in a cozy bearing the Republican National Convention logo. Once when it was raining, Tachau accepted a ride in Miller's car, which had a Mitch McConnell bumper sticker on it.
Ultimately, the city council delivered a verdict that satisfied neither side. It agreed with Tachau, finding the councilwoman guilty of misconduct. His facts were not in dispute. However, 14 votes were needed to remove her and only 13 out of 20 council members voted for removal— so the woman continued to represent her neighborhood district.
In his downtown office, Tachau gives a walking tour of the paintings hanging on the walls. They were created by local artists; some are on loan with the understanding that the Tachau Meek staff will vote on which to keep and which to return.
In a small meeting room filled by a conference table, a painting is dwarfed by the view: a real-life landscape of downtown Louisville with the Ohio River winding many floors below. "It's hard to compete with a picture like this," Tachau says.
He is among the fifth generation of Tachaus in Louisville, part of a German-Jewish family that arrived in the mid-19th century. His father went to law school, became a civil rights activist and worked in insurance; His mother was a historian of the U.S. Constitution and taught at the University of Louisville, before retiring as professor emeritus. In 1978 Princeton University Press published her book Federal Courts in the Early Republic: Kentucky 1789-1816.
Tachau's great-grandfather's brother was Supreme Court Justice Louis Brandeis, and Brandeis is his middle name. Though he has lived in Boston, Ann Arbor, New York and Washington, D.C., he feels rooted in Louisville, and lives in the house where he grew up.
As a young man, he provided legal services as a VISTA volunteer in eastern Kentucky, and the experience piqued an interest in law.
After studying at Harvard and then at the University of Michigan Law School, he clerked in the early 1980s for federal Judge James F. Gordon in Owensboro, Ky. He even thought about staying, but second thoughts surfaced. He saw many hungry attorneys like himself—Washington Post-reading, Boston-educated liberals—who took themselves very seriously.
"If I came back here, I would have more opportunity but could also keep my feet on the ground," Tachau says. "When you live in a flyover state, you can justifiably stay more humble."
A Louisville firm then known as Brown, Todd & Heyburn hired him in 1984. That fall, a case came along that offered Tachau a rare opportunity. The firm represented a company that was a competitor of Ashland Oil Inc., so Brown Todd took on the case of an Ashland Oil employee fired for whistle-blowing about illegal activity. The matter was given to the firm on a contingency fee basis. The statute of limitations was about to run out on the plaintiff's ability to sue, and because he was a bit of a maverick even then, Tachau pored over the file, and sat down with his supervising partner. Acknowledging that he was young to the trade, he asked that the partner look particularly closely over his shoulder because Tachau was convinced he had one of the biggest cases he would ever see.
Four years later, his client settled for $45 million for RICO violations and wrongful discrimination. Because it had been of small interest to the firm, Tachau was free to push the case where he felt it should go. A motion he worked on got the New York firm Cravath, Swaine & Moore disqualified from the case, a play that was covered by The Wall Street Journal and American Lawyer. He took depositions from Ashland Oil board members from Oklahoma to New York City, and handled key trial witnesses. By the time the case settled in 1988, "I had paid my apprenticeship dues and had gotten professional experience that most lawyers never get, much less in their first years of practice," Tachau says. 
That was one early turning point; another one came almost a decade later, ironically again involving Ashland Oil. He was hired to represent Kentucky's secretary of natural resources, who a whistle-blower accused of having been in bed with Ashland. Tachau was convinced the official was not guilty.
"It was an incredibly useful experience," he recalls. "I heard the other side posing arguments and accusations that were similar to the ones I had made." It gave him a perspective on the law he feels lucky to have.
In 1995, he left Brown Todd & Heyburn to form Tachau Maddox & Hovious, a litigation boutique. The firm was growing and taking on more junior partners, but by 2007, he felt compelled to strike out again. "Some things that made us effective as litigators—being hard-driving and intense—didn't necessarily make us able to be as collegial with each other as ideally as one wants to be," he says.
He went on to open Tachau Meek, and today he says, "I'm trying to lead a life that straddles different worlds. Everybody does. Everybody has multiple identities. … I'm trying to be a good person, try to be a good spouse, to be a good colleague in the law firm. I try to be a good legal professional to provide service to businesses and individuals who need help with legal problems and have no interest in what my political and social values are. But I also try to have my work be a tool for accomplishing some of the things I believe are important politically and socially. And that's either being schizophrenic or it's trying to lead a coherent and fully integrated life."
That attempt at a fully integrated life has pulled him in various directions. He was a member of the Kentucky State Board of Education from 2002 to 2006. In the past, he has considered running for public office, though he says he's gotten that out of his system. And Tachau writes book reviews for the local newspaper The Courier-Journal.
The city outside the window is small enough that Tachau must run into people in court who have read his review the previous day. "It's a small city and you run into people over and over again," he says. "Not so small that it's claustrophobic. But I'm still in contact with people I knew in elementary and high school. There's a lot of stability."
One of the best aspects of being a lawyer, Tachau says, "is the tension between appreciating grays, ambiguities and ironies and uncertainties, and relishing those, not finding it frustrating, while at the same time not becoming such a moral relativist that you can't care about things." He quotes a line from T.S. Eliot's poem "Ash Wednesday": "Teach us to care and not to care/Teach us to sit still."
Search attorney feature articles