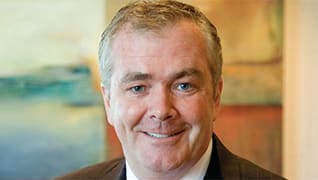 Photo by: Alejandro Rivera
From Brussels to Cleveland
While practicing law in Belgium, Eaton Corp.' s Mark McGuire learned to improvise 
Published in Corporate Counsel Edition - November 2009 magazine
By Kathryn DeLong on October 12, 2009
In 1997, Mark McGuire was enjoying life in New York City when his company announced a general counsel opening in Belgium. He applied, but on a lark—he expected an expert in European law to nab the position. As it turned out, his employer at the time, International Paper, chose him.
"I found myself plucked out of New York and landing in Brussels for the same company but in an entirely different position," he says. "Questions would come across my desk on a daily basis from jurisdictions that I didn't even know existed, in languages that I needed help translating and with issues I'd never faced before."
It was daunting, he says, until "I began to realize that there's a lot more that is alike in practicing law across several jurisdictions than is different." He found that he could arrive at an answer that was 90 percent correct by drawing upon his own experience and judgment; then he would check with an expert to fill in the holes.
It was a lesson in self-reliance that ultimately landed him the general counsel post at Eaton Corp., a diversified power management company based in Cleveland. "I never had any doubt that Mark had the capacity and character to become a major general counsel," says William Lytton, former general counsel of International Paper and now senior counsel with Dechert LLP.
McGuire enjoys the challenges that come with directing 50 attorneys positioned across Europe, the Americas and Asia Pacific. "Shanghai, for example, where we have several people located in my department, is 12 hours later than we are, so the best time to talk to them is 7 a.m. or 7 p.m. The later you get, the more inconvenient it's going to get for one or the other," he says. "And then the Europeans are six hours ahead of us. So the really sweet spot for dealing with them is between 8 a.m. and noon."
Eaton, which operates multiple businesses—the largest involving the distribution and management of electrical power—has customers in more than 150 countries. "With power usage being such a big deal these days, it's a hot area to be in," McGuire says.
Equally current is the work that Eaton is doing in the industrial sector. "As the world strives to become more 'green,' we are working through issues related to climate change and developing new products that help users consume less energy, such as hybrid electric and hydraulic transmissions for vehicles," he says.
Alexander Cutler, the company's CEO and chairman, says that McGuire is a good fit for the company. "Mark represents Eaton's unwavering commitment to ethics, values and diversity," he says. "He is a trusted member of our leadership team, helping to reinforce our focus on doing business right."
Before he landed in New York, Brussels, and then Cleveland, McGuire grew up outside of Boston, attending Catholic schools and enjoying what he calls a fairly uneventful childhood. He and his three siblings spent ample time on the beach "getting badly sunburned in the days before SPF sunscreen," he says. "To earn money, I was a caddie at a local country club."
The son of a mailman, he came from a distinctly blue-collar family. "[But] it was never a question in my family that higher education would be mandatory," he says. "The key to self-improvement and objective success was education."
McGuire chose to attend George Washington University in Washington, D.C. He began taking pre-med classes, but an introductory psychology course inspired him to switch majors. "I really enjoyed learning about the theories behind behavior—what may be genetic or predisposed, and what may be learned," he says.
His plans changed again after he began working part-time in the library of Williams & Connolly, a firm headed by the legendary trial attorney Edward Bennett Williams. "At the time, [Williams] was also president of the Washington Redskins and would often give my boss tickets to the games," says McGuire. He recalls another fond memory: "[Williams] would occasionally spot me walking to work from the university and have his driver pull over and give me a lift. He wrote me a nice note when I was accepted to law school. Unfortunately, over the course of many moves, I lost it."
After getting acquainted with some of the young lawyers who frequented the library, McGuire applied to the University of Virginia School of Law. "When I advise kids who are considering law school, I always recommend [studying] anything to do with communication. Law is so much about communicating your position, understanding and listening to what other people are saying, and developing good judgment."
After graduating in 1983, he joined Philadelphia's Morgan Lewis & Bockius, then transferred to the Atlanta office of Powell Goldstein, practicing transactional, international and technology law. A decade later, he moved to New York City to handle M&A work for International Paper.
"I was excited about the prospect of moving to an in-house position, becoming International Paper's first lawyer devoted to corporate development as the company was growing very rapidly and expanding internationally," he says. "I found that corporate law suited my personality more than the relentless advocacy of litigation where it's kind of a white-hat/black-hat world."
Within five years, he was on a plane to Brussels. There, he would testify before the European Commission in connection with International Paper's major acquisitions and divestitures. "We acquired small distribution companies and large integrated paper companies—from several million to multiple billions in revenue and purchase price," he says. "Two representative transactions were the acquisition of the U.S. public company Federal Paper Board in the mid '90s and the acquisition of the Russian paper company OAO Svetogorsk from the Swedish company Tetra Pak in the late '90s."
He returned to New York in 2001 and, in 2003, became vice president and deputy general counsel of International Paper. He joined Eaton as executive vice president and general counsel in December 2005.
"Since I've been with Eaton, we have acquired mostly companies in the electrical, aerospace and hydraulics businesses," he says.
McGuire directs his legal team on related antitrust, competition analysis and intellectual property issues. "As our engineers develop new products, we need to ascertain what intellectual property already exists, what may be in the public domain, what we may need to license and what we can develop independently."
Daily concerns may include a patent issue in India or a commercial dispute in Shanghai.
"Eaton is global and my responsibility is global," he says. "The world is a smaller place. I feel a lot of empathy for the lawyers who are out in the field. I know what it's like to be out there looking for assistance or advice."
Search attorney feature articles
Helpful links
Other featured articles
Why Jessica Heltsley moved out of courtrooms and into divorce coaching
When democracy came under attack, Doug Poland heard the call
Michelle Suskauer relies on persistence—and niceness—to bring people around
View more articles featuring lawyers
Find top lawyers with confidence
The Super Lawyers patented selection process is peer influenced and research driven, selecting the top 5% of attorneys to the Super Lawyers lists each year. We know lawyers and make it easy to connect with them.
Find a lawyer near you