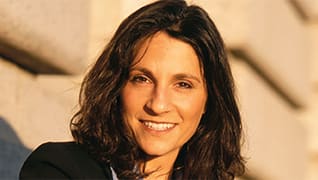 Photo by: Larry Marcus
Get on the Bus
Concerned by the lack of political interest among young Americans, Tracy Turoff decided to get them energized. All of them
Published in 2005 Ohio Rising Stars magazine
By Kathryn DeLong on July 20, 2005
Cleveland attorney Tracy Turoff was 24 years old when she was invited to speak at the 1996 Democratic National Convention in Chicago. To prepare her for the heady experience, a White House staffer spent a considerable amount of time teaching Turoff how to read the teleprompter. She was instructed not to memorize her speech or bring notes to the podium. Don't worry, the staff member assured her, the teleprompter won't break down.
It broke down.
The technical glitch probably occurred just seconds before Turoff's speech was to begin; Senator Carol Moseley Braun, who preceded her to the podium, didn't appear to have a problem. Then actor Edward James Olmos introduced Turoff. "Not being a professional speaker, I stood there, waiting for the teleprompter to come on," she recalls. Finally, "Olmos came up to me and said, 'Speak from the heart, kid.' Luckily, I'd memorized my speech. I'd practiced it a thousand times."
She spoke about young people's support of President Clinton, how they were able to relate to him and how he energized them with his talk show appearances and saxophone playing. The crowd responded with enthusiasm, and "I was invited afterward to sit in the vice president's loge to watch part of the convention with him," she says.
Turoff attributes it to luck, but her success at the convention resulted from natural talent, hard work and conviction. The same winning combination holds true today.
Now 33, Turoff speaks easily and eloquently about issues that are important to her. One of the top ones is the need to involve young people in the political process.
She started on that path early in life. She saw her first political debate, between two local candidates, as a fourth-grader at Center Elementary School in Mayfield Village, on Cleveland's East Side. At that point, politics became "something I wanted to do," she says. In 10th grade, she worked on her first campaign, for U.S. Senator Howard Metzenbaum.
She grew up around lively dinnertime conversation with her parents and siblings. They talked about politics and law. Her father, Newt Turoff, who died in 1995, was a non-practicing lawyer who ran a business. "He had this great sense of justice always," she remembers.
She studied political science at Ohio State University and saw state Senator Eric Fingerhut at a debate. Turoff was impressed. "He's so bright, so intelligent; his ideas are so well thought-out," she says. She soon started working for Fingerhut, first as an intern and then as his constituent aide. When he was elected to Congress, she took a hiatus from school to work for him in Washington, D.C.
Fingerhut, who describes himself as a "big fan" of Turoff's, recalls when she first came to volunteer for him in the Ohio Senate. "Within two seconds, she was running the office." Even then, as a young college student, "she knew how to work with people," he says. "She had a gift for public policy issues."
In 1992, she worked on his congressional campaign and proved to be a natural fundraiser and field organizer. In Washington, she assumed the role of gatekeeper, a job she "pulled off with real flair," he says. "She was basically in charge of the whole front-office operation. For someone that young to have the level of responsibility she had is unique. She was very mature beyond her years."
Turoff remembers it as a fun time. "I got to meet everyone — the president, the vice president, the first lady." When Fingerhut lost his bid for re-election, she went home to Cleveland and enrolled at Case Western Reserve University. Around the same time, she revived the Young Democrats of Cuyahoga County and became its president. "The group is still thriving," she says. She also became involved in the Young Democrats of America and served as national chairwoman from Ohio for that group.
Concerned that there weren't enough young people interested in politics, Turoff and another member of the national group launched the Democratic Youth Bus Tour, an adaptation of Clinton's bus tours of different states.
They raised money from unions and private individuals for the tour, which originated in Washington, D.C. A thousand people attended the kickoff; even Turoff's political science adviser from Case joined in, and HUD Secretary Henry Cisneros spoke to the exuberant crowd.
Building on that promising start, a busload of 18- to 34-year-olds from all over the country zigzagged through 40 states in 82 days during the summer of 1996. The little idea became something huge, with some cities really turning out. "When we pulled into Portland, Maine, there were 3,000 young people in their city center. There were concerts, bands, both senators came; tons of elected officials, media, everybody running around registering people to vote," Turoff says.
"I was thrilled, so excited, absolutely elated that young people were really getting involved."
By the end of the tour, the Democratic Party had adopted it as its own. Two buses were added right before the convention, and Turoff was asked to speak as a representative of young Americans. "It was exciting," she says.
"Not many people can write and deliver a speech to a national convention," Fingerhut notes. "She has the ability to speak passionately. A lot of people care about things, but they're unable to communicate it. She has a natural talent, but she's worked hard at it."
Turoff graduated in 1997 and received a fellowship from Case to study abroad. She spent a month in England as an intern with the British Parliament, comparing the youth participation in government and politics in western Europe with that in the United States. "Young people there are probably as interested and disinterested in politics and government as they are here," she says. "What's most interesting is how very aware they are of American politics and government. At any moment they're very aware of what the president is doing."
She has remained involved in politics, volunteering for Al Gore in the 2000 presidential race and local campaigns in recent elections.
Dead Sea Days
Turoff graduated from Cleveland-Marshall College of Law in 2002 and spent a summer studying international commercial transactions in Israel and Jordan. She served as an assistant Cuyahoga County prosecutor, gaining significant trial experience. Then, in January, she joined the women-owned firm of Giffen & Kaminski, which specializes in business litigation. "To be a successful community, you need economic viability," Turoff says. "It makes the greater good for the community."
Kerin Lyn Kaminski, who founded the firm with Karen L. Giffen in 2004, says Turoff has the passion that's required of a good trial lawyer. She's also "very, very well spoken, very personable." Those qualities "go a long way in what we do."
Turoff's devotion to causes is also a plus. "I cheer it on," Kaminski says. "Our firm is committed to public service. All our lawyers are involved in public work. We're looking for people involved in making greater Cleveland a better place to be."
Turoff is deeply appreciative of her employers' support. "I couldn't consider working somewhere I couldn't stay involved in the community," she says. In addition to politics, she works with the organization Drugs and Sports … a Losing Game, which teaches young people about the dangers of performance-enhancing and recreational drugs.
Her interests include sports — both playing and watching them. "I catch as many Indians games as I can," says Turoff, who is more than a little pleased to have a 21st-floor office overlooking Jacobs Field. She plays tennis a few times a week, and has a bike and baseball mitts at the ready in her car. Her husband, Ari Sherwin, is a former Olympic weightlifter who set an American record in 1994. The couple, who first met at Center Elementary School, live in University Heights.
Is she interested in politics for herself? "If you asked me in fourth grade, I would have said most definitely." But now, she says, "my skills are best used behind the scenes, helping good people get elected. I'd like to focus on law and civic activities."
Search attorney feature articles
Helpful links
Other featured articles
Nicole Aldridge-Henry coaches the next generation on more than just law
The first Hispanic justice on the state's high court set out to be more Grisham than gavel-wielder
An uphill death row case led the litigator to a new niche—and filmmaker Errol Morris to The Thin Blue Line
View more articles featuring lawyers
Find top lawyers with confidence
The Super Lawyers patented selection process is peer influenced and research driven, selecting the top 5% of attorneys to the Super Lawyers lists each year. We know lawyers and make it easy to connect with them.
Find a lawyer near you