Hoop Dreams
Chris Russell knows his way around courts of all kinds
Published in 2004 Ohio Super Lawyers magazine on December 27, 2003
Updated on July 30, 2015
"Nomatter where you go in our country, there is always one constant: basketball hoops. They are found on garage doors in middle America, on silos in the country, on telephone poles in the city, in churches, in prisons, in big schools and small schools, in black schools and white schools, in playgrounds and in mansions, and in virtually every other location that you can imagine. The meaning of this can only be one thing: the game is something special and it can bring people together."
No one knows this better than Chris Russell — for he wrote the above words in the last chapter of his book, The Final Buzzer, published in June 2000. On the surface, the book is a 127-page reflection on Russell's college basketball career. But it goes a lot further — offering a glimpse into the life lessons learned by a student athlete at a small liberal-arts college. Before becoming a partner at Porter Wright Morris & Arthur in Columbus, Ohio, Russell shot hoops for Kenyon College, a NCAA Division III school. He was elected to the Kenyon Hall of Fame in 1998
"Christopher Russell gives a good portrait of what it's like to play college basketball away from the glare of big-time, high-pressure sports," writes Bill Bradley, ex-presidential candidate and former New York Knicks basketball player. "He reminds us that the game is for those who live it and play it because they must."
The book sold well in Ohio when it was first released, particularly in the Columbus market.
Like millions who love college basketball, Russell was first drawn to the game because of his joy of competition and willingness to work hard, and his parents shared his love for the game. "There is something special about walking into an empty gym," Russell writes in the book. "It is a forum for uninhibited thought. It is a place where nothing else in the world matters. It is a place where the only thing you need to remember is to turn off the lights when you leave. It is special."
For Russell, the book was written out of his love and appreciation for college athletics. "It was also a way to say thanks to my parents and coaches for all of their help and support," he says. The self-confessed "hoopaholic" is the son of a former college hoopster — his mother, Ruth, played ball at Wilson College in Chambersburg, Pa.
Today, Russell lives in Upper Arlington with his wife and three children. He practices in the fields of labor and employment and workers' compensation, representing various companies before state and federal courts and administrative agencies. He has been certified as one of the state of Ohio's first specialists in the field of workers' compensation by the Ohio State Bar Association. A substantial portion of his practice also involves covenant-not-to-compete cases and Americans With Disabilities Act defense litigation. In 1998, Russell was a "Forty Under Forty" award recipient, given out by Business First, a Columbus business publication.
So how does Russell's experience as a college basketball player translate into his current profession? "I believe that everything about athletics carries over into life," Russell says. "Specifically, preparation and hard work are the only way that you get better in sports, and I believe that this also holds true with the practice of law."
Unfortunately, reconstructive knee surgery has put a halt to Russell's basketball career — coaching or otherwise. "I still run a lot, play a lot of tennis and chase my three kids around." While Russell has no future basketball plans, another book always remains a possibility, he says.
For a copy of The Final Buzzer, visit Joseph-Beth Booksellers, Borders Books & Music, Barnes & Noble, and other local stores
Other Featured Articles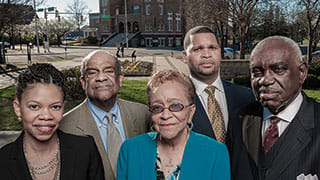 'We've Come a Rather Remarkable Way'
An oral history of civil rights and the African-American bar 60 years after Montgomery Featuring Kendall C. Dunson, G. Courtney French, Fred D. Gray, , Derrick A. Mills, Kenneth O. Simon, Stephanie Mays, Danielle Ward Mason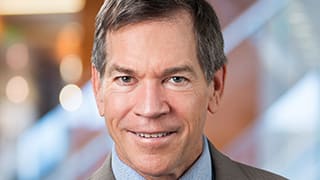 Brave New World
Streaming has replaced theatrical but what will replace streaming? Schuyler Moore on the state of film financing Featuring Schuyler M. Moore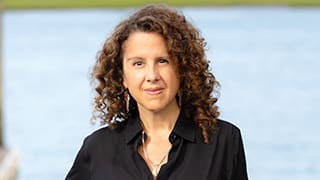 The Complete and Total Badass
Nina Pirrotti on fighting the good fight Featuring Nina T. Pirrotti