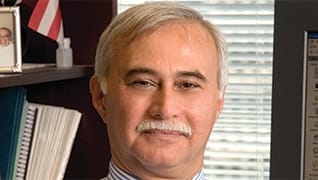 Photo by: Gary Kessler
Lighting the Fire
José Feliciano sparks Hispanic empowerment
Published in 2007 Ohio Super Lawyers magazine
By John B. Kachuba on December 22, 2006
Don't bother teasing José C. Feliciano about his name. He's already gotten a ribbing from the leader of the free world. The exchange with President Bush took place at a meeting of the City Club of Cleveland last spring, an incident later lampooned on The Daily Show with Jon Stewart. Feliciano introduced himself during a question-and-answer period with the incredulous president, who said, "It's like the time I called the guy and said, 'Hey, this is George Bush,' and he said, 'Come on, quit kidding me, man.'"
Feliciano has had his "15 minutes of fame" twice. He represented cantankerous Cleveland Indians slugger Albert Belle, who had been initially charged with assault in a 1995 Halloween incident after teens egged his house. Belle pursued them in his Ford Explorer, accidentally hitting one of them. Feliciano was able to get the charge against Belle reduced to reckless operation of a vehicle. The story was reported on ESPN and in Sports Illustrated, The New York Times and The Washington Post. "Of course, they all did a takeoff on José Feliciano, the blind singer, representing Albert Belle," Feliciano says.
Both Felicianos were born in Puerto Rico, only five years apart. While the singer/guitarist is known as the first Latin to cross over into mainstream music with his cover of the Doors' "Light My Fire," José C. Feliciano would like to be known as an attorney who has helped many Hispanics successfully cross over into American society.
"I was only 2 years old when my father came here to Cleveland from Puerto Rico," Feliciano says. "He was something of a pioneer, since we didn't live in a Hispanic neighborhood. We were among the first.
"In the '50s, Cleveland was the ninth-largest city in America with almost 1 million people. You could come here, work hard and create an opportunity for your family, which my father did. This was the American dream."
His father's dream for his children became a reality; his two sons became attorneys and his daughter a teacher. Feliciano graduated from John Carroll University in 1972 with a bachelor's degree in psychology. He earned a law degree from Cleveland-Marshall College of Law in 1975 and for good measure, added a master's in business administration from Cleveland State University in 1984. Before joining Baker & Hostetler in 1985, he spent several years serving as a chief prosecuting attorney for the city of Cleveland.
In that position, he developed a mediation program for his office that allowed 15,000 cases, from a total caseload of 50,000, to be mediated. The mediation and negotiation skills he learned there serve him well today at Baker & Hostetler, where he practices commercial litigation and represents such clients as IBM, CBS and Eaton. He has served as counsel for New Era Builders Inc., one of the largest Hispanic construction companies in Ohio, and also for the Hispanic Business Association. "I have found that helping to solve business problems or financial issues for Hispanic businesses and helping them to grow the economy has been more rewarding than anything else," Feliciano says.
Recently appointed as the American Bar Association's representative in the 6th Circuit (Ohio, Kentucky, Michigan and Tennessee), Feliciano is now directly involved in the process of recommending candidates to the ABA Standing Committee on the Judiciary for any federal judgeship in the region. It is his responsibility to engage in due diligence of the candidate's qualifications and to make the initial recommendation for the candidate's nomination. Considering the age of some of the sitting Supreme Court justices, Feliciano could be in a position to recommend a candidate to that court.
That influential appointment is indicative of how far Feliciano has come from his youth. "It was hard," he says, recalling those earlier years. "Typically, I was the first Hispanic everywhere I went. I had to work a little harder."
Sister Alicia Alvarado of the Sisters of St. Dominic of Akron, who was also born in Puerto Rico, has partnered with Feliciano on various community projects. But she's known him for 50 years, ever since they went to school together.
"In school we always kept our eyes down, we were always very quiet. Some people called us mentally retarded," Alvarado remembers. "But we proved them wrong, especially José, who was always very bright. He's made us all proud. I'm a great admirer of José. He's a very wholesome individual—honest and impartial."
"There is more freedom here than in any other country," Feliciano says. "Maybe any country in history, but it's still not quite as free or equal as it should be. America is imperfect; the human condition is imperfect. I want to help America get to the ideals that she talks about, two twin towers of freedom and equality."
While Feliciano is sympathetic to the struggles of all immigrants in this country, he focuses on the Hispanic community. "A big driving force in my life is creating equal opportunity for my [people]," Feliciano says.
In 1983, that motivation led him to found the Hispanic Community Forum, created to give Hispanics in Cleveland the opportunity to voice their concerns to the larger community and to be able to translate those concerns into action. About 1,200 people attended the first forum, beginning an ongoing conversation among various Hispanic groups and with the greater non-Hispanic community.
From the community forum grew Feliciano's Hispanic Roundtable. "Our agenda is much more ambitious now," he says. "I call it E3—education, economic development and empowerment."
According to Feliciano, the dropout rate for Hispanic students in Cleveland is over 50 percent. "That's a huge issue for us," he says, "so the Roundtable asked, 'What can we do to stem the tide of the dropout rate, and at the same time, how can we get kids into college?' It's a twopronged approach."
Feliciano cites an example in which a Hispanic family had the opportunity to speak with Baldwin-Wallace College representatives who had taken an exhibitor's table at the first Hispanic Roundtable convention.
"There were a lot of synergies happening at the convention," Feliciano says. "This family was one. As a result of that contact, they got a scholarship for one of their children. That's terrific when those kinds of things happen."
Feliciano was instrumental in helping to reduce the Hispanic dropout rate when Judge David Dowd appointed him to represent the Hispanic community of Lorain, in a desegregation suit brought by the NAACP against the Lorain Board of Education and the state of Ohio.
"We are sympathetic to the idea of desegregation," he says. "It makes sense for America. But we are also proponents of bilingual education, and in order to have bilingual education you have to have a concentration of students who need that service."
The court ruled that the Lorain schools should become fully integrated, with the exception of Hispanic students needing bilingual programs, which would ensure their ability to learn in a bilingual program, and by extension, perhaps remain in school.
In addition to trying to better educate Cleveland's Hispanic community, the Hispanic Roundtable works to empower Hispanics to build social, political and economic leadership. The organization helped two Hispanics get appointed to the city's school board and has held two training sessions for people interested in running for public office.
"Our goal over the next 10 years is to get another Hispanic councilman elected in Cleveland," Feliciano says. "My hope is that in the next two decades we could have someone run for Congress from the West [Hispanic] Side of Cleveland."
Feliciano's advocacy for Hispanic empowerment has inspired Hispanics in the Cleveland area. Adrian Maldonado is director of procurement and diversity for Cuyahoga County and has known Feliciano for 20 years. Maldonado was born in Cleveland and grew up on the city's West Side. "José was one of a handful of mentors in my life," Maldonado says. "He was the key for many of us in the Hispanic community to coming out to the larger world. We emulated how José did it."
Feliciano's advocacy for Hispanics extends beyond Ohio. "Mexican Americans are not posing a security threat to the U.S.," Feliciano says. "This security notion has somehow gotten tied up with the xenophobia people have today, especially against Mexicans. The immigration debate is really an economic issue, and the answer to this problem is the path to citizenship, certainly not criminalization. Our job is to separate those issues and to talk about the net economic value that immigrants bring to this country."
Hispanics are the fastest-growing segment of the population, not only in Cleveland but throughout the country, Feliciano says, and they are an important part of the country's labor pool. Feliciano believes that "we need to work out a way by which those who are here, those who have made contributions, can become citizens."
While much of Feliciano's knowledge of labor and economics comes from his own experiences working with the Hispanic community of Cleveland, it is founded on some profound learning experiences he acquired during his one-year appointment as a White House Fellow. In a rigorous and intimidating application process that included writing an imaginary 500-word position paper for the president, Feliciano was one of 12 people, from an initial pool of 1,300 applicants, to be appointed to the fellowship in 1984.
The fellowship was created to teach people about the policy and politics mix that goes into any public decision, in the hopes that the fellows would take these lessons back to their own communities for implementation there.
Feliciano says that he and the other fellows were given access to political leaders of all levels, from the president and vice president, to Cabinet members and congressional leadership. "We had luncheon sessions and dinners with these people, all off the record. So you could ask them what they did and why they did it. I remember being in the State Department and hearing Secretary of State George Schultz say, 'The biggest threat that America will face in the future is terrorists.' I remember thinking, 'You've got to be kidding me,' but that ended up being absolutely prophetic."
As part of his fellowship, Feliciano was assigned to the Department of Agriculture and traveled widely throughout Central America and the Caribbean. His job was to evaluate the effects of the U.S. government's Caribbean Basin Initiative, a program designed to economically help out countries in that area. It was here that he developed "an appreciation for the relationship between politics and economics." That appreciation developed further as he visited the USSR, Hungary, Poland and France.
"I still can't believe I did all that," Feliciano says, "and all in one year. I felt like Cinderella."
That experience is what shaped Feliciano into the advocate he is today, according to Judge José A. Villanueva of Cuyahoga County's Court of Common Pleas. "He tapped the skills he learned and the connections he made as a fellow for the benefit of the community," Villanueva says.
"He never forgot his community in anything he did."
Search attorney feature articles
Helpful links
Other featured articles
The problematic past (stolen antiquities) and problematic future (AI) of art law
Karl Tilleman is as sure a shot in court as he was on the court
Genevieve Jenkins came to housing law through her work on South Africa's Constitutional Court
View more articles featuring lawyers
Find top lawyers with confidence
The Super Lawyers patented selection process is peer influenced and research driven, selecting the top 5% of attorneys to the Super Lawyers lists each year. We know lawyers and make it easy to connect with them.
Find a lawyer near you