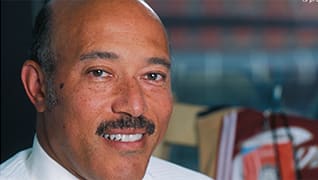 Photo by: Thom Sivo Photography
Making Cleveland Cleveland
Fred Nance is helping push Cleveland to the top ranks of American cities
Published in 2005 Ohio Super Lawyers magazine
By Larry Rosen on December 27, 2004
In the 26 years that have passed since he began his career, Fred Nance has been at or near the center of almost every major development in Cleveland's Herculean drive to transform itself into one of America's most livable 21st-century cities.
But Cleveland native son Nance never intended to become a local power broker. In fact, when he first came home from the University of Michigan Law School in 1978, his goal was simple: "I wanted to get a job as an attorney with a big firm," he says. Armed with this reasonable ambition, Nance signed up with the decidedly large firm Squire, Sanders & Dempsey, in its Cleveland office. Twenty-six years later, he is still there.
But this isn't a story about a young man who got lost in a too-big firm, toiling away anonymously while waiting for his gold watch. The young Fred Nance may not have planned to become a major player in the city he loved, but that is exactly what happened.
Save for a six-month stint in the firm's Florida office, Nance has been a fixture at Squire, Sanders & Dempsey, and in Cleveland itself, since that day he first arrived in 1978. He is his firm's Cleveland office managing partner (since 2002), and his memberships in local boards, committees and professional organizations are legion. This year, he received the Leukemia & Lymphoma Society's Service to Mankind award.
"I found everything I wanted right here," he says of his long association with Squire, Sanders & Dempsey. "The platform that the law firm gave me to do well while doing good, and to impact my community and the people I care about, was unlike any other I could have ever imagined."
And now, after playing major roles in Cleveland's fight to save the Cleveland Browns, in the expansion of Cleveland Hopkins International Airport and the city's efforts to improve its Municipal School District, Nance has another high-profile client: Cleveland's latest gift to the world, basketball star LeBron James.
"As much as I appreciate what I've done with LeBron, I've done a lot more important things in this community," says Nance — and it is true, his work with James occupies less than 10 percent of his time. But, he admits, it has also raised his profile even higher than it was pre-LeBron. "It has brought attention to myself and to my firm, because of the ubiquitousness of LeBron. I mean, people call me out of my past, people I went to college with."
Nance is not a front-line player in the world of LeBron. Agent Aaron Goodwin negotiates contracts — including LeBron's earth-shaking $70 million Nike deal, signed before he'd played one minute of pro ball. PR specialist Alex Boone, who introduced Nance to James and his mother, Gloria, handles most marketing issues. Nance's role involves protecting James from an avalanche of shady schemes and unauthorized uses of his name and/or image. "There was a period, I think, of about six weeks where we put out about 300 cease-and-desist notices because of all kinds of unauthorized uses," Nance offers. "There was an automobile dealer in Cleveland who put LeBron's picture on a billboard. In a Hummer. We got that taken down. And there's a guy in Akron who filed an 'I should have been your agent' suit that we fought." Everyone, it seems, wants a piece of King James.
Despite his history with sports in Cleveland (in addition to his work with the Browns, Nance has also negotiated agreements between the NBA Cavaliers and Gund Arena), Nance did not go looking for LeBron James. Instead, in November 2002, his friend Alex Boone approached him while both were working a Black Professionals Association fund raiser. "Fred," she said to him, "I have some people, good friends of mine, who need your help."
"To be quite honest," says Nance, "when she said that to me, I didn't know who LeBron James was." He soon found out. Nance invited James and his mother, Gloria, to his home, where, the legend goes, he interviewed LeBron James, almost instantly realizing that he was in the presence of an exceptional person and athlete. "He's got an amazing set of propriety about him. He's humble, self-effacing." James, says Nance, is that rarest of birds, a superstar who likes to share. "To be honest with you, I wasn't aware of his unselfishness on the court, but the combination of these traits convinced me that this guy is a winner."
And so Fred Nance boarded the King James express. His first task: to protect LeBron's amateur status — because there was the Hummer, and there were the throwback jerseys, and there was all the hype. Nance and James prevailed, winning battles to protect LeBron's right to compete as an amateur, long enough for his high school, St. Mary's–St. Vincent, to complete its season. Two years later, James has both his own comic book and his own Powerade drink, "Flava 23." Even Jordan never had his own flavor.
Despite all this, it's safe to say that Nance's work with LeBron James does not approach his largest contribution to the Cleveland sports scene. That came in the mid-1990s, when he teamed up with then-mayor Michael White to save NFL football for the city.
It began in 1993, with a campaign to renovate the city's aged football stadium. Nance, who had been retained by the city in 1992, was asked to work with Browns owner Art Modell on the team's stadium lease. The lease, which included plans for a $175 million renovation, made Modell nervous. A proud man and Cleveland fixture, Modell did not want this money to come from the people of Cleveland. In June 1995, Modell called for a moratorium on lease discussions. "We are not going to endure a campaign involving a ballot initiative," reads a letter sent to Nance by Modell on June 5, "and therefore, we are going to declare a moratorium on our discussions. We will pick this up at the end of the season."
A few months later, Nance and Mayor White were working in White's office when a television newscast caught their eye. "The news comes on," says Nance, "and there's something about [how] Art Modell is going to make an announcement on the future of the Cleveland Browns in Baltimore." Browns fans, traditionally among the most rabid sports fans in the world, were immediately put on a city-wide suicide watch.
The next night, Nance and White flew to New York, where they met NFL commissioner Paul Tagliabue. Tagliabue was as shocked as Nance and White. "I don't know how we're going to do it," he told the Ohioans, "but we will figure out a way to do right by Cleveland."
The process took three years and included several trips before Congress. At one point, Nance found himself face-to-face with legendary Dixiecrat Strom Thurmond, who bellowed, "You know, there're a lot of those Browns backers in the great state of North Carolina. We'd better do something about this." Nance became the go-between for the city of Cleveland and several prospective ownership groups. "It was a very stiff competition, and the groups would line up former [Browns] stars," says Nance. "One group had Jim Brown, one group had Paul Warfield." Another included Hall of Fame NFL coach Don Shula.
Meanwhile, credit card mogul Al Lerner, who had actually advised Modell earlier and had been working with the city and with Nance to secure a new team, sat on the sidelines. Finally, Lerner decided to jump in. "Al finally became convinced that he could do a better job than the groups that were competing," says Nance. "He walked in the door with Carmen Policy and Bernie Kosar, and Mike White, the mayor, supported him. Once they came in, it was pretty much over."
Or was it? The deal was to be completed by Labor Day 1998, with Nance acting as the go-between for the NFL and the mayor. Nance was counting on that end date. He had his own plans for that weekend. "I said, look, I'm going to be gone this weekend. I'm taking my girlfriend down to Florida and I'm going to propose to her."
The negotiations continued on, leaving Nance in Florida on one knee with a cell phone in one hand, the hotel room phone in the other hand and his would-be fiancée rapidly losing patience. "I'd told the guys in the NFL what I was going to do, and they kept saying, 'Fred, did you pop the question yet?' I said, 'No! If you'll get off the phone and leave me alone, I will!'" Finally, at 2 a.m., Nance put down the phones and convinced Jakki, his girlfriend, to take a moonlight walk. And there he proposed. Twenty-two hours later he was back on the phone, negotiating with Al Lerner.
"Things were nuts around here," says Nance, referring to that time. "There were death threats. Some of the lawyers had bodyguards. I took Art Modell's deposition at a secret location, under threat of contempt of court if I revealed the location."
In the end, Al Lerner, despite his early role as Modell's confidant, won the confidence of Cleveland. "Mike White embraced him publicly. He was our friend, and [Cleveland] accepted that. Art Modell, whose first instinct was to protect Cleveland from a $175 million stadium bill, became villain nonpareil."
The nature of Nance's high-profile cases tends to leave him open to peanut-gallery criticism. Indeed, he has wondered aloud whether taking on LeBron will result in great public scrutiny and criticism. His fears are well founded.
For his work with the Browns, with the airport expansion and with the takeover of Cleveland's public schools, Nance has been the occasional target of the alternative press. To them, Al Lerner is a "credit card hustler." Cleveland's airport expansion included a 10-year fight versus the suburban Ohio city of Brook Park, whose homes stood in the way of the new runway. With Nance's help, the city achieved harmony with Brook Park. When he helped Mayor White realize his goal of taking over Cleveland's shoddy public school system — at one time, Cleveland's schools had the lowest graduation rate in the country — Nance found himself representing the city in multiple lawsuits, challenging the constitutionality of the move. He won them all, including, he says, "one against the NAACP."
When he was a young lawyer, Nance says, he dreamed of being grilled in the pages of Point of View, Cleveland's local underground publication at the time. "I told myself, I'll really know I'm in the flow of things when I'm taken apart in that paper." At this he pauses, and chuckles. "In 1995, that happened."
It's all "water off a duck's back," according to Nance. Twenty-six years ago, as a first-year associate, Nance ran down a partner who'd been looking for help from another associate. His sprint eventually led to his inclusion as part of the team defending city council members who'd accepted kickbacks from carnival operators. The trial, Ohio's first to be televised, helped define Nance's career. "It helped push me into politics," he says, "and gave me connections that [eventually] resulted in the then-mayor of Cleveland, Mike White, to knock on my door and say, 'I need help.'"
Nance wants the best for his city. To him, this means opening Cleveland to the New Economy. Through his membership as vice chair of the Greater Cleveland Partnership (formerly the city's Chamber of Commerce), Nance promotes a forward-looking, business-friendly Cleveland. "The manufacturing base continues to shrink," he says. "We need leadership to help transform our economy from the old economy — what you would imagine Cleveland to be, manufacturing steel, glass and rubber — to the new economy, based upon information and technology."
So Cleveland that he bleeds rust, Nance is as responsible as anyone for the city's transformation from "mistake by the lake" to modern metropolis. LeBron James may be Cleveland's gift to the world. But Fred Nance is definitely the world's gift to Cleveland.
Search attorney feature articles