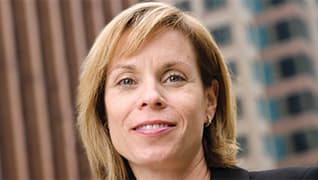 Photo by: Alejandro Rivera
Serving a Higher Power
Whether her client is the U.S. government or a convicted mobster, Carole Rendon is always working for justice
Published in 2009 Ohio Super Lawyers magazine
By Kathryn DeLong on December 22, 2008
Even before she switched to criminal defense, Carole Schwartz Rendon had seen her share of colorful characters. One in particular stands out: Gigi Portalla. The 6-foot, 220-pound Portalla's sole career aspiration was to make it into the Mafia. Rendon met the would-be Mafioso as an assistant U.S. attorney with the Organized Crime Strike Force in Boston—where she spent nearly a decade. "He was a real piece of work," Rendon says, remembering how he greeted his mother in court with a cheery, "How the f—k are you, Ma?"
Portalla was ultimately convicted of participating in a murderous battle to seize control of the New England Mafia, but in 1993 he came to Rendon's attention as a felon caught with a loaded gun.
Under what were then new sentencing guidelines, Rendon succeeded in getting Portalla's release revoked. "This was a brand-new area of law," she recalls. "I did a lot of work with the sentencing guidelines. At the time, it was a case map for how to do this."
Portalla went back to jail, and Rendon went on to wage other legal battles before moving home to Ohio to work at the Cleveland law firm Messerman & Messerman. In 1999, she and Jerry Messerman were in Columbus for a Medicaid fraud trial. Early one morning, while working out in the hotel gym, Rendon heard a story on National Public Radio about an alleged drug trafficker
in Boston who claimed that Drug Enforcement Administration agents had planted a tracking chip in his buttocks. "The plaintiff was Gigi," she says. "I almost fell off the elliptical machine!"
Rendon's previous work in the U.S. Attorney's office has continued to inform her criminal defense practice, now at Giffen & Kaminski in Cleveland. A federal investigation into law enforcement corruption she worked on in Boston was mirrored in a case where she defended a probation officer while at the Messerman firm in 1999.
The Cuyahoga County probation officer volunteered as a high school track coach and was accused of raping and kidnapping a 15-year-old female student. Rendon and Jerry Messerman were able to acquit him of many of the serious charges and a judge later threw out the rape conviction because of insufficient evidence. Allegations later surfaced that prosecutors prevented the probation officer's brother, an assistant county prosecutor, from taking the stand as a defense witness. The probation officer went on to serve nine months in prison for corrupting a minor and possessing criminal tools.
Then there was the Carabbia case.
Ronald Carabbia was an accessory in the 1977 car-bomb murder of Cleveland mobster Danny Greene. Carabbia was convicted of participating in Greene's murder, but even the prosecutor who sent him to prison eventually announced that he doubted Carabbia detonated the bomb. By the dawn of the new millennium, Carabbia was an old man who had served his time, yet he was repeatedly denied parole.
"Jerry and I were able to secure a new parole hearing," Rendon says, recalling with amusement a question posed by her eldest son. When he heard what she did for Carabbia, he asked her, "When did they go from being the bad guys to the wrongfully accused?"
She answered then as she answers now, that justice can be served only when both sides are effectively and fairly represented. "My commitment has always been to the justice system irrespective of what the verdict is," she says.
That's why she has volunteered "a gazillion" hours to the Justice System Reform project headed by Cuyahoga County Commissioner Tim Hagan. Among her activities, she chairs a community council of nongovernmental agencies that deal with the criminal justice system. "We're involving all the players in the justice system to make it more effective, more efficient and more fair," she says.
She's a passionate advocate of open discovery, which, at the time of the interview, was not yet in place in the county's court system. When the defense and prosecution have equal access to the evidence, and when both sides are represented by effective advocates, "there's a much greater likelihood of getting to the truth," she says. In November, Rendon's work paid off when the Common Pleas Court mandated full discovery in all criminal cases.
Rendon grew up in Cleveland, where she acted in community theater productions and graduated from Mayfield High School on the city's East Side. She majored in theater at Northwestern University before switching to political science after her sophomore year. After graduating in 1987 from Northwestern's School of Law, she served as a clerk for Joel Flaum, now chief judge of the 7th U.S. Circuit Court of Appeals in Chicago. In the fall of 1988, she was accepted into the U.S. Attorney General's honors program. The program, run by the Department of Justice, aimed to attract bright, young lawyers to work for the federal government. Only a few slots were available nationwide. 
Her job with the Organized Crime Strike Force was supposed to be the first of several in the honors program, where she was to make the rounds of other offices and legal disciplines. Instead, she stayed until 1997. "I loved it there, they loved me and I never left," she says.
In her first big case, she conducted a high-profile, three-and-a-half-year investigation of corruption in the Boston Police Department. "The mob had a lot of police officers on their payroll," Rendon says. The public tends to think in terms of black and white, "that Boston police officers would surely be on the side of the good guys," she muses. "There were a few police officers who were not."
Around 1992, the focus of her work changed to Asian organized crime. She spent the following two years looking into prostitution rings and handling drug prosecutions and alien smuggling cases. The groups were extremely mobile, crisscrossing the country and beyond.  "I met investigators and prosecutors across the country and overseas. A case in Boston would have connections in Hong Kong. It took a lot of effort and cooperation."
She had few female colleagues in those years, but one of them, Diane Kottmyer, now a superior court judge in Massachusetts, became her mentor. "She took me under her wing and introduced me to everyone in the most glowing terms. Because of that support, I didn't notice that there were not a lot of women. And the guys I worked with were fabulous—they were gender-blind."
In 1994, U.S. Attorney Donald Stern asked Rendon to take over the Organized Crime Drug Enforcement Task Force. As chief, she supervised the lawyers who tried all the major drug cases in Massachusetts. The task force was a cooperative effort of federal and state enforcement officers, including the DEA, the Bureau of Immigration and Customs Enforcement and the FBI, all working together on cases involving wiretapping, undercover operatives and confidential informants.
She enjoyed the challenging aspects of the work. "I like a steep learning curve," she says. But one essential component was missing. "It was almost impossible to try cases while supervising 14 lawyers with incredibly big court dockets. I was managing schedules, managing the budget. I missed being in court."
"That's what I like the best and that's what I'm best at," she says. "Absolutely my favorite thing is to be in the courtroom trying a case."
She left the U.S. attorney's office in 1997 and spent a year with the Boston firm Epstein Becker and Green. A year later, Rendon and her husband, Michael, who both grew up in large, close-knit families, moved to Ohio so that their two sons could experience what they had growing up. Their third son, now 5, was born after the move.
Michael Rendon spent 20 years with the INS as a special agent and now serves as a special assistant U.S. attorney in Cleveland. "He spends his day prosecuting people and putting them in jail. I spend my day defending people and keeping them out of jail," Carole Rendon says. They don't talk shop at the dinner table.
At Messerman & Messerman, she handled a mix of civil and criminal cases. When Messerman and his wife, Gale, retired in the summer of 2003, Rendon and the other lawyers started their own firm. They were together until she left in May 2007 to join Giffen & Kaminski, a Cleveland firm owned by Karen Giffen and Kerin Lyn Kaminski. Today, she handles complex civil cases and criminal cases in both state and federal court—tax, mail and bank fraud along with rape, drugs and kidnapping. "I like the wide variety," she says.
Kaminski notes that before Rendon came on board, her firm did not have a criminal practice. "Not only did she bring the added dimension of a top-notch criminal defense practice, she is a dynamite trial attorney who has been able to jump in and handle some of our most complex civil litigation matters as well," Kaminski says.
The firm is composed of all trial lawyers, which suits Rendon perfectly. "It's a litigation boutique," she says. "It attracts real bright and talented lawyers who produce incredibly high-quality legal work for a unique and diverse client base."
And, "They're incredibly supportive. If I say, 'I'm going to be the room mom for my son's Halloween party,' no one is going to look at me cross-eyed when I walk in on Halloween morning."
She appreciates the respect. "We work hard. The focus, however, is as much on being a success in life as it is having a successful law practice," she says. As much as she loves being in the courtroom, "I am a much better lawyer when my life is in balance."
Search attorney feature articles
Helpful links
Other featured articles
How Sharlei Hsu went from would-be doctor with a fear of public speaking to a top litigator
Carl Poplar is still tougher than anyone else
Paul Sinclair's life and practice are guided by his LDS church principles
View more articles featuring lawyers
Find top lawyers with confidence
The Super Lawyers patented selection process is peer influenced and research driven, selecting the top 5% of attorneys to the Super Lawyers lists each year. We know lawyers and make it easy to connect with them.
Find a lawyer near you