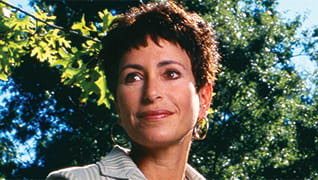 Photo by: Thom Sivo Photography
Survivor's Tale
Caryn Groedel knows 'Tribal Council' is just another way to say 'courtroom'
Published in 2006 Ohio Super Lawyers magazine
By David Searls on December 20, 2005
Lawyers may gripe about capricious judgments, unfair settlements and contrary clients. But they've never gone six days without water, thumped coconuts for breakfast, lunch and dinner, or lived with rats — the furry, four-legged kind.
Caryn Groedel has. And she actually volunteered for the abuse. "It was for the adventure," says the 47-year-old civil rights and employment discrimination trial lawyer with her own practice in Columbus, Ohio. "And I wanted to let my three daughters know that dreams come true."
Apparently Groedel's dreams included beating astronomical odds to gain a spot on a nationally televised reality show that snatches cast members from kith and kin for six weeks, secretly dumps them on some godforsaken speck of land in the company of two machetes, one pot and 19 cutthroat co-contestants.
Anyone who knows anything about CBS's Survivor — meaning just about everyone with a television set — knows that the heat, exhaustion and physical challenges, along with the scarcity or absence of food, water, shelter and even one good coffeehouse, is the easy part. Much more difficult is the challenge of forming (and inevitably breaking) alliances for the purpose of ganging up on and eliminating members of two competing tribes, one by one, until eventually you — and only you — survive a season's worth of tribal councils and win the million-dollar top prize and quarter-hour of celebrity.
Groedel credits her professional training and instinct for discipline, perseverance, preparation and ability to read people for letting her outlast 15 of her equally crafty cast mates.
But nothing could prepare her for those rats.
Blame Isabel
It was the middle daughter of Caryn and Howard Groedel, age 13, who pushed and prodded her mother into trying out for their favorite television show. Isabel even got a little sneaky.
"Mom really didn't know I was applying for her. I filled out as much [of the downloaded entry form] as I could and then put it on her nightstand," she says.
Groedel played along. She's a dedicated runner, tennis player and hiker, not to mention being an accomplished trial attorney. How much harder could Survivor be?
"I knew she could do it, because Mom's one of the most determined people I know," says Isabel.
Groedel didn't really give it her all until she found herself in Pennsylvania in July, having made the first cut. "I really bonded with the woman in the casting department in Pittsburgh," she recalls. "I said at that point, maybe I've got a chance."
Groedel had beat most of the 70,000 entrants vying for 20 cast spots. She became one of 700 semifinalists, then one of 50 finalists invited to L.A. in September to meet with famed reality show producer Mark Burnett, and undergo 12 days of intense questioning and psychological testing. She returned home in mid-September and found out on October 12 that she'd been selected for what would be Survivor: Palau.
But that was more than she knew back then. She was told only that she'd be leaving — for somewhere — in two weeks. Because of the secrecy clause, she trusted just her husband, Isabel and their oldest daughter, Hannah, 16, with the news that she was to be a contestant on Survivor's 10th season. Six-year-old Mia was deemed too young to keep such a secret, so, like everyone else, she was informed that her mother was going to Cambodia for six weeks to build houses with Habitat for Humanity.
Instead, she headed for a speck on the map in the North Pacific, southeast of the Philippines.
Desperate Castaways
In past episodes of the wildly popular show, cast members were allowed to strategically select a small number of such critical personal items as knife, flashlight, matches, insecticide and sunscreen. It was only when the Survivor: Palau gang had dressed and assembled on an island for what they thought was a preliminary photo op that they found that the game had actually started.
"They emptied our pockets and left us there," says Groedel.
"There" was one of the hundreds of islands that make up the archipelago of Palau, known for its white sand beaches, diving and snorkeling. All of which is great if there's a four-star resort nearby. There wasn't.
Knowing that food would be a challenge regardless of where the show took them, Groedel had "bulked up" to 123 pounds before leaving civilization. It was a smart move. The castaways found coconuts. Lots of coconuts, and nothing else. Groedel watched some of the hunkier males crack them open with a single swing of a machete, and tried to do the same.
"It took me about 20 whacks to open even one," she admits.
The city girl had never been much of a camper, and she didn't possess some of the wilderness smarts that distinguished some of her cast mates. But she knew that the weak and the clueless tend to be the first to go, so she was determined to become invaluable in other ways.
"The others joked that I picked so much wood that I was deforesting the island," she says. "My strategy was to be helpful and nice to everyone."
Of perhaps equal importance was her decision to hide the fact that she was a lawyer. "They might have been intimidated, or figure I didn't need the money," she says. So she told the others she was a civil rights activist instead of a civil rights lawyer. She could have been immediately voted off the island if the others knew just what a fighter the slender litigator really was. They'd have called an immediate tribal council if they'd seen her win the first jury trial in Ohio for a man sexually harassed by a female co-worker. Or learned of the $1.8 million verdict she won from UPS on behalf of a plaintiff claiming handicap discrimination. (Although that one was later overturned by the Court of Appeals.)
Or seen her take on one of greater Cleveland's most exclusive suburbs and its police chief not once, but three times on behalf of female plaintiffs charging sexual harassment. One client, a former police officer, said her boss had retaliated by discontinuing officer training when she turned down his advances, until she was eventually demoted to part-time dispatcher. Another dispatcher claimed to have been sexually harassed despite the fact that her husband was also on the force.
The village stood by its powerful chief — but paid an undisclosed sum to Groedel and her clients.
"Caryn is detailed, passionate and hard-working," says husband, Howard, also a lawyer and a partner at Ulmer & Berne. "I assumed she'd do well."
Groedel earned a bachelor's degree at George Washington University in three and a half years, and made it through the George Mason University School of Law at night while working as a legal secretary during the day.
That mental toughness helped her steer clear of self-defeat on the island, thousands of miles from home and family. "I thought about my children in the morning and in the evening," she says.
The rest of the time she reserved for, well, survival.
Groedel remembers heat, hunger, exhaustion ("You're starving and they want you to do all these physical challenges") and especially the unwary rats that met her tribe when they relocated to a nearby beach in the mistaken belief that things couldn't possibly be worse than at their original landing site.
"The rats were really running all over us," she recalls. The vermin raided their food stores and boldly explored the newcomers while they slept, exposed.
As with many a "reality" series, the thousands of hours of footage were edited to fashion whatever story line it was thought would be most appealing to audiences. Cast members were converted to easy stereotypes: the dumb blonde, the jock, the sexy Vegas showgirl, the good-natured hick, the natural leader.
"They made me out to be the confrontational one," Groedel says.
While there were only a few occasions when she had run-ins with cast members — not a bad tally considering 40 days of close proximity to hungry, thirsty, sweaty and odorous people ("the men smelled disgusting") who are actively plotting to send you packing — each occasion got caught on tape. Groedel's final mild outburst seemed to have antagonized the other four and contributed to her downfall.
The catch upon elimination is that cast members still can't go home. People would talk and the show's element of surprise be compromised, so Survivor: Palau losers were simply sailed to a nearby island that was used as the show's headquarters.
Groedel chuckles as the memory of how her rigid discipline held up even after all she'd been through. "They had Coke, but not Diet Coke, so I didn't drink it" despite now carrying 107 pounds on her 5-foot-6-inch frame. "But I did eat an entire pizza."
Celebrity Lawyer
Although 19 of the 20 castaways missed out on the million-dollar payday, none went home empty-handed. Groedel says that they won consolation cash that escalated from $2,500 to $100,000, based on order of finish.
The cast was introduced to American viewers in February, four months after taping, and Groedel became an instant celebrity of sorts. In fact, the media interview requests began even before that official introduction.
"Somehow, word got leaked onto the Internet and I got a ton of calls. I wouldn't lie, so I had to stop answering my phone."
After February, Groedel was interviewed or featured in The Plain Dealer, The Cincinnati Enquirer and The Akron Beacon Journal and starred on countless fan Web sites. She appeared on CBS Early Morning after the episode in which she was eliminated aired. She signed endless autographs, still gives motivational speeches and attends "meet and greets" for a handsome hourly rate.
Groedel calls the program "neither good nor bad for my career," except for the fact that it was difficult to get back on track once the publicity machine kicked in. "Strangers would stop me in the mall and want to talk about the show."
Things are quieter now, and she's once again more of a lawyer than a celebrity. She's making the news in Cleveland by suing Cuyahoga County Probate Court on behalf of a female magistrate who doesn't make as much as even her lowest-paid male counterpart. And she's going after one area bank for age discrimination and another for race discrimination.
In the meantime, Groedel keeps in touch with about a half-dozen of her Survivor friends, including some she voted off the island.
So would she go back?
No way, she says. "I've done it. Why would I do it again?" she asks. "Now I want to be on The Amazing Race."
Search attorney feature articles