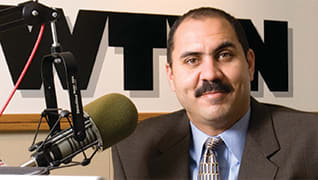 Photo by: Submitted Photo
The Barrister
Tony White is still scoring from way downtown
Published in 2006 Ohio Rising Stars magazine
By Kathryn DeLong on June 16, 2006
The competitive fire of an Ohio State power forward still sizzles in Tony White, only now it's displayed in court rather than on the court.
"The closest thing to getting elbowed in the nose in the Big Ten is to be a trial lawyer," says White, partner-in-charge of Thompson Hine's Columbus office since June 2005. In basketball, "you're fighting tooth and nail for two hours to win a game. It takes the same kind of preparation and dedication to win a jury trial."
He relishes the competition, says Chris White, his wife of nearly 11 years. "I've never known anyone who plays as hard and works as hard as Tony does. When it's time to do work, he's all work. He doesn't show his dimples when he's working."
White played for the Ohio State University basketball team for four years, serving as captain for the 1988-89 season, his senior year. As a junior, he announced his intention to go to law school. "I was nervously confident I would get in," he says. "Dick Vitale gave me the nickname 'The Barrister' my entire senior year."
Vitale, the famously exciteable college basketball analyst for ABC Sports and ESPN, named him well. After earning two undergraduate degrees (in business finance and business marketing), White went on to Northwestern University School of Law. He graduated in 1993 and joined the Columbus office of Kegler, Brown, Hill & Ritter. He practiced there until January 2004, when he left for Thompson Hine.
Calling the Shots
At 38, White is one of the youngest partners-in-charge in the history of Thompson Hine. And he's one of only two black attorneys in Columbus to lead a major law firm — the other being Alex Shumate of Squires Sanders.
He's also the on-air college basketball analyst for NewsRadio 610 WTVN, which means that six months out of the year, the Ohio State Buckeyes are never far from his mind. "I'm such a fan of college basketball and a fan of Ohio State basketball," White says. "There are few moments away from the practice of law that I'm not doing something related to college basketball. It's part of my life."
For a time, he'd hoped that professional basketball would be a part of his life as well. Although his father, the late Al White, was a Franklin County prosecutor who handled such high-profile cases as that of serial rapist Dr. Edward F. Jakson, White's dream was to be a professional athlete. "Every scholarship basketball player wants to play in the NBA," he says. "But I only averaged about 10 points a game. I was smart enough to realize you didn't play in the NBA averaging 10 points a game."
That's when he began to ask himself, "What am I good at?" It occurred to him that reporters sought him out for interviews because he could articulate what had gone on during games. Perhaps, he thought, he could turn his communication skills into a career as a trial lawyer.
Keeps on Truckin'
Today, White specializes in complex business litigation with an emphasis on employment and transportation/trucking. After arriving at Thompson Hine, White set up a Motor Carrier Emergency Response Team, consisting of trial lawyers and accident reconstruction experts available 24/7 to be dispatched wherever an accident occurs.
Getting to the site before the wreckage has been cleared away or snow has covered up the tracks allows the firm to assess the truth of the situation, he says. "I tell them to go find out what happened. We'll deal with the facts. Our real enemy is not having the information to find the truth. When you fill in the gaps by guessing, sometimes you get it wrong."
This innovative service provides "instant capability to respond to a catastrophic event like a truck accident," says White, whose largest client is R+L Carriers, based in Wilmington, Ohio. "We had clients who needed it but didn't know they needed it. It's a very successful program."
Although he'd been at Thompson Hine a relatively short time, White was the logical candidate when the firm sought a new partner-in-charge. It was an easy choice, says David Hooker, Thompson Hine's managing partner in the Cleveland office. "Tony obviously is a natural leader, and we saw that in his client work and his work in the firm."
Two aspects of leadership are important in a partner-in-charge, Hooker says. One is to be a leader in the office, working with the partners, associates and staff to focus on client service, which is the No. 1 goal. "He has been able to communicate that very effectively."
The other is to be a leader outside the office. "We wanted to raise the profile of the Columbus office, and Tony has high name recognition in the Columbus community."
White jumped at the opportunity. When Hooker asked him to take the position, "I thought about it for about 10 seconds," he says.
That's about as long as it took him, back in 1997, to accept the on-air analyst role at WTVN. The radio gig came about after White made a few appearances on one of the AM station's sports shows; based on his performances, he was later called upon to analyze the firing of Buckeye basketball coach Randy Ayers. "Nobody called in and said, 'Get that moron off the air,'" White recalls, smiling. "The station didn't explode."
On the contrary, "Tony is very polished on the air," says WTVN Sports Director George Lehner, who has been in Columbus for 30 years and remembers White as a high school basketball player. "He knows basketball, and as a trial attorney, he knows how to bluff his way through anything if he doesn't know the answers."
But White doesn't need to do a lot of bluffing. "I have to keep up on Ohio State basketball, on their opponents and how they're doing, and how Ohio State is viewed nationally," he says. He also has to know who the best players are in the nation, "and I have to be able to compile and digest the information to be able to talk about it." All of it takes a "decent amount of time during a six-month period."
At times he ends up multitasking like a madman. In the first round of this year's NCAA tournament in Dayton, for example, the Buckeyes played on a weekday, and during halftime, he was on his Treo, e-mailing clients. If Big Ten basketball champ Ohio State hadn't lost to Georgetown in the second round, he gladly would have kept up the frenetic pace. He never secretly hopes for a Buckeye loss, even if that would mean getting the chance to slow down. "I can always work at night," he says.
When he was a sophomore, his team also lost to Georgetown in the second round of the NCAA. And when he was a senior, the Buckeyes were ranked 11th in the nation before their leading scorer and point guard Jay Burson broke his neck after getting fouled from behind while going in for a breakaway layup. The game was on the road in Iowa, toward the end of the regular season. "Jay lost his balance and slid into the base of the basket. He cracked his back and neck on the base and fractured one of the vertebrae." At the time, nobody realized how hurt Burson was, White says. "He said, 'My neck hurts.' I'm telling him, 'Don't be a wimp, you're fine.' The next day, Jay is in a halo because his neck is broken."
That was the end of the Buckeyes' NCAA dreams that year. They went from anticipating the big dance to competing in the lesser NIT. "It's one thing to lose your point guard and one thing to lose your leading scorer. When you lose both, you've got real problems."
The 2005-06 Buckeyes were a better team than White's — quicker, faster, higher jumpers. He predicts that with the Buckeyes' stellar recruiting class, they'll be in the Top 10 or 15 in the nation next season and will be fighting once again for the Big Ten Championship.
Staying in the Game
After his college hoops career, the 6-foot-8-inch forward stayed in the game by playing on an exhibition team with some of his former Ohio State teammates. They traveled by van to Division 1 schools, while White sat in the back, holding a flashlight and reading depositions. He'd come home with sore muscles and his body covered in bruises. "My body would take such a beating at my advanced age," he says. But he loved the competition. "I did that for almost 10 years, into my mid-30s. I would go on a court with guys I played with when I was 22 in front of 12,000 to 15,000 people. It was something I couldn't pass up." When the NCAA stopped sponsoring exhibition teams, "it all went away, which was good for me," White says. "I probably would have torn something."
Beyond basketball, he's a big fan of the Washington Redskins (he was born in Washington, D.C.). He also likes baseball and plays some golf. "I thought I would be great at golf," White says. "The ball just sits there, nobody hits you. I'll be fine, no problem." He chuckles ruefully. "I'm still working on the game of golf."
To get in practice time on the links, he has only to step outside his Gahanna home onto the Jefferson Country Club course. He and Chris live near the women's 18th tee box, not far from the clubhouse.
White turns 39 in September, the same month he and Chris celebrate their 11th anniversary. They dated in high school, at Watkins Memorial in Pataskala, which is about 15 miles east of Columbus.
The couple has two sons, Donovan, 8, and Marcus, 3 (both tall for their ages, of course), with another child due in June at the time this magazine goes to press. The kids have heard their father on the radio and have seen him on TV; the latter was in an ESPN Classics clip of him in his Buckeye days. Donovan's only comment was, "Wow, Daddy has fluffy hair," Chris reports with a laugh. "They keep us grounded."
Not that her husband needs a lot of grounding. Despite his excessively busy life, "he's a free, easygoing spirit," she says. "Tony is so even keel. He assesses everything that needs to be done. He prioritizes. He just does it."
Perhaps that's all part of his team spirit. White says hard work and a team-first attitude make the difference in everything a person does. "I was a decent player because I worked very hard at what I did. I wasn't the best player on the team by any stretch, but I was always willing to put the team in front of myself."
Search attorney feature articles