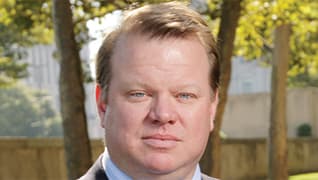 Photo by: Alejandro Rivera
The Best Defense
Whether it's the scene of a car wreck or a mine collapse, Larry Sutter sends his best man: Larry Sutter
Published in 2008 Ohio Super Lawyers magazine
By Kathy DeLong on December 21, 2007
In the tense, surreal aftermath of 9/11, Cleveland lawyer Larry Sutter was in Knoxville, trying the most emotionally charged case of his career, Manes v. DaimlerChrysler, which involved a child catastrophically injured in a crash and $36 million in costs for her past and future medical care.
When the trial opened on Sept. 10, 2001, the child was 4 years old, quadriplegic and dependent on a ventilator. Sutter's defense team wasn't there to challenge the cost of caring for the girl; the task was to prove that her own actions, not a defect in the rear seatbelt, caused the horrific injury.
The child was in the back seat of a Chrysler minivan when a 16-year-old driver hit the van head-on. As Sutter would later demonstrate to the jury, the rear seatbelt could not have properly protected the girl because, prior to the crash, she had slipped out of the shoulder strap and put it behind her back.
The child was in the courtroom with her parents for one full day. "It was impossible not to be emotionally involved," says Sutter. "My heart goes out to them."
The jury returned a defense verdict. "It was the defining moment in my career," he says. Still, "When we won, there was very little celebration on the defense side."
Sutter, a products liability defense attorney, is one of a handful of lawyers in the country who can take on a case of that magnitude—and win. He has gone to trial with 84 cases in 31 states; he's won 70. Thirty of those had exposure of $10 million or more.
His cases are big and expensive, but his demeanor is modest. "If you met him outside of his lawyering, at a restaurant or sports event, you'd never know he was managing partner of a big firm in Cleveland who's tried multimillion-dollar cases," says former employee Amy Corrigall. "With so many people, you see the ego before the person. Larry will sit down and talk to you about anything. He's very humble. He's very down to earth."
Sutter was with Cleveland's Reminger & Reminger for 13 years before he and two fellow Reminger attorneys left to form Sutter, O'Connell & Farchione. In five and a half years, their firm has grown from seven to 30 lawyers; it now has 85 employees.
"It was time for us to do it our own way," says Sutter, now 44. "It was the best decision I've ever made professionally. It's allowed me to grow as a person, grow as a leader and grow as a lawyer."
Sutter holds to the "leading from the front philosophy," he says, explaining that those at the top of the firm should be working the hardest. "It's a great example for the younger people."
He sets an example in and out of the office. As head coach of the University of Akron School of Law trial team, Sutter has ample opportunity to shape the futures of young lawyers. He estimates that he spends 500 volunteer hours a year coaching the team. Competition is fierce—more than half of the roughly 200 law schools in the country have active trial teams. During his tenure, his team has won two national championships and has been national runner-up seven times; it has also won 13 regional championships.
As a student, Sutter was on two of Akron's championship teams. When he graduated in 1989, then-coach Charles Kirkwood asked him to take over the program. "I thought I'd do it for a year or two," Sutter says. "That was 17 years ago."
The trial team program is one of Sutter's great passions. That's fortunate for Akron and its law students. "He's phenomenal. He is the best coach in the country," says Bill Rickett, the university's trial team director. Sutter's teams have beaten the likes of Harvard, Stetson and Temple. "It's always fun to have Akron mentioned in the same sentence as those schools. He's put us on the map."
But winning isn't always the point for Sutter, says Rickett. "Every person comes away from Larry with an increased understanding of trial advocacy and is able to hit the ground running" after graduation. "He's a professor in every sense of the word."
Sean Leuthold attests to that. "He taught me everything I know." After Leuthold graduated in 1995, he volunteered off and on for nine years as a coach. "Dozens of students have been inspired to the point they would go back and do the same thing. We owe [him] so much."
Leuthold, who is running for judge in Crawford County, about an hour north of Columbus, credits his success to Sutter's encouragement and guidance. "Without the program, I certainly wouldn't be where I am today. Larry taught me how to do all aspects of trying a case. He touched a lot of people. Everybody who went through the program shares a certain camaraderie, and we basically owe everything to Larry."
Corrigall, who was also on the trial team, calls Sutter a "very dedicated coach who always believed in his students in addition to believing in his lawyers." He's not a micromanager, she says. "He allows young people to mature, and that's a great thing. He's always very positive."
Sutter's wife, Paula Giulitto, who has a family law practice in Portage County, has her own list of favorite Sutter qualities. As a fellow attorney, "I have a lot of respect for him," she says. "He's always well prepared. He's always very courteous. He's a very good litigator and always fair-minded, which makes you a good litigator. I think it's important to see a case from both sides of the fence so you can place the right value on a case."
Sutter says one of the secrets to his success is hard work. "Every good lawyer I've ever met has that same characteristic—we're all workaholics."
He's also a proponent of the hands-on school of litigation. That means touching and feeling a car that's been in a terrible accident or, literally, getting down and dirty in a 36-inch-high, 600-foot-long mine shaft, which he did in the mid-'90s for a mining case in Charleston, W.Va. The important thing, he says, is "getting a fundamental understanding of what the case is about." In his downtown Cleveland office on the 36th floor of a building that overlooks Lake Erie, he has a photo of himself covered in dirt and grime after emerging from the mine. "Luckily, I have no claustrophobic issues," he says.
His firm handles all kinds of major litigation across the country, from the defense of the Catholic Diocese in Los Angeles to the Swissair disaster. He's involved in another mining case as well, this one concerning the nine Pennsylvania coal miners whose plight and ultimate rescue was turned into a TV movie. The miners were rescued in July 2002 from the flooded Quecreek mine in Somerset County, Pa., after being trapped for more than three days. While Sutter specializes in catastrophic injuries, in the case of these miners, the injuries were psychological, he says.
When asked to choose the seminal case in his career, Sutter quickly picks Hisrich v. Volvo, the first child airbag death case. It was 1993, and not many airbags were in use at that time, save for higher-end cars like Mercedes and Volvo. The case was tried in federal court in Cleveland. "The defense of most airbag-related injury cases since then has been based on what was learned in that case," Sutter says. "It provided a blueprint for future cases—here's how to successfully defend an airbag case. We're still getting requests today for transcripts."
Sutter deals with the stress of his profession by indulging in his other great passion: raising and training English setters. He and Giulitto, who have been married for 10 years, have three dogs. One is a mixed-breed house pet, but the other two, like Sutter, are pure-bred competitors.
In September 2007, one of the setters, named Blue, was crowned the Pennsylvania amateur shooting dog of the year. Rowdie, the other setter, recently won the amateur shooting dog stake, a regional competition. Sutter has been doing this for three years. He says the dog world puts him in touch with an entirely different group of people and offers relief from the pressures of practicing law.
Many trial lawyers are done by age 45 or 50, he explains. "You're not going to make it very long if all you do is practice law. There's a high burnout rate. If you don't step back and step away, you will fall prey to that same problem."
Search attorney feature articles
Helpful links
Other featured articles
The many stories of former JAG officer Joel Collins would fill a book—and they do
How Sharonda Williams helped save the mayor and overhaul the NOLA police department
Five real estate, land use and construction attorneys on the Bay Area's past two decades
View more articles featuring lawyers
Find top lawyers with confidence
The Super Lawyers patented selection process is peer influenced and research driven, selecting the top 5% of attorneys to the Super Lawyers lists each year. We know lawyers and make it easy to connect with them.
Find a lawyer near you