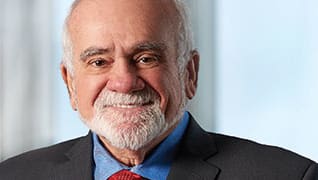 Photo by: Roger Mastroianni
The Candy Man's Lawyer
John R. Climaco helped Sammy Davis Jr. battle financial failures, negotiated with Cesar Chavez on behalf of the Teamsters union, and took on the tobacco industry
Published in 2015 Ohio Super Lawyers magazine
By Beth Taylor on December 3, 2014
Q: Your clients have ranged from Sammy Davis Jr. to Liza Minnelli to the president of the International Brotherhood of Teamsters. Tell me about working with these celebrities.
A: I began representing Sammy in the mid-'70s—met him through a friend named Richard Wayman, who had formed the Highway Safety Foundation. Sammy was interested in highway safety as a result of an accident between Las Vegas and Los Angeles where he lost his eye.
Sy [Marsh] used to be Sammy's agent. They subsequently formed a partnership, but with all due respect to Sy, he got him into some very bad investments. One was Daniel Boone Chicken Farms, which was going to compete all over the country with Colonel Sanders. The owners were selling stock, and as a result, Sammy was sued. Richard [Wayman] recommended to Sammy that he retain me. I cleared that mess up, and that's how I came to represent him. A lot of my time after that was, of course, spent negotiating some of his entertainment contracts, helping put together tours.
About '87, Frank Sinatra wanted to bring back the Rat Pack with Sammy, Dean Martin and he. They named it the Together Again Tour. After about three or four cities, Frank and Dean really just—they weren't the old team—so Dean decided to leave, and then Frank and Sammy together brought in Liza Minnelli and it became known as the Ultimate Event. I represented that group.
In mid-'89, Sammy was doing a show for Cadillac dealers down in Orlando. I gave Sammy a report: "We're going to see light at the end of the tunnel." I explained how I had worked out something with the IRS and he could look forward to being out of debt. We had been in and out of tax court. During a tax court matter, I had Sammy on the witness stand … he's getting off the stand and the judge says, "Mr. Davis, I'm familiar with your great career, and I remember when you said something that was very significant; it got a huge laugh, it became one of the great shows of TV history. I would imagine you remember it." Sammy quickly turned around and said, "Here come de judge!" The judge broke out laughing and walked off the bench, and they shook hands.
Back to '89. … So we were very happy, and he told me to talk to a GM executive: "Tell them that I'm willing to do a couple of full-page newspaper or magazine ads for them, but I want two Cadillac Allantes a year. I want to give one to [my wife] Altovise, and one to [my manager] Shirley Rhodes." So Shirley and I and the GM executive were standing in the back and we just shook hands—he said, "Fine, we're on." That night Sammy was singing and his voice cracked. The next morning I returned to Cleveland, and Sammy and Shirley went back to L.A. That night I got a call from Shirley, and she said, "You've got to get back out here quick. Dr. Sugarman says Sammy has larynx cancer." [Dr. Sugarman] said, "If he allows us to remove his larynx, he probably has about a 38-40 percent chance of survival; if he doesn't, it's down to 24." Sammy said, "No, my voice is my life and I'm not going to have it removed." He said, "You need to do me a favor: Frank's in Vegas performing at the MGM. I want him to be one of the first to know. I can't tell him; you have to go tell him."
So I flew over and went up to [Sinatra's] suite. He comes out, I remember he's in a silk robe and he's smoking, I think, a Lucky. So I told him. He just was silent but you could see his eyes watering. He smoked that cigarette, finished it, pulled out another one and lit the next one with the one he was putting out, just standing there. He finishes the second or third cigarette, he puts it out and he falls back on the couch, lights up another cigarette, and now he really is crying. He stands up again and he says, "Never forget what I'm going to say: Sammy was and is the world's greatest entertainer." He turned around and walked into his bedroom. Nine months later, Sammy died.
I had something similar with my client Jackie Presser, the general president of the international Teamsters union. Probably one of the most significant longtime memories I have was working with Jackie—and he was ill at the time—negotiating the re-affiliation of the Teamsters union with the AFL-CIO, which took place on Oct. 24, 1987. Nine months later, at 61, Jackie died of lung cancer. Those two events of my good friends and clients are what developed my interest in tobacco litigation.
Q: How long were you involved in the tobacco litigation?
A: My involvement started in 1994. I was a member of the Castano legal team from its inception. There is still one case that is ongoing. I'm still involved in one that's going on in California.
The Castano case was the first class action filed against the tobacco manufacturers alleging the nicotine-addiction theory. Eventually, it had state attorneys general participating; and the Castano team, along with Mississippi, Texas and Florida, has been recognized as tobacco pioneers. The majority of that settlement was negotiated by state attorneys general, and that was a total of $246 billion. Our class action was [continued on] for individuals, but when the overall settlement was made, it was made on behalf of the states.
Q: Before Castano, you were involved in another landmark case—the 1992 suit against USAir involving a plane that crashed into Flushing Bay.
A: My cousin, who was an internist, and his wife were both on that flight and were both killed. So there was that personal connection, and then it sort of led to a class action for everyone who was killed. The majority of the passengers were Cleveland residents. The issue there was the de-icing fluid. Just when they were ready to move away from the gate, they would de-ice it. But then if it was waiting in line, as that particular plane was waiting in line to take off from LaGuardia, the ice built up again. So upon takeoff, as a result of the ice, it crashed.
There are two types of fluid. One just sort of melts any ice on the plane, wings, body. The other, which is more important, not only de-ices but it prevents icing. The difference there was the cost. Now what's used is a more expensive product, which protects the plane as it's waiting in line.
Q: So that has become the industry standard because of this case?
A: Unquestionably.
Q: How did the USAir case lead to the tobacco litigation for you?
A: Another attorney, Stan Chesley from Cincinnati, was also involved [in the USAir case]. He and I became friends, and around that time is when the tobacco industry came under closer scrutiny. The leaders, presidents, CEOs, chairmen of the boards of the leading tobacco companies were called to testify in front of Congress. I remember talking to Stanley about it: "You know, Stanley, I think it's time to take on the tobacco industry." And he said, "You're crazy. … They're just too strong, too powerful, too much money." Then a couple weeks later he called me and said, "Well, the opportunity is now arisen. My friend Wendell Gauthier in New Orleans is forming a group of attorneys. Wants to put together 50 law firms throughout the country to take on the tobacco industry. And he invited me, and I told him I would want to include you"—meaning me, because I had talked to him about it.
Q: You received an award from the American Lung Association in 2000 for your efforts in the tobacco case.
A: Yes, the 50 Castano law firms received the Breath of Life Award.
Q: How did your work with the labor movement begin?
A: I had a friend in law school, John Zangerle; the firm he worked for had helped to develop the civil service system of the city of Cleveland. They were representing the civil service employees' association. They were mainly a large business law firm at that time, and John learned that they were looking for someone to take over that work, and they chose me, which then led to my becoming more and more involved in the labor movement. At that time, public employees were prohibited from participating in politics, campaigning, etc. I won a couple of lawsuits that allowed them to participate, and eventually the Ohio Legislature—and I was involved in that—changed the law. Took out the provision which prohibited public employees from engaging in strikes, etc.
Eventually the non-officers of the Cleveland Police Department formed the Cleveland Police Patrolmen's Association. I wrote the charter and I helped them get organized, and I represented them. An offshoot of that organization became the Ohio Patrolmen's Association, and I [also] represented that organization. The then-leadership of the Teamsters in Ohio were given a charter to organize state employees, and as a result of my experience in representing public employees, I was retained to represent that newly developed and emerging statewide public employee union.
Q: By the '80s, you were general counsel of the International Brotherhood of Teamsters. Tough times for unions.
A: In many ways, yes. There were the usual labor-management problems. The international and local unions throughout the country were under numerous investigations. The Teamsters were under investigation for some of their local unions being connected with organized-crime figures, so that all became very, very newsworthy. When the farmworkers were in dispute with the Teamsters in California, I worked and negotiated directly with Cesar Chavez, trying to find a resolution. [And] in the early '80s, the Central States Pension Fund was being looked at in connection with loans that were made in connection with Las Vegas casinos. The Department of Labor filed a lawsuit against the pension fund and its trustees. It was at that time the largest ERISA case ever filed against a large international pension fund. We represented Mr. Presser—he was a trustee—and we prevailed in the litigation. It was tried in federal court in Chicago.
Q: How did you get involved in personal injury law?
A: Shortly after I began law school—and it's now going on 50 years that I began law school—I went to work for a law firm in Cleveland: Shapiro, Kendis and Petro. I also had another job on the weekends: I was a bartender, I worked as a wall-washer, so I was very busy my three years in law school. [Shapiro, Kendis and Petro] was basically a workers' compensation and personal injury plaintiff's law firm. [And] the young lady sitting across from me [today—Donna Cydzik] had just graduated from high school. She had taken a legal secretarial course, and I met her then, and we have been working together since then. In February of 1969 I opened my own law firm. There were two of us there, myself and Donna.
Q: What was it like growing up in Cleveland?
A: We had a very close-knit family. For a while, my grandparents lived with us, and we had a number of close relatives—aunts and uncles—living in almost walking distance. We belonged to, and still do, St. Rocco Catholic Church, which was sort of the center of a predominately Italian neighborhood.
My parents were hard workers. My father worked in a steel mill; my mother was a housewife and a mother. He helped organize the local Steelworkers union in the steel plant that he worked at, and he had scars on his ankles from the strikebreakers; they used to swirl chains around to knock the strikers down. That's what really gave me an early interest, when I became a lawyer, to become involved in the labor movement.
My uncle was a bailiff for a common police court judge, and I worked, in my teenage years, a couple of summers in the courthouse, and I was able to sit in and observe. My uncle's judge [that] he worked for, William J. McDermott, was an early mentor and knew I was interested and encouraged me. From a personal standpoint, I always liked to argue. I just liked the excitement, the strategic planning and the execution in the courtroom.
Q: What do you like to do in your spare time?
A: I'm a waterfowl hunter. Well, mainly I enjoy traveling with my wife and my family. I was married on August 1, 1964, to Carolyn Colonna. We just celebrated our 50th wedding anniversary last Friday. I have a son who lives in Park City, and we have a 39-year-old intellectually challenged daughter. We built, along with three other parents, a home for her and three other intellectually challenged young adults. The staff is provided for by an organization of which I'm on the board, called Our Lady of the Wayside. We have 300 residents in 60 homes. I'm very proud to be a part of it. [My daughter], Nicole, works in our office four days a week doing various tasks. She is certainly a big, big part of our lives.
Q: What do you like best about your job?
A: It's very hard to pinpoint anything in particular. Over the last, probably, 10 years, I've become involved in the pharmaceutical and medical devices. What I've enjoyed is representing my clients. It's rewarding when you prevail and you can help them improve their lives.
Q: You received the Ellis Island Medal of Honor in 2000.
A: Yes, my four grandparents were all Italian immigrants in the early 1900s. My father was born in the United States, but his father and mother decided to return to Italy when he was 8. When he was 16, he wanted to come back, and his parents would eventually come back. He would always tell my brother Michael and I the story about how, when he sailed into New York Harbor, he saw the Statue of Liberty and he was so happy. So he said a prayer that he would meet a beautiful Italian woman—and he always said, "And I did, guys: your mother"—and he hoped to have two sons that he could educate. He wanted them both to become doctors. Of course, we fooled him; we both became lawyers.
This interview was edited and condensed.
Search attorney feature articles
Helpful links
Other featured articles
When he needed life lessons for his children, Daniel Draisen started getting kids
Mia Yamamoto spent years working for social justice before finding it for herself
Jill Smith is the hip, sardonic attorney making deals for Lego, Rube Goldberg and Godzilla
View more articles featuring lawyers
Find top lawyers with confidence
The Super Lawyers patented selection process is peer influenced and research driven, selecting the top 5% of attorneys to the Super Lawyers lists each year. We know lawyers and make it easy to connect with them.
Find a lawyer near you