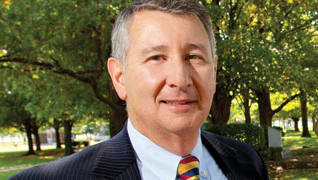 Photo by: Ross Van Pelt
The Craftsman
Charles Faruki practices simplicity in complex business litigation
Published in 2012 Ohio Super Lawyers magazine
By Kathryn DeLong on December 16, 2011
Charles J. Faruki co-founded his business litigation firm, now three dozen lawyers strong, nearly a quarter-century ago. But he still remembers the days when he would deliver opening remarks to a water heater. 
A junior lawyer at the time, Faruki would repair to his basement so as not to disturb his wife and young kids as he readied arguments for trial. He practiced and practiced, then practiced some more, until his message was fine-tuned and every unintentional pause eliminated. Despite the lack of feedback from his inanimate audience, he developed well-honed communication and people skills.
 "I always try to follow the rule of 'simplify and simplify again'," says Faruki, 62. "Too many lawyers over-try their case. That is, they want to put in every fact they know. All the facts aren't equally important.
"I build the opening statement around the themes and the core realities before I get to telling them what the testimony is going to be. … You have to offer them a structured path to get to the result that you want. I'm not saying that I have a copyright on this or that other lawyers wouldn't do similar things. I have done it that way for a long time, and it works for me."
Faruki, known to colleagues and clients as Charlie, is the managing partner at Faruki Ireland & Cox, which has offices in Dayton and Cincinnati. He has focused his entire career on complex business litigation. It's an area of law that appealed to him early on, when he clerked at a small litigation firm while attending Ohio State University [Moritz] College of Law.
"I like the intellectual absorption of it," he says. "I like the problem-solving and getting results. And I also like the relationships. Some of my work is for clients I've represented for years and years."
Faruki has tried a broad range of cases before juries, from intellectual property to products liability to antitrust. He credits his success to his father, Dr. Mahmud Faruki, who died in 2003. "All my life I felt his guiding hand on my shoulder," he says. "My father was a psychiatrist, and he always worked hard. And I pretty consciously modeled myself after him."
Faruki's father was an immigrant from Palestine who met his future wife, Rita, at a hospital in Hamilton, Ohio, where both were working: she in the purchasing department and he as a resident. Charlie was born in Long Island, but the family didn't live there long. A few weeks after Dr. Faruki became a naturalized citizen, he was drafted. The Korean War was being fought, and the Army needed physicians. "Some of my earliest memories are of military bases in the South," Faruki says.
After his father's discharge, the family moved to Ohio. "He knew some people there and he went to visit, and one thing led to another," Faruki says. "I guess there's randomness in all of our lives. I wasn't born in Dayton, but essentially grew up there from age 5."
Faruki returned to Dayton after getting his undergraduate degree at the University of Cincinnati, where he also was a Distinguished Military Graduate of the U.S. Army ROTC program. A retired Army captain, Faruki demurs that his military career was less illustrious than that of his 26-year-old son, Chip, the youngest of Faruki's three sons, who is stationed in an infantry unit in Iraq.
After receiving his law degree at Ohio State, Faruki joined a large Dayton firm. But he lacked two things: a reputation and a clientele. So he set out to build both, starting by getting on a committee for the local bar association. 
"The new bar president had all these committee slots to fill, so he was delighted that someone volunteered," recalls Faruki, who chaired a committee responsible for organizing the spring seminar that first year. Faruki put himself on the speakers list—a nervy thing for a young attorney to do.
"I've told that story to our associates in terms of having to make your own luck," he says. "I think everyone's responsible for their own career. You have to get out from behind your computer, participate in bar association activities and other kinds of activities. It's part of the fun of the practice, too."
Faruki made partner at his firm in 1979 and fully expected to stay there the rest of his career. But a decade later, he found himself at a professional crossroads. It was his father who helped him decide which direction to take.
The two went to breakfast, and the younger Faruki, after explaining the reasons why he wasn't happy, asked his dad what to do. "He was a psychiatrist—you have to remember that to appreciate the story—and when I was done, he looked at me and asked that prototypical psychiatric question: 'Well, how do you feel?' I thought about it, and I said, 'How I feel is, I don't want to practice law with anybody I don't know and anybody I don't like.' And he just stared at me.
"Of course, what he was doing was waiting for his dim bulb of a son to realize that, if that's the value judgment I was going to make, the only alternative was to leave and start my own firm. After 20 seconds or so, I said, 'Oh.' And then he smiled. The rest, as they say, is history."
In 1989, Faruki formed Faruki, Gilliam & Ireland along with Jeff Ireland and Armistead W. "Bill" Gilliam, who also had been partners at his former firm. Later, when Gilliam retired, Jeff Cox became a name partner. They shared the same vision about the type of people they would bring into the firm. "They had to be a good person whom we liked first, and they had to be an excellent lawyer," Faruki says. "And if either of those things were not met, we weren't interested."
More than 35 years into an influential career, Faruki's hard work and focus have made him a sought-after speaker and a counselor to turn to when a company's existence is on the line.
"He's a lawyer's lawyer," says Dale Creech, chief legal officer for Premier Health Partners, the largest hospital system in southwest Ohio. Creech calls on Faruki to handle "bet-the-ranch" litigation. "He's able to take complex issues and distill them down in a way that makes it easy for the judge and jury to understand the heart of our argument."
Such was the case when Creech's corporation, an affiliation of four hospital systems, was examined by the Federal Trade Commission and the U.S. Department of Justice in 1996 and 2006, respectively. Both times, Faruki handled the matters, which were resolved in Premier's favor.
Michael Jacobs, North American general counsel for SAI Global, is another longtime client. The men met 20 years ago when Faruki was handling some work for NCR Corp.'s legal department, where Jacobs was then employed. They have since become friends. "He's always mindful of what his client's goals are," Jacobs says. "He's one of those rare lawyers … a real craftsman at what he does."
From the start, Faruki's firm has focused solely on business litigation, with corporate clientele in cities across the United States. The firm currently has 35 attorneys in Dayton and Cincinnati, and one part-time partner, Laura Sanom, who works out of her home in Detroit.
Sanom has a long history with the firm, having joined early on as an associate. She eventually married an FBI agent and left Ohio, but when her husband was transferred to Detroit 14 years ago, it was close enough that the firm welcomed her back as an off-site employee. "So we treat Laura as if she's just at the end of the hall. The hall happens to be five hours long," Faruki says. "Some firms are not very friendly toward part-time lawyers. … We need to make accommodations. We're small enough. You may not be able to do that if you have a thousand lawyers in your firm."
Sanom says, "I realized very quickly he was a great teacher who could help me learn law as a litigator. … He presents information clearly and concisely, with the listener in mind. He teaches in the courtroom without being condescending to anyone. You walk away thinking, 'I really get it.' And you can interpret it as you will."
Concerned that young lawyers aren't getting the kind of trial experience he did when starting out, Faruki established the firm's public defender program six years ago. One associate at a time is selected to work for the Office of the Ohio Public Defender—on the firm's dime. An associate must try at least one case in front of a jury before returning to the firm.
The program, which won the Montgomery County Common Pleas Court Public Service Award, given by the judges, is "one of the things we did that I'm most pleased with," Faruki says. "We've had a good number of our associates rotate through that. The associates know that we're investing in them. It's good for them. Unless you lose your fear of the courtroom early, it can become paralyzing later on in life."
With all he's done over the course of his career, achieving a work-life balance has been a challenge. His second wife, Michelle, ensures he maintains that balance by scheduling scuba-diving vacations in Aruba and other well-deserved getaways. Their recent travels included an October trip to Italy to visit Chip, who was there on R&R.
Faruki also chairs The Air Force Museum Foundation, which is raising money for a building to house a collection of presidential aircraft. "Board chair in that organization means I'm the CEO, so I refer to that as my second job," Faruki quips. 
Back in Dayton, Faruki keeps some of his favorite items on display in his office. One is a wooden chicken, a gift from a grateful client. "We managed to stop the other party from putting in a large commercial chicken farm, which stinks to high heaven, upwind of our client's corporate headquarters and plant," Faruki says. "My wife keeps wanting me to bring it home for the kitchen. 'No, that's my chicken,' I say."
Also in his office is a picture of his father. "A couple of times people have asked if I have any heroes. I point to my dad's photo," he says. It serves as a reminder that "you have to work hard to achieve excellence and you have to work hard to learn a craft and practice it."
Besides, to Faruki it's just plain fun. "There are times that you come back at the end of the day and you're glad you didn't do something else for a living," he says. "A lot of people can't say that."
Search attorney feature articles
Helpful links
Other featured articles
Jeff Anderson on law school, legal tactics and his ultimate goal—deposing Pope Benedict XVI
Andrés Correa believes that's an ideal worth striving for
Walking through his favorite Buffalo haunts
View more articles featuring lawyers
Find top lawyers with confidence
The Super Lawyers patented selection process is peer influenced and research driven, selecting the top 5% of attorneys to the Super Lawyers lists each year. We know lawyers and make it easy to connect with them.
Find a lawyer near you