The Open-Minded Professor
Frank A. Ray passes on the lessons of his success: tireless energy, an open mind and caring enough about your case to get scared
Published in 2010 Ohio Super Lawyers magazine on December 22, 2009
Updated on May 19, 2020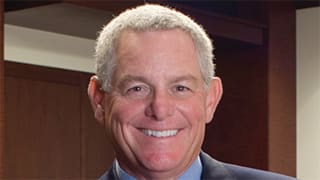 When Frank A. Ray bounds into his trial practice class every Tuesday and Thursday evening during fall semester, he does more than deliver lectures on being an effective litigator. Ray serves as his own case study on how to maintain enthusiasm and stay competitive over a 36-year career.
"The experience has made me a better trial lawyer," says Ray. The strict time limits he imposes on students as they conduct simulated cross-examinations, for example, are exactly the kinds of succinct presentations trial lawyers should give to juries, he says. And the mock jury trials in his class give him ideas on how pending cases might play out for real. 
A plaintiff trial lawyer and partner with the Columbus firm Chester, Willcox & Saxbe, Ray has taught at the Ohio State University Moritz College of Law since 2003. With the assistance of fellow trial lawyers, county and U.S. district court judges, and his wife, Carol—who serves as teaching assistant—Ray puts his 16 students through the paces of planning and executing a jury trial, from voir dire to admission of evidence to the closing arguments.
"It's a three-ring circus happening every class," says Ray.  "My students work awfully hard for a four-hour course."
They're rewarded with a big bash at the end of the semester at the Rays' Upper Arlington home. Eighty people are invited—students, judges, lawyers, consultants and their significant others. "It's a heck of a party," says Ray. "I'm glad I get invited."
Ray may be self-effacing, but it doesn't take much calling around to learn he enjoys a stellar reputation in the legal community. "What's unique about Frank is he operates at a very high professional level in a number of different areas," says fellow Columbus attorney Jerry Todaro. Whether it's transactional work, civic involvement or his representation of a range of companies and individuals, Ray is "a model of professionalism," says Todaro, who's known Ray since 1973.
He's also as excited, curious and energetic as when he first became a lawyer, says Michael F. Lyon, a Cincinnati defense attorney. "This is a man who loves what he does. When you love what you do, people immediately recognize that."
Lyon has known Ray for 30 years through their involvement in the Ohio Association for Justice and the American Board of Trial Advocates. They share a passion for educating lawyers and law students about trial work. Ray considers it a privilege "to stand up and be a spokesperson for another person," Lyon says. "Frank is the epitome of the attorney who never takes that for granted."
Far from taking his profession for granted, Ray admits that before every trial he's afraid that he will fall short of expectations.
"I think with any experienced trial lawyer, he or she is only as good as the last trial," he says. "Reputation and prior success are of no consequence, they mean nothing to the jury of the moment. The process of proving your worth renews with every case."
It's all about caring passionately, he says. "I had to embrace the fact that I cared enough to get scared." 
He feels the terror, but then it's gone once the trial begins. "When the gavel goes down, the fear melts," he says. That's when the real fun begins. "I love the jury trial practice," says Ray, who has tried 129 jury trials to conclusion, not counting those early in his career.
In 2005, Ray received the first-ever
Respected Adversary Award presented by the Ohio Association of Civil Trial Attorneys. "You could have knocked me over with a feather when I got that award," he says. "I thought I must have been doing something wrong if they're being so nice to me."
He's equally good-humored about being elected president of the Columbus Bar Association. "That's what you get when you hang around for 36 years," he says."I'm very busy these days, surprisingly so," he says. "I thought I would have geared down the intensity level. If anything, it's gone in the other direction."
Ray has deep roots in Columbus, where he's lived since he moved here with his family at age 8. His late father, Dale Ray, was a professor at Ohio State. "He was an agronomist and an expert in the development of hybrid small grains. The oats and barley we ate for years were developed by my father," says Frank Ray. His mother, Merry Ann, is a retired high school history teacher who still lives in Columbus.
Ray considered going away to school, but his father quietly steered him back to OSU, where he earned a bachelor's degree in English in 1970 and his law degree in 1973. "I couldn't have asked for a better life experience than growing up, securing my education and working in Columbus, Ohio," Ray says. His legal education gave him a firm grasp of legal research and fostered out-of-the-box thinking, which proved necessary almost from the start of his career.
He joined the Franklin County Prosecutor's Office right out of college, starting in the criminal division. Three years later, in August 1976, he was named chief counsel of the civil division. His office's primary client was the Franklin County Commissioners. "They had just bought the old Jets Stadium and had a dream to bring professional baseball back to Columbus," he says. "They asked me to come up with a model on how to do that. I had no clue."
After a month of research, Ray produced a model explaining how the county could own and operate the stadium under existing statutory law. The county could actually own a professional baseball team by designating the property as a recreational facility and park, and could form a board to operate this park facility. "I just thought of it," Ray says of the plan. "I actually attribute this concept to inexperience and ineptitude."
Ray's concept for the Columbus Clippers, the city's Triple-A minor league team, has stood the test of time. "People said, 'You've got to be kidding,'" recalls Ray. "But it continues to pass muster on review by anyone who has expressed concern about the configuration. It remains the only publicly owned [baseball] franchise in the U.S. of which we're aware."
Jerry Todaro was working with Ray at the time. "Frank was on the ground floor of the Clippers. They weren't in existence," Todaro says. "Frank contributed significantly to what the Clippers are today."
Ray had never done anything remotely like that before. "If I had been at a law firm, I would have been bringing the donuts to the people doing the work," he says.
When he left the county prosecutor's office to go into private practice, he was appointed to handle the Franklin County Stadium corporation. "It's so goofy, you're the only one who can do this," Ray says he was told. "The contract is renewed every four years. It's the only nonlitigation thing that I do."
Today, Ray has more than 30 years' experience advising professional baseball leagues and teams on organization, operation and litigation. He currently serves as counsel for the International League of Professional Baseball Clubs. And he represented the Clippers Board of Trustees to coordinate the formulation and implementation of the funding, financing, design and construction of Huntington Park, the Clippers' new baseball stadium, which opened in spring 2009. It was named "Ballpark of the Year" by baseballparks.com, beating out other new or significantly renovated baseball stadiums in the country, including such major league parks as the new Yankee Stadium and the New York Mets' Citi Field.
But how did he come up with the Clippers' model as a young lawyer back in 1976?
"I really had no choice," he says. "I had accepted the assignment. I was employed to serve the Franklin County commissioners and follow the instructions of my boss."
Such creative problem solving led to Ray's long and fruitful association with baseball. In 1999, he came to another crossroads in his career, which led to his becoming a pioneer in the development and implementation of technology in the courtroom for bench and jury trials. Once again, an innovative solution arose out of necessity, he says.
He was about to try a complex case in federal court involving cryogenics and mechanical engineering. "As I began to prepare for the case, I found myself having difficulty formulating a compelling opening statement," says Ray, who represented Oasis International, which at the time was the largest producer of water coolers and drinking fountains used in schools. Oasis was suing Tecumseh Manufacturers, which had made the compressors for Oasis' water coolers. Oasis alleged that the compressors bought from Tecumseh had a latent defect causing them to fail.
"The chemistry of the case had a relatively high level of sophistication," Ray says. "To try to explain this to a jury created a challenge with which I had not been familiar. This was not a simple automobile crash."
He called in trial consultant Amy Singer, who started mock trying the case with mixed results. Singer introduced him to Samuel H. Solomon whose company, DOAR Litigation Consulting in New York, had just done a visual presentation in the Oklahoma bombing case.
Ray and Solomon collaborated on a visual explosion of images and words that were projected digitally through a sophisticated PowerPoint presentation onto an 8-by-10-foot screen as well as several monitors during the trial. "There were only two outlets in the old courtroom, and one was claimed by the court reporter," Ray says. "It took us about three days to set up the courtroom. I felt like we were opening up a new Broadway production."
Ray prevailed. "Since that case, I can't do an opening statement without a PowerPoint presentation," he says, explaining that technology helps the jury focus on what's important to a case. "Thousands of pages of documents may be relevant, but it comes down to a letter or a page within a contract or, even more particularly, a few words within a paragraph.
"With that experience, I learned at light speed what I needed to learn to remain competitive in today's trial environment," he says. "Courtrooms are so much better now. But, in 1999, this was brand-new stuff in terms of delivery of information."
Of course, Ray made sure to pass on the lesson to his students. "I introduced Sam Solomon to the Moritz College of Law, and he helped design a state-of-the-art courtroom there," Ray says.
So, right out of the box, OSU students get a competitive edge—the Frank Ray way.
Other Featured Articles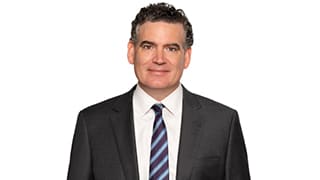 Seeing it Through
Adam Doerr led the charge to get COVID relief to overlooked families in need Featuring Adam K. Doerr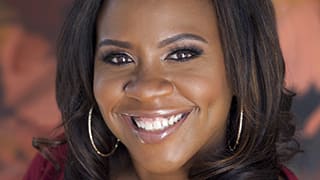 A 10-Year Overnight Success
Demetria Graves wrote the book; now she's recording the podcast Featuring Demetria Graves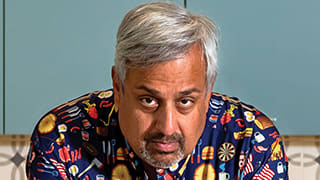 Breaking the Algorithm
Neel Chatterjee's offbeat recipe for Silicon Valley success Featuring Neel Chatterjee